Today, we will take a look at the best Autodesk Maya Rendering Plugins, and how it is going to help you work on your projects.
Maya is a popular 3D package with a lot of external rendering engines that can be integrated with it. We are going to start the list with:
Maya Rendering Plugins
11. Radeon ProRender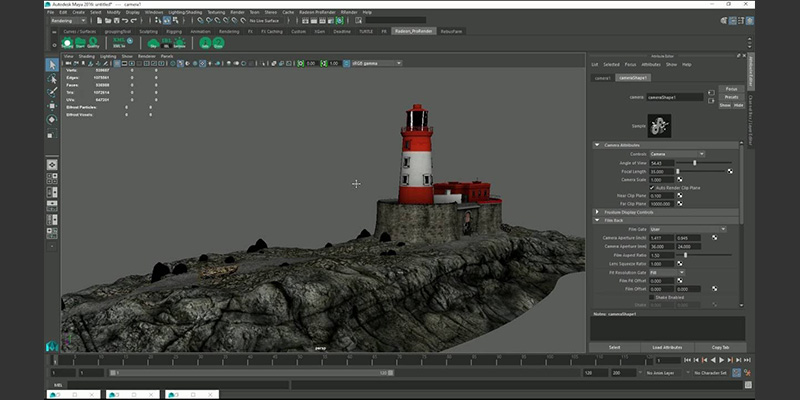 ProRender formally known as FireRender is an OpenSource path tracer from AMD. It is based on OpenCL which benefits from AMD's high-performance Radeon™ Rays technology.
ProRender is a powerful physically-based rendering engine. it can simultaneously use and balance the capabilities of multiple GPUs and CPUs – on the same system, at the same time.
Radeon ProRender is a free Maya Rendering Plugin that comes with a library of materials you can use for free within Maya.
Website: https://www.amd.com/en/technologies/radeon-prorender
10-FurryBall
FurryBall is one of the Maya Rendering Plugins for real-time GPU production quality. FurryBall RT offers advanced rendering techniques, implemented directly into Maya with multi-GPU support. FurryBall was developed for in-house AAA studio purposes in 2009. FurryBall was used for rendering a whole feature movie, Goat Story 2 in 2008.
It's probably the first world rendered CGI feature movie for cinemas rendered only on GPUs. In 2015, the new version of FurryBall RT was released with a completely rewritten core.
Website: http://furryball.aaa-studio.eu/index.html
9-3DELIGHT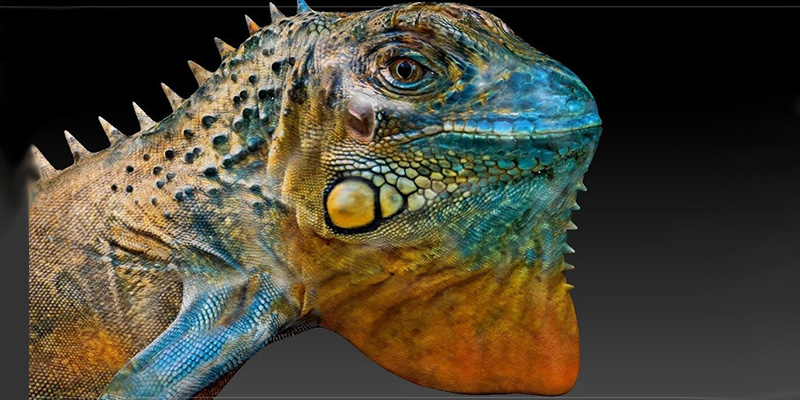 3Delight is a proprietary Autodesk®  Maya Rendering Plugin. It is easy to use while providing relative flexibility to support rendering pipelines.
3Delight was meant to be a commercial product from the beginning. However, the 3Delight team decided to make it available free of charge from August 2000 to March 2005 in order to build a user base.
The free 3Delight comes with one full license with all the features but with a restriction to use a maximum of 12 cores for rendering on your computer. but if you want the unrestricted version you need a subscription or to purchase the license.
3Delight has been used for visual effects work on many films. Some notable examples are The Blood Diamond, The Chronicles of Riddick, District 9, two of the Harry Potter movies, Terminator Salvation, X-Men: The Last Stand, and More.
Website: https://www.3delight.com/
8-Maxwell Render
Maxwell Render is an unbiased 3D render engine, developed by Next Limit Technologies in Madrid, Spain. This render engine comes as a stand-alone application also as a Maya Rendering Plugin. It is used in the film, animation, and VFX industry, as well as in architectural and product design visualization
Maxwell Render was released to the public as an early alpha in December 2004 (after two years of internal development) utilizing a global illumination (GI) algorithm
Maxwell Render has the Multilight feature, which permits the changing of light intensity and colors in real-time, it was used in the feature film The Curious Case of Benjamin Button.
Maxwell 5 marked the release of a completely rewritten rendering engine using GPU much faster than the previous CPU-only functionality. The new version also provides integrated cloud rendering for use across an internal network or third-party render farms.
Website: https://maxwellrender.com/
7-Iray
NVIDIA Iray is also one of the Maya Rendering Plugins accelerated on the GPU featuring photorealistic and physical precision. When combined with the parallel processing power of Nvidia graphics cards it reaches speed levels that reduce the iteration time of the scenes during the creative process.
Iray is good when it comes to ease of use during the configuration of the scenes with results of greater photographic realism and high interactivity.
Iray offers three rendering modes, which support a wide range of design needs, workflows, and content complexity:
Iray Photoreal final production rendering with full global lighting support interactive Iray Interactive and editable ray tracing Realtime Iray large display capability and in Real-Time Edition (optional)
Because the rendering modes share the same high-level scene description and the same materials, Iray is able to support image mix when switching between modes.
Website: https://www.nvidia.com/en-us/design-visualization/iray/
6-Keyshot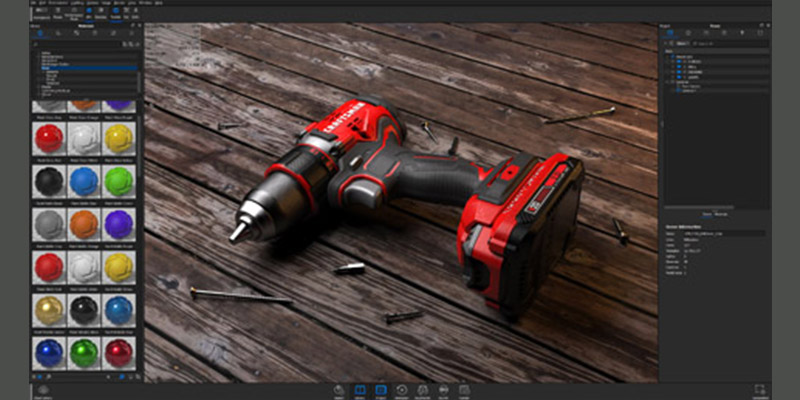 To render Maya scenes using KeyShot, there are Autodesk Maya Rendering Plugins that allow real-time 3D rendering in KeyShot with LiveLinking model update.
There are two ways to import your 3D models into KeyShot–direct import or through a plugin. You don't need a plugin to import your native 3D data. However, the plugin transfers data faster and delivers tighter integration between KeyShot and the 3D modeling software making the workflow faster.
the KeyShot plugin links Maya and KeyShot together, rather than putting KeyShot inside Maya. The Plugin is developed by Luxion or by Keyshot partners who will distribute and support them.
Website: https://www.keyshot.com/resources/downloads/plugins/
5-Octane Render
Octane Render is an unbiased rendering application with real-time capability. It was created by New Zealand-based company Refractive Software, which was acquired by OTOY on March 13, 2012. Version 1.0 was released on November 28, 2012; Later versions of Octane Render continue to be deployed using Web release. Octane Render was the first commercially available unbiased raytracer that fully utilized the GPU, giving it a significant speed advantage by allowing users to more easily modify scenes in real-time.
Octane Render was running exclusively on Nvidia's CUDA technology, restricting it to Nvidia video cards; Octane Render now is running on Vulkan and therefore it is able to run on both AMD and Nvidia graphics cards.
Website: https://home.otoy.com/render/octane-render/
4-Arnold
Arnold is an unbiased, physically based, ray tracing 3D rendering engine created by the company Solid Angle. Arnold actually is an integrated Maya Rendering Plugin, which means you have full access to it if you have a Maya subscription.  Notable films that have used Arnold include Alice in Wonderland, Thor, Captain America, X-Men: First Class, The Avengers, Space Pirate Captain Harlock, Elysium, Pacific Rim, and Gravity.
The chief architect of Arnold is Marcos Fajardo. The beginnings of what is now Arnold emerged in 1997 when Marcos decided to write his own renderer.
That year, he attended SIGGRAPH, where his interest in stochastic ray tracing was piqued in discussions with friends attending the conference.
Early versions of Marcos's renderer were called RenderAPI.The name Arnold emerged when one of Marcos's friends suggested it after mocking an Arnold Schwarzenegger film they saw in a theater.
Solid Angle, the company behind Arnold, was purchased by Autodesk in early 2016. The acquisition was announced officially on April 18, 2016.
3-Redshift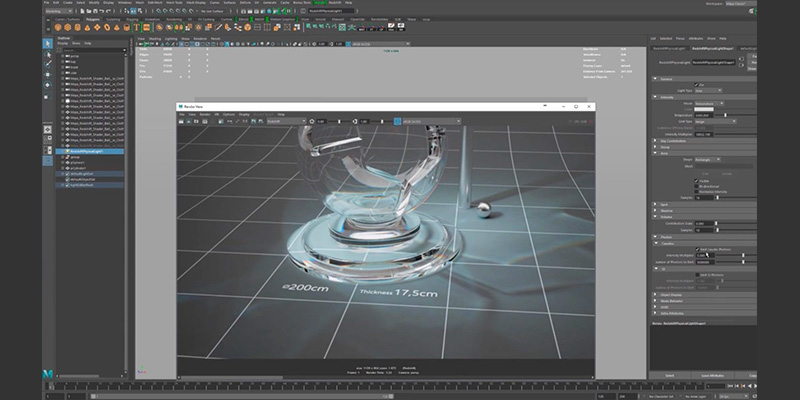 Redshift Rendering Technologies Inc was founded in early 2012 in Newport Beach, California, with the goal of developing a production-quality, GPU-accelerated renderer with support for the biased global illumination techniques.
at NAB 2019, Maxon CEO David McGavran announced the acquisition of Redshift Rendering Technologies.
Redshift has the capability of "out of core" rendering which means that if a GPU runs out of memory (because of too many polygons or textures in the scene), it will use the system's memory instead. In some situations, this can come at a performance cost so it is typically better to use GPUs with as much VRAM as you can afford in order to minimize the performance impact. Certain types of data (like textures) actually work very well with out-of-core rendering. This means that even if your scene uses 4K or 8K textures, you can still expect great rendering performance!
Redshift: https://www.redshift3d.com/
2-Vray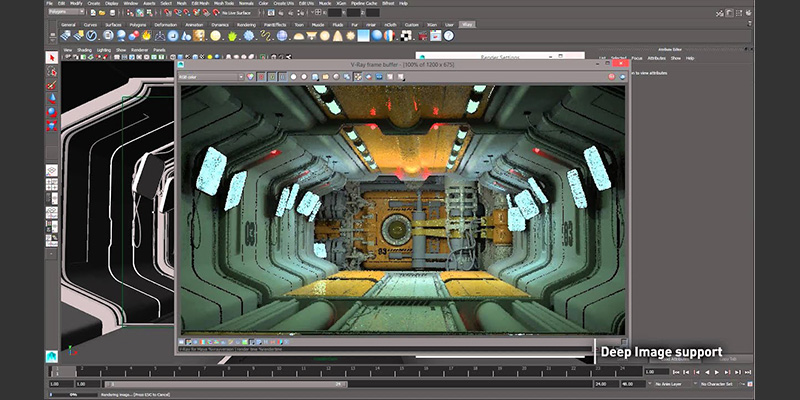 V-Ray is somehow a Maya Rendering Plugin, it was developed by the Bulgarian company Chaos Group, which was established in Sofia in 1997. V-Ray is a commercial plugin for third-party 3D computer graphics software applications and is used for visualisations and computer graphics industries such as media, entertainment, film and video game production, industrial design, product design, and architecture.
Vray can be considered as one of the best Maya Rendering Plugins as the one that has been around for the longest period. Even though this plugin is not new, it is constantly developed and enhanced over the years, it used to be harder to adjust the settings to prepare your scene but now it is becoming easier and it can create better quality renders in a shorter period.
Vray has a powerful CPU and GPU rendering built for the demands of high-end production. V-Ray GPU CUDA renders on CPUs as well as GPUs to take full advantage of all hardware.
Chaos Group also launched V-Ray Next for Maya, which allows artists to utilize the viewport and GPU much more, you can isolate specific areas of the scene with ease. One of the most benefits of using Vray Next is decrease troubleshooting and debug time — which is almost always half the battle when working in CG.
Website: https://www.chaosgroup.com/vray/maya
1-Pixar Renderman

Pixar RenderMan is a proprietary photorealistic 3D renderer produced by Pixar Animation Studios. Pixar uses RenderMan to render their in-house 3D animated movie productions and it is also available as a commercial product licensed to third parties. And for those who don't want to use it for commercial purposes, it is completely free.
RenderMan gives artists access to Pixar's toolbox for lighting and looks development, real tools that have already created amazingly sophisticated and complex imagery for feature films.
Renderman standard was first presented at 1993 SIGGRAPH, developed with input from 19 companies, It has been used to create digital visual effects for Hollywood blockbuster movies such as Beauty and the Beast, Aladdin, The Lion King, Terminator 2: Judgment Day, Toy Story, Jurassic Park, Avatar, Titanic, the Star Wars prequels, and The Lord of the Rings. RenderMan has received two Academy Scientific and Technical Awards.
Website: https://renderman.pixar.com/view/renderman
In the end, I would say that this list was made to give you the features of the best Maya rendering plugins but it is up to you to choose which Maya rendering plugins suits you the best.