Did you ever thought of choosing Blender for architecture? One of the most known fields for the use of 3D software is architecture, architects and designers have a lot of options to choose from. But there is one software that a lot of people don't consider as an option for their work which is Blender.
Blender is a free and open-source 3D software that can do professional work in many industries. However, is it really good when it comes to architecture? To answer this question we are going to dive deeper and break things down so anyone can understand what we are talking about.
Practical work using Blender for architecture
There are a lot of architectural visualization artists around the world using Blender for their freelance or contract work. Also, there are some architectural firms and studios that use it to do work for their clients.
One of the examples is "BlendFX", which is a small studio for VR, AR, architectural visualization and VFX based in Germany. It uses Blender to create amazing interior and exterior visualizations for their clients. Also, they use VR for a better experience of 3D environments, which I believe is the future of archviz. Because there is nothing better to visualize an architectural design than walking inside it yourself in an immersive experience.
In addition to "E-interiores", which is a Brazilian interior design e-commerce startup that uses Blender for their interior design work. They developed a new platform based on a semi-vanilla Blender, Fluid Designer, and their own pipelines.
To make Blender work for their custom needs they changed and added few things. They have the tools to create the unchanged elements of the space like walls, floor, the render point of view, the dynamic elements of the project, and the library.
Architecture work is more than modeling and creating some renders. Because there are a lot of steps architects and designers need to go through.
First, they need to define the number of views and camera angles needed for the visualization. They need to deal with technical drawings of the project and making corrections and adjustments on the CAD file received from the client. In addition to modeling the project, preparing materials and textures, setting up lights and rendering.
We will talk now about these steps for working on architectural projects. And what choosing Blender for architecture has to offer for architects and designers to help them get their job done.
1 – Project development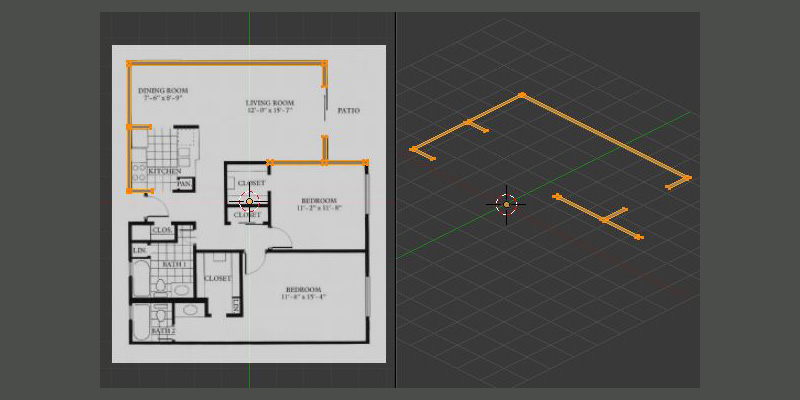 When it comes to choosing Blender for architecture, a lot of people don't know that the software can be used to create technical drawings. Not just modeling, adding materials and rendering. It can actually produce full documentation for architecture work. Usually, this work is done by architects and architecture firms using CAD software.
Some architects and designers use a combination of Blender and a CAD software. Blender for early conceptual studies, then the CAD software, then Blender again for visuals, and then the CAD software again for documentation.
You can create technical drawings in Blender using FreeStyle. With NPR techniques and some procedures to create 2D models, we can "render" full projects. The results look like something that came out from AutoCAD, Revit, ArchiCAD or others.
2 – Modeling

Blender is good for modeling in the early stages of product development because it is fast compared to some CAD software that architects use. A lot of architects don't know that using Blender for architecture, they can achieve a lot of work fast. Which can save them quite some time, because they usually work with deadlines to get the job done.
On the other hand, a good portion of interior and exterior visualization work is outsourced from architecture firms to 3D artists that specialize in archviz work. And a good portion of those use Blender to bring the vision of architects from paper or 2D design to fully-fledged projects that you can navigate through as if it was created in real life.
One of the ways to have faster results especially in the early stages of modeling projects is The use of parametric 3D modeling in Blender that can transform your workflow and give you the flexibility to quickly change the shape of any 3D Object.
Using the right tools (probably even some good Blender addons for archviz) it is possible to add those parametric options. However, it is not straight forward so you need some skills to use it properly. Also, there are some modeling addons that will help for speeding up the modeling process and getting things done faster.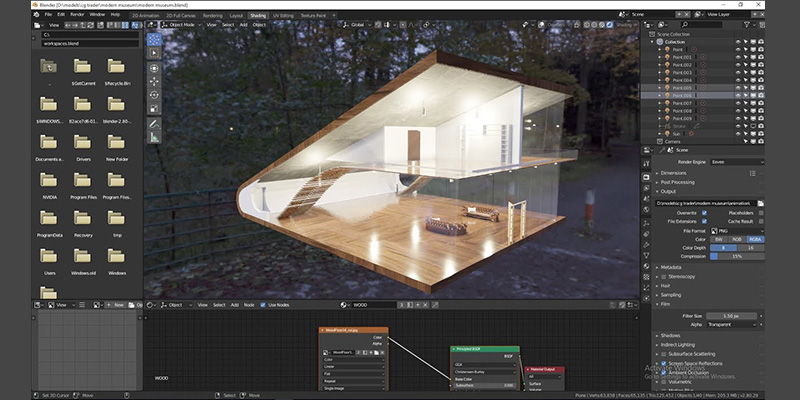 Some modeling add-ons in Blender can help to create houses and building really fast like "building tool". Which makes it possible to create nice buildings or houses really fast by adding procedurally some of the most common architectural elements for buildings. Like floors, Windows, Railings, Doors, Balconies, and Roofs.
Also, there is also Archipack which is kind of similar to the building tool when it comes to adding elements in a fast manner. Also the use of presets like the type of stairs or windows. Which gives variety and a lot more options to architects and designers who don't want to spend too much time on modeling.
3 – Materials & Textures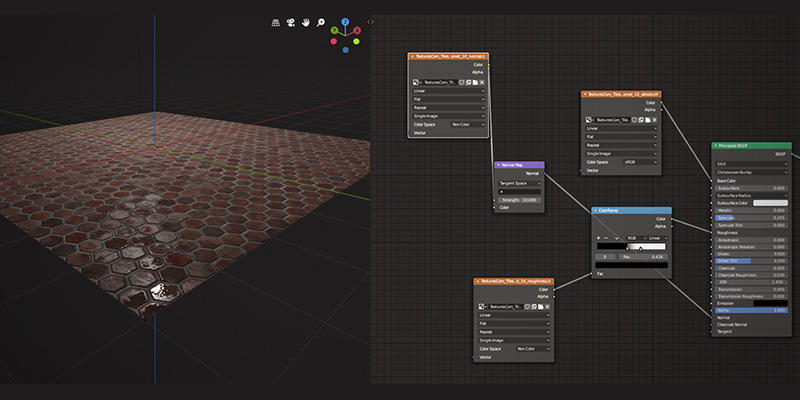 Before starting to work on anything related to rendering in an interior or exterior rendering project, you must apply materials and textures to the scene. Because there is a direct correlation between materials and lighting when to comes rendering. Using materials in Blender for architecture allows designers to have greater control over how they want the final result to look like.
There are a lot of options for preparing materials before rendering your scenes. You can use some good websites that offer free materials that can be used to do decent work. Also, there are subscription websites for high quality materials that can help you deliver much better results in a shorter period of time. Which is a good investment if you are doing client work that can pay you a good amount of money to cover the expenses.
There is also the option of making you own material library if you are good at using software such as Substance Designer. Not to mention the awesome set of Blender addons for texturing and shading that can help you get outstanding results.
4 – Rendering
Rendering is one of the most important parts of architectural visualization work. Because as a 3D artist, you need to take the work that architects did and transform it into something that people can look at as if they are looking at the project when it is done.
Blender has two rendering engines that are used for different purposes:
For Real-time rendering, you can use Eevee, which Is one of the highlights of Blender 2.8. It is great for viewing architectural visualization scenes in real-time, which gives you the ability to predict how the final renders are going to look like. Also, Eevee is a much better renderer for testing how materials and lighting work together. Instead of using cycles which is not going to give you real-time feedback like Eevee does.
If you want to produce images that have maximum realism for architectural visualization, you will have to use Cycles instead of Eevee. Cycles is a render engine that can be efficient for rendering interior and exterior scenes for archviz. But you can also use external render engines such as vray or Octane render if you want other options. Or if you want even better and faster performance, you can take a look at the best Blender addons for rendering.
From what we have seen so, far I think we can say that Blender for architecture seems like a good choice. It is able to do solid work when it comes to architecture work. But why architects, designers and architecture firms still use paid and weaker software?
It is very hard for software such as Blender or 3ds Max for example to be the only kind of software that get used. To clarify, both of those programs are more powerful and complex than most firms need. Blender is a great program and absolutely essential if you want to do really high-end visuals. But the big portion of firms don't need to do high-end visuals: they need to do enough of a visual that the client can understand and get excited about the project.
And that can be done in Sketchup, Revit, Rhino (which even has great plugins for architecture), and so on. These are certainly all easier to use according to the limited experience in 3D that architects might have.
Some firms do need to do high-end visuals, and will typically hire people who use programs like 3DS or Blender for architecture purposes. Those programs are great for architectural storytelling outside of client presentation. However, they might be overwhelming for architects with limited 3D experience and tight deadlines who just want to deliver the projects and make their clients happy.
Also, an important reason is the fact that CAD software and simplified rendering and visualization software have been around for a very long time compared to Blender (which is not new by the way, it was launched in the late nineties). The truth is: when you are comfortable with a set of tools that are easy to use and get the job done, it is hard to change even when given great software that can do a better job and generate more sophisticated results.
But still, if you want to use Blender for architecture work it is a great choice and people are starting to use it more and more with the latest releases which took it to the next level.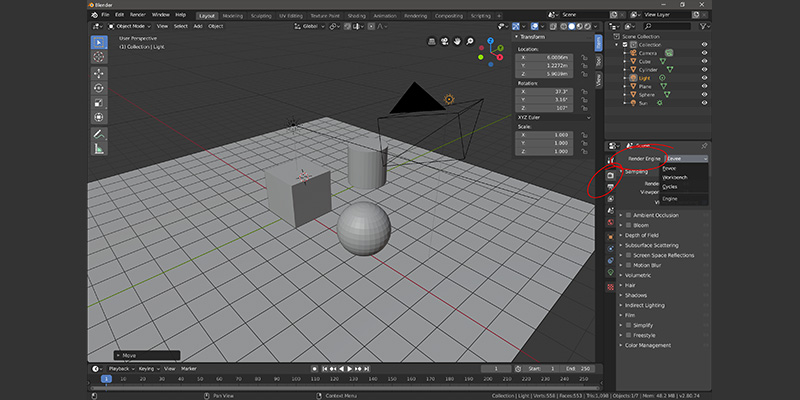 One thing though, Blender can generate amazing results. However, it is not as simple as the other software that a lot of people use to generate mediocre and quick results. If you want to become a professional designer you need to put in the work and learn the basics.
Architectural visualization work in Blender is not going to be hard compared to game development or VFX. If you dabbled with 3D software before, you will be able to learn how to create beautiful renders in a few months. And of course, to distinguish your work from others as a top designer you need a few years of practice. In addition to doing projects to understand the advanced concepts that every professional should have a solid grip over.