The 3D design and modeling world is expanding day after day; as a result, there are many new technologies launched in the market to help designers and artists express their ideas clearly and realistically.
To benefit from these technologies, some crafted software are highly needed. It's especially the case in the advanced steps of creating 3D models, such as software that can help artists paint and texture their 3D assets. One of these software is Mari that comes with a lifesaving set of tools.
Beginners or even artists who are not used to this software may ask: what is Mari software used for exactly? What are its features? And how much does it cost?
To provide help, here are the answers to all your questions about Mari. Don't miss out on this article!
Is Mari software worth being among your 3D texturing and painting arsenal?
3D modeling, texturing, and 3D printing are all extremely popular nowadays because such technologies are becoming ever more available now. Based on which program you use, the realism of the finished model depends on texture for materials development and the very technique selected. The texture is a pixel image, laid on the ready polygonal model (on UV map) made in the graphics program with can give it a color, reflection parameter, refraction parameter, specify the index of refraction, and relief or fake relief.
3D texture artists play an important role in the VFX pipeline. So what does a 3D Texture Artist do? A 3D Texture Artist creates materials and textures that are applied to 3D models and environments in games, films, or TV shows. Texture Artists use a variety of texturing software and techniques. They may use Photoshop, 3D Coat, Substance Designer, or Mari software that we will see in details in this article. You may also want to check Mari vs Substance Designer.
1. What is Mari software?
Mari is a 3D texturing and painting software developed by Weta Digital for King Kong and Avatar productions. Several years later, The Foundry acquired the software (Nuke, Hiero, Katana, Modo) and was rapidly popular in some of the largest post-production studios (Digital Domain, MPC, Framestore Deng, ILM…).
Official website: https://www.foundry.com/products/mari
2. What is Mari software used for?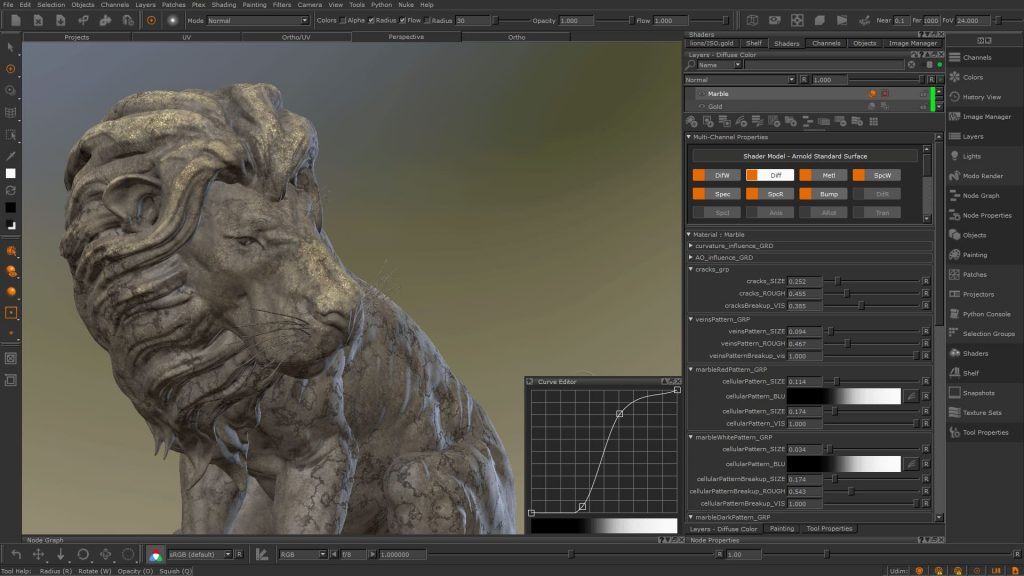 Mari is a powerful tool or software that combines the performance and power to handle even the most complex assets with artist-friendly 3D paint tools that make the most of artists' creativity. It is used for many purposes as it has a set of incredible tools and features. Still, it is mainly used to texture and paint 3D models and environments.
3. What is unique about Mari?
Mari's projection-based painting system allows you to make adjustments and edits to paint before committing it onto a model. Mari's non-destructive layer system lets you freely mix paint with adjustment layers, procedurals, and masks to build your shaders. An extensive range of procedurals makes it easy to create the look you want.
4. What is the main strength of Mari texturing software?
The main strength of Mari as a 3D texturing software is to be able to texture and paint directly on the 3D model or design. So, you no longer have to deal with matching or deformation of texture problems.
5. What are Mari's features?
Mari has so many features that may come in handy for several 3D artists, professionals, or even hobbyists! Can't you wait to explore them? Well, here are they listed below!
With support for UDIM workflows, artists and designers can work with hundreds of high-resolution texture maps. Its projection-based painting system lets artists make edits to paint before committing it, preview it in context, and create 2D adjustments—freeing artists from the limits of resolution and complexity.
With the ability and possibility to scale to millions of polygons for a single topology without slowing down, Mari can cope with the most challenging production meshes and support thousands of textures per model via UDIMs. Artists and designers can enjoy a streamlined look development with Mari's shaders and paint textures with more confidence, knowing that their art and models will look correct in the final render.
Mari's non-destructive layer and node graph systems allow artists to create the look they want, giving access to an extensive range of procedural tools. The Materials system gives artists the ability to make less complex, assets easily or quickly laying down the building blocks for their hero assets.
Production Pipeline Ready
With an extensive Python API and full OCIO color management support, technical artists and artists can easily automate workflows and handle color transforms. What is more, Mari offers support for industry-standard formats like FBX, OBJ, Alembic, and OpenEXR.
6. What are Mari's Benefits?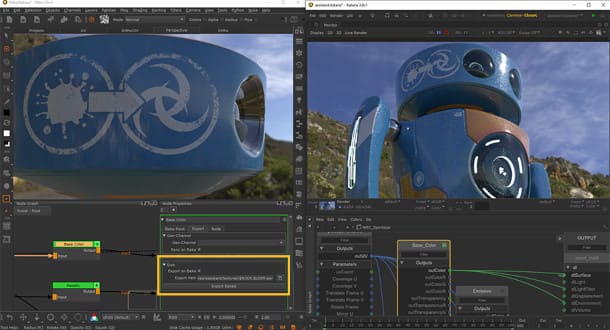 Mari comes with a bench of artist-friendly paint tools that you will certainly like, as it helps craft your artwork to the highest quality. And you can quickly block out the look of an asset with Mari's Material System.
Mari helps eliminate all the guesswork by reducing round-tripping between Katana and other DCC programs with Mari's vendor shaders. Moreover, artists can scale with ease with Mari's complex geometry handling and using the shader of their choice from four shaders: 3Delight, VRay, Unreal, and Arnold.
Mari will help you take massive complexity as it can cope with artists' toughest production challenges & complex meshes. You will also easily create the look you want with Mari's wide range of procedural tools. Without forgetting to mention that it supports up to 32K @ 32bit per UDIM.
Mari can be the perfect fit for pipelines as it provides support for open standards like OpenColorIO and OpenSubdiv and formats such as FBX and Alembic. Besides that, it comes with Extensive APIs and Python scripting, and it is built on Qt5 with access to PySide2.
Mari allows using PTEX instead of UVs, making it suitable for texturing high-poly models used in films and visualization.
7. So, what about materials?
Foundry, the developers of Mari software, added support for thousands of physically-based rendering textures sets with the addition of the material ingest tool. In Mari, you can quickly create your material presets library and share them with friends or team members. Moreover, using the node graph, you can get any kind of result you want to get when it comes to materials, especially knowing that Mari is now going more toward proceduralism in some aspects of its workflow.
8. Who uses Mari?
Mari is used by large , medium, and even small studios. It is also used in some of the most popular VFX production studios, such as Digital Domain, Dneg, Framestore, and ILM.
When it comes to VFX work for movies and television, Mari is the weapon of choice for many artists in this industry because it was created to paint and texture models and characters in film projects with a super high resolution to keep the details visible even with close up shots. It was used to produce many movies, including King Kong, Avatar, Marvel and DC films, and many other Hollywood productions. Video games developers can also use Mari; for instance, it was used on some AAA video games, such as The Order 1886, to create 3D assets such as weapons.
9. Can we use Mari for big projects?
The answer is YES! Mari can handle very complex projects. It was actually developed to handle huge amounts of data as it was initially made to be used in the film industry and to create an extremely high resolution of textures compared to what other software could ever come close to because it can handle working with up to 32k textures.
10. The Learning Curve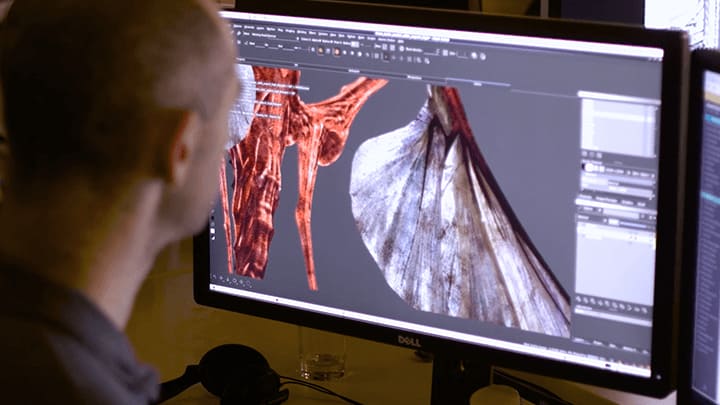 Mari is considered relatively complex to learn compared to other alternatives. It is not made for hobbyists or completely beginners with no previous experience using such software. However, if you give it enough time and practice, you can quickly master it, and eventually, you will have a significant advantage.
11. Pricing/licensing
Mari is the latest VFX tool to be released in a free, unwatermarked version for non-commercial use. The company said artists could use Mari Non-commercially as a learning tool and work on personal projects, including material for demo reels.
When it comes to the complete painting package for professionals and commercial use, they can pay either their entire year's subscription in advance, which costs $659/year, averaging just $55 per month, or monthly payments of $65/ month. It also offers a 30 days Free Trial.
The software Mari is available on Windows, Linux, and Mac OS X.
Final thoughts
Mari from Foundry is a powerful software that provides specialists and 3D artists with unlimited texture painting. It can handle thousands of textures per one 3D model, creating the most complex objects and characters. Broadly speaking, Mari is the industry standard for film.
Mari really shines at handling huge texture sets because of its naturalism and cutting-edge performance. It certainly isn't the most accessible software to learn, but mountains can be demolished with enough practice and time. In the end, and all in all, we hope this article helped you figure out what Mari is used for and gave you a clearer idea about its incredible features.