To create high-quality movies, TV shows, or commercials we need to use good post-production software. Some of them are free and others are exclusive to those who have the budget or those who can afford it. And they all have different features and tools to offer depending on whether you are a one-man shop or whether you work at a VFX studio.
In this video, we will take a look at 7 of the Best VFX Compositing Software, which are the Best VFX Compositing Software and what they have to offer.

7. Natron

Natron is a free and open-source node-based of the best vfx compositing software. It has been influenced by digital compositing software such as Avid Media Illusio, Blackmagic Fusion, Autodesk Flame, and Nuke, from which its user interface and many of its concepts are derived.
Natron is a good Digital Compositor that can handle 2D/2.5D needs in composition work. Its OpenFX architecture is what makes it one of the most flexible open-source compositors for the visual effects field.
On the surface, Natron has a powerful GUI interface that is a flexible and intuitive multi-platform node based engine. it may seem to be a simple compositing application but it does have layers of complexity that allows artists to be more creative. in addition to that, it has a flexible Roto and Rotopaint tool-set that can generate unlimited layers of masks, mattes, and shapes. which can be effective for those who don't have the budget to afford using commercial software that is used in the industry.
Also, Natron has a powerful 2D and Planar tracker to help reduce hours of rotoscoping to meet personal or client deadlines. It has some strong keying or matte generation tools that have been developed from the main OFX software developers and a plethora of tools from the open-source plugin developing community.
6. Hit film Pro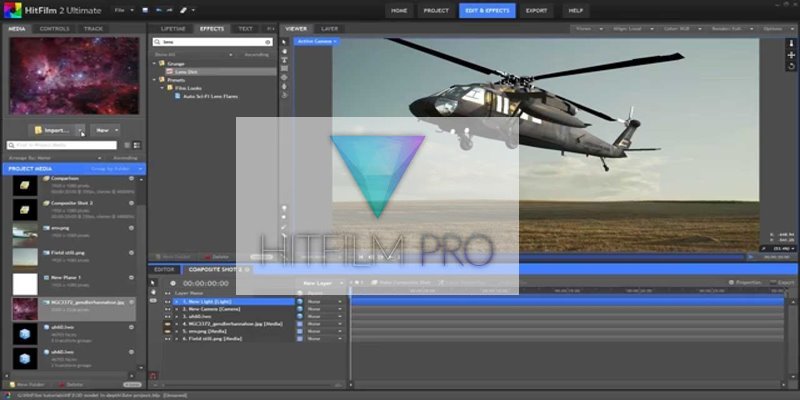 Hitfilm Pro is a video editing, visual effects, and 3D compositing software for filmmakers and professional motion artists.
This program is good for many things but it is not used in the VFX industry for Film and tv shows because it is mainly used to create short films and small projects.
Also, there is Hit Film Express, which is a free version of the composting, editing, and grading application. The main difference between the two applications is that some of the effects, advanced particle simulations, and 3D model capabilities have been removed.
But, many people start with the free version because they can later add in specific elements that they are interested in by purchasing them individually from the Hit Film store, rather than paying for the whole kit.
There is actually a big community of Hit Film and some good resources out there for those who want to learn the software, including many hours of free tutorials on the Hit Film site. in addition to their own youtube channel on which they post tutorials on how to use it. They even have sample videos for you to download and follow along with the tutorial and learn to use the effects.
5. Blender

Even though Blender is a 3D package that is mainly used for 3D modeling and animation it can also be used for post-production work.
Bender comes with a fully-fledged built-in compositor. This allows you to post-produce your renders without leaving Blender. which is great if you are working on your projects and you don't want to use too many programs or because you can't afford them in the first place since Blender is Free.
You can check our detailed article on this on the following link: https://inspirationtuts.com/is-blender-good-for-vfx/

The compositor comes with:
An impressive library of nodes for creating camera fx, colour grading, vignettes and much more
and it can do Full compositing with images and video files
Blender also, features production ready camera and object tracking, allowing you to import raw footage, track it, mask areas and reconstruct the camera movements live in your 3d scene. Eliminating the need to switch between programs.
The Camera and Object Tracker includes
Automatic and manual tracking
Powerful camera reconstruction
Real-time preview of your tracked footage and 3d scene
in addition to Support for Planar tracking and Tripod solvers
Because Blender is free and powerful at the same time, a lot of small VFX studios and freelance artists are using it daily on their VFX projects. actually, Blender was used to create some interesting films such as Tears of steal which is a short sci-fi film created by the Blende institute, also Skywatch which is a high-quality short film created using Blender in part.

4. After Effects

After Effects is a tool that is used to create animation, motion graphics effects, and VFX work. Unlike other products from Adobe such as Premiere Pro, which is more focused on video editing, After Effects is designed to help create all the cool extras that make the final product look even better.
It's used by a variety of creative professionals for film, TV, and video for websites and social media.
Even though after-effects is not the best Vfx software it can be used for creating mind-blowing visual effects. using it it is possible to build accurate masks and keys, use rotoscoping to separate foreground from background, perform motion and camera tracking, and 3D elements to a scene.
After effects is generally used for shots requiring basic compositing or color correction for trailers and so on. because medium and big studios do their heavy lifting work using other software such as Nuke, Fusion, and Flame. but After effects is used to do most of the things needed in VFX work nonetheless.
After effects is actually an award-winning tool. The Academy of Motion Picture Arts and Sciences bestowed a Scientific and Engineering Awards to Adobe After Effects.

3. Black magic Fusion
Fusion is one of the Best VFX Compositing Software for visual effects artists, broadcast and motion graphic designers, and 3D animators. it is developed by Blackmagic Design and originally authored by eyeon Software.
It is typically used to create visual effects and digital compositing for movies, TV-series and commercials because it has been used to work on endless Hollywood movies in the last 30 years or so.
a lot of Hollywood's biggest blockbusters and hit television shows use Fusion to create their visual effects. it has been used on feature films like The Hunger Games, Dr. Strange, and Guardians of the Galaxy, as well as hit television shows like Empire, NCIS, and American Horror Story. Fusion also plays a major role in the development of cinematics for major video games such as Dawn of War III, Halo 5, and more!
this program can be used to track objects, retouch images, animate titles, or create particle effects, Fusion has a massive toolset that lets artists tackle the demanding jobs in the industry. it has a 3D workspace along with tools for compositing, keying, painting, animation, virtual reality, stereoscopic 3D, and more. it combines effects and motion graphics, along with 3D modeling and rendering into a single toolset. That means artists can import and render 3D models and scenes with the rest of the composite in Fusion. without necessarily having to pre‑render assets or transfer between multiple applications!
It employs a node-based interface in which complex processes are built up by connecting a flowchart or schematic of many nodes, each of which represents a simpler process, such as a blur or colour correction. This type of compositing interface allows more flexibility, including the ability to modify the parameters of an earlier image processing step while viewing the final composite.
Upon its acquisition by Blackmagic Design, Fusion was released in two versions: the freeware Fusion, and the commercially sold Fusion Studio.
2. Flame
Flame is a unique high-end of the Best VFX Compositing Software that can handle the entire post-production process from Editing, Colour Correction, VFX, Compositing and Motion Graphics, all the way to delivery. It has been one of the most important software of advertising agencies and film directors for the creation of high-end VFX and finishing their films for more than twenty years.
Usually, Flame is used in the post-production pipeline with other tools and use production tracking software such as 'Shotgun' for review and approval.
Often experienced Flame artists are interested in working on big-budget feature films and TV projects. and they work closely with the VFX Supervisors for look development, composition, and post-vis.
Flame artists today are not as available as other artists for other post-production software such as Nuke, Fusion, or after-effects because first of all, because Flame is subscription, is one of the most expensive among all composting software. it is $4,415 a year at the time of recording this video. and also because the industry has shifted to using software such as nuke even though Flame is powerful and still used on big projects.
1. Nuke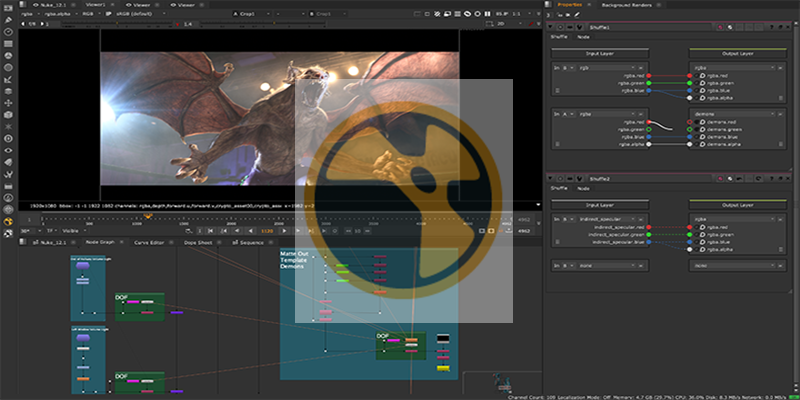 Right now Nuke is the most popular compositing software in the VFX industry because it has all tools necessary to get the job done, no matter how complex the project is. Nuke has Advanced node-based compositing, 3D tracking and model building, and much more.
What makes this one of the Best VFX Compositing Software desired by artists and studios is the unparalleled power and performance that meet the needs of modern production work because as we know projects are getting bigger and more demanding.
Using its node base workflow Nuke delivers everything Artists need to tackle when it comes to the diverse challenges of digital compositing. This includes industry-standard keyers, rotoscope, vector paint tools, colour correction and so much more.
This is the best VFX compositing software and it is currently used by most VFX studios around the world, and it is dominating the market to a certain extent right now. NUKE's users include Digital Domain, Walt Disney Animation Studios, Blizzard Entertainment,  DreamWorks Animation, Sony Pictures Imageworks, Sony Pictures Animation, Framestore, Weta Digital, Double Negative, and Industrial Light & Magic and so on.
You can check our article with a detailed comparison between these three vfx compositing software and more useful information here:

https://inspirationtuts.com/blender-vs-after-effects-vs-nuke/
At the end, we mentioned here some of Best VFX Compositing Software whether you want to work on your projects or whether you want to join the industry. If you are new you can check out Software such as Natron, Blender or Hitfilm express to build up some experience and learn more about this field. but if you can afford to pay for software you can learn After effects and nuke, even though aftere effectss not expensive by the way. you can learn this software to get a chance to work professionally in VFX studios.