Today we are talking about a Blender addon for modeling that than can do very interesting things. But mainly it is created for generating what the developer calls micro meshes. These micro meshes are small pieces of geometry that are going to be replicated across the mesh you have to create fascinating patterns of different kinds. Based on the results you are aiming for. You can easily select and customize them later on.
Simply Micro-Mesh Addon:
https://blendermarket.com/products/simply-micro-mesh?ref=247
Simply Cloth Addon: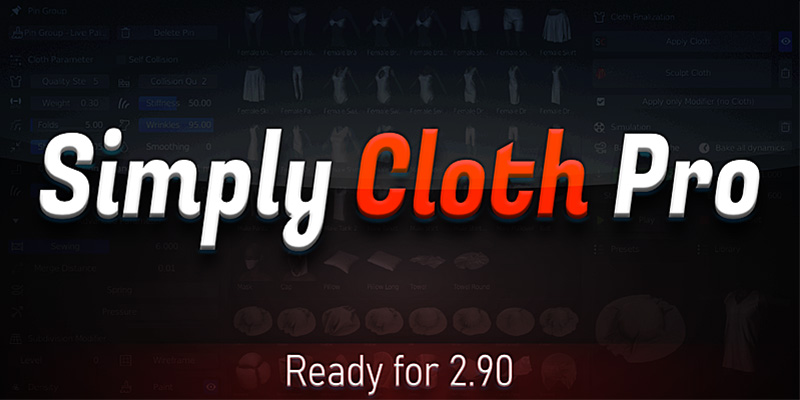 https://blendermarket.com/products/simply-cloth?ref=247
It's not just any Blender addon for modeling
It's a Blender addon for modeling helps you to project ready-made micro-objects onto your target object quickly and easily. With it, it's easy to create concepts and experiment and work on your projects if you need to.
This Addon includes more than 120 ready-made Micro-Mesh presets to use! and this is just the beginning.
Of course, you can change them or create and use your own micro meshes. this actually expands the horizon of what is possible using this addon.
Some of the settings that Simply Micro mesh addon gives you to help you control how your mesh looks are for example changing the scale on two axes also rotation in addition to the ability to randomize both scaling and rotation of the objects in the pattern. You can adjust the scaling and phasequickly and it helps you to visualize the density quickly.
there is also the ability to determine the thickness of those preset objects, in case you want them to pop out more or want them to look flat.
you can also change the subdivision level of these objects to be able to see a higher quality mesh, especially when zooming in and looking at it from a very close distance.
Additional awesome features
There is also there is a feature that allows you to subdivide and Unsubdivide the whole mesh. Which helps you increase or reduce the number of Micro-mesh preset objects on the mesh.
It's the same developer who created the cloth simulation addon "simply cloth" that created "Simply Micro Mesh". Which is fantastic if you did not take a look at it yet. I will put links in the description.
The reason I wanted to mention simply cloth addon is that since it is a cloth simulation addon it works great with Simply Micro-Mesh. Because you can use it to create pieces of cloth that can be used to create those micro meshes. As we have seen in this video you can use it to create armor chains mesh. You can even use it to create sweaters with visible details using Micromesh objects and other stuff. Such as baskets or tissues of shoes or anything else that might be relevant. So if you think you need to create these kinds of things i highly recommend this Blender addon for modeling.
Also, i want to remind you that the Blender market is having a massive discount sale of 25% off over 2000 products within a limited period of time. You will also find the necessary links in the description.