Vector graphics are a very popular type of graphics that will allow you to scale your work to any size without any loss in quality. Vector graphics software are mostly chosen for this reason, among many others.
As iPad users, you might struggle a bit to find vector apps for iPad to suit your device. To help you out, we have collected some of the best vector drawing apps for iPad that could be an asset to you as a designer.
But before that…
How can these vector apps for iPad be an asset?
The most obvious reason that makes these apps a huge asset to put in your arsenal is the quality value. They allow you to create high-definition, crisp and clean-edged graphics. This will turn out to be especially handy in various use cases, for example:
Logo design.
Flyers and banners.
Book cover design.
Game assets.
…,etc.
There are also many great apps that creative iPadOS users can benefit from, we can mention for example:
Here is our list for the top 13 vector apps for iPad that will allow you to create vector graphics. We posted a video on our YouTube channel to help you have a closer look on the actual workflow, tools and features of our selection (if you prefer a more visual approach).
Without further ado, let's get to it!
13. Clip Studio Paint
It's a sophisticated app for drawing, painting and creating comics. The desktop version allows you to create stunning graphics and artworks with ease. Besides that, it's a multi-purpose tool thanks to its versatile nature.
The iPad version on the other hand will allow you to extensively get the best of it in a very unique environment. It comes with tools and brushes that make drawing very effective and fun, especially using a stylus. Furthermore, it comes with a pencil tool, paint tools and a range of pre-made shapes that you can pick from the store.
Speaking of free vector apps for iPad, this one definitely stands out as one of the best options out there. But of course, it's rather limited unless you purchase some in-app features to extend its potential.
Link: Clip Studio Paint
12. Assembly
It's a great app for vector creation: you can use it to make illustrations, logos, paintings and animations. It has great features like the smart snapping system, shadow options, rotation, shape flip and so on.
Furthermore, it comes with a wide range of assets, including 250 custom stickers, 35 pre-designed and custom color palettes and shapes with more than 1000 options to choose from. Among the other free vector apps for iPad, Assembly is definitely one of the crown jewels.
Link: Assembly
11. Protosketch
It's a great vector creation app that will provide you with a thrilling experience. It is equipped with vector tools, fonts and texts, shape tools, icons and UI elements, align options, snap system, gradients, RGB and HEX sliders, blenders, color picker, swatches and color wheels.
Link: Protosketch
10. Vectornator Pro
It's an impressive vector-based app that was around for quite a long time. It keeps growing continuously with more and more features. Using it, you'll be able to create high quality immersive graphics, drawings and illustrations. It's featured with alignment, duplication, rotation, scaling along with other cool features.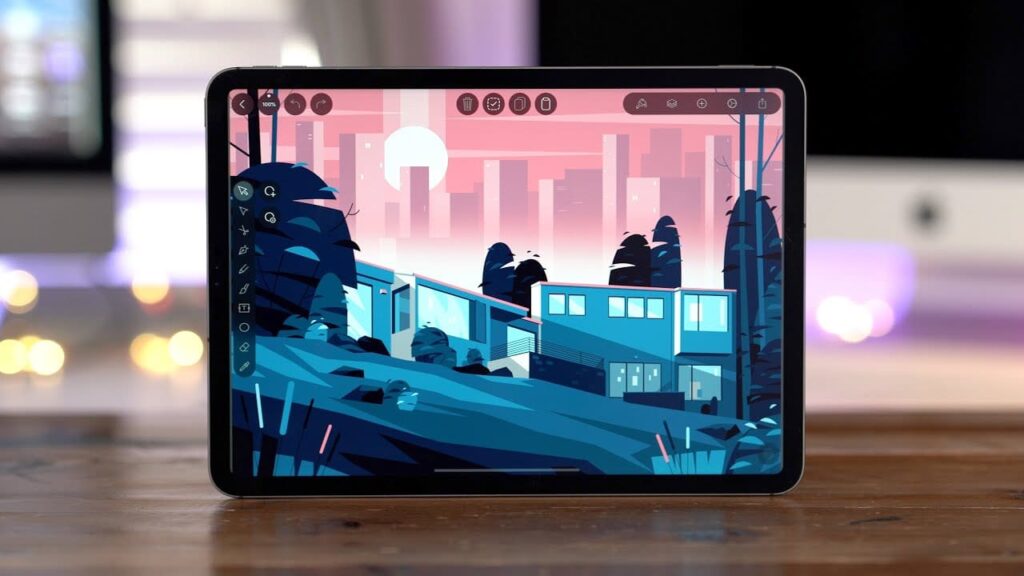 In addition to that, it has gradients, color picker, color blending and pallets in HEX, RGB and HSB. There's also the awesome auto trace tool that allows you to convert raster images into vectors. Bonus? It belongs to the free vector apps for iPad gang!
Link: Vectornator Pro
9. Crayons Style
It's a pretty basic app that is all about vector drawing. It grants you the possibility to draw simple shapes and lines, assisted by a layering system. However, it doesn't support object manipulation on canvas. If you're just starting out and you're looking for a decent app to initiate yourself, this one will be perfect.
Link: Crayons Style
8. Freeform
It's a straightforward app that comes with a very simple user interface. It's organized with a sidebar for tools and other options in the top bar. If you need an app that allows you to jump right to the work then Freeform is the one. Despite the simplicity, it's a solid app with a variety of drawing options and good results.
Link: Freeform
7. TouchDraw
It's a multi-purpose drawing app that helps you create professional work thanks to its tools and features. It has tons of adjustment possibilities and it supports layering. In addition to that, it allows you to create objects and save them as shapes for further use.
Besides that, you can perform various manipulation on your objects, like grouping them for example. Once you're done, you can display your work on external screen using a VGA adapter. No t to mention that it's one of the free vector apps for iPad users who are on a budget.
Link: TouchDraw
6. iDesign
iDesign is one of the best vector drawing apps in the entire store with a very simple user interface. The UI is actually one of the main factors that make it so efficient: it makes the workflow and the learning process quite easy. It's not exclusive to iPad only, since it works just fine with iPhone as well.
The app has a graph in the background by default, which is very handy for drawing accurate shapes and objects. It's equipped with a scalability feature that you can use to easily scale your drawings. Not to mention that exporting with iDesign has a variety of format options.
Link: iDesign
5. Affinity Designer
It's one of the most suitable apps for vector drawing. It allows you to create stunning illustrations, icons, banners, typography and much more.
It comes with curves editing, pen tool, node tool, shape tools, and it can handle various color modes like RGB, CMYK, Pantone, LAB and Grayscale. In addition to that, it supports the non-destructive Boolean features and the access to iCloud as well. It also has excellent text tools that will allow you to create beautiful typography, in addition to supporting OpenType.
An amazing thing about Affinity Designer is the way it combines between bitmap and vector graphics. Not to mention that switching from one mode to the other is super smooth.
Link: Affinity Designer
4. Concepts
It's a perfect app for sketching and digital art, having an advanced yet very user-friendly UI that is easy to get a grip of. It suits architects, digital artists and designers, and it's equipped with many advanced features that will allow you to draw and create vector art just fine.
Using it, you can edit, colorize, scale, transform, and rotate any object. Furthermore, it has handy features that will help you get the most of your design process, like shape guides and measurement tools.
On top of that, Concepts grants you the ability of creating an unlimited canvas number. You can also adjust the opacity and change other parameters within the layers. Once you're done, you can export your work in various formats, like PDF, SVG and so on. Not to mention that it's very compatible with other programs like Procreate, Adobe and Sketchbook. Finally, it's one of the most iconic free vector apps for iPad users who don't want to pay an arm and leg. In other words, the free version is good enough for any aspiring artist.
Link: Concepts
3. Graphic
Before talking about the app, we have to clarify one thing: it used to be known as iDraw, and then Autodesk Graphic before settling on the current name. with that being said, it's an impressive vector-based app that is available for Mac as well.
It has many features like import and export for PSD, PDF and SVG, Dropbox export, iCloud synchronizing and much more, all that in one simple looking app. It also has powerful tools, like the pencil, shape, brush and text tool. Not to mention that it comes with a layering system and supports object grouping.
Link: Graphic
2. Adobe Illustrator Draw
It's one of the most popular apps for vector creation and digital art. It has a set of the most fantastic tools and features that you can possibly find in an app. We can mention for example the custom brushes, resizable canvas resolution that goes up to 8K, shape tool, huge zooming capabilities, pencil tool, curves, clipping masks, symmetry mode, radial repeat and path typing features. It allows you to combine photos with vectors and to create comic bubbles.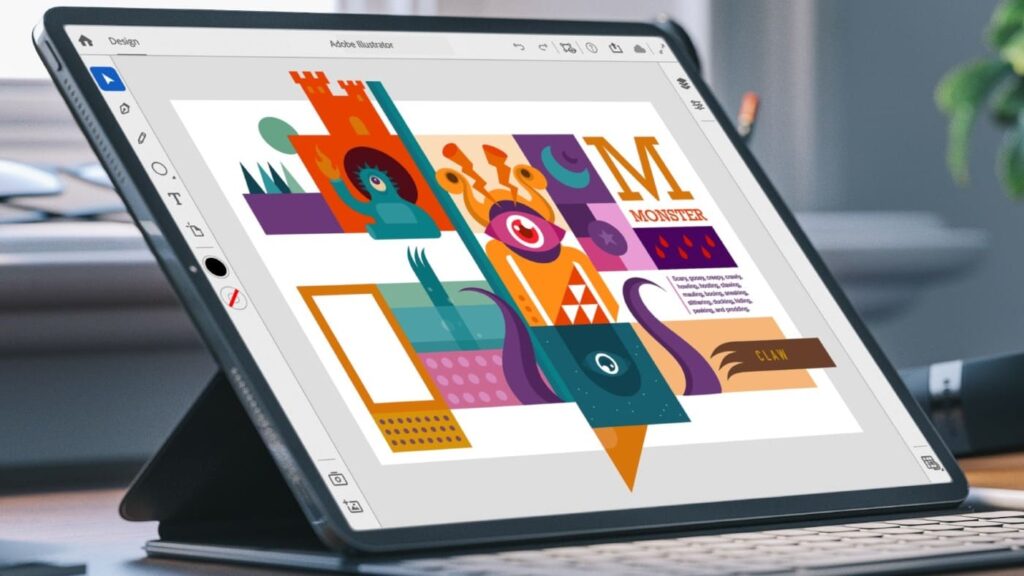 It also has a great integration with Illustrator and Photoshop. Not to mention that it has the Cloud synchronizing feature and 20GB of storage space for $2 per month.
Link: Adobe Illustrator Draw
It's worth mentioning that Adobe Draw "retired", since the Adobe company ended its support in January 10th, 2022. However, it's note totally dead: it was replaced with another free alternative (that you'll definitely like just as much) known as "Adobe Fresco".
1. Inkpad
It's one of the best vector drawing apps for iPad. It has many powerful features that will allow you to create stunning graphics. Even as beginners, it won't be much of a hindrance to start diving in right away. It allows you to add pictures, create shapes, benefit from a dropper, add anchor points to vectors and much more.
In addition to that, it manipulates objects on canvas very effectively, allowing you to group, align, flip or mask them with ease. Furthermore, the export options include the Dropbox synchronization besides various other formats like SVG, PDF, PNG and JPEG.
Link: Inkpad