Today we are going to talk about 11 3D Modeling Apps For ios that you can use on your device whether it be an Ipad or an iPhone. They range from simple apps that can be used to create simple low-poly models to complex sculpts and mechanical designs.
11- Putty3D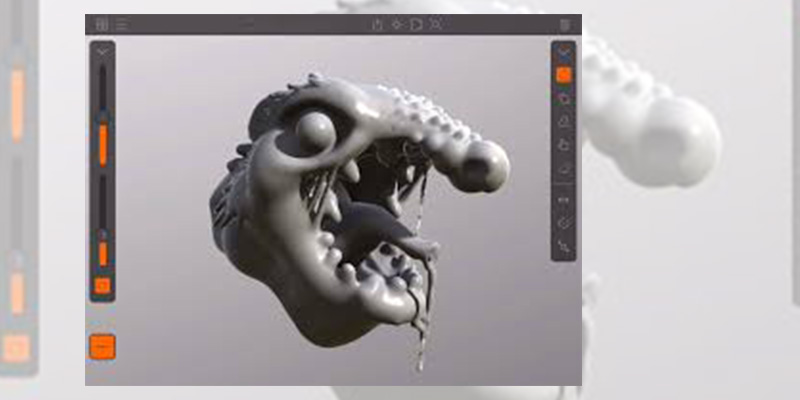 Putty3D is a simple 3D modeling app that can be used to create simple 3d models. It supports Apple Pencil, 3D Touch, and supports OBJ and STL export (but there hasn't been an update in while). you can use it to create simple models or printable sculptures that you can take later to desktop software to add more details. Overall, this app is good but it is limited to a certain extent.
10- Polydust
This is a simple app for 3d modeling that closely replicates what you can do on desktop software but of course, it is kind of watered down to be able to do basic things but you can create complex models to a certain extent if you want to.
Polydust gives you full control over your model mesh, being able to work in vertex, edge, poly, and object models. Additionally, you can create parametrized basic shapes such as cubes, arcs, cylinders, and toruses that will be a great base for your artworks. All with simple UI supported by keyboard shortcuts.
With Polydust, you can import and export FBX models – including integration with Sketchfab that lets you publish your creation in a matter of seconds. Polydust also has a great and active community. There is also a forum and Youtube channel with tons of video tutorials. 
9- Keyplan 3D Lite
Keyplan 3D is an interior design app that can help you create interior scenes with ease. I would say this a tool for design and not a modeling app because almost everything is created for you beforehand.
It has an interface, designed with simplicity in mind, you can create amazing content without ever having to worry about complex menus and cryptic options. 
It is simple to use to help you design, build, think, and decorate your home or future home from the ground up. Whether you are looking to make alterations to your current home or plan on building your dream house, Keyplan 3D seems really good at simplifying the process.
8- Umake
This is a simple 3D modeling app that allows you to turn your ideas into 3d models starting from 2d sketches using different styles. Umake can be a good way of using your time productively when you are not near your computer because it has tools that can achieve great results.
This app can be used in different fields from Automotive, architecture, product design, and so on.
And one of the best things about using Umake is the community it has, in addition to the abundance of tutorials and videos that will teach you about pretty much everything you need to know. 
7- 3DC
This app was made by a small start-up to provide an easy and intuitive app for beginner 3D designers like children and people who don't have experience and want to try to put their hands on 3d stuff.
The 3DC app was designed to be used primarily in education and help teachers in schools because it offers discounts for schools and helps teachers to integrate 3D design in their curriculums.
This app is very simple, you can use basic shapes such as a sphere, cube, or a cylinder to Start creating relatively complicated models from basic geometry. overall this app is for beginners so don't expect to create complex 3d models like professional 3d software, but it is great for new people.
6_Morphi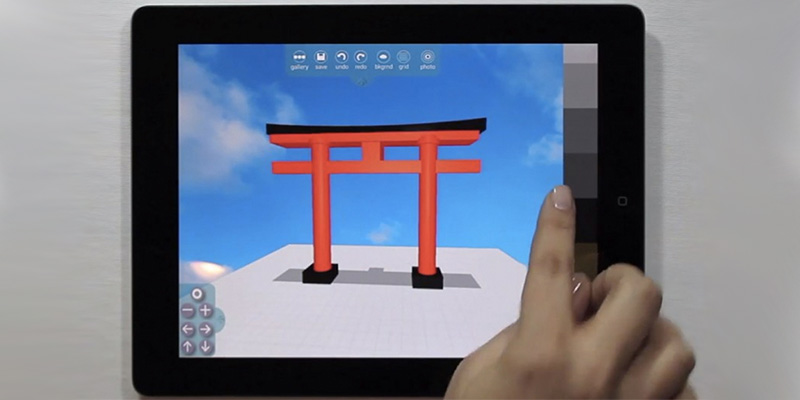 Morphi is a mobile app that can be used to create 3D models for AR + VR, 3D Printing, Animation, Game Design, Illustration, Graphic Design, and more. It is easy to learn and use and generally speaking it can be suitable for all ages and skill levels.
It has many tools that can be used to do a variety of tasks such as freehand sketches, vector drawing, 2D technical drawings, editable control points, and others. You can also add texture to 3D models with our tools or your own images. You can also export your models to be printed or to be detailed further on a desktop 3d software.
5- Sculptura
Sculptura is one of the most intuitive and powerful 3D sculpting apps. It has an advanced clay engine in addition to great tools. You can Sculpt organic stuff like characters, animals, monsters, in addition to hard surface models. This app is interesting because it has A high-resolution clay sculpting engine with Full GPU acceleration. 
It has Powerful and intuitive sculpting tools. That allow you to sculpt complex shapes in addition to beautiful real-time rendering that can help you keep a close eye on your results throughout the process. You do this with the help of Easy-to-use materials and lighting.
Some of the sculpting tools it comes with include: Carve, Deform, Smooth, Cut, Flatten, Resize, and more. You can also import and export Alembic, OBJ, STL, and USD files.
4- Forger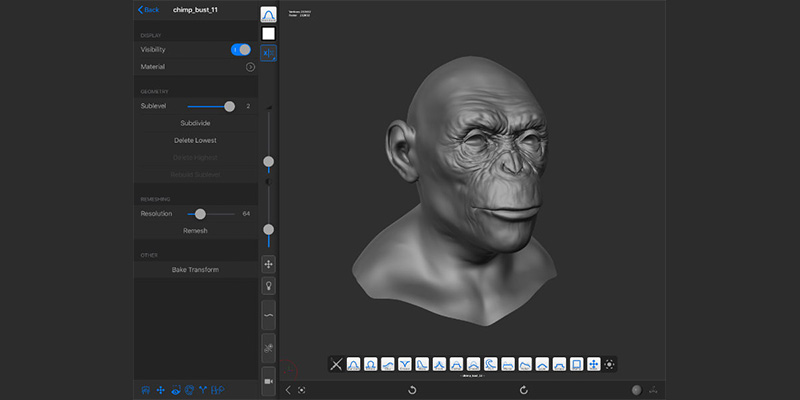 Forger is a digital sculpting and texture painting application for artists who want to come up with ideas, do 3D sketches, or those who want to be able to work on the go. forger does not only let you sculpt but texture paint as well.
This app has an intuitive multitouch interface, many sculpting brushes, powerful re-meshing capabilities, the ability to import/export OBJ files, a desktop-class brush system, and many other awesome features. 
For sculpting work, this app is one of the only few options for artists who need to work on their projects on the go. Even though it might seem confusing or somewhat unintuitive at first, it is just fantastic.
3-Shapr3D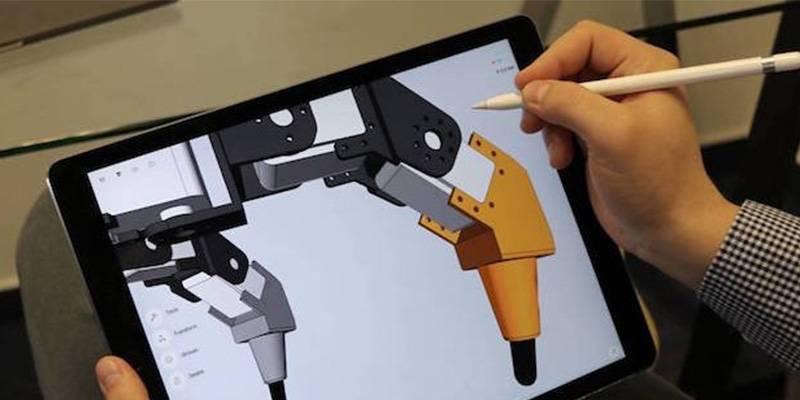 Shapr3D is a solid modeling computer-aided design app that provides a complete direct modeling feature set on Apple Pencil compatible iPads. This app is considered a leading mobile app in many industries like other professional software such as Solidworks because it uses the same engine to create 3d models. and this makes it probably one of the most powerful 3D CAD apps out there. 
Even though it is just a mobile app it is capable of creating complex parts and functional final products which shows why a lot of people choose to use Shapr3D. This makes it a great solution for engineers and industrial designers who don't spend as much as time they would like in front of their computers. This can also be useful for designers and freelancers who prefer to work outdoors because you can use 2D and 3D modeling tools, export manufacturing-grade 3D models, and much more. 
2- Nomad Sculpt
This is a new Sculpting app that can work with both Android and IOS operating systems. Even though it is new it has fantastic sculpting tools and brushes that can help you replace desktop software such as Zbrush or Blender when you are away from your desk. It has an easy-to-use interface, designed for the mobile experience.
There is also a lot of customization possible if you don't feel comfortable with the interface. It has many brushes like Clay, flatten, smooth, mask, and many other brushes that will let you shape your creation. and for hard lines, you will also find some lasso/line/curve cutting tools.
For Stroke customization, there are Falloff, alphas, and other stroke parameters that can be customized. There is also Vertex painting with color, roughness, and metalness.
You can easily manage all your material presets. And to be able to see how your models are going to turn out there is PBR rendering by default, and you can upload your HDRI environment for better and more realistic lighting. But You can always switch to Matcap for a more standard shading for sculpting purposes.
Apple Pencil is supported as well, you can also customize how it interacts with the tool radius and intensity. One thing that makes this app stand out is the fact that it can sculpt dense meshes with a high polycount smoothly and without experiencing side effects such as heat from the device. as someone described it best this app is Black magic.
1- Onshape
Onshape for Android allows you to create, modify 3D mechanical CAD models. It helps designers and engineers to focus on being creative when working on mobile devices. It is primarily focused on mechanical CAD (MCAD) and is used for product and machinery design across many industries, including consumer electronics, mechanical machinery, medical devices, 3D printing, machine parts, and industrial equipment.
Onshape unites parametric modeling tools and designs data management in a secure cloud workspace that is accessible on any device and never loses data. basically, this app is not specifically targeting individual users and hobbies but professionals and corporations that need these types of tools but it is great if you want to use it for personal use.
Onshape is not just a 3d modeling application for mobile apps because it can be used on computers too.
Finally, this was a detailed list of the best 3d modeling apps for ios that you can find today in stores. I tried to give you all the powerful points of each app so it would be easier for you to chose the one that suits you the best.