No matter what skill level you have as a graphic designer, you had to choose your go-to software at some point in your career. You certainly bumped into many names, Illustrator and Affinity Designer are only two of them.
They're both popular and widely used, but you would struggle to pick one of them as a beginner. Many questions certainly crossed your mind, like: is Affinity Designer better than Illustrator? Is Affinity Designer worth it compared to its industry-standard counterpart? On what to base the choice of Adobe Illustrator or Affinity Designer? Can Affinity Designer replace Illustrator? Is Affinity Designer compatible with Illustrator?
Today's article will be the ultimate face-off where we will be comparing Illustrator vs Affinity Designer. Our team of expert graphic designers saved you the hassle of research and testing by reviewing both software in depth, in order to answer all these questions. Our team even created the video down below to demonstrate all the features in a concrete way, so feel free to check it out if you want to have a visual insight.
We're going to see their use cases, learning curve, interface & workflow, art tools & features and finally the pricing. Stick around if you can't seem to pick one of them.
Illustrator vs Affinity Designer: is it a matter of being industry-standard?
We received many requests asking us about Affinity Designer and its place in the industry, especially when it's compared with a huge industry-standard software like Adobe Illustrator. It's natural to receive such questions, because the great majority of our audience is aiming for a career continuity (like a job or a viable freelance activity).
It's true that many companies would put Adobe Illustrator skills as a strict requirement, so if you're aiming for such an eventuality you will have to cater to this requirement.
However, this is not always the case. We posted about head-to-head comparisons that prove how other software that aren't technically industry-standard could stand the face-off in a very good way. For example, GIMP vs Adobe Illustrator or even Inkscape against Illustrator comes down to comparing the power of free open-source graphic design software against a giant premium competitor.
We're telling ya, they're worth it all things considered.
Adobe Illustrator and Affinity Designer Overview
What is Illustrator?
Ever since it was launched in 1987, Illustrator became one of the best vector-based software on the market (if not the best of them all). Millions of creators and artists use it, because it helped them take their work to the next level. Being industry-standard, it has all the necessary tools and features to serve any of your needs as an artist. You can run it on Windows and Mac, plus the very convenient version for iPad. 
Link: Illustrator
What is Affinity Designer?
It is a highly advanced program developed by Serif Labs. Affinity Designer empowers you to create gorgeous graphics and illustrations. Since it is a vector-based tool, it produces clean edges with high levels of accuracy at any size. It also supports the raster technology, and this hybrid system works at your favor to grant you more freedom. You can run it on Windows and Mac, and you can also choose the iPad version.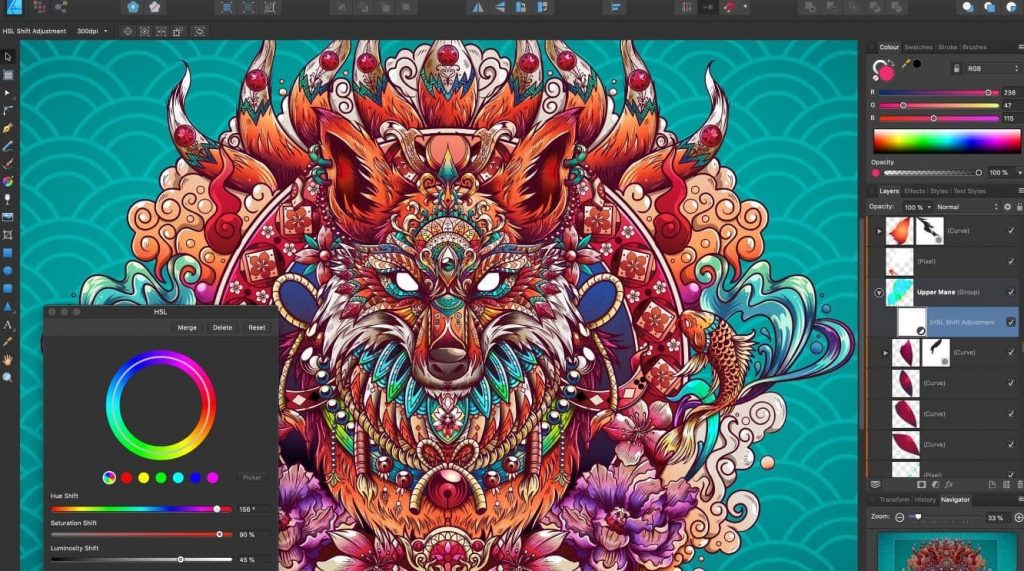 The initial launch was in 2014, and since then, it is competing with Illustrator especially as the N°1 alternative for most users. Very bold of you to assume that cheaper software aren't that good.
Link: Affinity Designer
What is Illustrator vs Affinity Designer used for?
Now that you know what to expect, the next question is: what can you use Adobe Illustrator and Affinity Designer for?
Illustrator use cases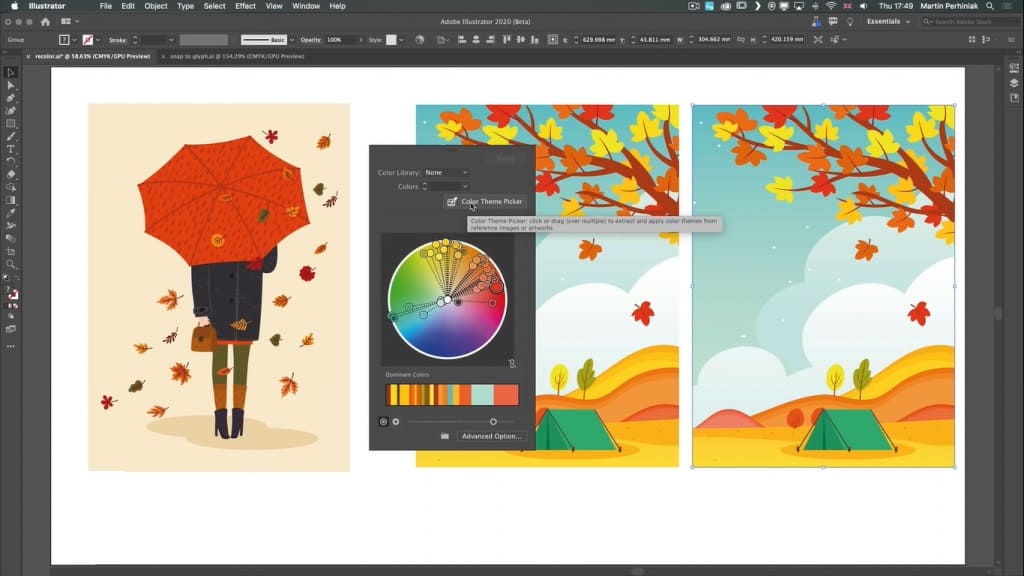 Illustrator is perfect for all vector graphics. If you need a clean design that you can scale to infinity, then Illustrator will be your guy.
It is used by freelancers, agencies, small and big companies, Hollywood illustrators (like movie poster designers) and so on.
It is very common for logo design. This is why it is extensively used by branding designers. The fact that it's suitable for print media and basically all marketing surfaces, it makes it even better for this purpose. The RGB and the CMYK color models push the horizons to new extremes; it will make sure that your designs will look dope anywhere.
You can practically create anything with Illustrator, like flyers, brochures, layouts, stationary design, poster design, etc.
Affinity Designer use cases
Affinity Designer on the other hand has both RGB and CMYK color modes too, just like Illustrator. This means that you can also use it for screen and print media.
It is pretty popular among beginners, whether it be hobbyists or casual users.
A good example to illustrate this slice of users is YouTubers and bloggers. They use it heavily to create graphic elements for their businesses and online presence, like headers or thumbnails.
In addition to that, digital marketers can rely on it for ads and commercials. Not to mention that video editors can also use it to create assets like lower thirds for example. The examples can actually go on and on, and we can say that they can fit into the use cases of Illustrator too.
Illustrator vs Affinity Designer in Learning Curve
Moving on to the learning curve, both software are vector editors with a hybrid integration of raster graphics in the case of Affinity. This may be intimidating for so many, but there's actually more to it:
Illustrator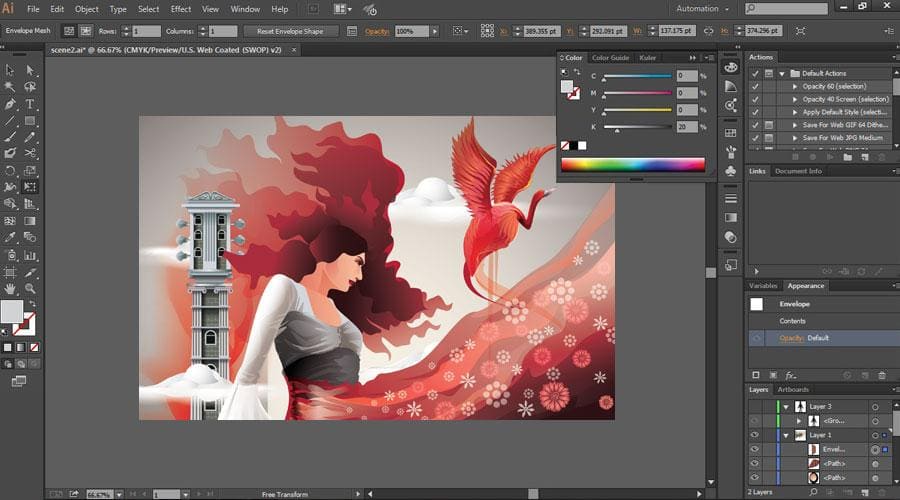 Illustrator has a great longevity and it's becoming quite user friendly over the years. Used by hobbyists or professionals, it can actually be suitable for beginners as well.
However, the learning curve can be quite steep in most cases, especially when you compare it to Affinity. Of course, it's not a problem, because the web is overflowing with learning material of all kinds. It's probably one of the biggest advantages of choosing a popular software: more users means more tutorials and knowledge spread.
Affinity Designer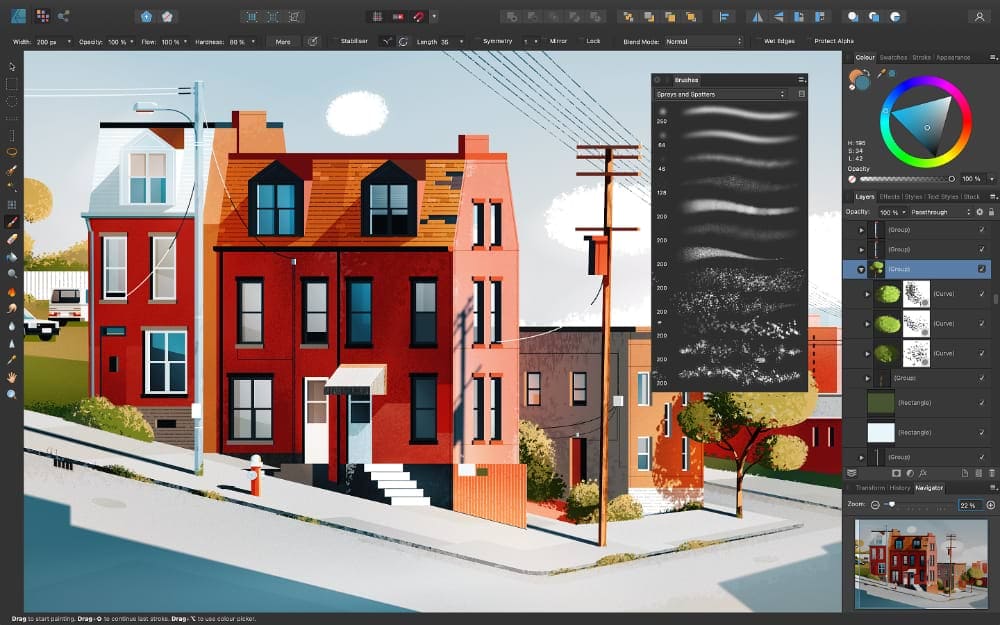 Affinity on the hand focuses more on what is basic and essential for design. This is why you'll find it to be a lot easier to learn and get a hold of the toolset.
You'll find lessons available from basic to advanced.
Illustrator vs Affinity Designer in Interface
Illustrator
Illustrator has a rich set of advanced tools, which may lead to the user interface looking a bit cramped and clunky. We don't think that it's the most intuitive either, but the fact that it's super customizable covers up for the deficit.
Affinity Designer
Affinity one the other hand has a very intuitive interface that wouldn't overwhelm you with too many options, leaving you more focused on the design process. The modern layout of the UI makes it very welcoming. If you are switching from another software like Illustrator, you will feel the difference almost right away.
Illustrator vs Affinity Designer in Workflow
We can all agree on the fact that both software have some of the largest communities on the market, but what made them become so? You might ask. The first thing that comes to my mind is the workflow of both, and how it can affect the production pipeline of any artist:
Illustrator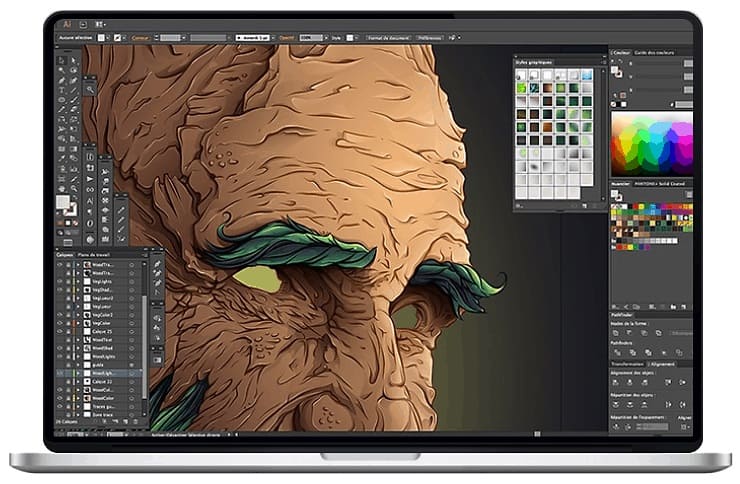 The workflow of Illustrator is relatively smooth and easy to go with it. Thanks to the very organized workspace and layout, the design process will be very effective. You can select from multiple default workspaces. You have Automation, Essentials, Essentials Classic, Layout and Painting.
The zoom capabilities go up to 900%. And to optimize your workflow even more, illustrator lets you create and customize hot-keys and shortcuts the way you see fit.
Affinity Designer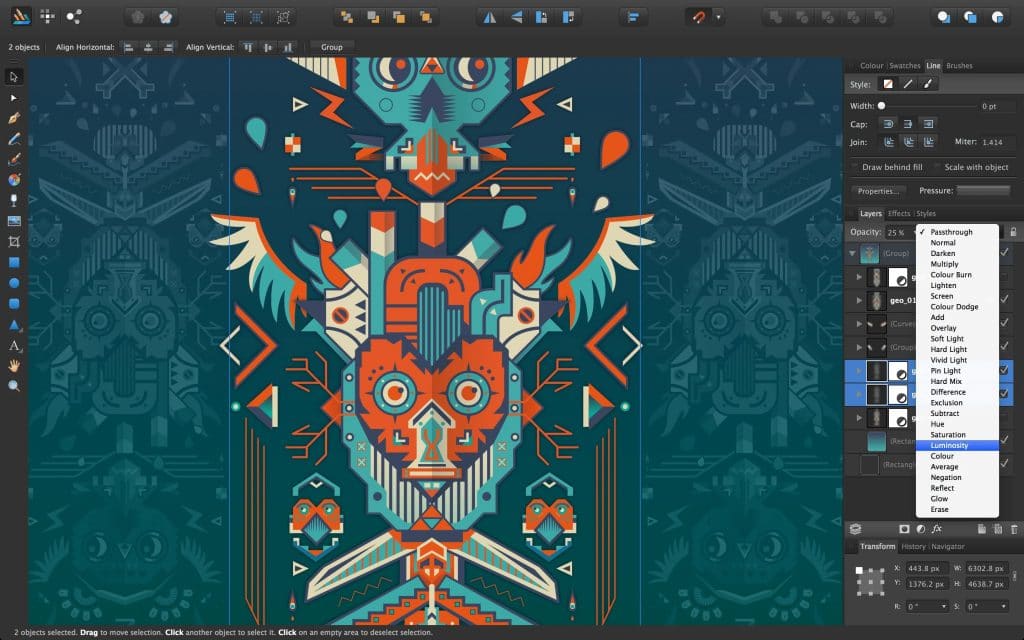 Affinity on the other hand uses a different approach known as the Persona tool. It's divided into 3 main categories:
Designer Persona is for vector-based design.
Pixel Persona is for raster-based design.
Export Persona is for exporting the design with various outputs type and parameters available.
Zooming with Affinity can go up to 1,000,000% for a maximum accuracy, which is way more than what Illustrator has to offer.
Art Tools and Features
Each of these programs has a great set of tools to help you express your creative talents. We've selected some of them that stand out:
Illustrator
Compared to Affinity, Illustrator has much more tools that are vector-based. Allowing you to produce scalable, resizable, high resolution graphics without any detrimental effects on the quality.
For drawing, it has many freehand tools like the pen tool that creates vector shapes effectively.
For typography, illustrator offers you multiple options where you won't only be able to add text, but to fully customize it too.
It supports multiple artboards, multiple pages and the use of templates. You can find thousands of templates within the software itself, ranging from UI kits, vector graphics and icon packs.
Illustrator does not support the raster technology. However, it has the Image Trace feature that lets you work with raster graphics. When you import raster images into Illustrator, this feature works on converting them into vectors.
Furthermore, it has the Wrap tool and Meshes that allow you to work with objects by distorting, reshaping and coloring them.
Other features include filters, effects, blend tool and much more.
Affinity Designer
Looking at the other side of the comparison, Affinity allows you to perform many adjustments and preview them live while you are editing.
It has cool gradients and effects, curve edits and transforms all with the live preview option.
An overkill hybrid feature that Affinity has and Illustrator has not is the ability to combine raster with vector graphics on the same project. You can switch between the three Personas that we've mentioned earlier.
In addition to that, it allows you to create artboards to infinity in a single project.
To undo sloppy actions and mistakes, Affinity got you fully covered: the saved history allows to retain 8000 changes. What I liked the most is the fact that it includes history snapshots as well.
The downside is the fact that Affinity has no blend tool, knife tool or mesh tool. It also lags behind when it comes to filters and effects.
Illustrator vs Affinity Designer in Pricing
Now that you know most of it, you need to know how much it will cost you to get these tools:
Illustrator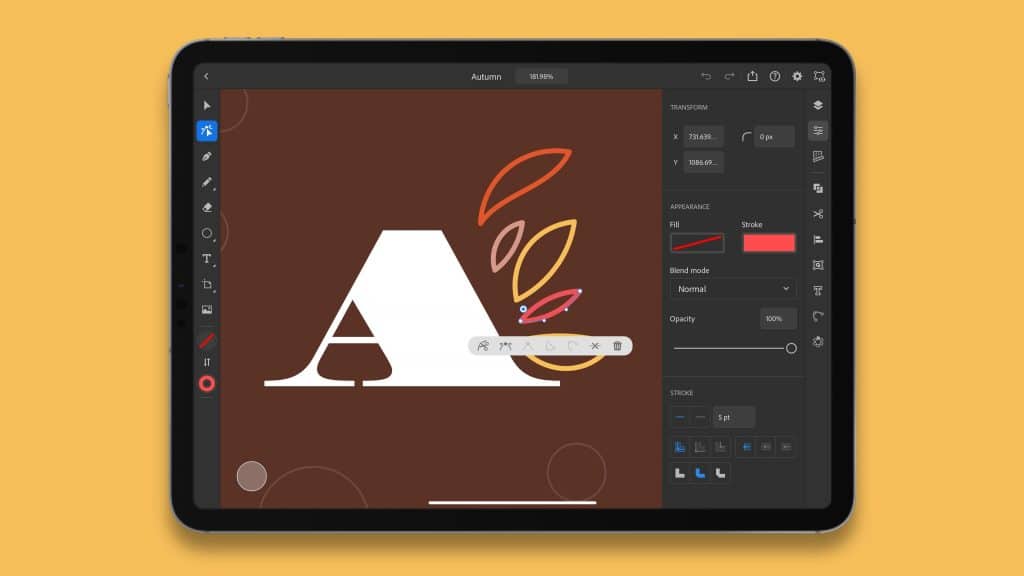 Illustrator is only available on the Creative Cloud subscription. It offers you a 7 days free trial for the sake of testing.
If you prefer having access to Illustrator only, it will cost you around $21 per month billed annually. If you decide to use it for less than 12 months however, it will cost you around $31 per month.
Affinity Designer
Unlike Illustrator, Affinity Designer is available as one-time purchase. It will cost you roughly $55 as of 2021. You can also try for free of course, before you decide to purchase the life-time package.
Final Thoughts
The final verdict depends on 3 main factors: budget, career choices and your personal design workflow.
If you're capable (and willing to) put in the necessary financial investment and want to cater to the industry's skill requirement, then Illustrator would be a wise choice.
If, on the other hand, you're on a budget and rather have more of a hybrid workflow that merges both raster and vector technologies in one system, then going for Affinity Designer would be a lot better. It's even a wiser choice if you're just starting out, or if you're not restricted by any professional requirements.
We hope you found this article useful and informative. Comment below if you think that we've missed something or if you have any other suggestions. Thank you for watching as always and see you next time.