Whether you're a complete beginner or a professional comic artist, there are plenty of drawing software that you can use. In this post, we've listed the best 2D comics creating software that you can choose from and adopt in your projects. 
How can drawing software for comics be an asset?
Comic books are a great source of entertainment. Reading comics can be inspiring, too. But the question is: how to create a comic that would really unfold the story of your dreams?
If you've ever thought about trying your hand at creating your own comic but don't know where to start, you are at the right spot! Here are the first steps to creating your own comic:
Develop ideas: Begin brainstorming characters and storyline ideas for your comic.
Create your story: Create a storyboard and be sure to have a good idea of the beginning, middle, and end of your story.
Start sketching: At this stage you don't have to be perfect just start your comic first draft.
Draw your comic: Start your final copy by drawing your comic. At this phase, you need the right software to draw. This is specifically why we decided to put this post together: to help you out in your journey. Not to mention that comics software are overwhelmingly numerous, sometimes it gets really hard to make your mind on which one to pick.
Now that you have a better idea about the process of creating comics, let's start our list of the best 8 drawing software for comics.
8. Paintstorm Studio
It's a cross-platform software that runs on Windows, Mac, Linux, and iPad. It has an intuitive user interface that makes the creation process easy and simple. Compared to more famous tools like Krita and Procreate, we could say that it's pretty underrated.
It offers you a pack of amazing brushes, with more than 50 settings to tweak and customize for the most accurate results. The main objective of the developers was to recreate the classic painting experience in a digital environment. It also has decent options such as angles, textures, spacing jitter, and more.
The desktop license will cost you 19$, while the iPad one will cost you about 13$.
Official Website: https://www.paintstormstudio.com/index.html
7. Manga Maker ComiPo!
It's a decent piece of software that is quite simple to use. It will allow you to instantly add pages, layouts, backgrounds, and characters in a visually dynamic setting. We've covered Anime creation software before, and they actually go hand-in-hand with Manga. Almost every Anime was a Manga for starters, before getting on the big screen of course.
Even if you're a beginner or drawing isn't really your thing, you can rely on the asset library that includes characters, backgrounds, infrastructures, props, facial expressions, and other pre-made graphics and assets. In addition to the variety of add-ons that you can purchase to expand the library: things like furniture, outfits, themes, and more.
You can manipulate character poses and edit layers without making a mess out of it. You will enjoy composing your comic in this collage style and adding sound effects to make it even more unique. It will cost you roughly 50$.
Official Website: https://www.comipo.com/en/
6. Comic Creator Studio
This is a super simple comic maker software to create manga and comics. It offers you a huge range of pre-designed characters, backgrounds, and props that simplify the creation process. You can also import your own assets, or even purchase new ones if you like.
The minimal and basic features make it so easy to use that even kids can get around with it fairly well. You can quickly come up with a set of panels and scenes by performing simple drag-and-drop actions. The layering system makes it even more convenient to edit and customize your elements.
Although this tool will turn out to be quite limited when it comes to drawing and illustration tools, it has been a pretty good option for so many. Not to mention the very affordable price tag of 20$.
Official Website: https://summitsoft.com/products/comic-creator/
5. Rebelle 4
Despite the fact that it's not specifically dedicated to comic creation per say, but it's definitely incredible for certain cases. The biggest power of this software is the extreme accuracy in which it simulates the classic drawing and painting techniques.
Instead of the plain paper and art supplies, Rebelle will provide you with the realistic painting experience in a digital environment. This will come in especially handy in case you have a sophisticated drawing and comic creation style.
For example, storylines that include ink and watercolor will be taken to the next level with Rebelle. You can take the rich and fascinating art of Kusanagi Mizuho, the Manga artist that illustrated "Yona of the Dawn". 
You won't be painting as if the software's canvas was a real paper only: you'll have more than 170 awesome brushes to bring your ideas to life. The stabilizers will make options like watercolor and oil turn out so vivid and natural. Not to mention that the system allows you to modify very specific parameters, like the amount of water to use, the drip size, or the blow length.
You can benefit from a free trial, but the full version will cost you the very justifiable price of $90.
Official Website: https://www.escapemotions.com/products/rebelle/about
4. Pixton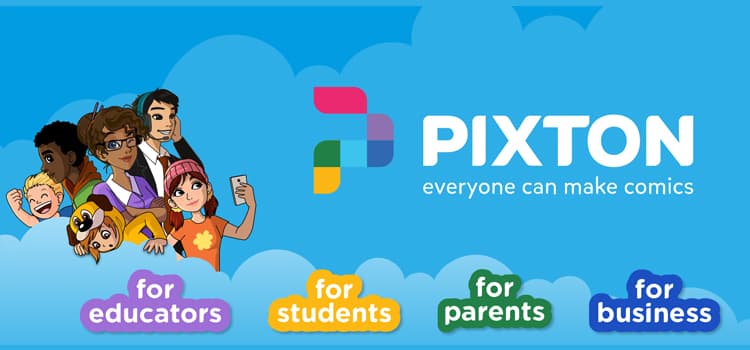 This is a very simple tool that is performing well under the slogan "Everyone can make comics". It's ideal for kids and beginners who want to create comics without counting on drawing skills or a layering system.
Pixton comes with plenty of pre-made customizable assets and graphics, sparing you the burden of drawing from scratch. These options are very efficient: you can move characters, customize clothes, create poses, shift arms, heads, and legs, and much more.
The tool is also featured with its own fonts for wonderful typography, so you wouldn't need to import your own. Even if you wanted to import anything, Pixton doesn't provide you with any import options: you're gonna have to rely on images from Google Images or Flickr.
You can use the tool as a standalone desktop version, but you can also use the web version via any browser, especially if you have a low-performance device.
Pixton offers you a free trial, but the paid version will cost you $10 per month for the Basic Plan, $25 for the Full Plan, and $100 for the annual billing.
Official Website: https://www.pixton.com/
3. Medibang Paint Pro
This one is a very popular free tool for digital art and comic creation. It's absolutely one of the best drawing software for comics out there! It has some pretty good features that stand out. We can mention for instance the set of 50 brushes that are included, ranging from the basic GPen to the brushes that you create on your own.
But the real power of this tool when it comes to comic creation is the dedicated features. You can quickly create custom panels by simply picking a direction and slicing the page. Managing the pages of your project will turn out to be very efficient thanks to the management system.
And above all of this, your creation process will be backed up with over 800 pre-defined tones and background to build your storyline quick and easy. 
Official Website: https://medibangpaint.com/en/pc/
2. Toon Boom Storyboard
No matter what graphic environment you're working on, the predefined templates and libraries of this software is a life saver when it comes to speed and quality. Most comics software are known for their dedicated features, but this one takes it to a whole other level.
There are tons of customizable panels and storyboarding sheets that you can modify easily to suit your needs. Your workflow is enhanced by the drag-and-drop system allowing you to cut, move and replace scenes within seconds.
Not to mention the additional performance properties such as the smooth and fast line stabilizer, pressure sensitivity and tilt responsiveness. You can also inject advanced graphic components such as 3D concept art, isometric approach and hyper realistic texturing.
Official Website: https://www.toonboom.com/products/storyboard-pro
1. Clip Studio Paint Pro
Previously known as Manga Studio, Clip Studio Paint is a powerful software for comic creation among other purposes. Some of the most famous animation studios actually adopted it in their production pipeline. This is what comforted our choice of putting it on top of this list of drawing software for comics, although it can do more than that. It has great tools for drawing, such as the awesome brushes that allow you to draw characters, backgrounds, assets and much more.
In case you don't prefer working from scratch, there's a large library of free and premium pre-designed assets. Not to mention that you can import your own.   
Clip Studio Paint comes with a very intuitive layering system that helps you organize your work. It also has a range of features that are dedicated specifically for comic books creation. This will enhance the process by laying the basic foundation of the storyboard and the panels.
Moreover, you can extend the workflow by converting 3D objects to line art. In addition to the amazing vector tools to create scalable illustrations.
When it comes to graphic tabs, Clip Studio Paint will provide you with the best simulation for classic drawing. The system has a fluid pressure detection, tilt movement sensitivity, AI technology integration and many more features that will make your strokes most natural, smooth and realistic.
Clip Studio Paint Pro will cost you the very just price of $50, with a free trial of 30 days for the sake of testing. You can also upgrade to the Clip Studio Paint EX version that is of course a lot more advanced: this one will cost you $219.
Official Website: https://www.clipstudio.net/en/
We hope you found this list useful and informative. Comment below if you think that we've missed something or if you have any other suggestions. Thank you for reading!