Today we will be presenting to you a complete comparison of Toon Boom Harmony vs Moho Anime Studio, as requested in the comments.
This subject is quite trending recently since the version 13.5 of Moho was released at the end of April 2021, so it's also a great opportunity to see what's new and if you would choose it over Harmony. The objective here is to help you choose your next favorite tool among these two, which are already ranking among the greatest 2D animation software on the market.
Toon Boom Harmony vs Moho, which one should you choose for 2D animation?
2D animation is the art of creating movement in a two-dimensional space. This includes characters, creatures, FX and backgrounds. And it is one of the major types of animation that is widely used for creating animated movies, cartoons, marketing videos, advertisements, corporate presentations, educational materials, video games, and so much more.
With the rise of video content, more and more businesses consider using animated videos for promotion, as they increase conversion rates by 20%. By consequence, there's a wide array of software competing to provide businesses and individuals with the best tool. Two similar 2D animation programs – Moho and Toon Boom Harmony, have a lot in common, but differ in some key ways.
Here you can read our previous comparisons between Toon Boom Harmony vs TVPaint and Toon Boom Harmony vs Adobe Animate. But in today post, let's look at the advantages and disadvantages of Toon Boom Harmony vs MOHO. This article will help you decide which program is better for you.
1. Software Overview
Let's start with having a general idea about the two software.
MOHO
It's one of the best 2D animation software that can enhance your creation process from start to finish, despite the fact that it's not considered as industry-standard. And you can describe it as all-in-one tool that can help you go through every step of the process in a very professional way.
Of course, the word "professional" isn't just my biased opinion, because MOHO is used in real world high end animated film production. The best proof of how powerful and professional this software is will be obvious in the famous animated movies created with it.
A lot of animation studios adopted MOHO in their production catalogue, such as "Cartoon Saloon", "Melusine Productions", "Aircraft Pictures", "The Big Farm" and "SuperProd". The skills of the production team and the power of MOHO combined resulted in some gorgeous movies, like "Wolf Walkers", "Puffin Rock", "Song of the Sea" and "The Breadwinner".
Official website: MOHO
Toon Boom Harmony
Now that you can see how far the potential of MOHO can go, let's look at what can Harmony offer. It actually stands the competition very well, because it's also one of the best 2D animation software available for artists today.
You might be aware of the fact that Toon Boom Company is very invested in the animation field. Because it has other popular and powerful products like Storyboard Pro and Producer, which have been adopted by many production studios for years now. We can mention a few examples like "Bento Box", "OLM", "FOX" and "NBC". If you happen to watch "The Simpsons", "Phineas and Ferb" or even the Netflix feature film named "Klaus", then you have been watching animations created with Harmony.
It doesn't stop here, because the use cases of Toon Boom Harmony can go beyond that.
Official website: Toon Boom Harmony
2. Tools & Features
Knowing that MOHO and Harmony were chosen to create these world class and successful animation, it might seem out of reach. Which is definitely not the case, since absolutely anyone can use it to express their thirst for art and creation. Let's get back to earth by looking at what you can actually do with these software and how to do it. First of all, the power of Moho resides in many of its options, but you can definitely spot a few of them that stand out.
MOHO
We can name the vector drawing tools that are enhanced specifically for the animation process, which mean that the pre-production phase won't necessarily require graphics created in other software.
But the newer version expands your freedom even more by allowing to import PSD files created in other software: the imported layers will be pixel perfect and ready for the rest of the process. You're most likely to choose the second option because we can't deny that the drawing tools of MOHO aren't the most powerful nor rich.
However, what we mean by the drawing tools being optimized for animation can be seen when taking a quick preview of the frames on your timeline: you'll notice that everything you created moves in a fluid and a very natural way without too much of a hustle.
So if your art-style is composed of complicated curves, sophisticated brushes with layers and layers of paths and masks, you can actually animate everything. You can count on the powerful rigging system and the smart bone construction to bring your characters to life. It allows you to visualize your skeletons with Forward and inverse kinematics, and also control the hierarchy to create natural effects very quickly.
So you'll be able to move your character as if it was a real puppet in your hands, without the slightest distortion. There's also the quad-meshes new animation feature that will definitely blow your mind: your characters and objects will behave like 3D models that obey the animation applied on the mesh directly.
The animation workflow can also rely on other features like automated animations, where your elements interact according to predefined laws like physics, particle or dynamics. The power that the timeline will grant you is insane: you can achieve high levels of precision using the Graph mode and the other interpolation modes. It's so intuitive and flexible that you'll find your way through the stages very smoothly.
Toon Boom Harmony
We can still talk so much more about what you can do with MOHO, but we can't fit it in this article while we still need to look at the very fierce competitor.
Harmony has been industry-standard for 2D animation for 25 years now, and compared to MOHO, the drawing tools are far more advanced and extensive. No doubt that it won the Primetime Emmy award twice: you can definitely see that it deserves it big time.
The first thing to notice is the fact that it relies equally on vector and bitmap technology, while MOHO has focused most of its interest on the vector one and somehow neglecting the bitmap support. This is why you'll find the drawing experience in Harmony a lot richer: it allows you to create any texture, any shape, any pattern and simulate the classic medium with insane amounts of realism. You have room to sketch and experiment with a very large set of tools, brushes and options. And if you take time to explore the depth of these tools, the result will be stunning.
So in other words, you won't need any other digital painting software to fuel you with graphics, although the end-to-end pipeline integration support is really good and reliable. Not only you can sketch and draw with full assistance from the environment, but you can also merge your classic drawing skills as if you were working on a blank paper.
During the final touches phase, tools like Shape Deformers and predefined color pallets will help you tremendously to prepare your art for animation while saving time. The system is designed to enhance each step of the process: the brush engine works perfectly with a wide range of devices and it takes precision to another level, especially with tilt movements and pressure sensitivity.
With that being said, frame-by-frame animation in Harmony is by far better than the one that you'll experience with MOHO. It's even more enhanced with the 3D integration support: it's a huge time-saver on all the boring repetitive tasks, and this is why most big companies choose it for the large public production purposes.
Last but not least, you'll be amazed by the awesome staging and compositing tools, ranging from camera motion to the most stunning special effects. And with all of that, we're merely scratching the surface of what Harmony has to offer.
3. Learning Curve
Now that we've looked closely at the tools and features, the next thing you'll be saying to yourself: "yeah it's nice and all, but can I actually learn to use them?". Let's be realistic and state that the huge number of tools alone will take time to explore and grasp, especially if you're aiming for advanced results. Otherwise, you can perceive it as intuitive and beginner friendly when it comes to simple tasks and basic animation. But since we're doing a comparison, MOHO is a lot more intuitive and easy, especially on the rigging part that has been designed specifically to cut on the unnecessary complications.
4. License and Pricing
The last and probably one of the most important selection factor is the price, and how much you should invest on a financial scale to start diving in. Harmony is known to be quite pricy although it's totally worth it when looking at the value and quality you'll be having. But you have the choice between 3 different plans, either billed annually or with a monthly subscription: there's the essentials for $25 per month, the advanced for $70 per month and the premium for $120 per month.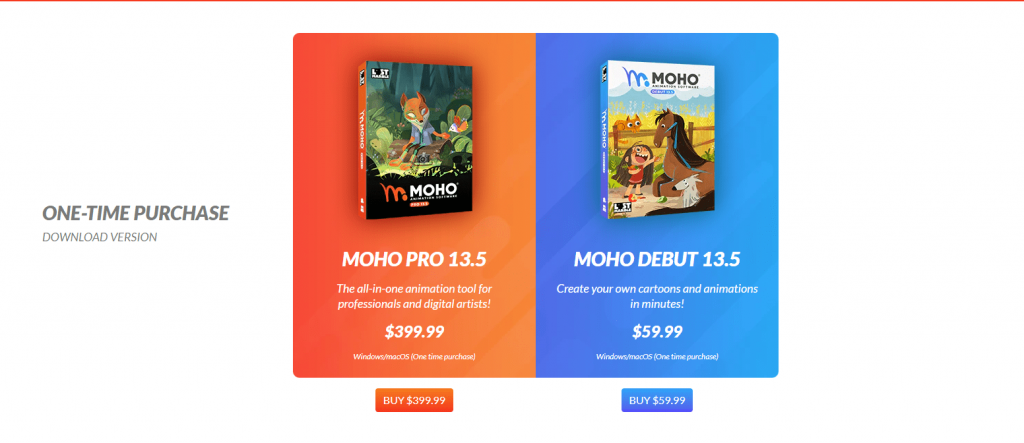 Of course, it's more or less depending on the time you'll be looking at the official website. There's also the lifetime purchase that will cost you between $400 and $2000 depending on which version you pick.
MOHO on the other hand can be describes as a lot more affordable, and it also comes in two choices. The Debut is for $60 and the Pro will cost you $400 for a lifetime purchase.
Final Thoughts
The final decision will definitely depend on your needs as an animator: for example, if you're more comfortable with the classic hand drawn process, Harmony will be especially useful in this case. And if you're looking for a simple yet intuitive rigging system (let's say if your work relies more on reusable animated characters), then MOHO would be a better fit. But never forget that everything depends on your skills and dedication at the very end.