Computer-aided design software is extremely well-known and used a lot in the design industry. Even though most CAD software has several tools and features in common. Still, each software is different from another and every software can generate different results. Today, we will have a quick comparison of CATIA vs Fusion 360.
How to choose between CATIA vs Fusion 360?
First, you need to have a global idea about both software and to define the one that suits you the most based on:
features they offer.
budget.
working field.
availability.
You should note that both pieces of software are well-rated and have a large range of clients from different categories. We even made full comparisons to highlight this:
What is Fusion 360?
Fusion 360 is a powerful piece of software. It belongs to the Autodesk family. The software is versatile and can be used in different fields. Like CAM and CNC programming, FEA simulation, and you can also use it in 3D printing and in video games design. Fusion 360 is compatible with multiple 3D printing software, and it collaborates well with other Autodesk software.
Official website: Fusion 360
What is CATIA?
CATIA is a parametric modeling software. It can be used in product management, CAM, CAE, and CAD. You can use the software to create assemblies or disassemblies of parts. You can also use CATIA to edit assemble components or isolate one part of the assembly and work on it.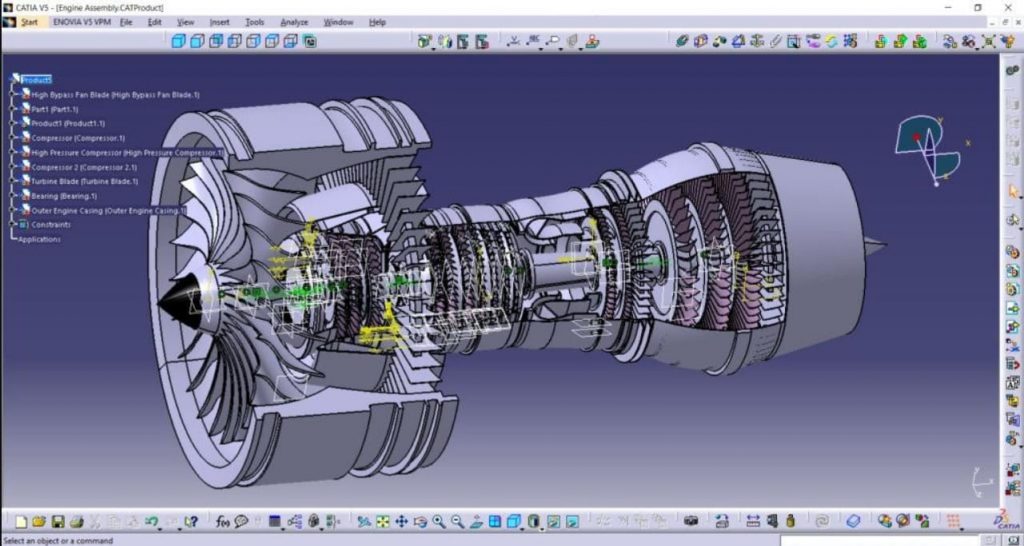 Official website: CATIA
1. Interface and learning curves
Fusion 360 is an easy-to-use software, and since it is an Autodesk software it has a great supporting system to assist you whenever you need, and to also accompany you in the whole learning process. The workflow is extremely smooth, allowing you to start designing in minutes.
Fusion 360 is made to be used by beginners, students, hobbyists, and also professionals. Compared to other software, Fusion 360 is a fast loading software, and it also offers quick results.
The interface of CATIA, especially in the newest version, is well organized. On the bottom of the screen, you will find all functions gathered in one toolbar, such as views, tools, structure transform, etc. The software also has other hidden toolbars that show up only when you are in sketching mode or when you select lines.
These toolbars have the most frequently used tools and commands. You also have a tree of all the commands and tools that you make along your design process. The organization of the interface makes the work well-organized and also helps you get an efficient workflow. You can find a lot of tutorials online to teach the basics of the software.
2. Modeling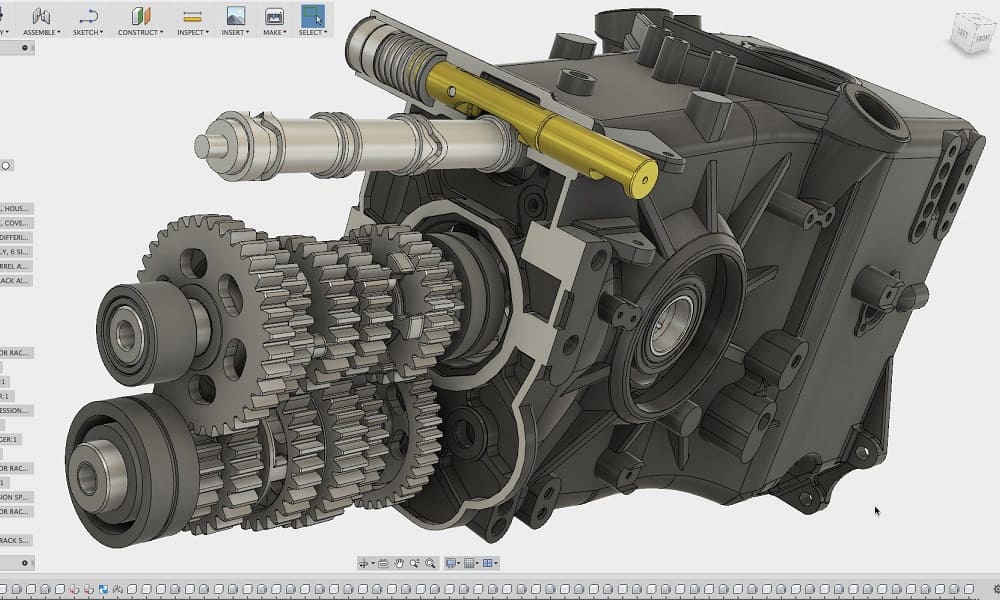 Fusion 360 is an incredibly flexible software. You can use it to model any shape you want. The software has a powerful set of CAD tools that allows you to produce high-precision models. Fusion 360 has multiple useful features including the parametric design, which has become a very important feature that helps you save a lot of time and effort.
It also helps you produce multiple variants of similar designs. The software is very useful in technical plans and details. And since it works on Cloud, it increases the teamwork collaboration where multiple members can access and work on the same file. Besides that, the software has great assembly features, allowing you to easily and effectively create great assemblies of parts.
Fusion 360 has a great functionality to save your files online. This option is great since it allows you to access your files from a different computer. In addition to that, you can use the software to analyze the movement of objects and the interaction between different objects.
Moreover, the software supports multiple modeling methods, and of course, you can use the one that suits you the most. You can use the history-based or non-history-based direct modeling. The non-history based is used when you work on a single CAD file imported from a different software in order to make simple editing or to prepare your file for CAM or simulation. As for history-based modeling, every editing is added to the design history, and it is defined as a part of the parametric design process.
Other than that, the software supports the T-spline modeling method, which is a subdivision modeling method used a lot with complex and organic forms. You can also use solid modeling and surface modeling in Fusion 360.
Modeling in CATIA is a really easy process. You can simulate and analyze the different interactions between all the parts of the assemblies as if it is used for real. The software integrated friction properties that generate realistic simulation, and through this, you can assure seamless functionality and avoid errors in the manufacturing.
CATIA also increases the collaboration between different team members and anyone can access the model file since the software is on a cloud base.
CATIA has two types of modeling: surface modeling and solid modeling. And to do this, you can use two different workbenches: part design for the solid modeling and generative shape design for both surface and solid modeling. Solid modeling in CATIA involves using bodies while the surface modeling uses geometric elements, such as points, lines, and splines.
If you want to use CATIA in 3D printing, it is better to export the file with solid parts. Your 3D model has to have a minimum thickness that corresponds to the material you are using in the printing. CATIA's latest version has new useful features like searching capabilities to help you find all the data you need for your project.
The software has a great engineering insight that influences the quality and the performance of your product. In addition, the software offers captured manufacturing process intent and engineering systems to check the solidity and the functionality of your product.
3. Rendering and animation
Fusion 360 helps you generate photorealistic renders with high quality that you can use in visual marketing, for example. The software has easy rendering tools, and any beginners can use it easily. You can also use the local rendering on your computer or the cloud rendering that the software offers.
Fusion 360 allows you to set up lighting, materials, and add some components to finalize your scene. You can then set up the camera position and be good to go—be ready to render I mean!
Rendering in CATIA is the easiest process that you go through. When you are done modeling, click on the material button and choose the material that suits your object. After that, click on the camera button to render, and you can follow the instructions that the software shows.
Next, you need to save your image. The rendering time for a part or an assembly depends on the settings and the quality of the render. A high-resolution render takes more time than a medium or a low-resolution render. In addition, the software allows you to add sources of light, to change the background color, and even add an image as a background.
4. Industries that use them
Fusion 360 is a versatile software that can be used by architects, mechanical, and electrical engineers to generate technical plans. It can also be used in the manufacturing field as well as in 3D printing.
As for CATIA, it can be used in the engineering field: in architecture and in civil engineering to create steel structure design, for example, Roads and railway design can also be achieved using CATIA.
The software can be used in the construction field as well, and it even can give you the volume of earthwork that should be removed or filled in a project. CATIA can also be used in the aerospace industry, vehicle manufacturing, machine and equipment design.
5. Pricing and availability
Fusion 360 has a free version for students, teachers, and startups. The paid version's price is $60 for a monthly subscription besides to other 3 plans to choose from according to the duration you desire to use the software whether it is for 1 year, 3 year, or more. The software is available on Mac, Windows, and Icloud. The Icloud version is very intuitive and helpful in case you want to preview your work from a phone or tablet.
When it comes to CATIA, multiple plans to suit everyone have been offered, for instance, a one life license costs $11.200 with $2000 for annual maintenance. The quarterly license (as of now) costs $2268, and a one-year license costs $7560.
6. Computer configuration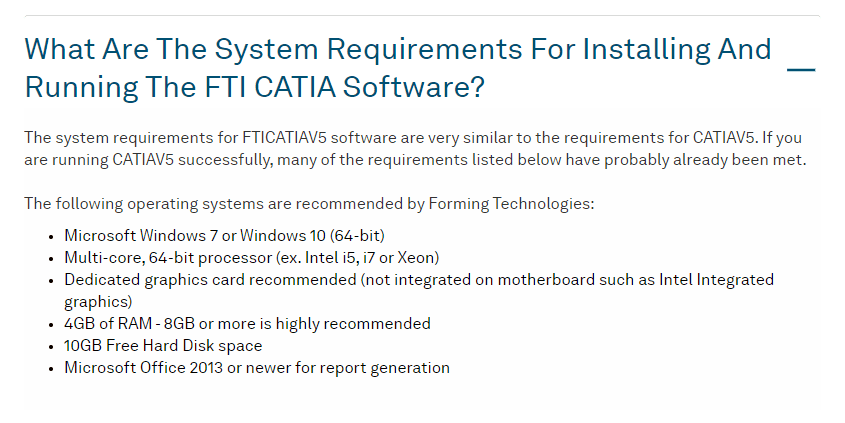 Fusion 360 is not a very heavy software; it requires a 4GB RAM, a 64-bit processor, and at least a 3GB storage memory. And since it is on a Cloud system, you need to have a fast internet connection to get a smooth workflow, especially if you are working on a complex project or making a render.
If you're not sure how to get the suitable machine, you can check our detailed buyer's guide on how to get a computer as a 3D artist.
CATIA is a powerful software, and it is better to have a strong computer with high performance. It is better to have 16GB of RAM and a dedicated graphics card like NVIDIA. Because working on complex projects can slow down your workflow.