Today, we will be shedding light on two pieces of software: the first one is Fusion 360, which we have already talked about and compared to other interesting software, such as FreeCAD, SolidWorks, and Rhino. And the second piece of software is Onshape, to which we have received requests to make a video about. So, if you have ever wondered which one is the best for you, make sure that today's comparison of Onshape vs Fusion 360 will clear things for you.
We will be going through all of the significant aspects that will definitely help you choose the best one. We will learn more about both of them, and how they perform in terms of modeling, rendering, and animation. And we will go through many other pieces of information, so let's jump right into it!
Onshape vs Fusion 360, which is Best for Product Design?
CAD software is an essential tool for architects, engineers, product designers, and many more professionals looking to bring their designs to life. You could use these programs in order to get amazing 3D models to 3D print and prototype or produce your project.
But, given the many differences between CAD programs, it can be challenging to choose the right one for you. And you may find yourself questioning: how to choose the best CAD software?
Before we see our full in-depth comparison, it is worth to mention that Fusion 360 and Onshape are two competitive CAD software, we covered them before in our comparison posts to highlights their capabilities and features compared to other program:
Here, we have a new comparison for today's article, between Onshape and Fusion 360. Let us dive in!
What is Onshape?
Onshape is Computer-Aided Design software. The software offers its services via SaaS, web browser, IOS, and Android. Using Onshape increases the collaboration between the different members of the project team. It's a versatile software, and it can be used in different fields.
Official website: Onshape
What is Fusion 360?
Fusion 360, on the other hand, is a 3D modeling tool on cloud. It belongs to CAD, CAM, CAE, and PCB families. It is a very intuitive software, and it gained a large number of clients over the years. This tool made a lot of progress, and every new version offers a new intuitive feature. Fusion 360 is a complete software; it offers you all the tools you need in your product development from design to fabrication all in one platform.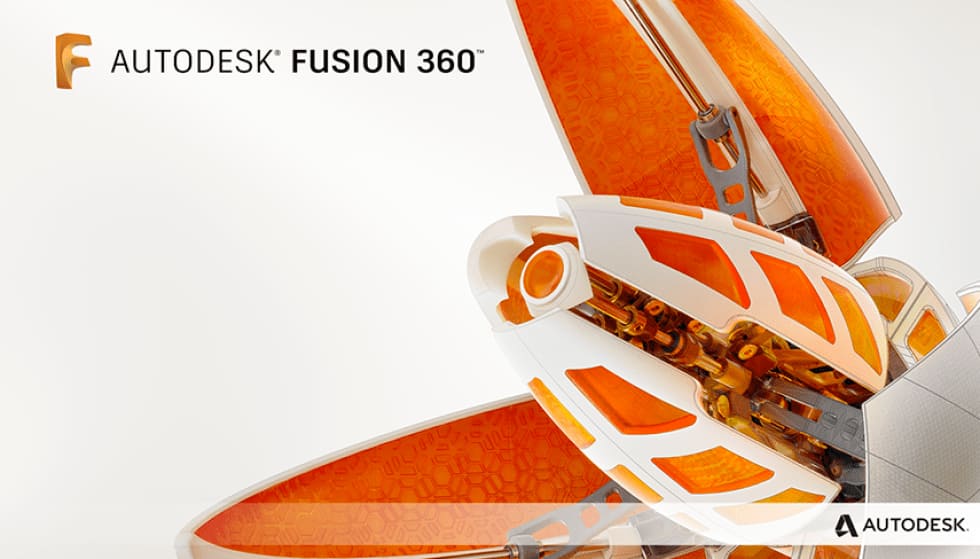 Official website: Fusion 360       
To make this comparison thorough, we'll look at it from 6 different aspects: modeling, rendering & animation, availability & price, use cases, interface & learning curve and hardware requirements.
1. Modeling
Modeling is really important, and comparing Onshape vs Fusion 360 in this department is even more important as a facor. So, what do you think? which one is better, completing this task successfully?
Modeling in Fusion 360 is not a complicated process. You need to start with a sketch and add the different dimensions to define the size of your object. After that, you need to start sculpting and shaping your 3D using the different tools that the software offers. Fusion 360 is compatible with multiple 3D modeling software like SolidWorks and Inventor. Besides that, it supports STL, OBJ, DXF, and SVG file formats.
Fusion 360 offers a lot of features so that you don't have to use other pieces of software to complete the development process of your project. You can use it in 3D design, collaboration, Data managing, create a tool path, and Simulation to validate the resistance of your design.
Well, Fusion 360 seems like a great piece of software to model, but what about Onshape?
Onshape is a multitasking piece of software. It offers a lot of intuitive features like Data management, for instance. You don't need another software to manage your work. Every detail added and every modification made by a member can be saved on the data of the software so that everyone can see it and benefit from the information.
Onshape increases the collaboration between the different members of the project. You can see the different changes made by the different users in real-time. It's a great option to use in big companies or when you work on big complex projects with multiple other groups. You can view, edit, and export any part of the work easily.
The workflow of the software is very smooth; you can even create a custom workflow specific to your company or according to your work field. Besides that, you can use Onshape to model parts of any form and shape. You can design complex solids and surfaces. You can even create highly detailed assemblies.
In addition to this, you can have fully detailed documents, drawings, and technical plans with different dimensions, surfaces, geometric tolerances, notes, and fully configurable properties. Onshape supports importing and exporting multiple file formats including DWG, DXF, and DWT.
2. Rendering and animation
Rendering and animation in Onshape vs Fusion 360 have their differences and similarities. They're really important for CAD designers. So, what do you think? What are the capabilities of both of these pieces of software when it comes to rendering and animation?
Rendering in Fusion 360 is very intuitive and easy. A good photorealistic render needs a good design and a good preparation of the model. You need to highlight and prepare visually everything to have the best rendering results. A good composition is also an important thing to consider. You need to set up the lighting, the frame, and all the different components of your picture that need to be in harmony. You also need to set up the brightness and the color of the background. You need to position the camera, the exposure of the camera, and adjust the focal length.
When you are done with all the material applications, you can then render. You can either render on In-cloud or on your computer directly. You can specify the dimension and the resolution of the image as well.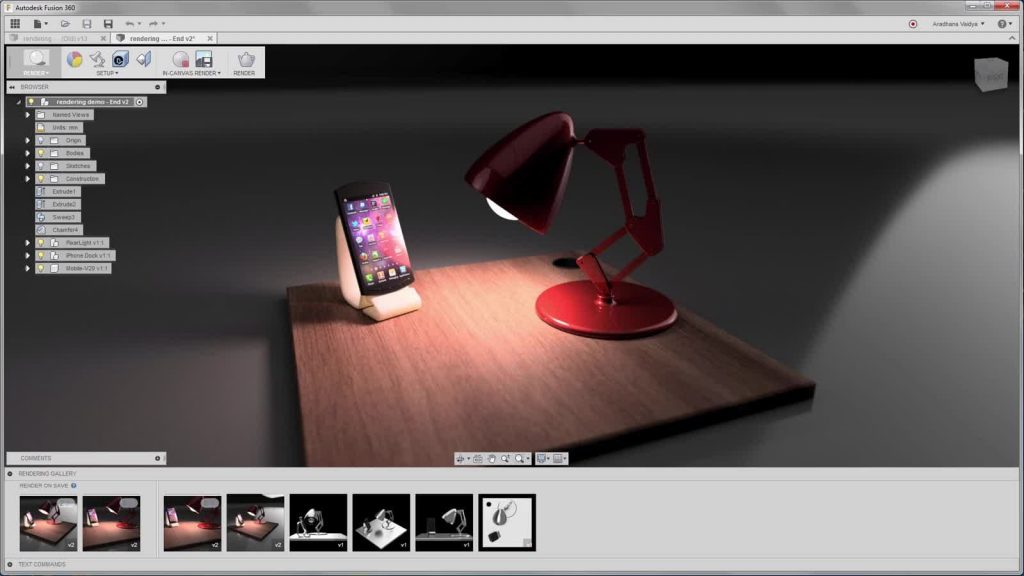 Onshape uses a Reality Server to render, which is a fully integrated plugin. The software offers high-quality photorealistic renders. It made a lot of progress, and the recent version of the rendering plugin offers some real intuitive features. You can also choose to use online render farms for specific computation power needs.
The software has a new feature related to noise where it has a new artificial intelligence to remove all the unwanted noise. You can now apply very complex materials using simple ones at first. And with all the features that the software offers, you can reach the results you want.
The software has over 150 presets for lighting and HDRI. Actually, you can even import your own HDRI and use it. When you are done with all the settings, you can launch your final render and get realistic results.
3. Availability and price
All the features that we have already mentioned in terms of modeling, rendering, and animation for both of the pieces of the software are really great and encourage you to be creative, but all these amazing features come with a price! So, what are the differences when it comes to availability and pricing for both of the pieces of the software?
Fusion 360 is available on Mac, Windows, and web-based. The web-based version is very useful in case you want to share the project with other members of the team or simply for a consultation when you are out of the office. In that case, you don't need a desktop computer. The paid version of the software costs $60 per month and $495 per year. The software offers a free version for students, educators, and for hobbyists to benefit from the services of the software as much as possible. You only need to download and install it.
Onshape offers two different versions: a standard version that costs $1500 and a professional version that costs $2100. You can benefit from 14 days free trial to test the software before you buy it. There is also a free version for hobbyists, students, and educators.
4. Industries that use the software
And if you have ever asked yourself: who uses Fusion 360? Let me answer this for you.
Fusion 360 is a versatile software. It can be used by architects and interior designers, by electrical and mechanical Engineers, or even in manufacturing to deliver technical plans.
Onshape can be used in different fields, and it can assure many services. You can use it in mechanical and electrical design, you can also use it in medical devices design, electronics, 3D printing, industrial equipment, and machine parts.
5. Interface and learning curves
Fusion 360 is fairly easy-to-use software. And it will be easier for you to use it if you are familiar with CAD software. You can also customize Fusion 360 according to the way it suits you the most and also according to the field of your work.
Onshape is an intuitive software; it doesn't take much time to learn how to use it with a simple interface. On the interface, you can find 5 different toolbars: documents toolbar, sketch toolbar, assembly toolbar, feature toolbar, and drawing toolbar. In the workplace, you can find your original design and its different views (top, right, front, and left). The graphic area is where you find the active part or assembly that you are working on. Feature list and rollback bar are where you can find the history of your work. In assemblies, you will find the assembly tree structure, groups, and mate connectors.
6. Computer requirements
Probably, some of you have already decided which software to use according to the previous pieces of information we shared with you; however, we suggest that you do not make up your mind yet until you make sure that your computer can handle one of these pieces of software.
Fusion 360 requires an Apple Mac Mojave v10.14, Mac Sierra v10.12, or a Mac High Sierra v10.13. As for Windows, the software supports Windows 7, Windows 8, and Windows 10. And for the CPU, it only supports a 64-bit processor. A 2.5GB disk space is enough. You can check our detailed guide on how to buy a computer a a 3D artist if you're not sure about what to pick.
Onshape is built on cloud-based, so it does not require a high computer performance. In fact, it is a very light piece of software. However, you definitely need a strong internet connection to use it properly. You can also use Onshape on your phone using the app that you can easily download from the Google play store, and you can benefit from the same features when you use the software on a web browser on a computer. All your documents and files are saved, and you can consult your work from any place.
Final thoughts
Fusion 360 is very easy to use even if you don't have experience with 3D modeling software, you can find your way easily. There are also several tutorials and courses all over the net to expand your skills. Fusion 360 has cloud technology, which means you can move files from a computer to another easily.
The software also offers parametric modeling or even organic modeling, and you have a historic timeline to make any changes you need. However, the software needs a fast internet connection since it uses cloud technology. The software crashes from time to time when you work on a big complex project, so it is better to have a strong computer with high performance, a double graphic card, and a large RAM space.
Onshape is a user-friendly piece of software, and it offers clean convenient modeling parts. You can work on Onshape from the cloud, so no need for you to install it, and you can use it without powerful hardware configurations on your computer. However, it depends on a full internet connection, and it is better if the company offers the users the choice to use the software offline or online. You can import files to Onshape easily like STEP, IGES …etc. Cloud storage in Onshape is very intuitive you won't have an issue with the files size or the speed and you can share your files all over the world.
However, the software needs to add virtual reality features because it's a must-have in any modeling and rendering software. It helps you save a lot of time and effort when you are editing and applying materials to your model. Also when you add light and set up the environment, you can see if everything is in harmony or if you need to change something before you launch the final render.
That was all for today's article. We hope it was of a great help to you, and that now you can make up your mind in terms of choosing which one to use. Make sure to leave your comments down below, sharing with us your experience with using CAD software, giving us your thoughts about this article, and of course mentioning your requests for future posts.