Sculpting is a very important part of creating 3d models in computer graphics today. If you want to learn how to sculpt characters, creatures, or hard surface models there are many 3D sculpting software to do just that.
In this video, we are going to go over 7 3D Sculpting software for Beginners that have different tools and features and can help you become a professional artist.
7- SculptGL
SculptGL is a digital sculpting web app, meaning that will be able to use it online on the web browser. but If you want to download a standalone version you can do that as well if you want to. Even though this seems like a simple tool for sculpting it has really nice tools and features that will allow you to create any type of model, like characters, creatures, or hard surface objects.
It has a basic set of brushes such as a basic brush, Inflate, Smooth, Twist, Drag, etc. This can help you create relatively complex sculpts with ease. You can also do PBR Vertex Painting . and Voxel re-meshing using SurfaceNets meshing algorithm to produce quad-only mesh when you need that, in addition to the dynamic topology.
You can import and export 3d models for different purposes including 3d printing because it supports Obj and STL file formats.
This Sculpting software is completely free you can start using it online right away or download the standalone version.
6- Mesh mixer
MeshMixer, an Autodesk software that can be considered a good software for sculpting in addition to fixing and enhancing meshes for 3D printing. 
Mesh mixer is not the best when it comes to sculpting but it has nice tools that can help you out as a beginner to get started and understand how sculpting works. This software has a set of basic brushes for sculpting like drag, draw, flatten, pinch, move, and so on. 
Mesh mixer is a good option if you want a simple software to sculpt your models for 3d printing if your focus is 3d printing and not learning complex 3d sculpting software.
By the way, it is completely free, you can download it now and start working on your projects if you want to.  
5- Sculptris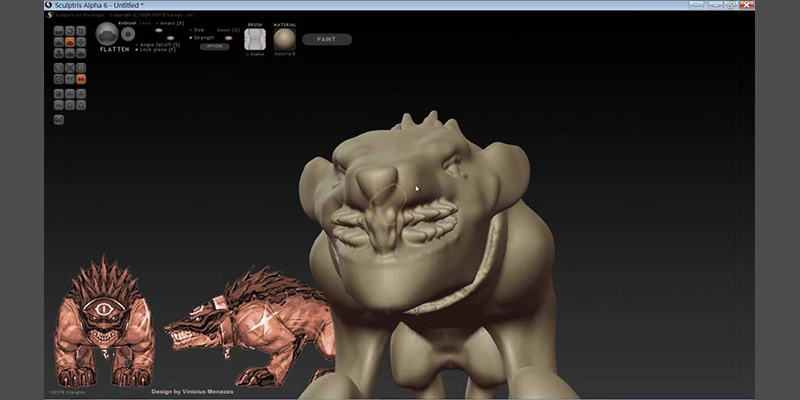 Sculptris is a simple and easy-to-use sculpting software that was developed by Tomas Pettersson and then was further developed by Pixologic the creators of ZBrush.
Sculptris is no longer being actively developed by Pixologic and is considered a legacy application. As it is stated on Pixologic's official website, but you can still use it and learn a lot using it especially as a beginner because it is easy to use and it is good enough to create decent projects.
 It is a good point from which you can start practicing how to use the basic tools of ZBrush. Its tools are easy to learn and features are easy to understand and it is a pretty user-friendly software to handle if you have no prior experience. 
Since Sculptris and ZBrush are connected because they have been developed together by the same company for a couple of years. one of the most important advantages of this 3D modeling software is that the skills that you learn using Sculptris can be furtherly upgraded by using ZBrush. Meaning that what you invest in learning Sculptris will not be wasted. In addition, Sculptris files can be easily imported and sent to ZBrush easily.
Sculptris is also completely free to use.
4- 3D Coat
3D Coat is an interesting 3D program that can be used for sculpting but it is kind of different compared to the others.
It is a commercial digital sculpting software from Pilgway designed to create free-form organic and hard surfaced 3D models using different tools and features that enable you to sculpt in addition to adding polygonal topology either automatically or manually, create UV maps, texture and paint the resulting models with natural painting tools.
This software can be used to import 3d models from other 3d packages such as 3ds Max, or Maya to be refined or add further details using its powerful sculpting and painting tools.
Even though the way 3D Coat works is not necessarily similar to what you see on the previous 3d sculpting software, it does not make a huge difference, if what you are aiming for is sculpting nice things such as characters, animals, or impressive things like creatures and hard surface models like robots and ships. If it does make a difference it is going to allow you to create more amazing things because the 3D Coat is more advanced and capable than the software we talked about already.
3D Coat is not a free software, but it is not very expensive if you want to invest in it. There are basically two options, the amateur version which costs $99, and the professional version that costs $379 at the time of recording this video. The good thing is you are not going to pay for a subscription rather you are buying a license to use it forever.
3- Mudbox
Mudbox is a software for 3d sculpting and painting developed by Autodesk. This software is interesting because it could have potentially become a leading software in professional 3d sculpting in the future in industries such as game development and visual effects. unfortunately, it started declining in its user base over the years but it is still very good. 
Mudbox was developed by Skymatter in New Zealand as a group of artists were working on The Lord of the Rings at Weta Digital. They created the software to expand their own toolsets and were first used as a complete product in King Kong. The beta was released in 2006, followed by version 1.0 in 2007. On August 6th, 2007, Autodesk announced the acquisition of Skymaster. At the time it was a fierce competitor to Zbrush and it still is to a certain extent. 
The sculpting toolset contains a wide set of brushes with adjustable falloffs. The use of 3D layers allows for design visualization, non-destructive sculpting, and high polygon count, even tens of millions of polygons because Mudbox was developed to sculpt huge and complicated creatures and monsters for visual effects work.
All of the standard transform and selection tools are there as well in addition to Paint layers that were added a few years after its development.
Mudbox also includes stamps and stencils. Stencils work by overlaying a grayscale, or "alpha channel" image, such as a bump map, over the mesh. The artist can then project part or all of the image's detail onto the mesh through brush strokes, providing a method to quickly sculpt surface detail.
Mudbox is subscription based but it is affordable because it is only $85 per year.
2- Blender
Blender is an open-source 3d package that can do many things in a production pipeline. It can do basically anything that the other industry-standard applications can in addition to having the ability to sculpt.
The developers added some interesting sculpting functionality in earlier versions of Blender and that has only grown with the addition of great tools such as Dyntopo sculpting which is a great feature to sculpt creatively with the ability to change the resolution of the mesh depending on whether you want to sculpt on a low polycount or sculpt intricate details that need millions of polygons.
Blender has become a far better sculpting software in the last couple of years because it is being updated supper fast compared to the other sculpting software. It has now a wide range of sculpting brushes and other tools necessary for the process. 
Blender is good for you as a beginner because first of all, it is completely free, and because it is simple when it comes to sculpting specifically.
1- Zbrush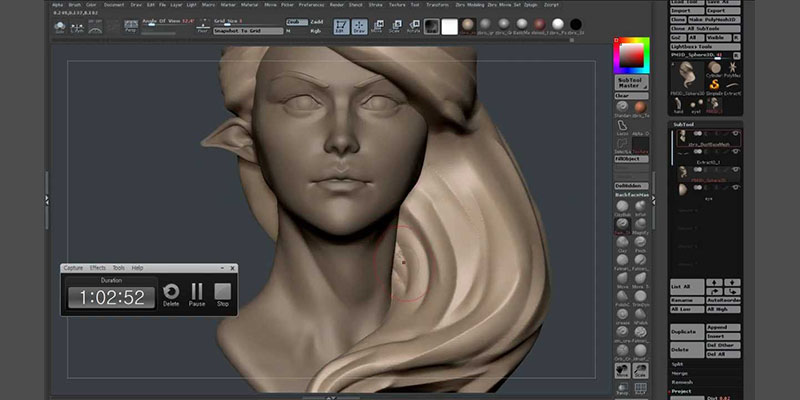 ZBrush is a sculpting software that combines 3D/2.5D modeling, texturing, and painting. Right now Zbrush is the most advanced and probably the hardest to learn on this list.
ZBrush is especially useful and powerful when it comes to creating "high-resolution" models that need tens of millions of polygons for use in movies, games, and animations, by almost all companies in those industries because it is the software dominating sculpting.
Zbrush is not the most user-friendly sculpting software but it is surely the most powerful. It is kind of different in the way it operates, for example, its user interface and how the tools are distributed is not the most intuitive but you will get used to it after a certain period of time.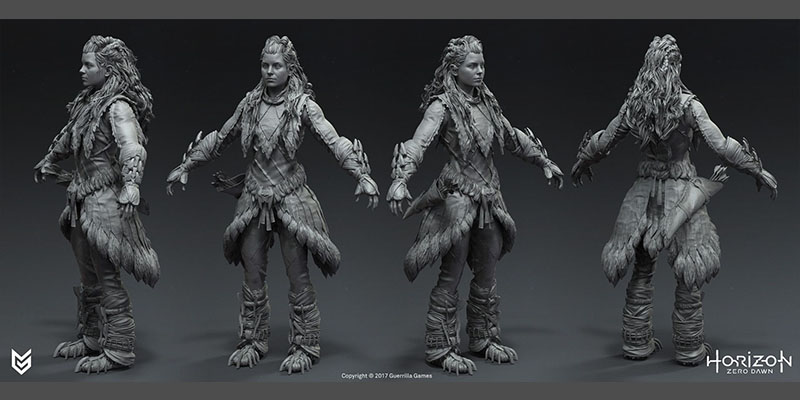 ZBrush comes with many features to aid in the sculpting of models and meshes. The initial download comes with more than thirty 3D sculpting brushes with more available for download. Each brush offers unique attributes as well as allowing general control over hardness, intensity, and size. Alphas are used to create a specific pattern or shape, and textures are also editable brush features.
Some of the most important features of Zbrush include DynaMesh, Zremesher, Fibermesh, shadowbox, and much more.
Zbrush is not free but there is a version that is designed for new artists or those who don't have experience with sculpting and want to put their hands on it without all the complicated features of Zbrush, this version is called "ZBrushCoreMini" it has a streamlined interface that lets anyone jump right in and starts sculpting immediately.
Other Sculpting Software
There are actually other interesting 3d packages that have the ability to sculpt such as Modo which is a complete 3d package like Blender, Maya, and Cinema 4D. It has decent Sculpting brushes and tools that can relatively help you sculpt characters, organic objects, and hard surface models as well.
Another software is Cinema 4D, even though cinema 4D is not that great for sculpting it has nice features to create basic shapes and characters nonetheless.