Looking for the best animation app for your mobile devices, PC, or Mac? Interested in creating your own animations? 
There are a lot of animation apps available these days for users of all ages and skill levels, allowing them to create beautiful animated videos. The question is, which one is best for you?
Here we'll review two popular ones: FlipaClip vs Animation Desk.
What is Animation Desk?
Drawing, animating, and storyboarding are all possible with Animation Desk. A number of professional and amateur animators, YouTubers, and art enthusiasts use it. Software like Animation Desk is available for free download only for Windows. It falls into the Lifestyle category, and it is published by Kdan Mobile Software Ltd.
Make your own frame-to-frame animations from scratch, or work with videos, images, and PSD files. You can create and share animations directly from your iPad or iPhone using Animation Desk's multi-format import and export capabilities.
An extensive collection of features makes Animation Desk an intuitive app to use. There are 20+ brushes available for you to experiment with, including all of the above-mentioned features. A very useful tool, rotoscoping, allows you to draw directly on the existing template without having to start from scratch.
A storyboard is also available with the Animation Desk so you can view your animation and draw annotations on the side. If you are interested in improving on a particular animating technique or if you have a favorite, make note of it here. You can simply keep track of all the thoughts you have during the process!
Animation Desk does not include tools to add multiple audio clips to animation, but it can be used to make GIFs and the landscape view has a big drawing area.
With a slate gray background, the Animation Desk looks more professional than FlipaClip. Additional icons and options are available, which may be helpful or just create a cluttered image.
You can create an animation project by choosing a name, frame rate, and the number of frames to begin within the Animation Desk. A 2-second video would be 24 frames at 12 frames per second.
At the bottom of the creator menu, you will find some navigation options as well as your art tools. On the left, there was a color selector in addition to the menu and frame selection buttons.
As of now, Animation Desk UWP lets you do all of the above and add sounds to your work! The newest features allow you to: Add multiple audio and soundtracks to an animation.
All in all, not bad, right? I bet this app offers enough features to have you rushing to download it, but could there be something better? Let's have a look at the opponent to find out.
What is FlipaClip? 
With FlipaClip, you can create animated videos, cartoons, and GIFs based on the storyboard of a cartoon.
You can use brushes with different styles and colors and insert text using digital drawing tools. The Apple Pencil, which is supported by the app, is an option for those who would prefer to use a physical tool rather than their finger.
Besides adding layers to frames, your onion view can also be adjusted. They also allow you to add images directly from their devices to frames in addition to their own animation. In addition, the app will offer three methods for uploading audio: voice recordings, importing audio from the device's music library, and adding audio from within the app.
You can unlock the latter feature by making in-app purchases or watching advertisements. On this page, they will be able to see their projects alphabetically or arranged according to their creation and modification dates. It is possible to convert projects into movies and share them via YouTube, social media platforms, or save them to your device.
Easy-to-use interfaces, drawing tools, and animation capabilities encourage creativity and allow you to bring your ideas to life by transforming frames into movies. 
Users have a few options for getting support through the app. No matter what level of experience you have, we provide you with enough information in the Let's Get Started tutorial to feel confident about animating and navigating the app.
Flipaclip vs Animation Desk: Differences and similarities
Having said that, we are not trying to put these two apps against one another! Their features may differ, but they have many things in common. Here are a few differences and similarities between the two.
Animation frames can be used in both apps using the standard tools expected of a paint app. However, neither of these tools support vector-based graphics or frame placement based on time, unlike more professional animation apps like Adobe Animate. Nevertheless, both of these tools are decent options for animating.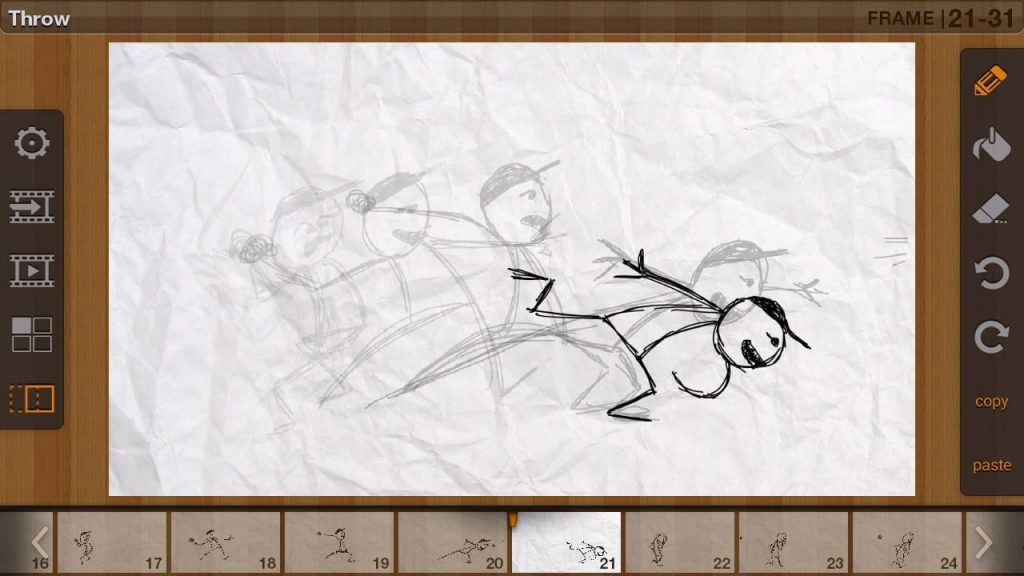 With simple yet impressive drawing tools and frame control, it facilitates the creation of impressive animations. Android and iPhone users can download FlipaClip from the Play Store or App Store. FlipaClip is free to download.
Let's review what we've covered so far in order to make our final call:
FlipaClip
The pros of FlipaClip are numerous. These are three of them:
IOS and Android devices are compatible with FlipaClip!
An incredibly useful feature of this app is the onion layering feature. When drawing, you can see the previous layers and simplify the animation process. Additionally, you can customize the colour of previous layers to simplify the process.
On FlipaClip, you can add life to dynamic animations with the variety of colours available!
FlipaClip Limitations
In the free and basic versions of the app, FlipaClip restricts access to some features.
You can gain access to FlipaClip's premium features for $4.99. Because of the slow speeds of the app, you may notice lag while watching the live preview of your animation.
Viewing your animation "in real-time" is compromised as a result. FlipaClip, however, is working to speed up the app, based on their support center.
Animation Desk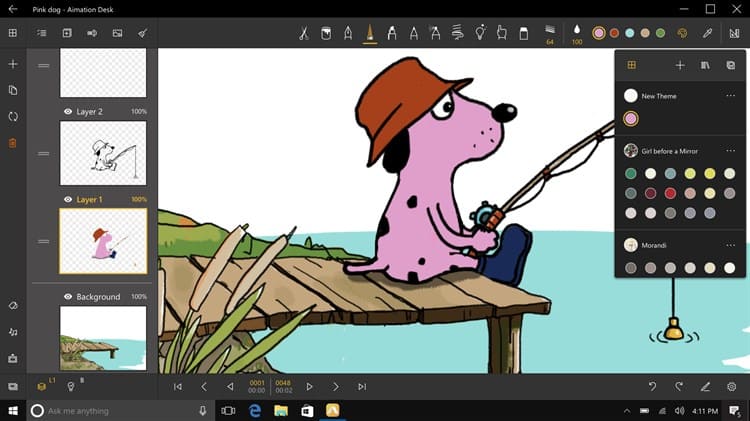 How about Animation Desk? Here are some benefits!
You can download the app for free! If you want, you can purchase in-app items.
Become inspired and motivated by the Animation Desk Community to discover your passion for animation.
There are pressure-sensitive painting tools included in the Animation Desk. With pressure sensitivity, you can easily adjust your hand and pen to create more complex drawings.
You can also view the previous layers in the app using "Onion Skinning."
Animation Desk Limitations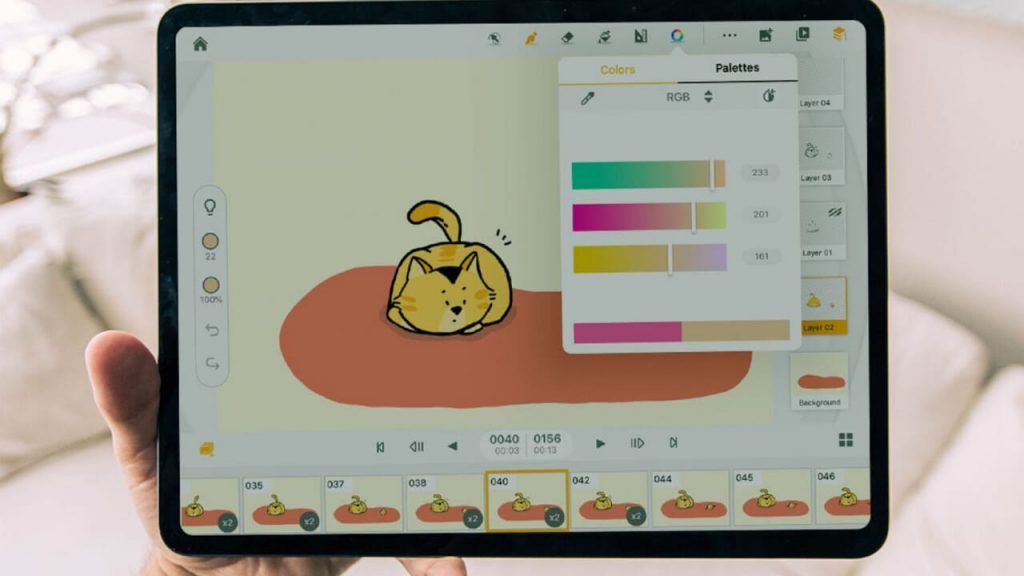 It costs money to use most of Animation Desk's features. Users are thus limited in creating complex animations as a result.
Gaining access to locked features on the app costs $4.99.
It is difficult to create more creative animations with Animation Desk because it does not allow you to import audio.
Multiple reviews have said that the app's zoom function is not smooth and causes lagging, which makes the animation process more difficult.
Conclusion: Flipaclip vs Animation Desk final verdict
In order to communicate to users, animation has become critical. Because it informs in a natural manner, animation can be found everywhere. An interface without animation may seem out of date, uninspired, and more importantly, inefficient.
The soundtrack of an animation can be seen as an animation. Without a sound track, a movie would look austere and devoid of the tension clues we're accustomed to. We would lose a lot of the drama of many of our favorite movie scenes. It wouldn't make sense to make a movie without a soundtrack, so you shouldn't design an app without considering the animation.
Considering the extensive range of animation tools available in FlipaClip, the app's interface is inviting and is easy to use. There are a lot of features for kids to explore and combine to bring their ideas to life-drawing, color, inserting images, adding sounds, layer.
Despite being able to draw and control some of the drawing tools with your finger, this method is less precise. A Pencil may be the best option for users who want to include detail and complex designs. Fullscreen and banner advertisements will appear throughout unless users purchase the feature to remove them.
To unlock a certain feature, you might be asked to watch an advertisement. Even though somewhat distracting, it does not take much away from the overall experience. Aside from an array of tools, FlipaClip is a Cartoon Animation that will empower and inspire you to learn or refine your animation skills so you can turn your thoughts into video clips, cartoons, or animated GIFs.
It's a fact: FlipaClip is superior in a number of key ways, but the Animation Desk provides a number of advantages that will suit some users.
We hope these tips can encourage you to try animation: it's extremely rewarding to put your skills to work!
In other words, what you want must determine what app you should choose!
What are the takeaways? It is important to check the complexity of the app before choosing the right one for you. When choosing an animation app, it's important to determine if you're a beginner or an expert.
Furthermore, it is important to keep in mind the price of in-app purchases, so you can choose the app with the fewest restrictions. The options for animation apps are numerous, with a range of advantages and disadvantages to consider.