Ubisoft is a French video game company with several studios across the world. It publishes games for several video game franchises, including Prince of Persia, Assassin's Creed, Far Cry, and Tom Clancy's series. It is one of the largest video game companies in the world, next to Activision Blizzard, Electronic Arts, Take-Two Interactive, and CD Projekt.
https://www.ubisoft.com/en-us/company/about-us
And in this video, we will take a closer look behind the scenes of those epic games.
We will answer today's very important question: What 3D Software Ubisoft Use?
This company has many talented artists and many studios that use different software, so it is not going to be black and white or a clear-cut answer. It is like a spectrum of 3d software they use to get the job done in different parts of the production pipeline.
So the software that is being used not only depends on the studio but also depends on the position of the artists at the studio whether they are environment artists, character artists, animation artists, or even concept artists. There is a severe lack when it comes to information about this subject. So I collected for you these pieces of information from different sources to get as close as possible to an answer and give you a general idea about the subject as a whole.
1- Character Artist:

A Job of a character artist is very important, and there are hundreds of those artists all over Ubisoft studios who can a fantastic job. From the data I collected, generally speaking, when creating characters for video games Ubisoft character artists almost always are using Zbrush as a Sculpting tool because it is very capable and it is basically the industry standard whether it be in Game development or VFX.
Also, the majority of those artists use 3ds Max or Maya for general-purpose modeling which means different things depending on the artist's workflow.
In addition to that they pretty much all use Substance painter for texture painting which is the process of adding surface details and textures to game characters after they are modeled. To be honest, the Substance Painter dominated this industry and became a must-use tool for texturing artists and character artists.
And to create clothes and other related details they pretty much always use the very powerful software for this job known as Marvelous Designer. This software was basically popular among clothes designers but it very quickly made its way to entertainment because it is very efficient money and time-wise.

2- Concept Art / Concept Design

You might think that concept artists and concept designers at Ubisoft Studios don't use 3d software for their job, but in fact they do. It is very important sometimes to get the perspective right and to save time when drawing, painting, or illustrating a large-scale environment that might include complex elements.
From what I have seen the majority of concept artists at Ubisoft use Photoshop in addition to 3ds Max. I don't know why exactly a lot of them are using 3ds Max but also sometimes they use other software such as Blender or Modo.

3- Environment Artist

Environment art is a major part of all the modeling work that is being done in game development especially when it comes to Ubisoft's video games. because they are usually open-world games, with great attention to details.
For this job, Ubisoft's artists use for the most part Autodesk Maya and 3ds Max, and some of them also use Modo or Blender occasionally according to some of the work done by Ubisoft artists who shared their work on social media and Artstation.
They also use Houdini to create procedural large-scale environments because Houdini is very powerful in this regard and it helped them do a lot, especially when creating their last game Far Cry 5 which has large and rich environments.
And of course, for texture painting and texturing work in general, substance painter and substance designer are a must-use software for environment art in addition to Quixel Suite sometimes because it is great, to say the least.

4- Character Animation
For character animation there some studios that use Autodesk Maya and others that use 3ds Max. For example, some studios that worked on assassins creed Black flag and Assassins Creed Origins used 3ds Max as their main tool for animation which seems an odd choice for a lot of people but to be honest 3ds Max is a very capable modeling and animation tool for game development.
Autodesk Maya is a no-brainer in animation especially in animation so i would guess it is the major animation software used by Ubisoft's animators most of the time.

5- Game Engines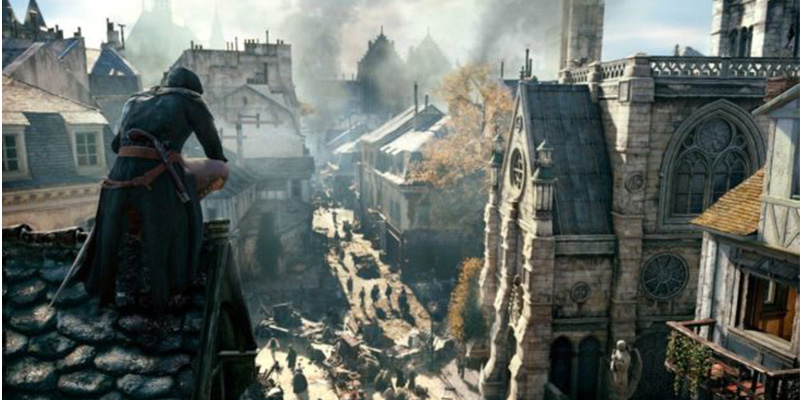 Ubisoft like most major video game companies is known for using their own in-house video game engines. So as you might have guessed artists have to use the in-house game engines to put the video game together. And there are a lot of them. These game engines where created to suit the needs and the mechanics of different games.
So here is a list of Ubisoft's engines:

Snow Drop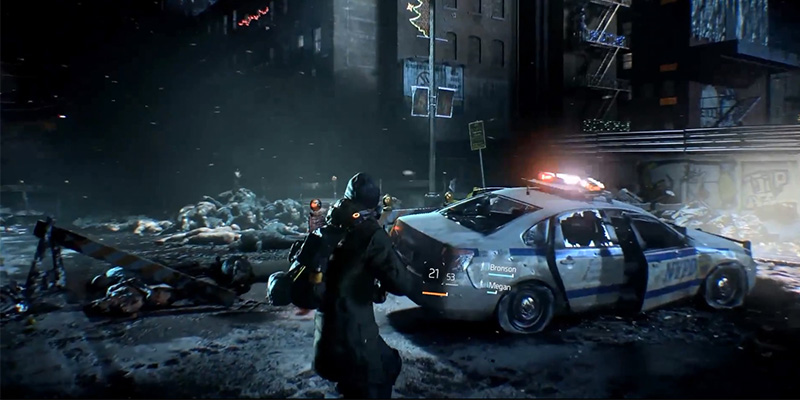 Snowdrop is a proprietary game engine created by Massive Entertainment and Ubisoft. It was revealed at E3 2013 with Tom Clancy's The Division, the first game using the engine.
The development of the Snowdrop engine started in 2009 by Massive Entertainment. Initially, it was an engine built for PC and next-gen development to do "things better not bigger". The core of the game engine is powered by a "node-based system and the engine is a dynamic, interconnected and flexible system where developers can create their assets quickly and interact with them in ways that have never been done before. And Massive created a lighting and destruction system inspired by film production techniques.

AnvilNext
This is probably the most popular game engine that is being used at Ubisoft because it is one powering the Assassins creed video games in addition to other games as well.
The engine uses Autodesk's HumanIK middleware to correctly position the character's hands and feet in climbing and pushing animations at run-time. Anvil has been improved for Assassin's Creed II. Features added include a full night and day cycle, enhanced draw distance, the same vegetation technology used in Far Cry 2, improved lighting, reflection, and special effects, a new cloth system, and a new AI and NPC navigation system.
In 2012 an updated version was released called AnvilNext; which was developed for Assassin's Creed III and beyond featuring a number of enhancements. Firstly, AnvilNext adds support for a new weather system, which allows for specific weather settings as well as an automatically cycling mode as seen in Assassin's Creed IV Black flag. Secondly, the renderer was rewritten for higher efficiency and support for additional post-processing techniques, enabling up to 3,000 non-playable characters to be rendered in real-time compared to the few 100s in the previous Anvil engine.
More importantly, AnvilNext starting with Assassin's Creed Unity is capable of generating structures in a flexible and automatic manner while following specific design rules and templates, which reduces the amount of time and manual effort required for artists and designers to create an intricate urban environment.

Dunia Engine
The Dunia Engine is a software fork of the CryEngine that was originally developed by Crytek. Later it was modified by Ubisoft and became the Dunia Engine, which premiered with Far Cry 2 in 2008.
Ubisoft introduced the Dunia 2 engine first in Far Cry 3 in 2012, which was made to improve the performance of Dunia-based games on consoles and to add more complex rendering features such as global illumination. The state of the Dunia Engine as of 2017 includes "vegetation, fire simulation, destruction, vehicles, systemic AI, wildlife, weather, day/night cycles, nonlinear storytelling" which are all fundamental elements of the Far Cry games, and little of the original CryEngine code remained in the current version.

Disrupt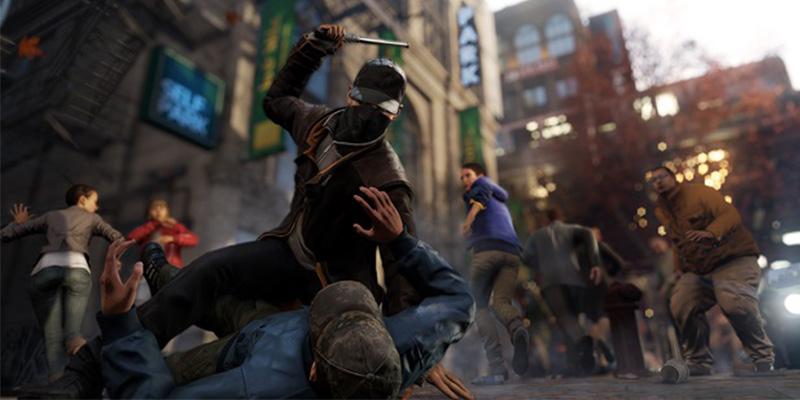 The Disrupt game engine was developed by Ubisoft Montreal and is used for the Watch Dogs games. The majority of the engine was built from scratch and uses an aggressively multithreaded renderer, running on a fully deferred physically based rendering pipeline with some technological twists to allow for more advanced effects.

UbiArt Framework
UbiArt Framework is a 2.5D video game engine developed by Ubisoft Montpellier. Its function is to organize 2D animated vector graphics into a playable video game without extensive coding.