We are going to talk about some of the best Blender addons For simulation and visual effects that artists can use to save time and take their work to the next level. We are continuously updating this article to add more useful addons and keep up with the news and updates of the Blender Community.
You're probably wondering if Blender is the software to go to when it comes to simulation and VFX though. It's actually a good question, and we thought about answering it in a convincing and detailed way as good as we could. Check the article by clicking on this link if you're curious to find out more about the Blender powers in VFX.
Save valuable time with these Blender addons for simulation and visual effects
You can make mind blowing things and take the quality of your work sky-high. But most importantly, you can save tons of your precious time in order to invest it into more creativity. A lot of these addons are really good and you can rely on them when it comes to creating visual effects whether is it be simple or complicated.
15. Spyderfy
Spyderfy is a powerful Blender simulation addon that allows you to create amazing simulations of a crowd of insect animations in a short period of time. You can do this easily, and with a high degree of control using different settings that allow you to get the result, you are looking for.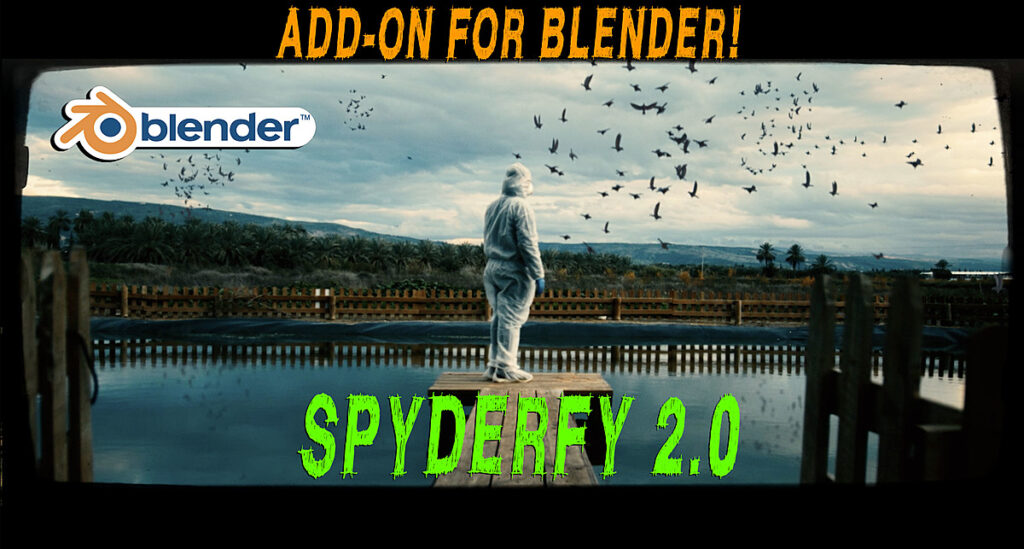 This addon is a great tool for adding unique bug effects! It can be especially handy when working on VFX shots and animation shots where there is a need to create moving insects whether it be flying ones such as "flying locust " crawling ones such as spiders in the background or even close up shots because the insect assets are well designed and they are well textured, they look great in both cycles and Eevee.
The addon comes with different assets and an intuitive user interface menu, it provides the ability to add various creature boid particle systems with animated 3d assets attached! This will save you a lot of time and effort if you are planning on including bugs or insects in your shots.
14. Fracture Iterator
Fracture Iterator is another great Blender simulation addon. It will basically help you Break stuff with help of the internal Cell Fracture Blender addon.
One of the nice things about Fracture Iterator is its ability to enable dynamics on the fragments at the current frame while keeping the previous dynamic ahead.
Some of the features that this addon comes with include:
Ability to bake Simulations to keyframe 
Controlling breaking time and modifying it all along the process
The ability to Unify texture option space for perfect use of Generated UV mapping and much more.
13. Noisy Cutter
Noisy Cutter is a Blender simulation addon that seems to be able to do nice things when it comes to cutting stuff, whether it be simple things such as rock or metal To complex things such as human beings, or Complex organisms. And the interesting thing is that it is able to draw natural cuts using noise or using a texture. During the process, it will make the cut look realistic and believable.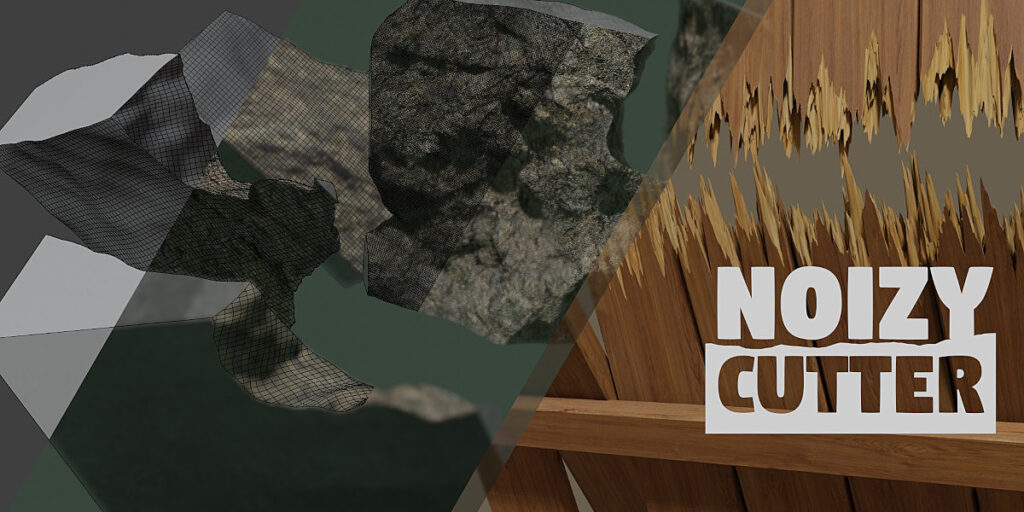 This addon is easy to use because you only need to go through 3 steps:
draw
adjust the settings for mesh density to a type of displacement
cut.
It can be used for environment design because it will allow you to draw Cliffs with simple cubes. In addition to that. It can be used for destructive simulations to cut something as if it has been destroyed.
Some of the most important features it comes with include:
noise-based displaced cut
texture-based displaced cut (a bunch of textures delivered with the addon)
automatic cuts material
12. RBD Lab
RBD Lab is an awesome Blender simulation addon that helps you take full advantage of Blender's physics and particle systems, from fracturing objects to making them explode, adding smoke, debris, or advanced use of constraints. RBDLab allows you to do things in Blender, which could take you a lot of time without it. not only that, but it can also do more! 
RBDLab has a "linear" workflow, from Fracturing, Rigidbody, Constraints, Simulation, Particles, and more. It streamlines the process and speeds up the workflow tremendously.
It has advanced features, such as the emission of particles only from the chunks that break or "Acetone", which allows you to deactivate constraints and demolish anything that comes in contact with them. You can also use multiple acetone objects at the same time.
11. Particles Link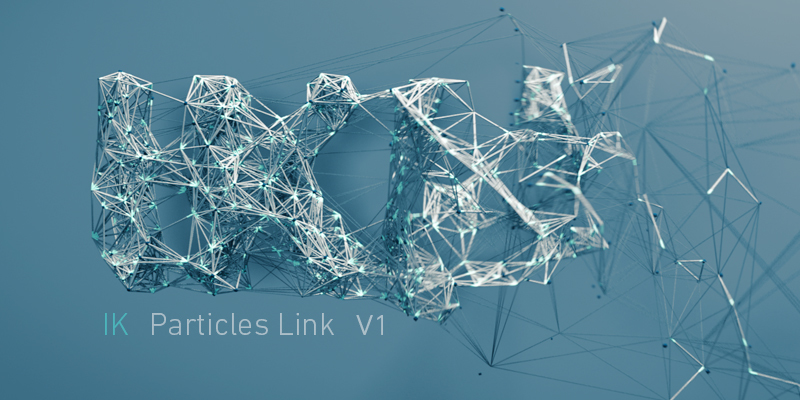 Particles Link is a tool that allows you to create awesome particle effects. This add-on makes it easy to connect a bunch of particles. You can also be use it as a curve generator and particles tracer. 
There are unlimited things that you can do using this tool, especially in motion graphics. The imagination is the limit and Blender addons for simulation and visual effects are here to push it even further.
Particles link operates using two graph modes which can be a network or multiple lines connection. The good thing about this addon is its ability to connect particles live and give feedback as you work on something. Also, it is possible to use Multiple particles system.
10. Shot Matcher
The Shot Matcher Blender simulation addon speeds image merging workflow by analyzing an image's or video's color range. Which can be automatically mapped to the foreground and background elements in the compositor. This is especially helpful for adding background images to the render, or color grading visual effects.
A lot of artists that work on VFX shots struggle with merging their render with the background image. Sometimes even when they match the lighting. But there is one other thing that needs to be taken care of which is the color range.
The term to match color ranges is called "Shot Matching" often used in the industry by compositors. There are other software that have their own ways to resolve this, but not Blender – at least, not natively. And this addon was particularly created for this job. This is specifically why we thought about putting it among the best Blender addons for simulation and visual effects. Extending the potential of Blender is a constantly ongoing work by the community. Therefore, problem solving addons like this are definitely worth it and we believe you would agree.
9. Waterial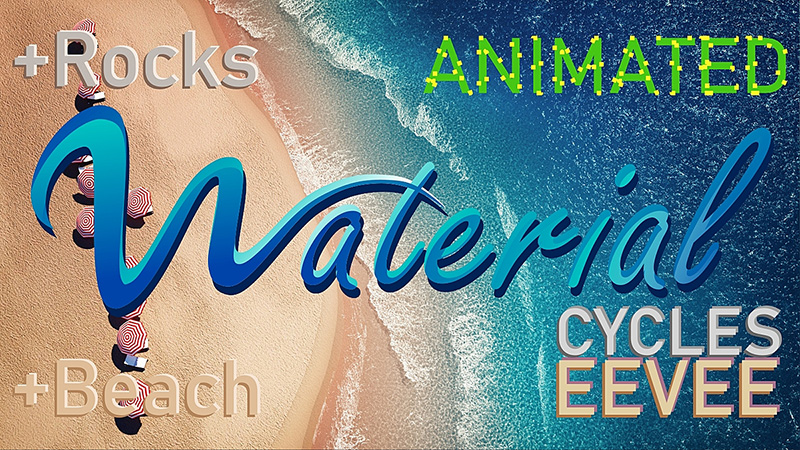 Waterial is a Blender addon for creating animated water surfaces with low memory requirements. In addition to much less performance-intensive than simulations.
The Node-Group allows lots of changes to the material to be rather easy if you don't like how it looks.
This addon is actually one of those minor things that you didn't know you really need until you do. Because making a shoreline or seaside ocean scenery in 3D is quite a challenge. And most importantly, it takes a lot of time to calculate especially when the scene covers a big portion of the ocean. If you're interested in this type of VFX, we highly recommend adding this tool to your set of Blender addons for simulation and visual effects.
8. Blaze
Blaze is a new Blender simulation addon that creates Cinematic Fire Shaders. It is good for avoiding the trouble of struggling, tweaking materials over and again to achieve a good looking fire. And also, as a result, it will save time as well.
You can use it for making different types of fires or explosions from making Nuclear Explosions, Sci-Fi Blasts or a Campfire Scene.
7. Advanced Ocean Modifier
Advanced Ocean Modifier offers a fast and simple way to create an Interactive Water Surface in Blender.
This addon allows artists to create a fully animated ocean in Blender in a short period of time. Whenever we say Blender addons for simulation and visual effects related to ocean effects, this tool is probably the first that comes to mind.
Advanced Ocean Modifier comes with 3 Ocean Presets for calm or stormy weather and something in between as a third option. You can tweak all of this using the settings. Which can be useful for certain situations if you don't like the basic state of the presets. And for creating water and foam effects, Cycles materials are already included.
Normally we would create scenes in which there is a boat or something floating on the water. And you can use Advanced Ocean Modifier to make 3D models float on the ocean surface. Or have them interact in a short period of time then of course. As a result, you can Make objects create waves and foam.
Overall this addon creates beautifully animated ocean waves with foam effects. However, it does not achieve a very high level of realism that we can see using Houdini, Bifrost or phoenix FD for that matter. But if we look at the fact this addon is developed only by one or two developers versus the teams working on the other advanced tools, we can say that advanced ocean modifier is doing a good job so far.
6. Neoner
Neoner is a Blender addon for easy creation of various neon signs, lamps, pointers, and lights.
What's interesting about "Neoner" is that you can quickly and easily convert any curve to a beautiful neon light. It does not seem like this tool can be that important or necessary. On the other hand, it can be amazing for creating night city or street scenes. Above all, I think it going to be great for cyberpunk scenes. If you're a fan of the Cyberpunk concept, Neoner is one of the Blender addons for simulation and visual effects that would be cool for your toolset.
This Add-on is optimized for the EEVEE render engine, but you can use it with Cycles render engine too.
5. Nebula generator
Nebula generator is one of the Blender addons for simulation and visual effects that have been around for a long period of time. But now taking advantage of the enhance Eevee volumetric system it became much better. Nebula generator also used some of the results and progress achieved by some of Blender community artists. And packaged them into one tool that can create nebulas easily.
There are a lot of parameters and settings you can change to adjust how the nebula looks. Like the color and textures of the gas or galactic dust, the number, brightness, and distribution of the stars which is automatically created using a particles system.
Even though it is possible to create amazing looking nebulas in Blender using this addon, there is a problem yet to be completely solved which is rendering animations of those nebulas. The problem is not in the addon itself but in the nature of how the volumetric system works.
There are actually two generators that come with this addon one for creating 3D nebulas and the other for 2D nebulas. The 2D nebula generator is a ready-made set up so that you can quickly configure a wide range of panoramic background space nebula effects in cycles.
It has fast render times even at high resolutions. Also, a range of configuration options that allows you to change the color and shape of the nebula. In addition, by animating the parameters, the clouds can be made to appear as if they are moving. The 2d generator can be Great for game backgrounds, animations, or concept art backdrops. By default, the effect is projected onto the background of the blender scene but can also be used as a texture on other objects.
4. Khaos
Khaos is a  tool that allows visual effects artists to create custom 3d explosions within a short period of time. With its assets, it provides the ability to procedurally add various particle effects. For instance, it includes fire explosions, smoke explosions, and various particle debris such as glass, concrete, rocks, tree branches, dirt, metal shrapnel, rebar rods, wood pieces, and sparks, all of this can add a lot to the realism of the explosion.
The 3d asset database includes over 35 re-topologized 3d models and scans of common explosion debris you would find in the real world. The developers made it so you can select and add this explosion debris inside custom particle simulations to the scene automatically. You can render the debris fields out separately to composite them seamlessly with a VFX compositor like Nuke or other compositors.
Also, Khaos has preset materials to get different results Whether you want a dust blast or a fiery explosion. Once added to the scene you can adjust the settings further to get a more specific look if necessary. It's safe to say that it's one of the best Blender addons for simulation and visual effects on the market.
3. Molecular Script
It was written before by Pyroevil, and later ported over to Blender 2.8 by scorpion81.
Molecular Script is a particles collision addon that makes particles collide for creating certain types of simulations and effects. In addition to particles linking as well. So overall it can use particle self-interactions, interactions with other particles, and all the types of linking that the script supports like linking at birth and linking after creation.
There are a lot of applications for this addon, especially if you use it with other visual effects systems, the results are going to be beautiful. The molecular script is a fun addon to use an experiment around with because there are so many settings that you can change to get different results. Above all, it's one of the Blender addons for simulation and visual effects that are fully free.
2. Cube Surfer
The CubeSurfer Addon was originally written by Pyroevil, and it is now ported over to Blender 2.8. 
CubeSurfer Addon allows us to remesh a particle system in real-time. It works nicely with the molecular script addon that was originally created by the same developer. Using them together, it is possible to create amazing effects and high-quality simulations. For example, we can use it to create bounciness effects using a soft body like cloth and solid bodies like balls, solid bodies melting effects. In the same vein, it is possible to add tear effects with amazing results and of course, long render time and these were just few examples just name few things you can do.
1. Flip fluids
The FLIP Fluids Blender simulation addon is a tool that helps you set up, run, and render liquid simulation effects. The custom-built fluid engine of flip fluids is based around the popular FLIP simulation technique that you can also find in other professional tools such as Houdini, Phoenix FD, Bifrost, and Mantaflow. And I think using this addon is the closest we can get to the professional quality of the industry.
You can do a lot using flip fluids. For example, generating and simulating millions of foam, bubble, and spray particles to give a sense of realism to large bodies of water.
Also using the viscosity solver it is possible to simulate thin silky-smooth liquids, thick fluids that buckle and coil, and anything in between.