If you want to learn how to create characters in Blender then in this article I am going to show you 5 Blender character creation courses that will help you do that step by step. These courses are very simple to follow and they will teach you how to create different styles of characters.
Why attending Blender Character Creation courses ?
It's simple: the 3D character creation field has flourished more than ever. The concept art industry needs it in games, movies, commercials and much more. You can count on E-Learning almost as much as you can count on a College degree. It might be different from an academic point of view. But it's pretty much the same when it comes to acquiring the necessary practical skills. Make sure to check out the links of this Blender Character Creation courses list to see for yourself.
5 – Create A Cartoon Character With Blender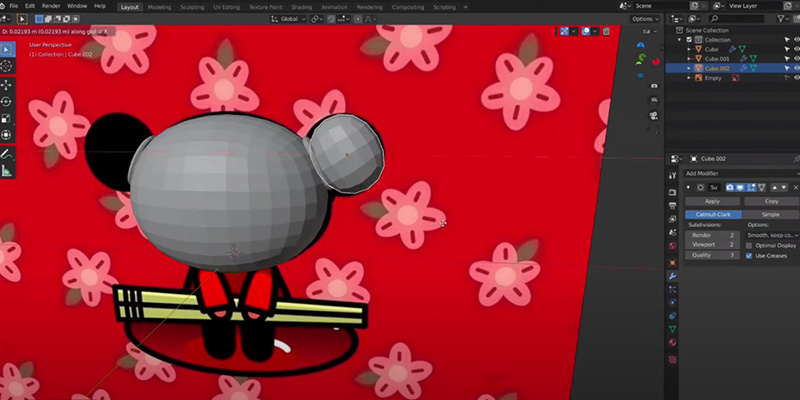 if you are a Complete Blender beginner this course will help you understand the basics. It will be through creating this cute character that does not really have any complicated features that can throw you off. So you will learn how to use basic Blender modeling tools and modifiers to create basic shapes. After you are done with modeling you will learn how to add materials and textures. And finally, you will learn how to add lighting and render your character to be able to show it to others.
This course is on Skillshare. If you want to check it out you can follow this link to 14 days trial. Not only this course but hundreds of other Blender Character Creation courses as well. And if you like it, it is less than $10 per month. So I think you don't have anything to lose.
4 – Character Design For Production
This course will go over the complete workflow of character creation and all the steps necessary to create your Suzan character. It is not going to be short. Because you will sit through 30 hours of content throughout which you will learn.
Modeling
Sculpting
Retopology
UV unwrapping
Texturing painting
Materials
Rigging
Skin weight painting
Animation and
Rendering out a final video
Also, it is important to mention that in this course you will need to have some basic understanding of Blender's tools and how it generally works. So you can follow with the instructor without lagging behind.
3 – Build A Snowman In Blender
This training is not only going to teach you how to create a cool looking snowman character. But it will also teach you some of the most important techniques, concepts, and workflows that help you create your own amazing characters. You will do this while maintaining a high degree of control over how the final results will look like. The main focus of this course is to learn how to develop models and materials efficiently, procedurally, and as flexibly as possible. All using built-in Blender functionality!
From the get-go, you will learn how to apply several non-destructive techniques to provide you with the ability to create several iterations of your snowman with ease.
A non-destructive workflow is very important especially in creating complex things such as characters. Because it allows you to keep possibilities open for making changes and adjustments whenever you want. Instead of being stuck with what you have already done. In addition to the fact that it allows you to work fast.
This course will also focus on helping you how Blender modifiers work and how to use them properly to your advantage to be able to get something done. You will learn how to use less commonly used modifiers such as (Remesh, Skin, Displace), in addition to those we use on everyday projects to create both simple and complex stuff.
Throughout this course, you will also learn how to use some sculpting tools. Specifically the Cloth Filter brush that helps you when creating believable cloth.
you will learn how to set up a scarf mesh for our snowman, and use the Cloth Filter to add the final touches and folds.
2 – Blender 2.81 – Insect And Spiders Creation Full Course
This is a complete course that goes over the complete process of creating spiders and insects. And the instructor will show you exactly how to create a realistic wolf spider step by step. Because this training will allow you to discover a complete workflow and discover features of Blender for modeling, texturing, and animation. This way you will be able to go through the entire workflow which will help you understand the big picture.
And to help you follow easily, this Blender Character creation course course is divided into 7 chapters that will follow the entire process of creation. From the basic modeling to texturing and importing the project into a game engine. So if you are a beginner you will learn a lot of things. But if you have some experience, you will also reinforce your skills by learning new and different techniques from a different perspective.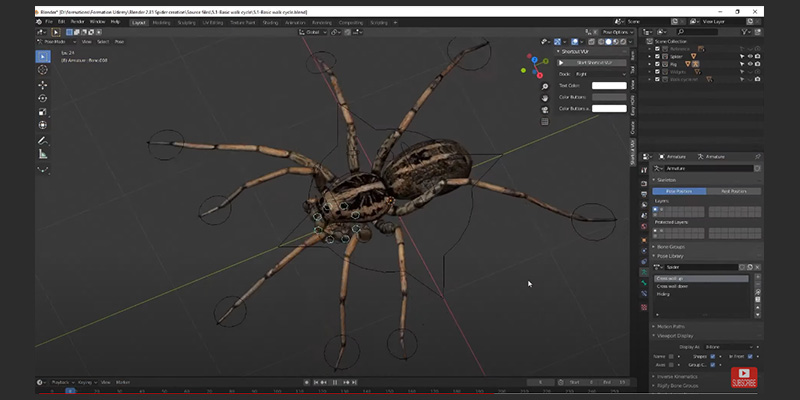 In the first chapter, you will learn how to model the spider with poly build techniques. Then you will work on the UV editing and texturing in chapter two. In chapter 3 you will start working on more details by adding the hair particles into the model. Chapter 4 and 5 will be for rigging and animation. And then we will render the project on both rendering engines Cycles and Eevee in chapter 6. Finally, you will export the model with animations into Unity in the last chapter.
As a bonus in this training, you will also get complete models that are kind of similar to the project at hand. These are a dragonfly, a stag beetle, a praying mantis, and a grasshopper.
1 – Crimson Ronin – Pbr Character Creation For Games
This is not exclusively a Blender course. Because you will be using ZBrush, Substance Painter, and Blender side by side through the entire sculpting, texturing, and rendering process.
You will use Zbrush for sculpting, Blender for modeling, retopology UVs and mapping, Substance for texturing, and then Blender's Eevee for rendering. This might be uncomfortable if you are a blender user only. But the good thing is that this pipeline closely reflects what many professionals and studios use to create games and films. So if you can do this you can be confident in your skills in addition to your ability to work in a professional environment.
This course contains 47 videos, for over 9 hours of all the details of the process. Just like the previous Blender Character Creation courses, it includes a step by step technical explanation in addition to some time-lapse with commentary.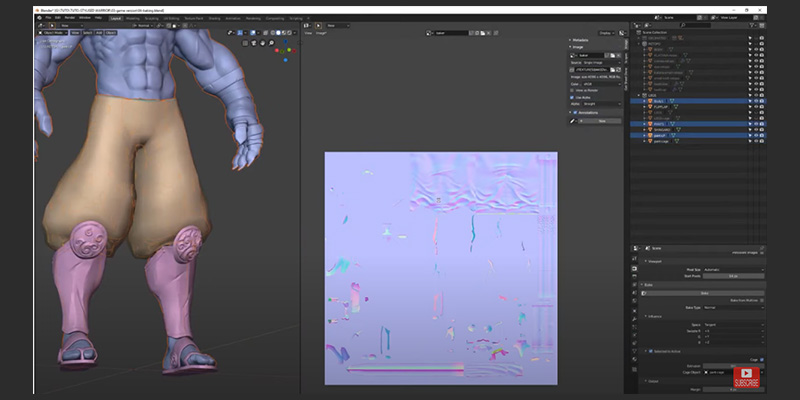 You will learn throughout this course:
– Character sculpting in Zbrush
– Armour and equipment sculpting in Zbrush and Blender
– Retopology in Blender
– How to optimize UVs creation in Blender
– Advanced baking technics in Blender
– Base texturing in Blender and Photoshop
– Texturing in Substance Painter
– Posing and rendering in blender EEVE