Course page: https://blendermarket.com/products/a-z-environment-design-using-trim-sheets?ref=247
Today we are going to talk about a very good course about environment design in Blender. To clarify, you will be using the Trim Sheets Blender technique for most part.
This is a completely comprehensive course from Two great Blender artists covering everything you need to know about how Trim Sheets work. In addition to how you can implement them to create fantastic game environments using the methods used in big-budget game projects.
In my opinion what this course offers is way more than what you are going to pay for. Because it includes a ton of valuable resources, information, and excellent training to learn environment design in Blender. It is great for aspiring game-artists, environment artists, and general 3D artists. In addition to sci-fi hard surface enthusiasts in general, even if they are beginners.
So what you will get for your money includes: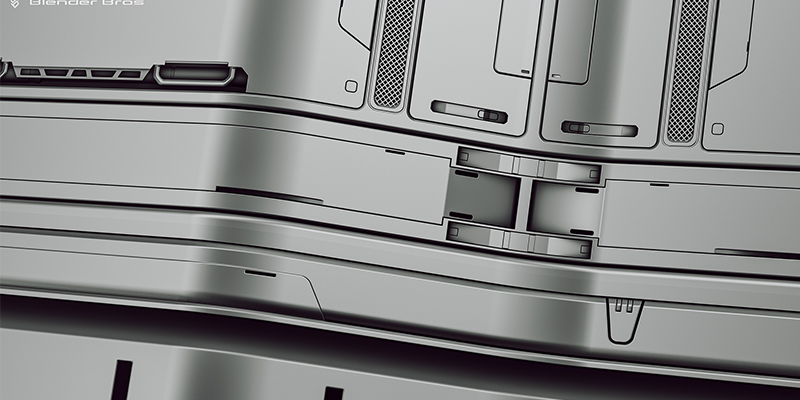 6 trim sheets
Modeling & designing Trim Sheets
Full environment design + modeling tutorial
you will learn how to create a complete game environment
Environment texturing using Trim Sheets.
this is probably the most important part of the course.
Vanilla Trim Sheet workflow (Without addon) in addition to
Decal Machine trim sheet workflow (for extreme efficiency) and
Quixel Mixer Trim Sheet texturing
3 solutions to texturing trim sheets
and finally Exporting into Unreal Engine
in addition to Avoiding the weeks of headaches figuring this out and doing all the work for yourself.
Learn environment design in Blender and upgrade your game
Since this course is about the Trim Sheets Blender technique, you need to know at least what they are. Basically, they are flat planes with a ton of different details in them. This proves to be very important, especially for game development artists. Because this allows them to create very complex-looking characters, vehicles, or environments without having to add a ton of geometry each time they want to add details.
In this course, you will get 6 ready to use Trim Sheets which alone cost more than the value of the course. In addition to that, the instructors on this course will show you how to create your own sheets to be able to use them on your projects during different stages of production.
Using these trim sheets in your projects will allow you to save a ton of time, resources, and money. And the great thing is it will looks just as great as if you modeled everything using millions of polygons. This is not just a technique that solo artists use to save time and resources. Because it is a common practice nowadays in AAA video game projects made by the top game studios such as Doom and Call of Duty for example.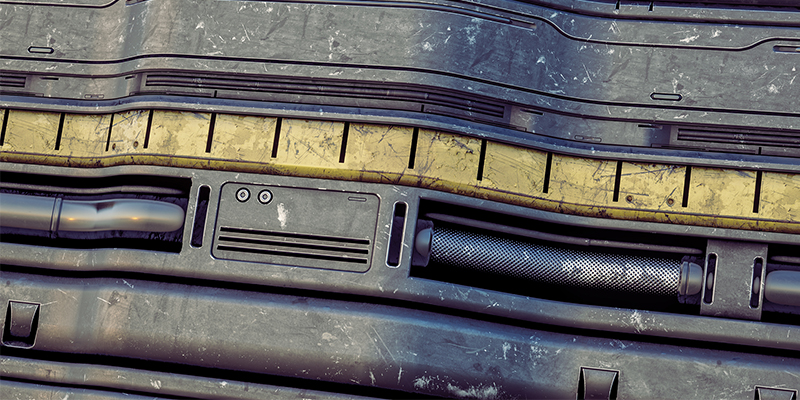 They don't use them a bit here and a bit there. Actually, they are heavily used, they use them everywhere because they are that good. For example, when I played "Doom Eternal" a few months ago, I was able to see a ton of them. Because I am a big fan of playing video games just for the sake of looking at art that the game artists put into video games. Especially when it comes to environments that people walk through without paying attention to the details.
Also if you want to get the most out of this course, it is a good thing if you have some hard surface addons for Blender. And those are "Decal machine" & "Hard ops". These addons will help you to model faster but you can still use vanilla Blender tools to get the same results, it will take longer though. Actually, the instructors will help you with both methods: with addons and without them so you don't have to worry about that.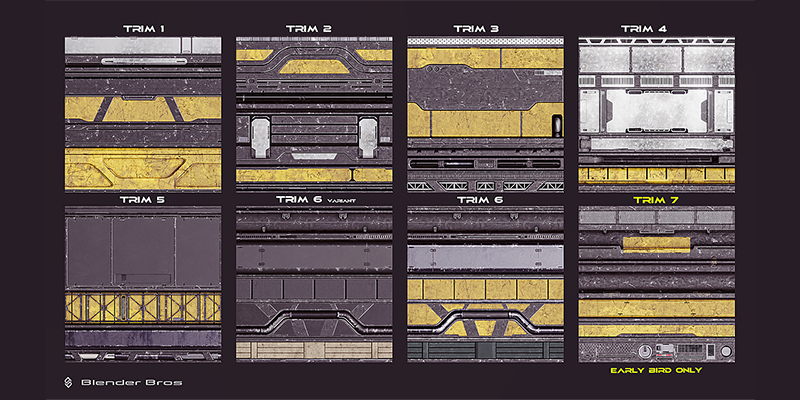 Personally, I believe that using an addon such as Decalmachine to create and apply these Trim Sheets Blender techniques properly is just so much more worth it. Because it is going to save you a ton of time and effort. In addition to that, there isn't a lot of good training about how to use Decal machine trim sheets like these guys do it. They collected all different and necessary techniques related to using trim sheets in one place and they explain it easily step by step. It is just great!
And after you learn how to create cool game environment design in Blender the instructors will show you how to export your project to the unreal engine. While showing you all the necessary techniques and knowledge through out the process.
If you are interested in how the game asset pipeline works, environment design, or if you simply want to save time while generating amazing results then this course is definitely for you.
Course page: https://blendermarket.com/products/a-z-environment-design-using-trim-sheets?ref=247