Do you want to know which program is better? Photoshop or Canva. These two programs have been around for a long time now, but they still compete with each other in many areas such as price point: although it seems counter-intuitive, Photoshop tends towards costing less (bear with me till the end and you'll see). It all depends on what kind of job needs doing!
Photoshop vs Canva: the battle of digital design tools
Adobe Photoshop is arguably the most popular graphic design software available today. Would a simpler program do the trick? We compared Photoshop to other software to give you an idea:
Some might ask – would it be better to use this complicated software or an easy-to-use 2D design app like Canva available for free online on any device that can connect to the internet? Comparing them side by side, we are considering these questions to determine which product is best for your needs.
What is Photoshop?
Photoshop is a powerful tool that anyone can use to create the perfect design. With it, you have access to thousands of different graphics styles and effects for your work as well as photo editing tools such as filters or cropping functionality! You'll be able to export files in many formats including JPG PNG SVG PDF etc., which makes this program worth its weight in gold if anything comes up on screen while working away at enhancing an image with all those features available directly from within one single application.
Link: Adobe Photoshop
What is Canva?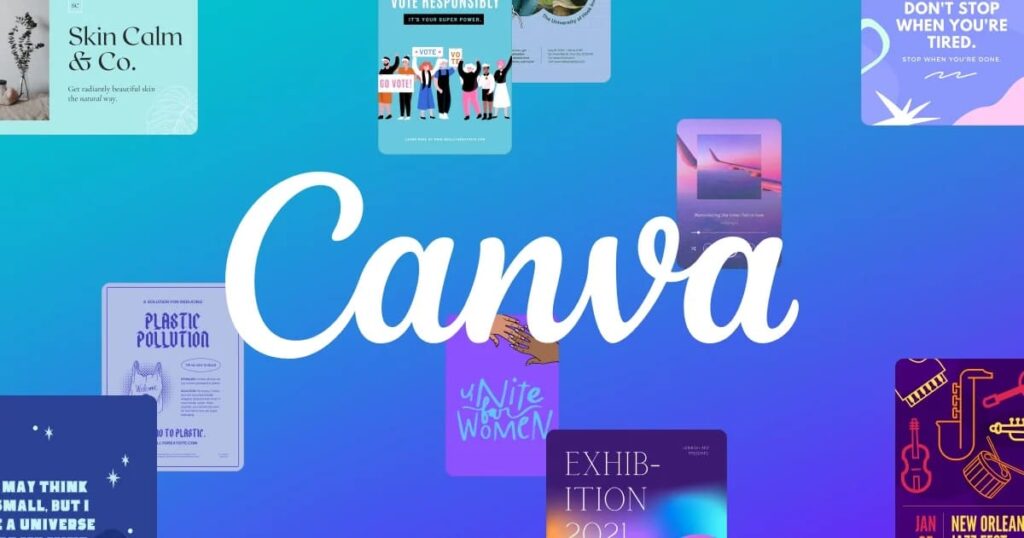 Well… Canva is a free online design tool that anyone can use. It was created by students, for people without any skills or experience in graphic arts – but with an idea to make things better! What sets this program apart?
The fact that you're not stuck using templates; instead of having many different options like most other programs do, Canva gives its users easy ways on how to create whatever they want from scratch which includes drag-and-drop elements so there are fewer chances something will go wrong during editing process due to too lackadaisical workmanship when designing.
Plus it offers more than enough tools available throughout all platforms (web accessed notebooks) enabling every individual who has interest whatsoever towards creativity at his/her fingertips.
Link: Canva
Interface and learning curve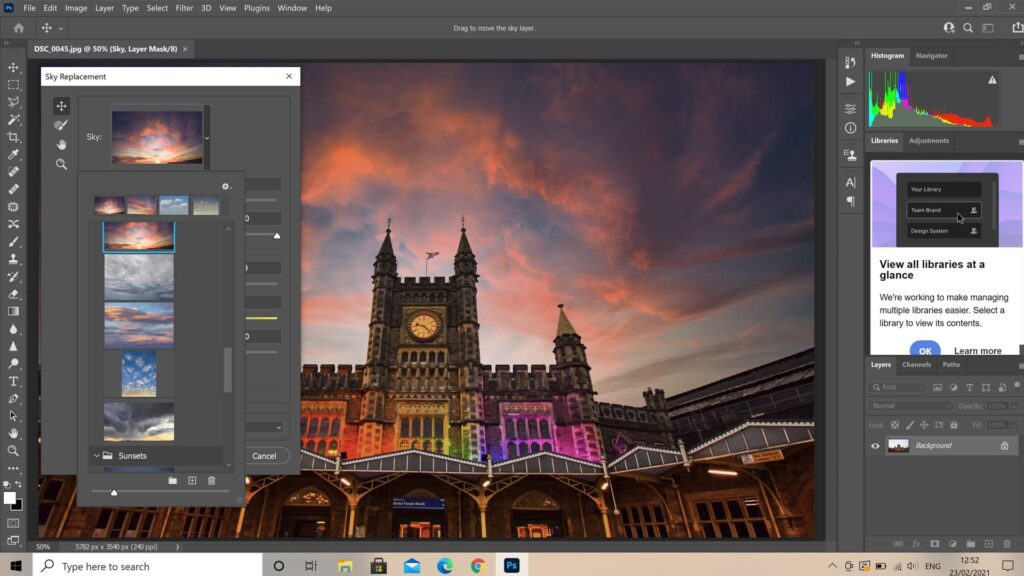 You might be wondering about Photoshop's learning curve. Worry not, both platforms have a good amount of documentation that is not as complicated as IKEA assembly manuals (not trying to throw shades here), they also have tutorials and a knowledge base. There are several Facebook groups, YouTube channels, and paid and free courses dedicated to learning Photoshop online (and Canva too!). This way, you can learn Photoshop at home without too much hassle.
There are more advanced courses for Photoshop than Canva and that's because there is a lot more to Photoshop. However, for our purposes as bloggers and non-graphic designers who need to be able to create beautiful graphics, both Canva and Photoshop have enough documentation and dedicated resources to be on the same footing.
Feature availability for Photoshop vs Canva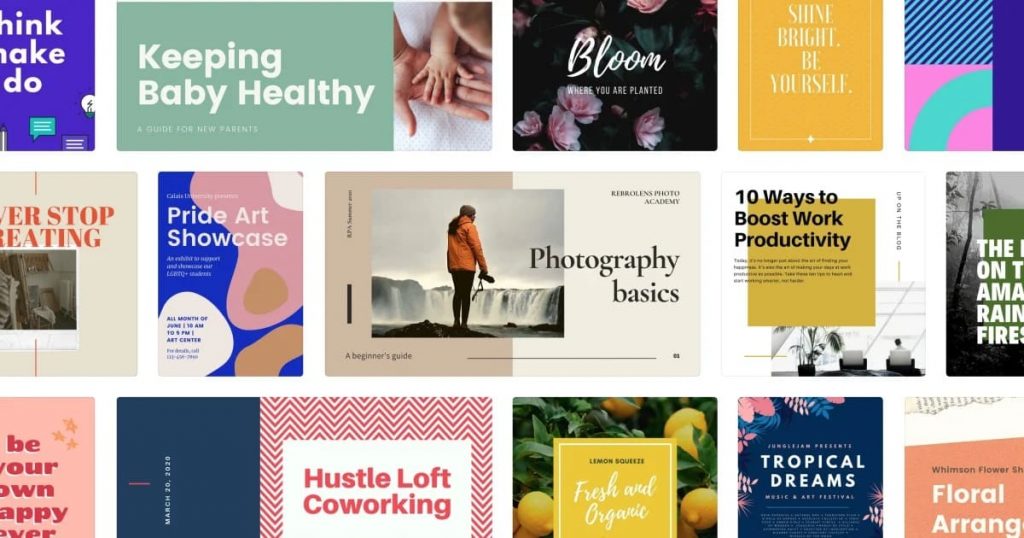 Features are like a first date who dressed nicely but comes with a good personality too! Essentially, they are what makes a person choose one platform over the other. Those platforms have features that you can't live without, so you choose them. So now that we know the basics of both platforms, let's have a look at a few useful features.
A. What is special about Canva?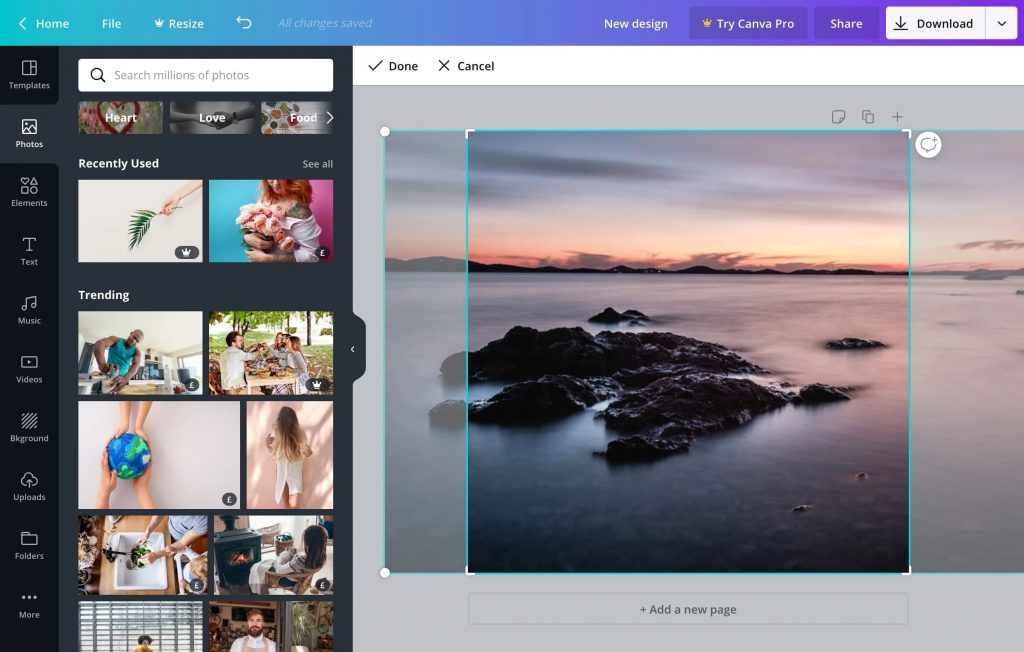 There are loads of amazing graphics you can create using Canva, and you don't need to be a designer to use it.
The application has a lot of great features that make the creation of beautiful graphics fast and easy.
B. How is Photoshop different?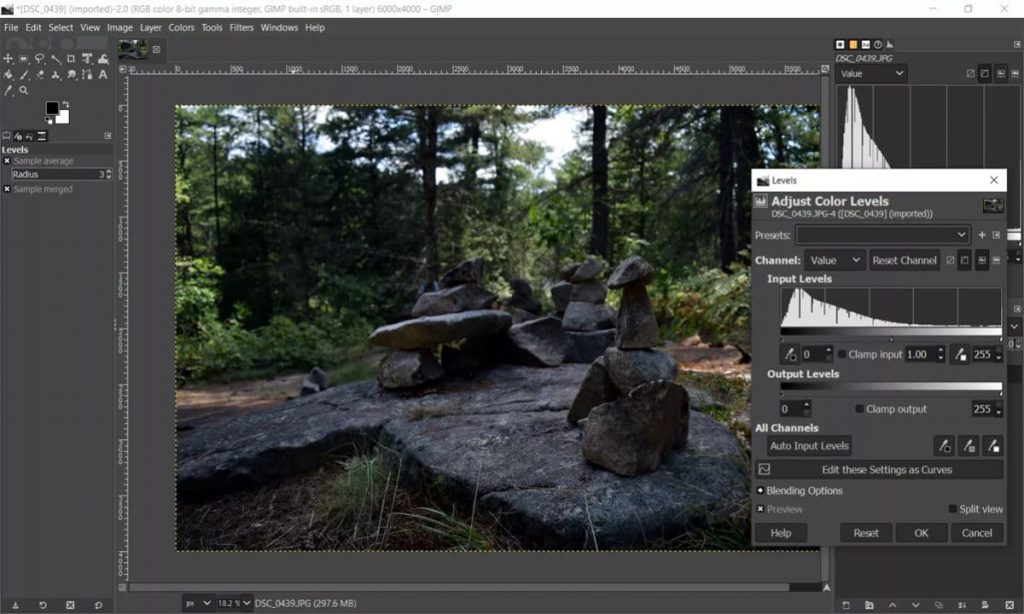 In Photoshop, features abound. Almost all of them are useless to me, so I rarely use anything more than 30% of it. You can do just about anything with it, and it's incredibly versatile.
Adobe Photoshop is my favorite program when it comes to the wide variety of font options they have (not just fonts, but you can use them on images as well).
Photoshop's amazing features, including strokes, inner glow, outer glow, box-shadow, and various fonts can be used to design social media graphics for social media and Pinterest pins.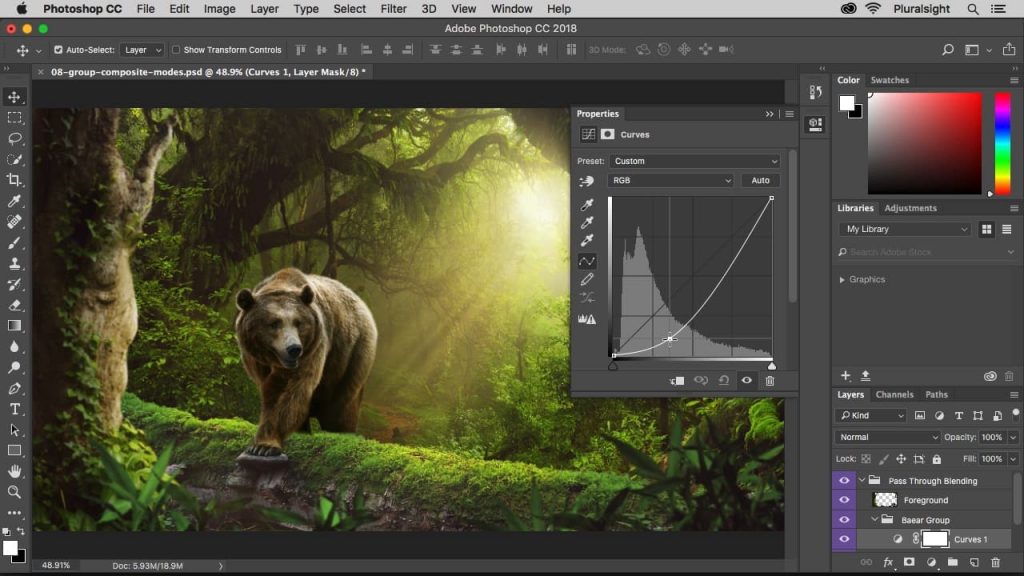 Besides the cloning tool, it's the symmetry tool that I really love. A background that matches the rest of the image can be created by cloning any area or portion of the image.
One of the coolest features of Photoshop is being able to shape your text however you want. The trick is to press a button and you'll have beautiful downward curving text.
The overall feature set available to Photoshop is greater than that offered by Canva. You will probably not use all the features, because they are not really necessities on a daily basis. However, some of the features I talked about and demonstrated are important to me, at the very least.
Use cases: How can Canva help you?
With Canva you can easily create eye-catching graphic designs and visuals. It's free online.
Are you able to create different kinds of designs?
These are the most common usage scenarios:
Visual media for social media
Covers for electronic books
Artwork found on YouTube
Dining Menus
Printed on business cards
Headers for blogs
Creating invitations
Even blog posts can become engaging visuals if you use Canva properly.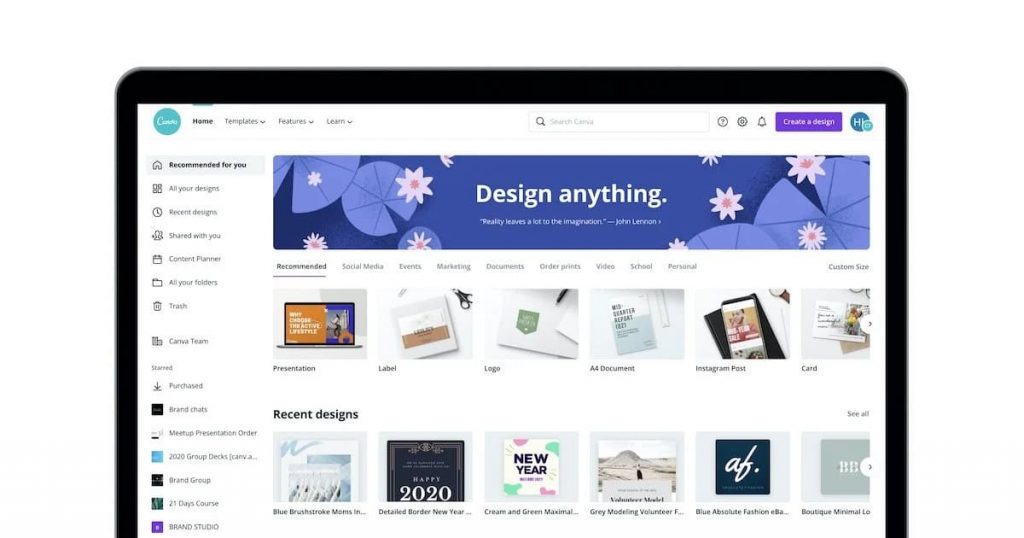 Besides that, Canva also offers an extensive collection of ready-made templates & a variety of graphic design assets, such as images, illustrations & icons, tailored to your brand.
Also, Canva is not dependent on a degree in design. You can still be creative with Canva whether or not you have a design degree.
Let's check out Photoshop.
Uses cases: how can Photoshop help you?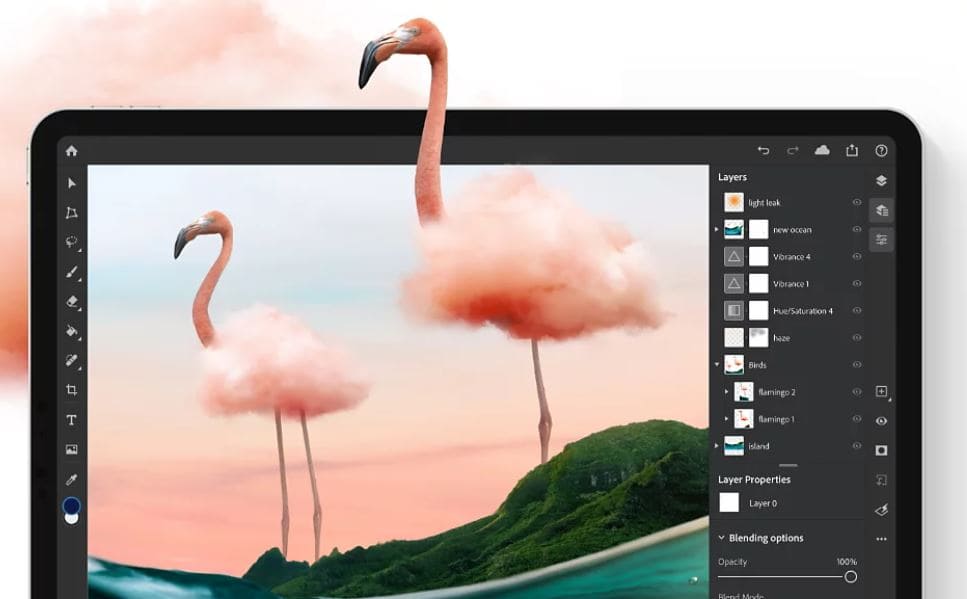 To begin with, Canva has all the features that Canva has. Photoshop, on the other hand, is used by designers across the globe for:
Creating mockups
Brochures
Advertisements displayed and banners
Insignia
Graphics/Infographics
Format Guides
Banner Ads for Websites
Branding
Mailing postcards
Templates for newsletters
A big drawback of Canva is that it doesn't allow you to manipulate images. Photographs make up a significant part of your marketing materials.
Its endless features allow designers to edit, retouch, create & draw, which makes Photoshop a popular choice among designers.
As a couple of examples, Photoshop can do things Canva cannot:
Mapping
Selection
Adding and removing layers
Styles for layering
Modalities of blend
An original filter or effect
Processing in batches
Implementation
The list goes on.
It begs the question, though: Do you really need all those features and functions?
Isn't what you really want to do simply to get stuff done and make decent marketing assets?
The price difference of Photoshop vs Canva
There are some differences between the pricing models for these two programs. For instance, Canva's service is free. Consequently, you can use it for free forever. The free version lacks a few features, however.
Canva Pro is the name of the paid version, which you can upgrade to. This version costs $12.95/month. $12.95/month seems like a good investment since you get fast graphics creation with magic resizing, folders, transparent backgrounds, and branding options.
The freemium version of Photoshop, however, does not exist. A monthly fee is charged for Photoshop if you want to use it. Photoshop is currently available through Creative Cloud for $9.99. That's the price for their photography plan.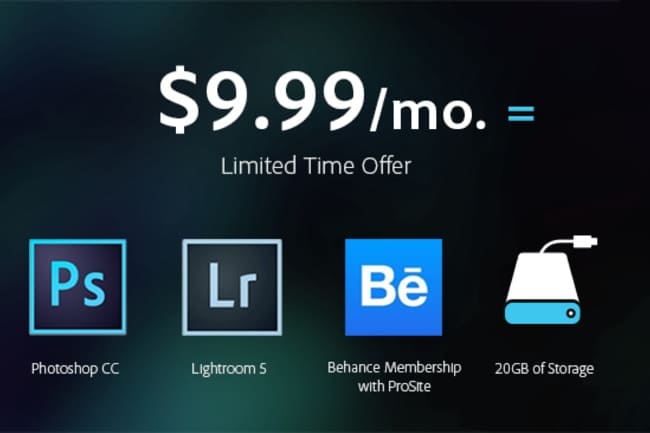 Photoshop is, without a doubt, the more advanced platform for creating graphics. Since it was less expensive than Canva Pro, I was surprised. Additionally, you get much more than Photoshop when you get the Photography plan.
Lightroom Classic, Adobe Fonts, Lightroom desktop version, Adobe Spark (for creating dynamic graphics and templates), Premier Rush (to create video quickly), and some other awesome tools are included in the plan.
Photoshop not only helps you save money, but you also get to do more with it. For me, this is a winning equation.
Photoshop vs Canva: the verdict

Each program is wonderful in its own way. Adobe Photoshop allows you to make simple graphic designs using some cool features, whereas Canva is meant for non-designers.
Our ratings for Canva and Photoshop are 16 and 17. Photoshop, mainly because of its point system, is the most reliable force in this comparison. There is a wide range of software available depending on your individual needs and your level of knowledge and ability.
If you are a complete beginner with no design skills, Canva may be the better choice. If on the other hand, you are passionate about graphic design, are comfortable learning new skills by watching tutorials, then Photoshop might be worth a look.