Today we are going to talk about 4 different Blender vehicle rigging and animation addons that can help you rig different vehicles from cars, boats, helicopters drones you name it.
Blender vehicle rigging and animation are tough tasks without addons
Unlike character rigging, vehicle rigging is on a whole other level of complexity. In other words, there are hundreds of pieces to put together in harmony. Therefore, it becomes rather tedious and time consuming to keep up with the workflow. Above all, sometimes you have deadlines to respect and expectations to meet. And even if you're a beginner, you'll find it rather overwhelming to dive into it unarmed. This is certainly why we collected this list of Blender vehicle rigging and animation addons to ease up things.
4 – "BOAT-Rig Pro"
Boat Rig pro is a Blender addon that gives you the ability to rig a boat and control it which allows you to create realistic animations. Before you start adding controls to your boat, you can adjust the water surface using parameters. Such as resolution, size, in addition to waves parameters as well.
Also, from "Custom Properties", you can change the size of the rig depending on the size of the boat whether it be big or small. In addition to changing the position of contact points to make sure that the boat will interact with the water surface properly and generate a realistic simulation.
After you rig the boat and start the simulation, things might not work perfectly for you. So, sometimes you have to change the custom properties of the ocean further to get to the result you want.
You can find the addon here: https://blendermarket.com/products/boat-rig-pro?ref=247
3 – "Drone-Rig Pro"
This addon is designed to allow you to rig any type of propeller drone easily. Furthermore, it helps you animate it with ease using a panel that has different properties. It's certainly awesome to grant you control over the drone during its movement in the air.
You can control Propeller rotation, rotation of the drone, flying speed, turning, and tilt angle. In addition to the ability to correct the position and other properties.
The way Drone-rig pro works is simple: you can control the path of the drone using a spline along the path. In addition to keyframing the movement of the drone during its animation using the properties in the control panel. The tool certainly gives enough reasons to make us choose it for the Blender vehicle rigging process. The combination of Blender vehicle animation has undoubtedly strong and inseparable ties with the concept.
If you're interested in this addon, you can find it here: https://blendermarket.com/products/drone-rig-pro?ref=247
2 – "Helico-Rig Pro"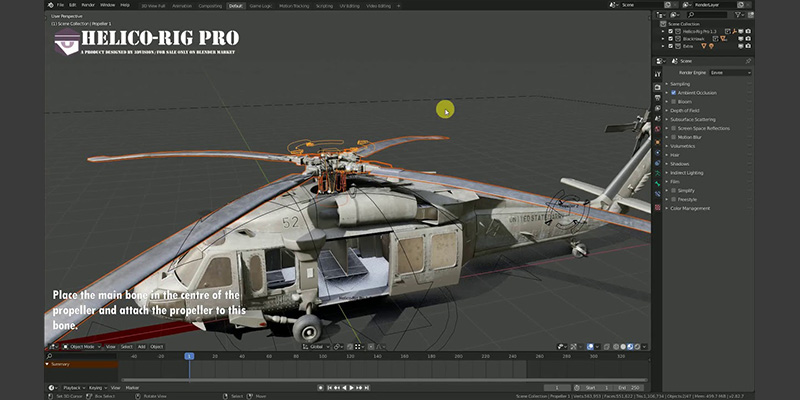 Helico-Rig Pro" is a kit that allows you to rig your helicopter in a very short period of time. Not to mention it is very easy to animate.
All you have to do is to bring the rig that contains several bones and place each one of them at its proper place to be able to use and control their properties correctly. After that you will be able to control the main propeller, tail propeller, going up, flying away, fly speed, turbulence, and much more.
If you want to animate helicopters and you don't have experience with rigging or animation in particular, I believe that this addon is great and it is going to save you a lot of time and money. You'll agree with me that the concept of Blender vehicle animation takes a whole other meaning with this tool, making it totally worth it.
You can benefit from this awesome addon by finding it here: https://blendermarket.com/products/helico-rig-pro?ref=247
1 – "CAR-Rig Pro"
CAR-RIG PRO allows animators to enhance their Blender vehicle rigging process. To clarify, it includes any kind of vehicle with four wheels. We can mention for instance weight heavy vehicles, city cars, race cars, and so on. It is a fast and easy rigging system to install.
This addon is for animators that don't want to spend a lot of their time on technical stuff. Instead they want to make the animation of vehicles look more believable and realistic. Also this addon is good for saving time and making the whole process easier.
Some of the most important features this addons offer are :
Drift Auto, which gives the car the ability to drift automatically
Central Force Auto helps the vehicle stay in the center when moving.
Damper and Drive Axis bones that can give the movement a more natural feel and helps you generate more believable suspension.
Find the addon here for more information: https://blendermarket.com/products/car-rig-pro-blender-kit?ref=247
Additional cool features to enhance your Blender vehicle rigging and animation workflow
When creating animations, you can control the ground properties like ground size, solidity, and a variety of other properties that can help you generate different surface imperfections. And can help you see different results when testing your Car rig.
You can also use a custom camera that has different modes of following the car when moving on the path. And of course, there are settings you can use to control the properties of the camera if you want more freedom when filming your scenes. This will help you to create stunning animations in record times.
Overall this car rigging add-on offers a realistic suspension simulation. It supports Real-Time Ground Deformations, also it has Independent rotation for the front wheel and rear wheel. And finally, it has other nice features like Automatic ground detection and Automatic steering.