Although technological advancement has given us many tools to make animation more of an automatic process, frame by frame animation has not lost its popularity and desirability. A traditional look and feel is still very much in.
In this article we have compiled a list of 2D animation software that allow you to make frame by frame animation for your project. Without further ado, let's jump into it!
1. Toon Boom Harmony
Toon Boom Harmony is a frame by frame animation software developed by Corus Entertainment. This software is easily the industry standard for animation due to the sheer power of its tools and features.
According to the website, this software is used by big companies such as NBC and Ubisoft. On top of giving you the option to do frame by frame animation, it has other interesting features such as the variety of its brushes.
You can either choose from a library or download and import them into the software and if you chose your brushes right, this will give you a traditional look to your animation.
The software costs anywhere between 25.50 USD to 117.50 USD a month, depending on which version of the software you choose. Toon Boom Harmony is quite the rich software, for more of an in depth look, make sure to check our video about the software. 
If you want to dive deeper into the capabilities of this software against other popular options in the market, you can check our head to head comparisons to make an informed choice:
2. After Effects
After Effects is a software developed by Adobe Inc with quite the history. This software is used for compositing, visual effects, motion graphics as well as animation. So it's not technically a frame by frame animation software.
However, even though the software is known for its visual effects and motion graphic capabilities, it also has a frame by frame animation feature. If you wish to only animate given parts of your animation, but rely on motion graphics and visual effects for the rest, After Effects can be a great tool for you, as it is arguably the most powerful motion graphics and visual effects software out there.
One thing to consider is that although very capable of producing frame by frame animation, it is not the software's main focus, and so you might find it cluttered with other tools you don't want or need if your main focus is frame by frame animation.
This can make it not only hard but a waste of time to try to learn the software if the other features and tools are irrelevant for you, this is important to consider before purchasing the software.
Speaking of purchase, the price of After Effects is different depending on the plan you choose, for instance if you subscribe to the service as a stand alone, it would cost you $20.99 USD a month, however if you subscribe to the entirety of Adobe's Creative Cloud it would be 54.99 USD a month.
3. Blender grease pencil
Blender is best known as a free and open source 3D software. Among its many capabilities is making frame by frame animations using the software's 2D object Grease Pencil. This object allows you to essentially draw in a 3D space.
The great thing about Blender is its tools range from 3D, raster graphics editing, visual effects to motion graphics and all for free. However this can be quite nerve wracking to figure out if you are a beginner.
On top of that, the frame by frame animation in this software can be a little hard to figure out since you're drawing on a 3D space and not a 2D plane, it can be confusing at first especially if you come from a traditional art background or 2D software background.
However, one thing that makes up for this in my opinion is the familiarity that the onion-skinning feature provides.
4. TVPaint
TVPaint is a digital painting and frame by frame animation software developed by the French company TVPaint Developpement SARL. TVPaint's whole shtick is that it brings you a very traditional looking animation on a digital software.
On top of offering frame by frame animation, it provides you with an amazing set of brushes to make your animation look traditional.
However the software doesn't limit you in that regard, you can have regular digital looking animations using it. The software has other great tools such as the Scan Cleaner, where it can take your scanned drawings and erase the white space transforming it into a transparent space and keeping your line.
This is only one tool among many that the software has. It is one of the best tools for frame by frame animation with a traditional look and feel, so if that is what you're looking for, go for TVPaint.
The software can be quite costly but has many different offers from those for studios to students and artists. We recommend you go to their website and take a look at their offers and choose the one that fits your economic status better.
5. Krita
Krita is a free and open source raster graphics editor available on Windows, MacOS, Linux, Android, and Chrome OS.
Initially the software started as a digital painting and drawing software, but recently added an animation functionality, more specifically a frame by frame animation functionality with a couple of tools and features such as onion skinning and multiple layers and playback speeds.
Being a free software known for its amazing array of brushes, it can be the perfect tool for traditional looking frame by frame animation all for free. The animation functionality of the software is pretty basic, but when speaking of frame by frame animation not a lot is needed.
Overall we recommend this to beginners who don't wish to spend much but want to learn how animation generally works, with a solid starting tool set and brush variety.
Check out our series where we compare Krita head-to-head with other software if you're unsure about whether to give it a go or not:
6. Clip Studio Paint
Clip Studio Paint is a graphics editor developed by Celsys and available on Windows, Chrome OS, MacOS, IpadOS, iOS, and Android. The software's main focus is digital drawing and painting, and it's known among the community as a comics creation software. However, a 2D animation functionality exists within it.
The software offers a frame by frame animation functionality supported by a powerful brush engine, making the creation of a completely sophisticated looking animation possible. The software has other features such as camera movement and key frame editing.
We all know that making frame by frame animation can be tedious and especially so when it comes to figuring out how to draw a pose, Clip Studio Paint has the perfect tool for this with its customizable 3D models that you can pose however you like.
The software is a one time purchase and costs $49.99 USD for Clip Studio Paint Pro, and US$219.00 for Clip Studio Paint Ex.
7. OpenToonz
OpenToonz is an open source 2D animation software available on Windows, Mac and Linux. Known as the software Ghibli uses in their animation, OpenToonz is an incredibly powerful hand drawn animation software.
Coupled with the outstanding GTS scanning system and the cleanup parameters (like antialiasing, sharpness and despeckling), you can expect a seamless transition from paper to digital drawing.
The software can be a little hard to get used to due to its peculiar interface, but the powerful tools in the software are worth its learning curve.
Other features in the software include, but are not limited to, a variety of brushes, text tool, color selector, vector tools, shape and line editors, onion skin, rigging tools, keyframe tool, effect nodes, interpolation, and FX schematics, and so many more tools.
8. Adobe Animate
Adobe Animate is an animation software developed by Adobe Inc. and is available on Windows and MacOS.
Although frame by frame animation is technically possible in the software it is not the software's strongest. It is more of the software that goes into motion graphics and vector animation rather than a frame by frame animation. The software relies more on symbols, layer-parenting and swapping.
9. MOHO
Developed and distributed by Lost Marble LLC, Moho is a 2D vector animation software available on Microsoft Windows and Mac OS.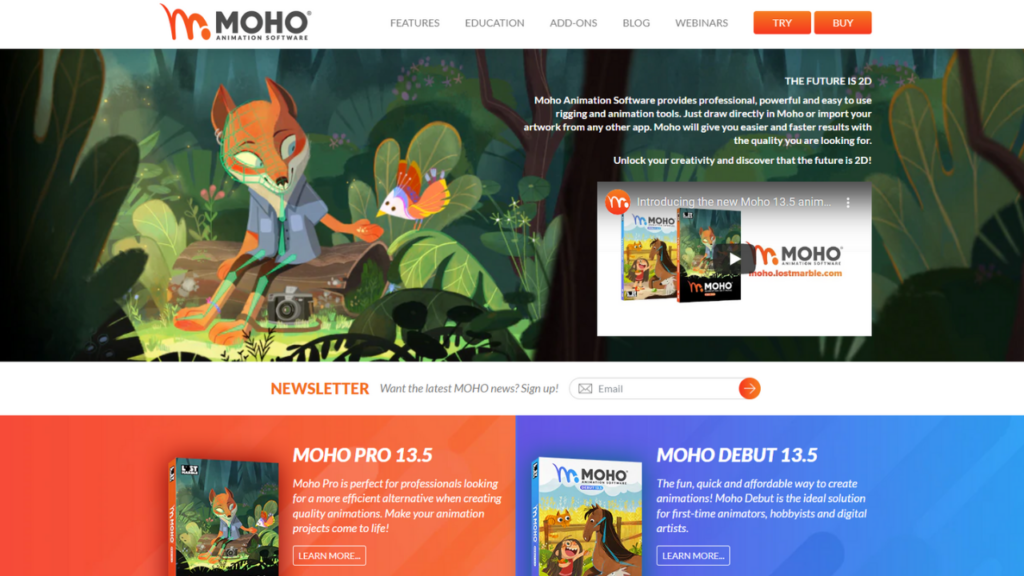 The software has frame by frame animation functionality alongside other features and tools such as a variety of brushes, shape editor, color selectors, layers, gradient tool, and the camera tool.
Moho comes in two separate versions, one called Moho Pro and the other Moho Debut. The first costs $399.99 and the second one costs $59.99.
This tool is more of a puppet animation or motion graphic animation tool more than anything. If frame by frame animation is your focus we recommend you try other software on the list for a more focused, cheaper and generally better experience.
10. Photoshop
Photoshop is another tool where you can do frame by frame animation, granted it definitely is not the best tool for it, but if you happen to have Photoshop and want to try your hand at frame by frame animation, this software can certainly do it for you.
Photoshop's animation tools and timelines are quite simplistic, so we recommend you look at other options if you want to do this a bit more seriously or if you happen to need more tools in your animation kit.
11. Pencil2D Animation
Pencil2D Animation is a free and open source 2D animation software available on Windows, macOS and Unix-like operating systems.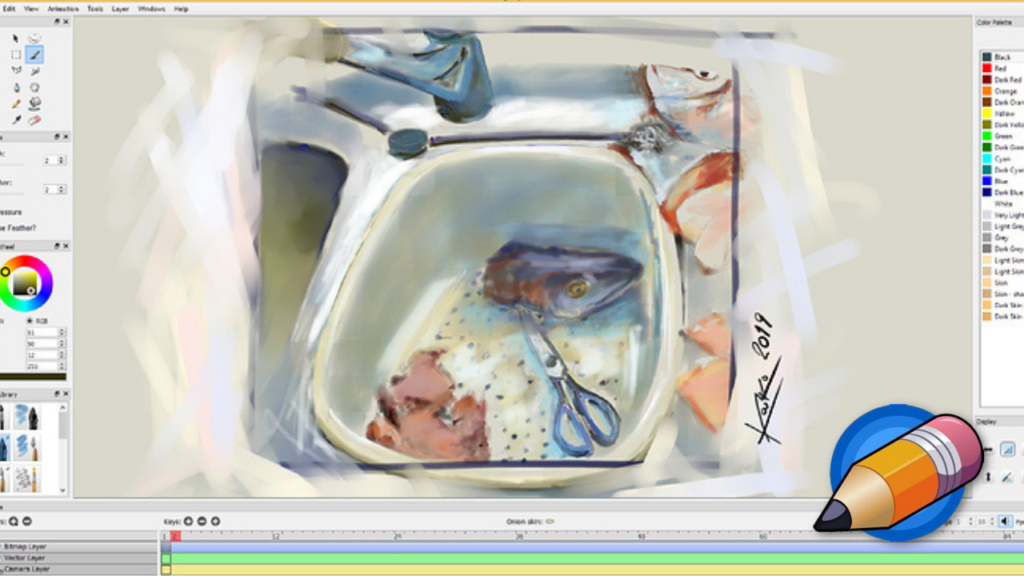 The software can handle both bitmap and vector and can be used to create simple frame by frame animation projects.
The software is fairly easy to use as it is simple and straight to the point, which can be great for a beginner, especially since it is free. If you're just starting out, consider this software for an easy start!