The digital art industry is constantly being populated with new graphic design software, apps and tools. Whether you're a beginner who wants to dive into the field but don't know which tool to pick, or you're a seasoned artist who wants to try something new, you probably heard of Krita and Photoshop. Precisely, you must've heard about the price difference (since Krita is free while Photoshop is paid). This begs the question: is Krita as good as Photoshop while being free?
Both Krita and Photoshop are high-quality applications for digital painting, photo editing, or designing. However, Photoshop is the industry-standard for photo editing and design while Krita is known for its capabilities with digital painting and illustration. If you're new to these programs it can be difficult to understand how they work because of the underlying grid system that both use (or in other words, the raster technology). This is why we're presenting you this full head-to-head comparison of Krita vs Photoshop.
What is Krita?
Krita is the perfect program for any animator or painter looking to create their next masterpiece. Whether you're an experienced pro, or just getting started– Krita has everything that will help take your skills up a notch! It offers an intuitive interface that makes it easy to take care of all your needs.
The application has everything from painting and graphics editing, to photography workflows like HDR photo manipulation or raw conversion. With it, you can enjoy painting with various complex capabilities.
We compared Krita to other software to give you a better idea about its capabilities and to suit as many artists as possible:
What is Photoshop?
Photoshop is the best-known graphic software. You've probably come across this app at some point in your life, whether on a friend's phone or an advertisement for what seems like forever!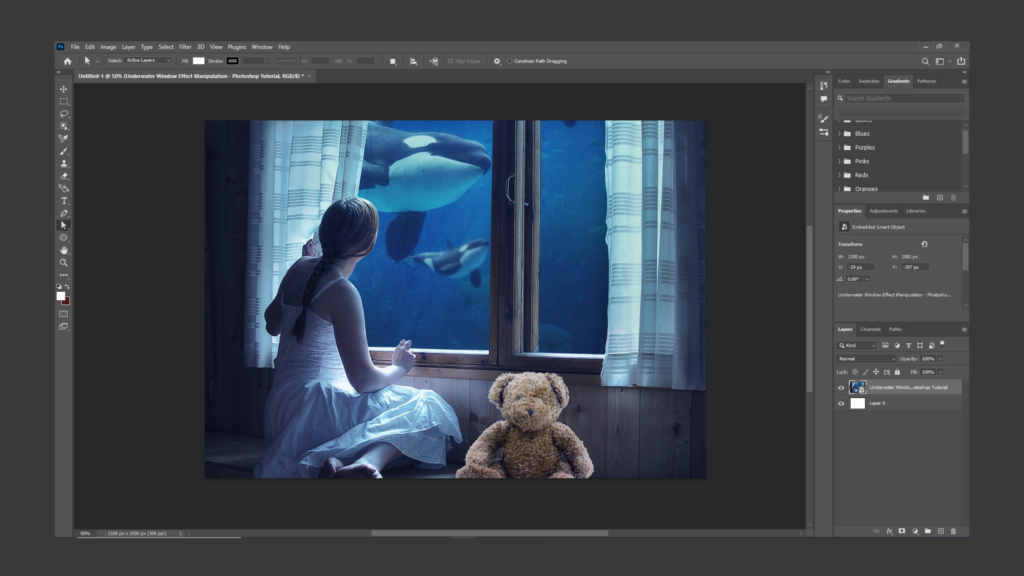 It allows you to edit images by adding layers and modifications, which makes it so much more fun than just looking through photos without anything changing them. Graphic designers that are always on the go will appreciate the convenience of working from anywhere with Creative Cloud.
We have several comparisons that put Photoshop against other software to help you understand its potential better or even switch if you like:
Krita vs Photoshop: what is the difference?
The two software are very similar, but they also have certain features that set them apart. To be brief, here's what you need to know at a glance:
Interface: Photoshop's UI can be perceived as a lot more daunting and cluttered compared to Krita.
Learning curve: you'll most probably find Krita a lot easier to learn compared to Photoshop, mainly because of the difference in the toolset.
Tools and features: in terms of abundance, Photoshop has it a lot more than Krita. This is the main cause of Photoshop's daunting UI and steep learning curve.
Use cases: Photoshop is the industry-standard for photo editing and graphic design, while Krita leans more towards drawing, digital painting and illustration. In short, there are cases where Photoshop is better than Krita, and vice versa.
Pricing: Krita is completely free and open-source, while Photoshop is a subscription based rent-ware.
Let's take you more in depth and explain all these aspects for a better understanding.
Interface and learning curve
The user-friendly interface of Krita allows you quick access and study of features without feeling overwhelmed or intimidated by other more advanced software like Photoshop, which can sometimes have too many bells & whistles (though this may be an advantage if your goal was something specific). So beginners might prefer Krita as its simpler interface makes learning easy, with little frustration or confusion about how things work.
Krita contains many key buttons that allow you to perform various artistic techniques. The tool panel location may be different than Photoshop.
We have seen the flexibility of Photoshop's window placement, and we are impressed by how we can arrange our customized workspaces. Over-personalization, on the other hand, might be daunting for new users who tend to dismiss tabs unintentionally.
Compatibility
In comparison, Adobe Photoshop runs on iOS, Android, and Windows, whereas Krita supports Windows, Mac, and Linux (some issues are known to occur occasionally on MacOS and Windows, but fixes and solutions are available).
The old versions of Krita are available, unlike Photoshop. Adobe is limited in terms of which versions you can use.
Can I open Krita files with Photoshop? Yes, and you won't have to deal with too many compatibility problems. The software also supports saving in .psd format which is necessary for some tools not supported by the majority of programs out there today; this means your work will be safe no matter where it goes!
With the release of their new iPad application, Adobe has finally made it possible for users to work on tablets. This means you can now use your favorite graphics program like Photoshop in any environment!
Tools & Features Krita
Krita is a popular application for artists of all kinds. One thing that it does well to help with creating artwork can be seen in its Unlimited Canvas feature, which provides ample space on your computer screen so you don't have any limits or borders when working in Krita!
Krita is a popular, high-quality painting program that has an AI assistant built-in. This tool supports CMYK color schemes as well as RGB and HDR capabilities for your artwork! You can also use their integrated drawing aid anytime you need help with graphics or designs on the fly without leaving KIpa Space – it's always there when needed most with every image file type imaginable (including PSD). In other words, Photoshop vs Krita digital painting potential is quite different.
Krita is a fantastic app for artists. This brush library offers the user many options, depending on what they need or want to create with their work.
It has big custom brushes available as well! Additionally while using this awesome tool your size and thickness can vary depending upon preference; if you don't find one perfect enough in Krita's standard set then there are plenty of other high-quality sets available through plugins that will surely meet all demands making sure every single project goes smoothly (and quickly) into completion time after sweetheart deadline without any problems whatsoever).
Krita is the perfect tool to quickly create digital paintings. It was created by a worldwide group of enthusiasts who want everyone in this world to be able to paint with their own two hands!
It supports OpenGL, among other things. So, if you use it with Krita, its performance can be increased. The image will zoom, mirror, rotate and pan rapidly as a result.
Finally, as the program is open-source, the community's support is immense, and the program is constantly being adjusted by many users. Users can also access useful extensions and updates.
Photoshop
The 3 smart stroke smoothing modes include a "Stroke Catch Up Mode." In this setting, the program catches where your cursor is when you pause while painting to avoid any mistakes from happening and make sure everything looks perfect!
One cool feature is the "Catch-Up Mode," in which you can finish painting where your stylus Photoshop has a new option to make your line structure more organic. The "pulled string" or mouse left off lets you adjust the stroke direction with an easy-to-use slider, so it feels less like drawing and more like a painting!
Adobe Photoshop includes a variety of options to shield certain areas in photographs. For example, you can modify temperature, contrast, and exposure as well as shadows with just one click! The colors that make up your image are also easily editable thanks to this tool's controls for color masking range – meaning it won't be too difficult when moving onto post-production later down the line!
Thus, when making local alterations, changes are made only to the light or dark portions of the images, and not to nearby regions.
Adobe Photoshop allows you to access Lightroom photos from its Start Screen. It uploads existing cloud-specific photographs directly back into Adobe Lightroom after editing without having to download them all over again!
Adobe Stock has a huge library of stock photos that you can use when creating your own content, illustrations, or anything else. You get access to it all without paying an extra fee and there's no need for subscriptions either!
Designing complicated characters is easy with Photoshop's tools "Pen and Shapes." With the option to curve or straighten lines, you can create both vector shapes that are known as Vector Graphics in one layer (or use more than just Add). You will also be able to adjust forms by intersecting them at points while subtracted from each other if needed!
Krita vs Photoshop animation features is a huge difference though, as Krita is a lot more advanced in this regard with many tools compared to Photoshop's simplistic timeline and animation features
The software has been tailored to take advantage of all available hardware in order that professionals can paint on anything from a phone case up through large mural paintings without sacrificing their creativity or skills as they work with more advanced tools such as layers and masks while still keeping accessibility features like Undo/Redone so you don't have a break out into hives when things go wrong!
Pricing
Krita and Photoshop couldn't be more different in pricing. You can only obtain Photoshop through a subscription that will cost you around $20/month, while Krita is free.
Krita is a great choice for those who want to create professional-looking artwork without paying an arm and leg.
Photoshop, on the other hand, will cost you but with all of its features, it may be worth every penny!
Krita vs Photoshop: Final Verdict
Krita is perfect for digital drawing, but Photoshop has been known as the king of graphic design and photo editing for ages.
What is the best tool? Obviously, It depends on your needs.
For those who work with Adobe Photoshop, this software is a must-have. With its sky placement features, you can manage many complex tasks that Krita just isn't able to do on its own! If you're not fond of Photoshop or if you're on a budget, Krita is a great tool for you; however, we recommend using it alongside industry-standard software.