As an important phase of any project, concept art plays a huge role in shaping the product's vision, laying the first wireframe and reducing the error margin. Although you might perceive it as an unfinished shapeless sketch, it's the best way to achieve the final polished result in the most effective way. Today we're gonna present you a list of some of the most popular concept art software.
What is concept art?
Concept art is a visual representation that tells a story or conveys a certain look. It is commonly used in film and video games to convey a vision and set the tone for an entire game or movie. Concept art provides a strong reference point that helps align the creatives working on the project.
What are concept art software used for?
The use cases of concept art software can vary, but the main objective is to ensure the homogeneity of the production pipeline with all its phases. Examples of this can be:
3D feature films.
2D animated stories.
Video games.
With that out of the way, let's get into the actual list of concept art software.
10. Paint Tool SAI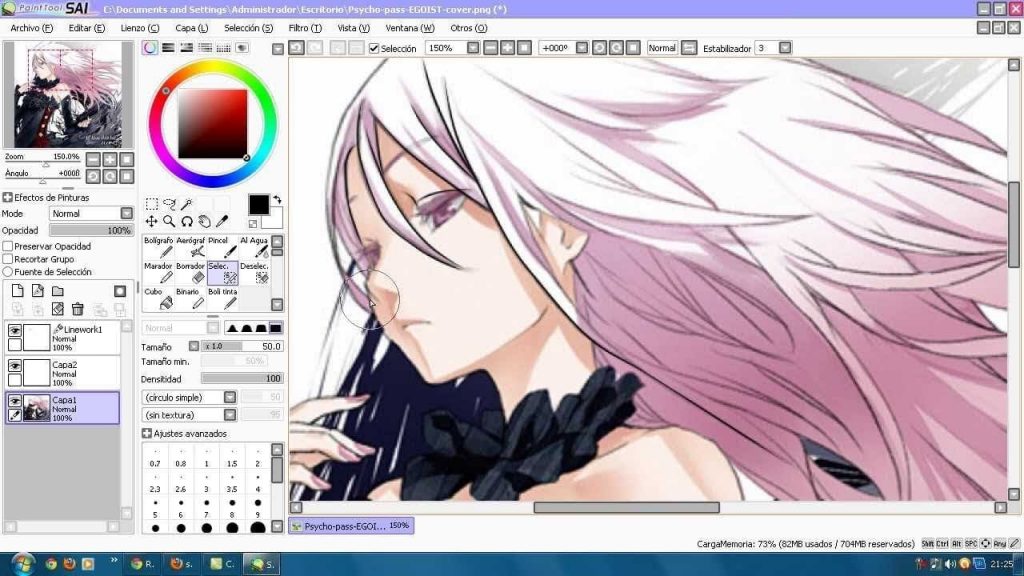 It's a quite minimalistic yet powerful software that you can use for concept art among other purposes. We can mention for example Anime and Manga creation: it's very popular among these types of artists. It comes with simple UI, and it empowers you to create compositions with 16 RBGA channels.
Besides that, it has clean brush strokes that can remarkably simulate watercolor effect and classic drawing medium in a digital environment. Furthermore, SAI has wonderful and smooth blending modes for accurate results. It's equipped with many cool options for concept art, such as realistic sketches, texture canvas and a layering system that allows over 250 layers per canvas.
Official Website: Paint Tool SAI
9. Krita
It's an advanced painting tool ideal for concept art. And although it wasn't really launched for this sole purpose, a lot of concept artists adopted it in this specific type of projects. The fact that it's simple and easy to use comforted this choice even more, making it perfect for illustrators, comic artists and cartoonists just to name a few.
The interface is very intuitive and comes in a beautiful design. It's also highly customizable, so you can change the layout and set the panels and dockers the way that makes you feel at home. You'll have the general workflow sensibly optimized thanks to that.
Furthermore, what makes Krita a really advanced program is the professional brushes that come in more than 100 tweakable formats, with nine incredible brush engines that take their potential beyond expectation. Not to mention that you can import and export brushes freely and easily, extending the creative freedom even more.
Previously, we had compared Krita to other software, such as: Krita vs Photoshop and Krita vs Procreate.
Official Website: Krita
8. Clip Studio Paint
Previously known as Manga Studio, Clip Studio Paint is a powerful software for concept art among other purposes. You can guess it by looking at the old name: that's right! It was called "Manga Studio" for a reason.
It comes with a very intuitive layering system that helps you organize your work. It has great tools for drawing, such as the awesome brushes that allow you to create various effects, like watercolors, oil paintings, pencil and pastel among others. Especially when it comes to using graphic tabs: the system has a fluid pressure detection, tilt movement sensitivity, AI technology integration and many more features that will make your sketches and concepts most effective.
As we said, the brushes are awesome! So much so that they have even more to offer: the automated correction features work on refurbishing the parts where your line-art seems sloppy or uneven. Not to mention that you can extend the workflow by converting 3D objects to line art, and making good use of the symmetrical ruler for more precision.
Official Website: Clip Studio Paint
7. Black Ink
It's a wonderful program that comes with a great toolset and a simple beautiful user interface. No wonder that it provides you with an optimal user experience, because it's built upon a GPU rendering engine that make the system highly responsive.
It's featured with non-realistic brushes that produce artistic effects. In addition to that, it offers you a node-based control system that will make the custom brush creation a very efficient process.
Official Website: Black Ink
6. Modo
It's a very good and optimal tool for 3D modeling in general. Despite being less popular than other software, it offers powerful tools that make it versatile and powerful, especially for industries like game development and architecture. Of course, it's not the purpose of this post, but note that these industries also require concept art options that Modo offer among others.
We can mention for example the UV workflows and the other common tools for sculpting, shading, rigging, rendering, and animation. Furthermore, you can benefit from the fantastic effects, and the awesome support for hair and fur design. Not to mention the cool camera options and projections.
Official Website: Modo
5. ZBrush
This is an impressive sculpting program that will provide you with advanced tools to sculpt and model in a very optimal way. It helps you deal effectively with complex objects and topologies.
The workflow of ZBrush is quite similar to the traditional sculpting, supporting up to one billion polygons. It produces high quality models that you can export from ZBrush and use in other software thanks to the seamless end-to-end integration. Moreover, it allows you to model textures in a flexible and easy workflow.
When it comes to the features that stand out, it's equipped with Mesh extract along with the FiberMesh and MicroMesh. It also creates surface noise via the NoiseMaker, and it grants you the possibility to use the transpose option. Not to mention that it supports layering and HD geometry.
Official Website: ZBrush
4. Maya
It's a sophisticated 3D modeling, animation and rendering software that allows concept artists to use advanced 3D modeling capabilities. It used to focus on 3D animation as a sole purpose at first, but with time, it ended up expanding the horizons. As for now, it's packed with a rich toolset although you wouldn't be using anything other than the modeling tools for concept art purposes.
It's also considered as industry-standard since it's been adopted by many world-class industries on a large scale. This can be obvious in the great variety of tools it offers, like sculpting tools, polygon reduction tool, quad draw tool, multi-cut tool, UV and texturing options. Not to mention that it's equipped with paint selections, animation deformers, motion graphics and rigging features. On top of that, you have the camera sequencer, dynamics and awesome effects. Not to mention that it provides you with a seamless end-to-end integration pipeline, data and scene management.
Official Website: Maya
3. Autodesk SketchBook Pro
It's a light program that is very suitable for sketching and concept art, with a simple interface that is easy to use. One of the things that make it ideal for concept artists is the way that it deals with details: since a good artist doesn't need sophisticated tools and complex drawing techniques to convey his ideas in a clear way. It provides you with the most frequent options needed to perform this task with as much efficiency as possible.
To be more precise, we can mention a few tools that stand out, like the zoom in and out, rotation options, fantastic shape guiders and so on. It also allows you to customize brushes, color swatches, and save them for further use.
The advanced perspective tools like the rulers and custom guides allow you to apply complex perspective techniques. Not to mention the symmetry tools in four dimensions, and the FlipBook Animation feature to help you create beautiful animations.
Official Website: Autodesk SketchBook Pro
2. Adobe Photoshop
As an essential industry-standard, it's a great software for concept art among other purposes. This flexible tool has a huge community of active users all around the world. It allows you to create concepts from scratch, and design 3D textures to map on your models. It comes with powerful brushes that you can extend by importing your own if you like. It also supports 3D painting and offers a range of file format for import and export.
The toolset is very advanced for concept artists, and it provides them with blending modes to create unique effects, cool styles and a gallery of filters. Not to mention that you can create 3D objects, which is perfect for prototyping. The layering system can prove itself to be very handy to organize your work, especially since the process of concept art itself implies a lot of editing and adjustment. One last but awesome feature to mention is the possibility to collaborate with your team using the Cloud storage and synchronization.
Official Website: Adobe Photoshop
1. Blender
For artists and designers using a 3D package such as Blender for concept art, it is more important than ever to move and respond fast. And have all the necessary tools and resources at their disposal to make changes on the fly.
In addition to having the proper skill set, Blender will allow you to deal with the design challenges. And using workflow techniques that allow you to increase the speed and quality of your work. Without spending endless hours and tons of effort. Also one of the most important things that Blender can offer for concept artists is Flexibility. Because it can easily be one of the biggest advantages of 3D.
For example, drawing a model of a car or a spaceship from different angles if requested by a client or a by a supervisor is going to be very hard without a 3D software. But using Blender, you can just render a few angles and any later changes won't require a full re-draw. Just re-render the angle and you will find yourself saving a huge amount of time.
Also, using Blender allows you to navigate the environment and set the perspective. Which is a fantastic advantage that you can easily use by tweaking cameras positions and angles to find new cool shots. Blender for concept art already seems promising, and we're just getting started! There's even a plethora of plugins that can take your work to the next level:
Official Website: Blender
Conclusion
As a conclusion, it's good to mention that concept art can very much be done with the classic paper and pencils and still be efficient. However, the modern technology can be way more effective and help you extend your potential even further.
We hope you found this list useful and informative. Comment below if you think that we've missed something or if you have any other suggestions. Feel free to share your own preferred software, and which one would you chose if you had to change.