Blender is an open-source 3D software that gained great popularity thanks to its community of developers and 3D artists. Not only do they contribute with their time and expertise to develop it, but they also contribute by making a massive variety of plugins and addons for the sake of making it a better Blender.
These addons extend the program and improve its capabilities for multiple purposes, one of which is lighting. You might be asking yourself: doesn't Blender handle light natively? Is it possible to achieve realistic results with the native options alone? Are there any tools that can help you achieve optimal lighting renders better and faster?
In today's post, we are going to answer all of these questions by covering some of the best Blender lighting addons. These addons vary from simple to advanced, and you will absolutely find some of them very useful.
How do Blender lighting addons differ from native options?
Blender is already an advanced program with powerful lighting options. However, plugins can push its capabilities even further. They will help you in terms of:
Speed, by allowing you to avoid cumbersome, repetitive, and tedious tasks so you can actually focus on the creative process itself.
Efficiency, by helping you enhance your workflow and your overall creation process.
Quality, by offering you the next level of accuracy and realism (more than what the native features can offer).
But despite the fact that they are awesome, you may feel like it's hard to keep up with all these choices, right? Well, we actually have them organized for you in categories that we continuously update to help you find what you need easier:
Best Blender addons for lighting
1. Flares Wizard
As the name suggests, Flares Wizard is a Blender lighting addon that was created to add flares to your scenes. It's very simple and can help you do a lot in a few clicks because it has ready-to-use presets of different shapes. The number of Custom presets you will get is 32 presets. You can save, load and you can easily save what you create using this addon or even share it (which is fantastic).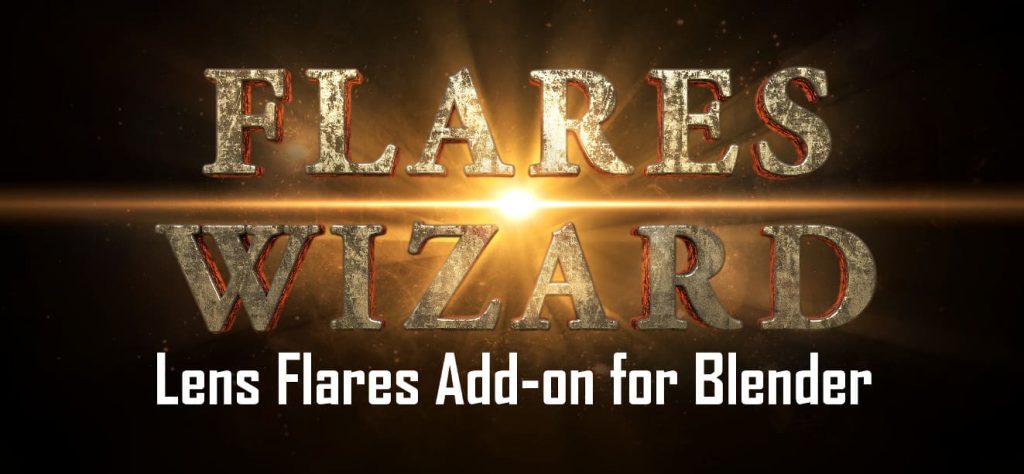 Also, a good thing is that you don't have to wait each time for the renders because the addon has a Real-time preview. This will allow you to see the results directly in the 3D viewport, and the rendering is fast too.
These lens flares can be animated as you please and there is a feature that allows you to create flares blinking effects. In addition to other features as well.
2. Blender Light Manager
Light Manager is a free Blender lighting addon that provides you with an easier and more accurate solution when it comes to adjusting lights in your scene. Instead of using a linear slider, this addon uses a Fstop scale to adjust light intensity more intuitively, by doubling/halving the light intensity.
This is more realistic and accurate because +1 Fstops doubles the light intensity and -1 Fstops halves the light intensity. This is how light works in the real world. You can still use the linear method of adjusting the lights but this is easier and can save time as well.
Adjust each light in detail by using the solo button. Or easily change light color or type.
3. Vera Light Studio
Vera light studio is a Blender lighting addon that was created for one purpose, which is to make the process of lighting your models and scenes easier. This is possible because it simplifies and automates everything for you if you are a beginner. Moreover, it comes with many light studio presets and shape lights in addition to other stuff as well. 
Some of the features that this addon has are:
the ability to Add Custom lights around the objects.
change Scene Exposure.
easily switches between light Studio Assets.
The different shape lights that the addon comes with give you a lot of variety and more possibilities, especially for sci-fi projects. Also, if you are interested in using volumetric lights, Vera provides a button that easily adds volumetric fog to your scene without the need of setting it up yourself. 
Vera light addon comes in 2 versions, pro and pro lite. The pro version comes with:
44 Studio Light Presets.
31 Mesh Lights.
13 Custom Lights.
The Pro-Lite version comes with:
31 studio Presets.
11 Mesh Lights.
8 Custom Lights.
4. LeoMoon LightStudio
This is a simple Blender lighting addon that can help do a lot of things when it comes to lighting and doing studio renders. For example, you can Add/Remove lights as you please, and Add multiple light profiles and each light has many options to customize.
To make navigating this addon easier, you can easily switch between light profiles with a single click. There is also the ability to perform 2D manipulation of lights in the LightStudio Control Panel, which translates to the positioning of that light in 3D space, which I think is cool.
In addition to that, all options per light can be animated and each light can have a different light texture. As a bonus, you get to have 15 Realistic HDR light textures included with the addon. You can either find LeoMoon LightStudio on GitHub or on the official website of the addon.
5. Pro-Lighting: Skies
Pro-lighting: Skies is a lighting addon from Blender guru. 3D artists can use it to instantly change outdoor lighting to any time of the day, any weather, and achieve more realistic results because it is based on using high dynamic range images or what is known as HDRI.
This addon is important if you render outdoor scenes because it makes the process easier and faster since it gives you control to choose from many different high-quality HDRI images taken by professional photographers to mimic the realistic lighting we see in real-world environments.
6. Flared
Flared is yet another Blender lighting addon for creating flares effects. It has some nice tools and advanced features that you can experiment with and see results in real-time. It works with both Cycles and Eevee, the main Blender render engines.
It can work with both 3d scenes or video footage inside Blender (which is a nice addition). You can place your flares anywhere and they will look as realistic as possible. These flares are not just light particles cause they can be based on 3d objects too.
Furthermore, the flares are made with procedural materials which makes them resolution-independent. It's easy to use and customize and can help you to add cinematic looks to your 3D scenes or give more drama to your real video footage.
The flares can be animated using keyframes which allows you to have full control of how they do look in your 3d scene or video footage. Besides that, they can fade away as you move the camera which saves you some work.
7. Pure Sky Pro
Pure-Sky Pro for Cycles is a great Blender volumetric lighting addon for creating realistic looking skies and lighting by generating procedural volumetric clouds in a few clicks using presets of over 15 types of skies and 10 types of clouds in addition to a lot of cool features such as:
Day & Night Cycle.
Paintable Clouds.
Thunderstorms.
Planets.
Procedural Water.
Solar eclipse.
Sun Shadow.
The new update brings the compatibility with Blender 3.1+ Cycles render engine for features including Sky, Stars for Student version and Moon, Space, Eclipse of the full version, also volumes such as Fog, Rainbow, Atmosphere, Paintable Clouds, Aurora Borealis and Clouds of different levels of altitude.
8. Physical Starlight And Atmosphere
"Physical Starlight and Atmosphere" is a full environmental simulator that brings visual consistency when looking at objects in the scene. This addon can simulate any star and the Sky is not only a static skydome but the whole atmosphere – from the ground to space and beyond. Calculations are based on the physical properties of how light is interacting with the gaseous medium.
This addon fills Blender scenes with air or any other gas where density at the ground level is the highest. And the air will be reduced as we move out into space using physics laws. Which simulates the real world and as a result, we will get more believable renders.
The most critical part of the calculation is the fog. Like in the real world, it changes based on the altitude of the observer.
Even though this addon is based on real-world physics it still gives artists the freedom to control their scenes and environment according to their needs. It is certainly one of the best Blender addons for lighting and its auxiliary purposes.
9. Photographer
Just like Photographer 3, the new release Photographer 4 is a fantastic addon if you are serious about getting everything right from cameras, lighting, and rendering. It has a lot of great features that can help you tighten up your scenes and get better renders. It's thanks to the fact that it has many tools and features that can help you do just that.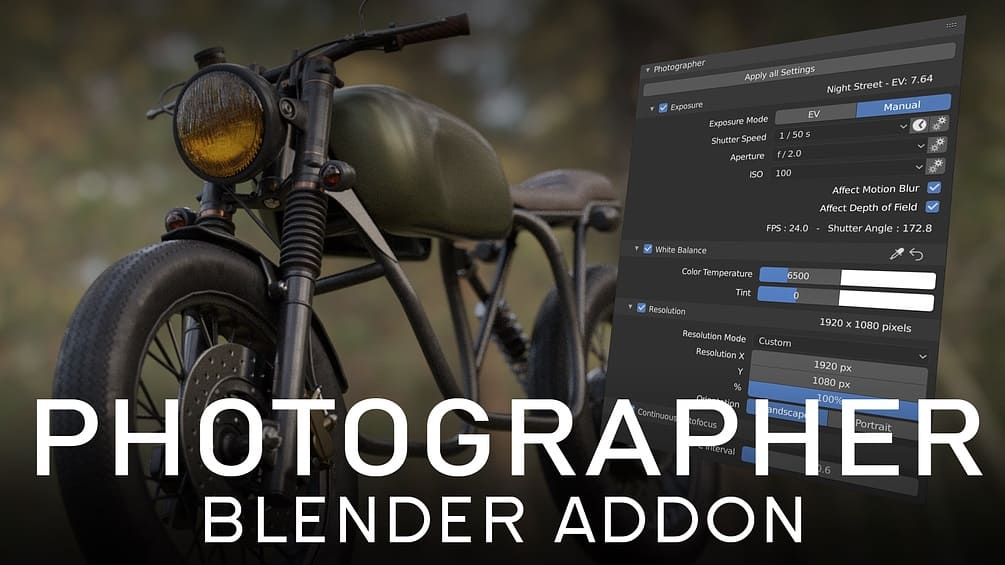 Some of these tools include:
Light Mixer, exposure using real camera settings such as ISO, Aperture, and Shutter Speed.
Furthermore Auto Exposure in the viewport
Lens Tilt and Automatic Tilt for Archviz
Motion Blur control using Shutter Speed or Shutter Angle
White Balancing with viewport picker in addition to many other tools and features.
Overall this is addon is great and can be a fantastic time and effort saver especially if you don't want to save a ton of time with cameras and lighting technicalities.
10. Radiant
From the same Primitive Human developer, Radiant helps you manage all light sources in your scene through one panel, among other features. The outliner sometimes gets crowded especially in big scenes, and it's tedious to keep track of all your light sources, Radiant tries to solve this problem by exposing all of your light properties on the side panel, you have the ability to tag lights and filter them together, and hide all of them at once.
It's not a volumetric lighting addon per say, but there are other features such as Raymesh which is a fake volumetric light ray that is made possible with a custom shader, there are three different types of Raymesh Point, Spot, and Area. the Raymesh is best used with EEVEE.
To use it in cycles you might want to increase the transparent light bounce. Also, there are Radiant Tools, which are minor tools that you might find helpful in some situations such as creating meshes from area lights or creating light tracker empties that will follow the empty location, shadow catcher add a shadow catch plane from the add mesh panel, you can also add a volume cube.
11. Light pack
This is a pack of specific lights created by the same developer of the Photographer addon. You can use this great Blender lighting addon to adjust camera exposure and white balance (just like with a real digital camera). What LightPack helps you do is render photorealistic images quickly and easily with as much accuracy as possible.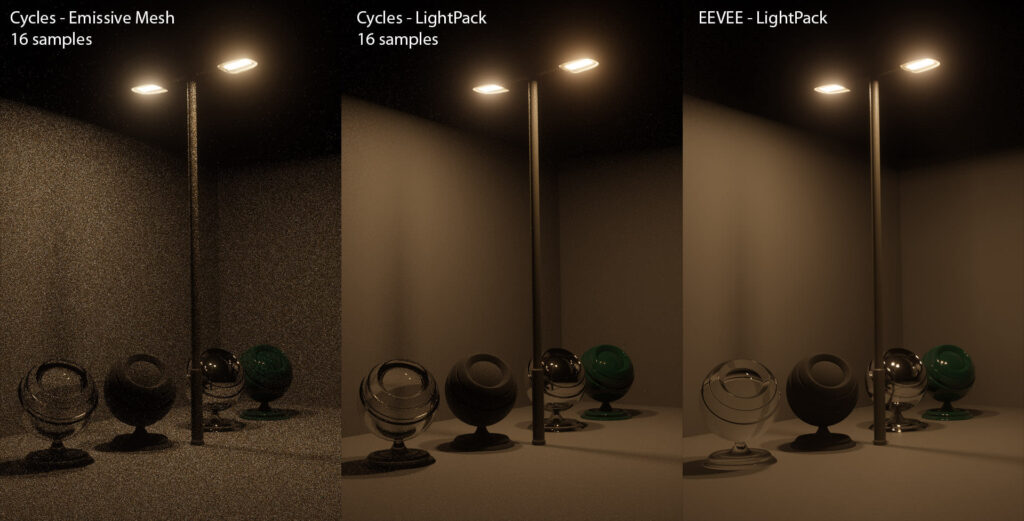 This pack solved a consistent problem when trying to render scenes professionally and accurately. The issue is that Most HDRis that you find online have been tweaked or modified to a certain extent when it comes to white balance and exposure. This can give you less accurate information and the workflow as a whole less physically accurate.
The textures from LightPack have been created preserving the HDR value and color information as much as possible to conserve proper emissive intensity and color relation between different types of lights. They will light your scenes realistically, independently of the time of day of your environment. You also get a correct bloom from your light sources.
12. Pro lighting studio
Pro Lighting Studio is one of the popular addons when it comes to lighting and doing studio renders. The way it works is a bit different because it is based on experimenting and trying to find the combination and position of lights that suits you the most. And it does that far faster than you possibly would since it cycles through the combinations super fast.
The philosophy behind this unique Blender lighting addon is that 3d artists can't know what kind of lighting they need until they experiment with it and see how it interacts with their scene. So basically its most important job is saving time firstly and effort secondly.
You will also get some 68 Character lighting styles, 48 Car light setups, 45 Object light setups, 286 Background Combinations, 64 Floor Combinations, 49 Reflection Maps
13. Extra Lights
Extra Lights is a nice addon that was developed by the Cgcookie team, it's basically a nice tool that can help you make sure that you are dealing with lighting in your scene the right way. This is the case because this addon makes sure that light is calculated and adjusted in your scene instead of just eyeballing it. Light is actually complicated and has a lot of nuances that we can easily neglect during the rendering process but this addon got you covered since it does all that heavy and precise work for you.
In addition to that, it comes with over 60 photometric light presets to your Add menu. To make it easier for you, all lights are based on real-world light fixtures and are organized by type and strength.
What you will get include over 30 plain point, spot, area, and sun presets, in addition to over 30 IES presets that cast believable patterns according to how each bulb is actually used, for a total of over 60 presets. Each one of those lights can be adjusted to your needs using simple and clear settings.
14. Gaffer
Gaffer is an awesome Blender lighting addon that helps artists light their scenes by presenting all the right settings in convenient panels for quick access and experimentation. This can be great for saving time, efficiency, and focusing on creating better lighting without getting distracted searching for buttons.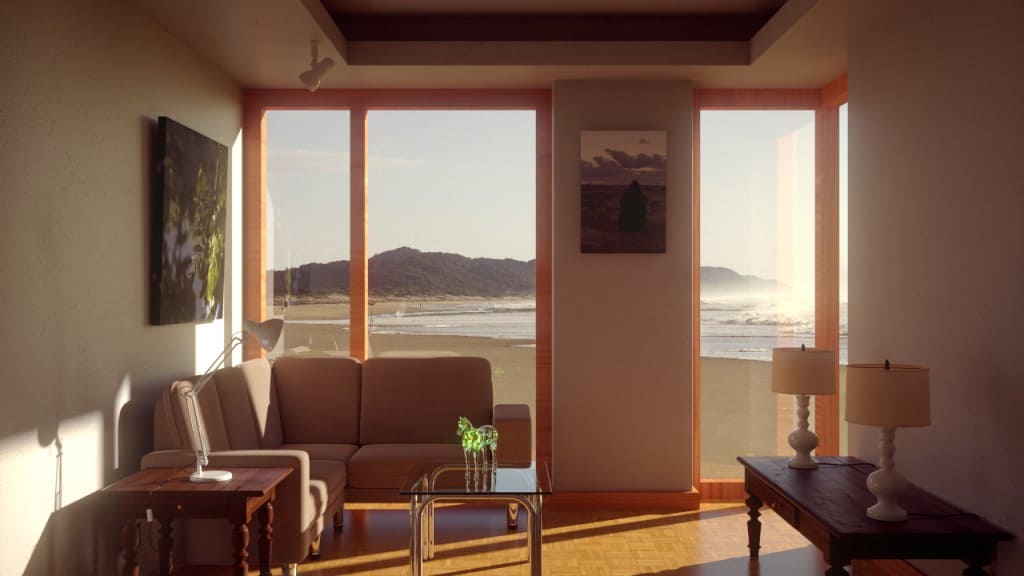 And the UI has an important role in providing you with all the settings you need easily.
But Gaffer isn't just a collection of things you can already do. It includes tools that will speed up the workflow and help artists focus on the task at hand. This is why it easily falls under the category of the best Blender lighting addons of all time.