Today, technology has allowed us access to great things. For instance, back in the day, to be able to draw digitally, expensive software such as Photoshop and expensive graphics tablet by Wacom, which was dominating the market back then, were two important things to have to be able to make digital artwork. Not only that but, having a powerful computer to run the two was also important.
Today, the playing field is leveled and we have many options to choose from, a lot of which are free or inexpensive. Take for instance the powerful Krita, a free and open source 2D software , or the variety of affordable graphic tablets. There are also very light software that you can use to draw on a simple computer, such as Paint Tool Sai. Today's software comparison, Flipaclip vs Procreate, is a great example in the advancement of digital art technology.
These are only a few examples of how technology has allowed us easy access to producing digital artwork. How is this related to our topic in any way you might say?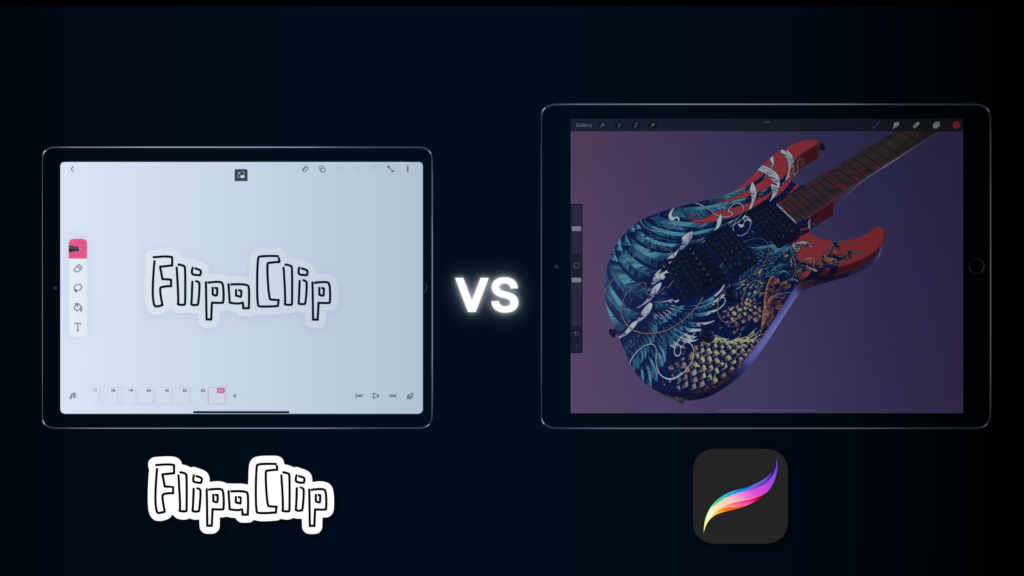 What is Flipaclip?
Flipaclip is a software developed by Visual Blasters. The software is mainly an application used on IOS and Android. You can animate virtually anywhere, from an android phone to an iPad. The software is very simplistic and straight to the point and with which you can animate using your finger.
The software is mainly made for animation purposes and doesn't offer much in terms of drawing or digital painting.
The software is available for free on the Appstore and the Playstore, with purchasable premium features. We compared it to other free and paid software if you're curious to know how it stacks up on the market:
What is Procreate?
Procreate is one of those rare software that took the digital art world by storm. It is a software developed strictly for IpadOS and IOS by Savage Interactive. It is a raster graphics editor, in which you can digitally paint and draw as well as make simple animations. First released in 2011, the software still thrives today.
The software is not free, however it isn't as costly as other 2D software with a price tag of 12,99$ USD. We also compared to other paid and free software if you're curious about the difference in quality-price ratio:
Interface and tools
Flipaclip
Flipaclip has arguably the most simplistic interface out there. With the fact that this software is usually used on a limited screen such as that of a phone in mind, we understand why the developers had the interface be that simple and easy to use. The drawing and manipulation tools are on the left side.
You have your pen tool, once you tap it it will give you a couple of options for drawing brushes; pen, pencil, brush and highlighter. That is also where you modify the brush's color and size. Underneath that is the eraser tool with basic options such as the opacity and hardness.
Next up, or down that is, the lasso tool, which is your go to tool for selecting things and transforming them using rudimentary transformation options such as flipping vertically and horizontally. The bucket tool is used to fill shapes in with the desired color. And finally you have a text tool.
The timeline is at the bottom, you can simply add new frames using the plus button. The software has an onion skinning option for your animation.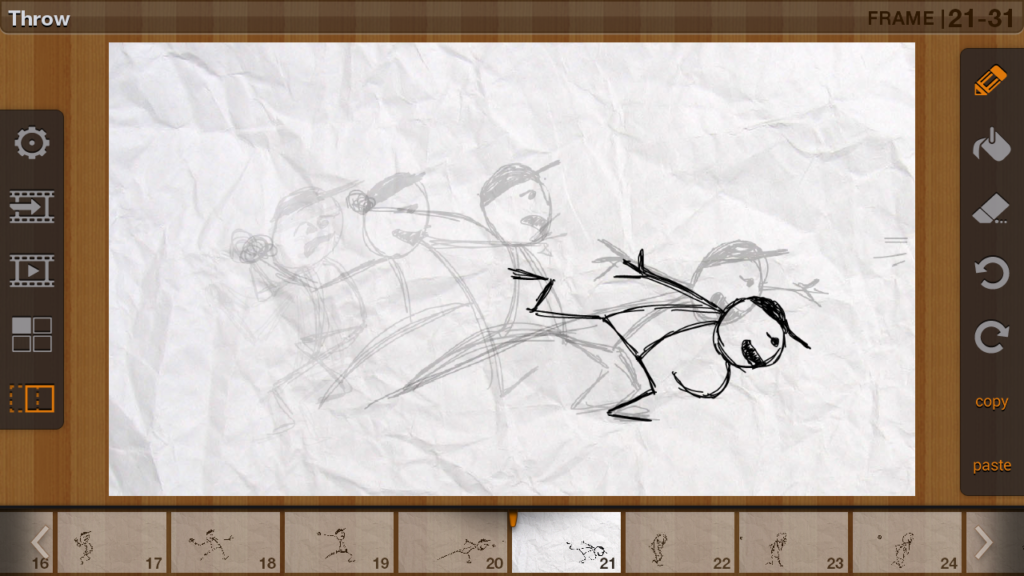 Other canvas options are on the upper right side, you can undo and redo using the arrows, draw with the help of a ruler and make basic shapes all by tapping the 'ruler' icon, and copy and paste using the clipboard and paper stack icons.
The box with arrows extended is to get the canvas back to the default display, it wouldn't be zoomed in or out, it would default back to where it was when you first opened the canvas. You have your playback button on the right and on the down right side of the screen you can find your layers, where you can add layers and use simple layer options such as locking, deleting, adding, modifying opacity and so on and so forth.
Beneath the drawing tools on the left you find a small 'music icon' that you can tap to get audio options, in other words this is where you can add the audio for your animation.
Finally in the middle you have your canvas! The design of the whole software is incredibly simple and to the point with big clear icons. The way that these tools are put together and their design makes for a simple and non daunting look.
The software is in all sleek white, with black simplistic design for the icons and options. With this design the software is incredibly user friendly and easy to use. 
Procreate
Procreate is a lot like Flipaclip in its simplicity. The software is pretty straight forward. On the upper right side you have a brush icon from which you can choose your brush.
Procreate brushes are plenty and varied, you can even download new ones, make your own or modify an already existing brush. Next to it is a smudge tool, an eraser and layers, which can be accessed by tapping on the 'layers icon.
The software has all your regular layer options, merging, duplicating, clipping …etc. As well as layer filters. And finally in the extreme right a color selector, which is an icon of a circle in whichever color you have selected. When you tap on it you are presented with a variety of color selection sliders and options.
On the left side of this is an arrow icon used to help you move your drawing around your canvas and transform it. The element selected and transformable depends on which layer you are in. Next to that is a twirly looking line icon, which is used for selecting and color filling. The magic wand, when tapped provides you with a plethora of editing options, blur, glitch, noise etc. .
Lastly the wrench icon is all about the canvas and its options. It is where you can insert a picture, file or text. That is where you can also crop, resize, export and even get a short video of your process so far.
On the right is where your sliders are, these sliders are used to determine the opacity of your brush or eraser and its size. Just underneath those you have your redo and undo buttons, which can actually be triggered using two fingers and tapping them on the screen to undo or three fingers and tapping them on the screen to redo. And that's it for Procreate. Multiple options packed within simple icons on the screen.
All of these options are in a black space with white icons, kind of like Flipaclip, but completely opposite. The software makes for a sleek and professional looking space that is easy to use and good to look at. Just like Flipaclip, Procreate is designed in a compact and 'clean' way, where there are plenty of tools integrated in a smart way that is user friendly and easy to use so that Procreate is not daunting for a first time user.   
Flipaclip vs Procreate in Learning curve
Piggybacking off of our overview of the two software interfaces and tools it is safe to say that both software have an easy look and feel. They're both very easy to use and get started with.
It will for sure take you at least one tutorial to get used to both of them if you have never used a 2D software in your life, however if you've got 2D software experience under your belt, you'll find your way around them in no time, save for some obscure option or tool here and there.
The way that the two software operate is so similar, so much so that the process of learning how to use them seems to be similar as well. 
Pros and cons of Flipaclip vs Procreate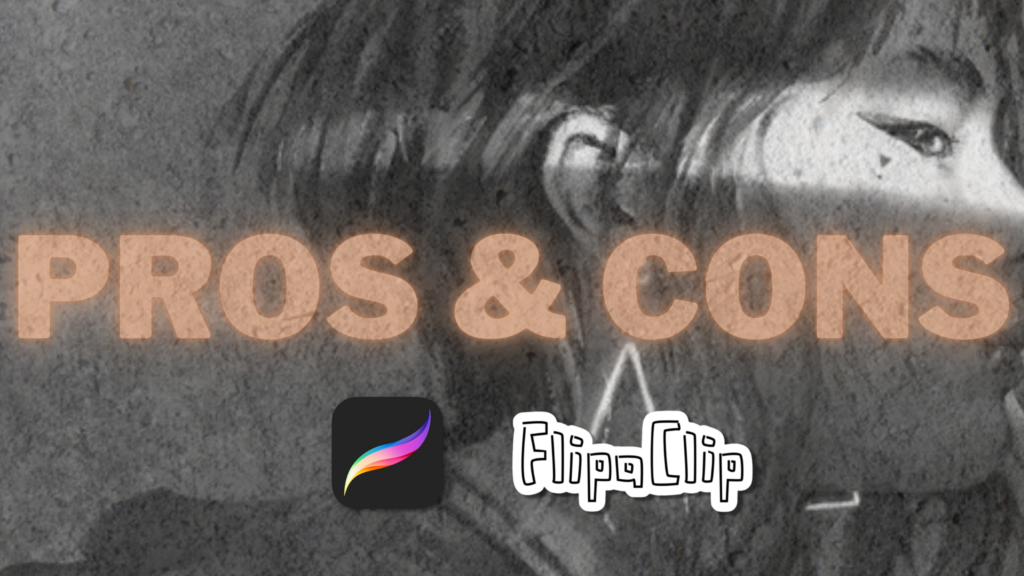 Flipaclip
Flipaclip is a free animation software that you can use simply by downloading it to your phone or tablet. If you feel comfortable with it and like it enough, you can purchase additional features that will make using it a lot easier. This software is super easy to use and incredibly user friendly, however this is also its con, it is too simple for any real or concrete professional work. It is something you use for simple animations, not for something sophisticated.
Procreate
Procreate is an extremely sophisticated digital painting and drawing software, it is easy to use and user friendly. It has animation and 3D painting options and tools. It isn't as costly as other sophisticated software and doesn't require a subscription. However it is only compatible with IOS and IpadOS and has a limited number of layers depending on the device you're using.
Conclusion
Okay time for us to put these two guys head to head. Which is the best? Once again circumstance wins here. It all depends on where you are and what you need.
Are you someone wanting to try animation for fun and just to test the waters? Procreate is not for you. Flipaclip is! You can animate using a free software using just your phone and finger. Purchasing Procreate for the sole purpose of animating can prove to be a faulty strategy, if you don't have the appropriate Apple devices to use it properly then what good is it? Especially if your focus is animation, Procreate does have an animation option, but it is not specialized in it.
On the other hand, let's say you have an apple device and want to use it to draw and paint, Procreate can be the perfect choice for you. Procreate will allow you to paint, draw, do 3D painting AND animate all in one! You'll have a full experience just by spending 10 bucks.
See what we mean now? The best option can be determined by you and you only, and we hope that our overview was enough to help you decide which you should go with!