The rise of TikTok gave the 9:16 aspect ratio short form video content unprecedented popularity. With this popularity in mind, social media apps started pushing their 9:16 ratio video content, which prompts and incentivizes creators to make quick and easy to make videos in that format more than any other type of content.
This includes animators, who now can make quick and easy animations on their mobiles to have a chance at their content blowing up. After all, 2D animation's popularity is still undeniable even with the emergence of other modern types of animations (like 3D for instance).
With all of this, mobile animation apps both for Android and iOS devices are now all the rage. In this post we will explore two of them in a new comparison: Flipaclip vs Stick Nodes!
What is Flipaclip
Flipaclip is a frame-by-frame 2D mobile application that allows users to create animations and short videos. The app is simple to use and offers a variety of features, making it a popular choice for amateur filmmakers and animators. Flipaclip can be used to create frame-by-frame animations and more complex stop-motion videos. Flipaclip is available on both iOS and Android devices.
The app is available for free, but also has a premium version that costs $4.99. We compared Flipaclip to other free and paid apps if you want to see how it stacks up in terms of price-quality ratio:
Stick Nodes
Stick Nodes is a Stickman animation app. The app is available on iOS and Android. Besides exporting all files in a plethora of formats, this app lets you create stick-figure animations with ease, and it's perfect for both beginners and experienced animators. With Stick Nodes, you can quickly sketch out your ideas and bring them to life. The app includes a variety of tools for creating animations, including frame-by-frame editing, onion skinning, and more.
When it comes to price, surprise! Stick Nodes is completely free to use on all platforms. While the free version is more than sufficient for most users, those looking for more advanced features can upgrade to the pro version for only 2.99$. The pro version includes access to premium nodes, custom colors, and HD exporting.
FlipaClip vs Stick Nodes in user interface
Let's take a look at the interface of these two software!
Flipaclip
Flipaclip is a software where a simple and easy to use interface is a very prominent feature.
On the left side we find several drawing and manipulation tools; pen tool, once tapped, gives a couple of options; pencil, brush and highlighter. Next up is the eraser tool with basic options such as the opacity and hardness. The lasso tool is also on the left side. Another one is the bucket tool for filling shapes in with color. And finally you have a text tool.
On the bottom is where the timeline of the software is. On the opposite end of that are a couple of canvas options such as redo, undo and copy and paste.
The right side is where the playback button is. On each corner of the bottom end of the interface we have, on the left, a music note icon for adding audio, as for the right side the stack of paper icons is where you tap to show layers.
Stick Nodes
Immediately upon opening the software you'll notice the great difference in interface in comparison to Flipaclip.
Stick Nodes leans into a more complex interface and will fill up your tiny mobile screen to the brim with features. On the right side of things we find a big panel filled with bulky buttons that execute different actions. We have undo, redo buttons, opening a project or creating a new one, exporting your project, loading a background, adding filters and determining how many frames your animation has.
On the upper side of the interface, we find the timeline with all the different frames we have and on the right corner there are extra options for adding, deleting and duplicating frames.
Lastly in the middle you have your canvas with a preloaded stickman if you are opening a new project. You can watch our video on YouTube to have a clearer idea on how the UI of both apps work.
Tools and workflow of Flipaclip vs Stick Nodes
Now that we have a general idea about the two apps, let's take a look at their tools and features in depth!
Flipaclip
First things first, layers! In Flipaclip you can have up to 10 layers per frame. The option of adding audio is also available in the app, and not only that you can also add sound effects to your audio tracks with just a few taps.  Flipaclip also has an onion skinning feature.
In addition, the app has a frame viewer feature, which helps you keep track of your progress while editing a video, and with which you can select as many frames as you want to rearrange, duplicate, remove, or share.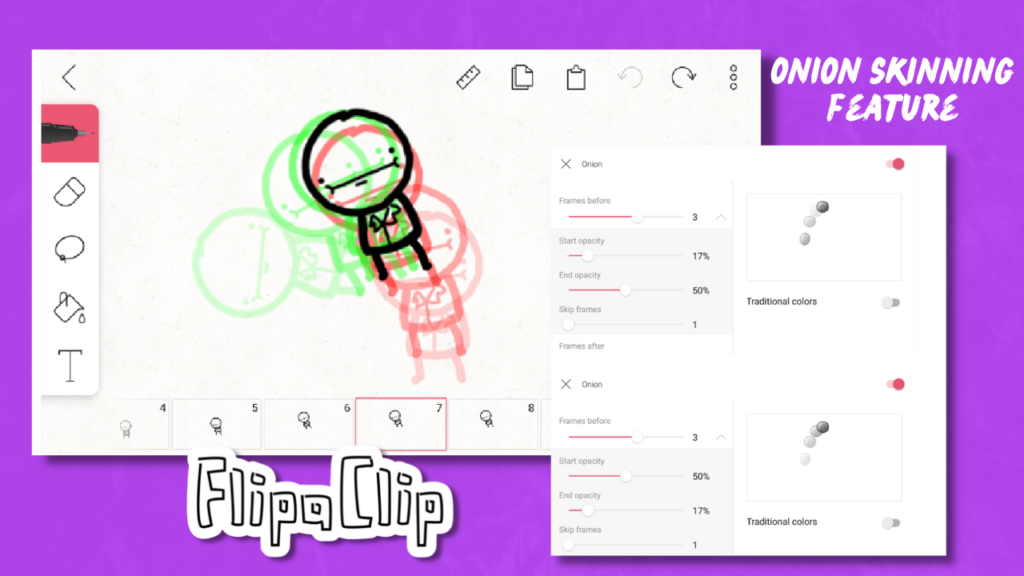 Let's not forget the grid feature in Flipaclip, which is a simple reference tool that helps you align and frame your drawings to help with symmetry and consistency. You can use digital drawing tools to create brushes with different styles and colors, as well as insert text. Besides the animation, you can add images straight from their devices to frames.
The free version of Flipaclip offers a good number of features, but if you want access to the full range of features, you'll need to upgrade to the premium version.
Stick Nodes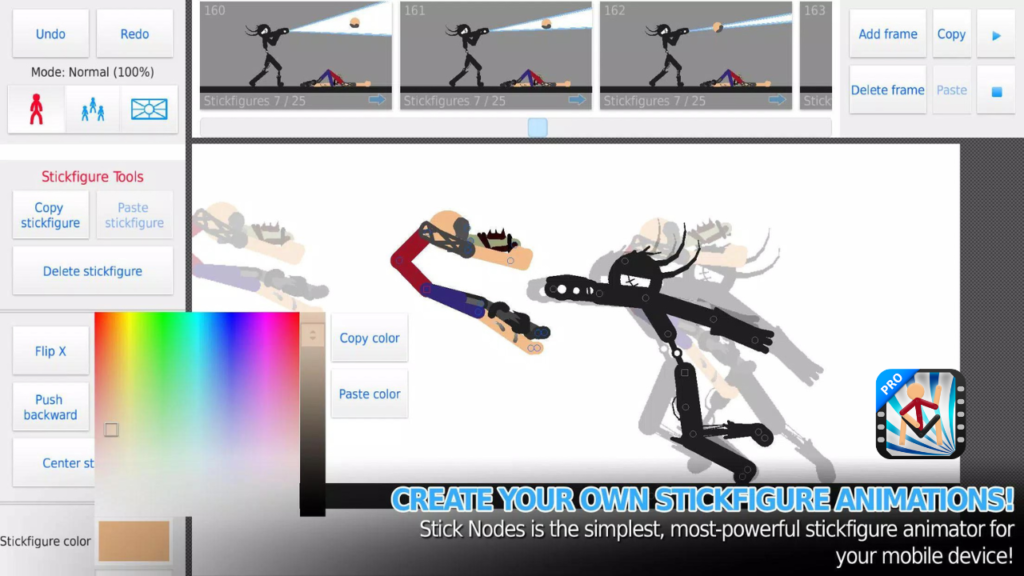 Apart from the usual pan, zoom, and rotate and other basic tools, Stick Nodes has plenty of interesting tools to help you animate stick figures, for instance you can take advantage of automatic frame-tweening to make your animations smoother and avoid a jittery feel to your animation. What the automatic frame tweening does is that it will automatically add or remove frames based on the movement of your objects, as a result, your animations will flow more smoothly and look more polished.
Another tool in the app is the Movie Clips, which are objects that can be reused in your animations, making it easy to create complex animations with minimal effort.
For example, if you wanted to create an animation of a character running, you could create a MovieClip of the character running in place. Then, you could reuse that MovieClip in your animation, making it easy to create a smooth and realistic running animation. The app also includes filters that you can use on your animations to give them a pop!
If you noticed, StickNodes does not really veer into the hand animation side of things, it is more about animating pre made stick figures that you can customize and add countless effects to. 
Flipaclip vs Stick Nodes in learning curve
Flipaclip has a minimal learning curve. You can make a crude animation within a minute of installing the app. The fact that the app is designed for mobile devices makes it so that it has only the most basic tools and features, which in turn makes for a very easy to learn. The Flipaclip website has your back too! They put together a quick video to help you get started with your first project. In just a few minutes, you'll be creating your animations.
On the other hand, when it comes to Stick Nodes, it might look too complicated, or at least much more complicated than Flipaclip, so Flipaclip definitely wins in this department. However it's pretty easy once you learn a bit about it, and the good news is that there are plenty of tutorials all over YouTube to help you get started!
Conclusion
Different needs and wants require different software, and as always this also applies to Flipaclip and Stick Nodes.
Both apps are great for simple, fun and on the go animation, but they target different audiences. If frame by frame hand drawing animation is your thing, we can not recommend Flipaclip enough, the app has all the basic tools you need to create a hand drawn frame by frame animation with a very easy interface and fun tools.
On the other hand, with Stick Nodes, it is a bit of a different story.
It's true that you will be creating animations but they are not hand drawn per se, all the app offers is a stick man that is customizable, which is a great feature for those who don't wish to do the drawing part but still want to make an animation. But if you're someone who wants to actually hand draw your animations and have more creative freedom, Stick Nodes will make you feel limited, unless you want to use it to map out how your animation will go and/ or figure out how the movement would be!
Which one you should use should be determined by your needs, and even then you can use both of them in conjunction!