There are a lot of animation apps available these days for users of all ages and skill levels, allowing them to create beautiful animated videos and graphic art. The question is, which one is best for you?
We continuously want to make this choice easier for you, so you'll find many comparison posts on our website. For example, we thoroughly compared FlipaClip to Aniamtion Desk in a previous post. We'll be looking at things from the perspective of a new comparison in today's post: ibis Paint X vs FlipaClip. Stick around till the end if you're struggling to pick one of them.
ibis Paint X was developed by Ibis company in 2014, and has received over 50 million downloads, showing that it has gone viral. It's an excellent chance to improve your drawing skills. It offers a desktop version, and it is compatible with Android and iOS systems as well! It is designed to be easy to use by everyone, from kids to professionals. Not only does it have over 380 different brushes, but there's also filters that can be applied while drawing, as well as eraser tools so you don't have an outline after completing your masterpiece!
FlipaClip was launched in 2012. The flipbook style drawing and animation program's popularity quickly grew as it earned 4.3/5 stars in user ratings from over 500,000 downloads within just two years! Not to mention that it was voted best-animated app in the Google Play Store and the Apple App Store.
You can craft your art on your smartphone with tons of different tools using this app, and you can also edit videos easily. It's an intuitive and unique way to animate your stories, and it's compatible with both iOS and Android devices. Windows and Mac OS versions of the app are not available for download.
ibis Paint X vs FlipaClip in Art tools
Now that you have the perspective, let's jump into the art tools that stand out:
Ibis Paint X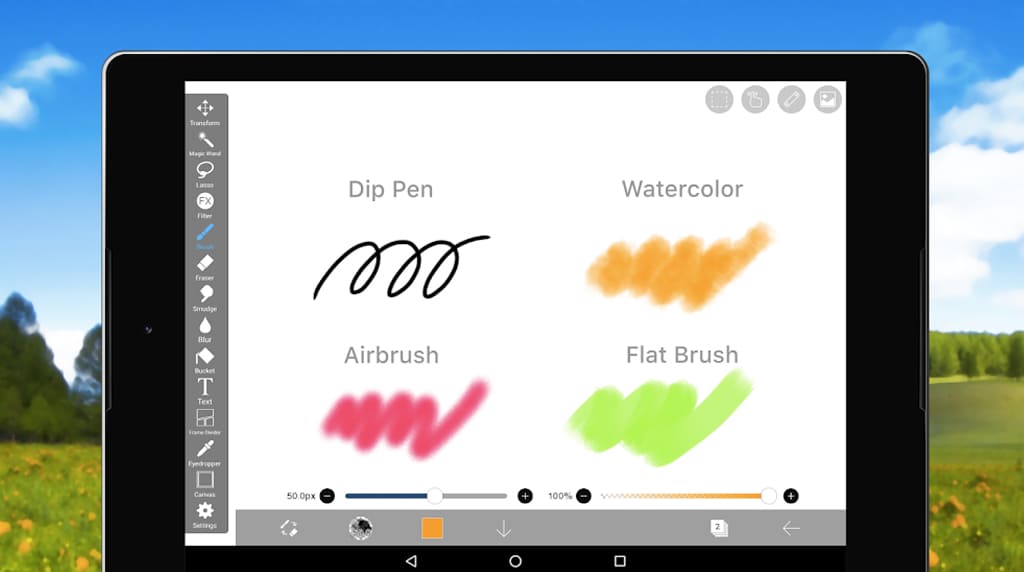 Starting with ibis Paint, there are 4 main things that caught our attention at first glance:
First you have the layers. There are unlimited layers where you can draw in different sizes, colors, and opacity to make changes simple. The application is more similar to an advanced painting app – you'll be able to change your layer's transparency or even duplicate them for a customized look! 
Second, you're probably wondering how to get started with digital drawing. The good news is that you don't need any previous experience because this program has everything built-in! From sketching tools like pencils and pastels down to eraser tips, there's something here for everyone who wants their creativity on display without having anything else go against it. You can even change between light or dark modes depending on what mood strikes at any given moment – which means no more "fat" fingers while trying to improve your crafty skills after school hours are done (I know from firsthand experience). There are over 380 types of brushes to choose from. You can adjust the opacity and flow as well as customize your brush style for it not to be too overwhelming.
You can see what brush you're using before you apply it, which helps to withdraw more complicated pictures, because, as an artist myself, I know that sometimes when we try to draw something advanced our thinking gets mixed up, and instead of looking like two days worth of how-to tutorials Youtube video or article online – it just doesn't work out right away! So seeing all those options laid out in front of us will help ensure everything comes together beautifully without having any surprises along the way & saves time too!
And finally, drawing without the right colors is like cooking with one key ingredient. There are millions of different shades for you and your creativity, so find what fits best! With 27 blending modes available at any given time there's no limit when it comes to how amazing something can look if used correctly.
FlipaClip
Looking at the other side of the comparison, FlipaClip stands the competition pretty well:
An innovative app: It creates animated videos from your drawings. You can make anything you want with a wide range of easy-to-use panels and tools. You don't need a laptop to make these videos. This app allows you to create a wide array of animations, gifs, and rotoscope videos.
Drawing tools: Drawing on a custom canvas size up to 1920×1920 is possible! Anyone can easily and quickly create animation videos using the tools in this app! You can also use brushes, lassos, fill, erasers, rulers, shapes, and insert text. There are so many options. You can also draw with a pressure-sensitive stylus.
Animation layers: This app includes 3 layers for free! When you buy the pro version, you will still have access to 10 layers. It is impossible to create sophisticated animation sequences in any other program without the use of layers like these. This program allows you to add additional layers as you need them. In this way, you will be able to create even more impressive artwork.
Animating tools: Animations can be easily created with this app's tools. This app also includes tools for animating skins and viewing frames. In addition, overlays and grids guide animating. Animating has never been this easy! This software is inexpensive and can create stunning animations on any computer.
An easy-to-use interface: I believe the app's user-friendly interface sets it apart from the competition. Even beginners can use everything here! Once you use it a few times you will understand the whole animation process.
ibis Paint X vs FlipaClip in Features
Going more in depth, we have to mention a few more features that we believe are very unique and exciting.
Ibis Paint X
The 70+ filters available in Ibis Paint X will help you come up with creative drawings.
The Ruler is a useful tool for drawing symmetrical shapes and drawings with accurate measurements – especially when you're working on building designs!
The app also offers you many fonts that you can use when drawing. This is useful when you draw words, quotes, and other writing stuff.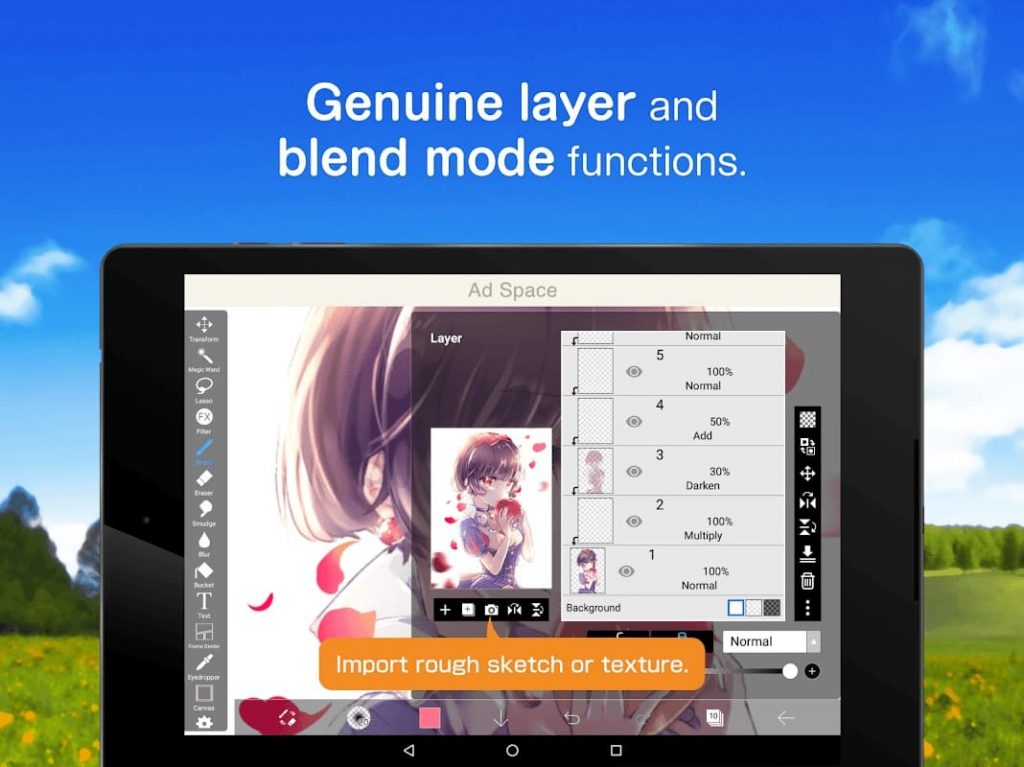 Your drawing can be changed to a different ratio. You can choose the 1:1 ratio of your picture when posting it on Instagram. If you are posting in the Twitter header or on Facebook, you can post your drawings according to the ratio which is suitable for those kinds of social media. Additionally, you can post the resolutions according to the ratios.
There are two drawing modes to the canvas: vertical and horizontal.
You can add your images and draw on them.
And finally, what if you could make your drawings come alive? With 60FPS frames rate capabilities – plus smooth quality video recording in high definition 1080p – this new app is sure worth checking out.
FlipaClip
FlipaClip on the other hand doesn't fade in comparison, quite the opposite actually. Using it, you can:
Make cartoon animations.
The app works on both PCs and smartphones.
A variety of drawing tools are available in this app.
Simply choose your preferred option and create.
There are over 100 color schemes to choose from, as well as different brushes and erasers.
There is a time delay between the before and after.
It is easy to set up and after that, you can have fun making all the cartoon animation videos you like.
You can adjust the frames on cartoons you create using the frame manager.
And finally, it is possible to share your videos on various social media platforms, such as Facebook, YouTube, Instagram, and others.
Pricing & licensing
Ibis Paint X
You may be asking yourself, "why would I buy the paid version of ibis Paint?". The answer is simple: advertisements! To remove them and enjoy a more pristine canvas with no distractions on your painting experience; there are three ways you can get this done – 'Remove Ads Add-on' (one-time payment), Prime Membership ($10/month), or Yearly Subscription Plan at $80 per year which removes all ads forever.
FlipaClip
With the free and basic versions of the app, FlipaClip limits access to some features. For $4.99, you gain access to all FlipaClip premium features. Premium bundles or features are purchased once and then remain for. A monthly subscription is not required.
Reinstall FlipaClip or change your device to restore your purchase. Just make sure to use the same account.