Animation and graphic design are one of the hottest skills to learn nowadays, and there's a myriad of graphic design software that can help you excel in the field. But what if your objective isn't quite that? I mean, what is the alternative that can allow you to slack-off and still get things done in a professional way?
If you're planning to start any kind of commercial or non-profit activity, you need to market yourself and create a full branding plan so you can stand out in such a competitive market. You can either learn the skills on your own, hire a bunch of designers or just use RenderForest. But you might be asking yourself: what is Renderforest? is RenderForest worth it?
Today, we're presenting you this full Renderforest review to help you get a better idea of what it is and how it can help you rock your designs as a complete beginner.
What is RenderForest?
RenderForest is a full online branding tool that can help you achieve a wide visibility on budget. The quality of visuals that you'll be getting easily competes with the most competent and professional design teams.
What are we basing this RenderForest review on?
The first thing that we base our reviews on is our personal thorough testing. We wouldn't recommend a tool if we don't actively use it. But aside from that, we'll be looking at this online tool from 4 perspectives:
Logo maker.
Video maker.
Website maker.
Graphics maker
What can you do with RenderForest?
Logo design becomes an impressively fast and fun process with the online logo maker of RenderForest. There's a plethora of categories that you can choose from to quickly get the result that you're looking for in minutes. You can pick one according to the industry you work in, maybe your profession or even the service that you provide.
But if you want something even quicker and more magical, check the AI-Based process! You wouldn't have to ruminate thousands of ideas and sketches, and just hope for inspiration to enlighten you after a good cup of coffee and hours of staring at a blank canvas. The process is pretty simple:
First, you need to type-in your brand name and hit "Get My Logo". You'll be prompted with additional fields to complete, like the tagline and a short description. Just hit "Next" when you're done.
You'll be directed to the next phase where you can choose one of the 6 styles available, like "Flat", "Minimal" or "Gradient". You can even let the AI choose for you if you prefer.
The final phase is adding your custom touch: even if you've never laid a finger on a graphic design software before, the customization system will be a piece of cake. Start by picking a logo from the selection that the AI created for you. You can test the look and feel of it on different mockups, and then hit "Customize" for the final touches. Everything is customizable: the fonts, size, icons and even color schemes. Once you're satisfied with the result, hit "Download" and wait for the full design package.
The second thing that you can do with RenderForest is creating videos with the least effort possible. You actually have plenty of options: you can create something dope for YouTube, reach your clients with explainer videos or motion graphics, and even present your freelance activity with slideshows.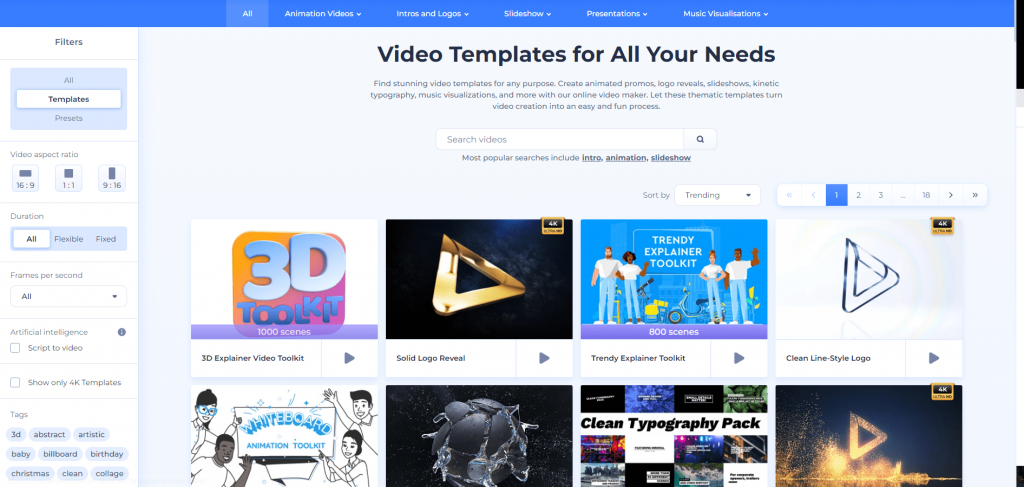 You can start by picking a category and choosing one of the many templates available. Even if you're a complete newbie, the editor does everything for you basically:
You can either choose to add a scene, upload media or use the AI to translate your script into visuals. After that, you can go ahead and hit "Create" to start working on your project.
The editor puts the tools together in a super convenient way, it makes it really easy to make a good composition without the bells and whistles of the famous compositing software. Just pick one or many scenes from the template library and add them to your timeline. You can edit the text, customize the fonts, adjust the size and tweak the different parameters as you see fit.
There's a bunch of styles that you can choose from to customize the look and feel of your scenes. And you can even add more depth to your composition by adding music or a voice-over. You can even replicate the effect of top-tier vector animation software with ease.
Once you're done, you can go ahead and hit "Preview" to go through the final export process. Choose the free or high quality option, then click "Render". All that is left to do at this point is waiting for the video to be prepared, and then you can either download it, publish it on video platforms or just share it.
The third main utility of RenderForest is web design. As a web designer myself, it wasn't very pleasant to see an online tool do my job. Biases aside though, I have to admit that it's pretty impressive and convenient. There's plenty of categories that you can choose from, and the process is reduced to a few simple steps:
Start by choosing a template to edit. The "Live Preview" option will help you take a closer look at all the components of the website, and also check the responsive design on various devices. Once you've made your pick, just hit "Edit" to start customizing.
The editor is super simple and intuitive: you're not going to need any skills with code or hosting whatsoever. You can edit the navigation menu by adding new items, modifying the anchor text and placing hypertext links.
You can replace the component blocks by choosing one of the premade models right from the library. And you can even add new components directly from the visual editor. Everything is customizable, including the background images, colors, layout, icons and text.
The appearance of the entire website can be modified from the left toolbar. You can adjust the fonts, colors, styles, widgets and so much more. You can even share the link of your project for collaboration purposes: communication is key in every successful endeavor.
The final phase is browsing the settings to deal with the final details, like the domain properties, analytics setup, SSL Encryption and so on. Once you've got everything set up, you're ready to go live and publish your site.
Moving on to the fourth utility, graphic design is one of the most fun things that you can do with RenderForest. The online graphic maker offers you countless templates divided on various categories, like Social Media, print media and presentations. It can be a great alternative to software and tools like Photoshop or Canva. You can go through the process in no time:
You can start by browsing the various templates in the category of your choice. Once you've picked one of them, just hit "Create Now".
The first thing to do is picking a design among the package. Every component is customizable: you can edit the text and all its parameters, like the font, size, letter spacing and so on. The only small disadvantage that I encountered while designing my thumbnail is the fact that I had to double-click on the text element to edit it, which wasn't very intuitive for me honestly. The good news, however, is that the editor is constantly getting better and a lot more comprehensive for non-techies.
You can also edit the images by choosing from the available ones on the stock library, or just uploading your own. The editor also allows you to tweak the various parameters of your images, like the opacity, size and layout.
The color schemes can be easily adjusted using the color selection bar, the color palette or the hexadecimal code.
Of course, you can undo or re-do any of your actions: the auto-save feature will make sure to keep track of every one of your changes. Once you're satisfied with the result, just hit "Download". You can either choose the PDF or JPEG formats for the final export.
Conclusion
We can't deny that learning the skills or relying on design teams is one of the best options on the market. However, it's not always the suitable choice for everyone: sometimes you just don't have the necessary time or budget to deal with branding yourself. This is exactly why RenderForest will turn out to be very handy in this case. If you don't know how to design and code, It's fine! The system will take care of that. If you can't dedicate a huge budget for your project, No problem! You'll find the affordable plan that will suit your needs.
We hope you found this RenderForest review useful and informative. Comment below if you think that we've missed something or if you have any other suggestions.