Animators are very lucky to be alive in this day and age where digital animation tools are available for affordable prices or even for free. This gives an opportunity to those who wish to try their hand and learn 2D animation without having to commit much money, or even time with the rise of easy to use and simple software.
These software that allow for quick and casual animation can be a great way for hobbyists to test the waters, but also practice on the go, especially when they come in the form of apps on your phone or tablet. With the rise of these types of mobile and on the go software, one can't help but wonder which is the best?
Table of Contents
Today's comparison will hopefully make this decision easier on you: FlipaClip vs Rough Animator. We will explore these two software and compare between them, in hopes of giving you an idea and helping you decide which one can potentially be best for you.
Software Overview
Flipaclip
Flipaclip was developed by Visual Blasters. It's an application used for producing 2D digital animations on IOS and Android devices, from an android phone to an iPad. You can also use it as a Windows app. As such, the app is very simplistic and with which you can animate using your finger.
Flipaclip doesn't offer much in terms of drawing or digital painting, as it's made for animation first and foremost. The software has purchasable premium features, however it is available for free on the Appstore and the Playstore.
We compared this app to other apps if you want to have a wider selection to choose from:
Rough Animator
Rough Animator is a mobile animation software made by Jacob Kafka. It's available on IOS, IpadOS, Android, MacOS and Windows for 5,99$ USD, with the initial release of the software being in 2014 and the latest update being in January of 2022. With that great price, the software is a one time purchase, however getting the software on different platforms would require you to repurchase it.
Interface
Flipaclip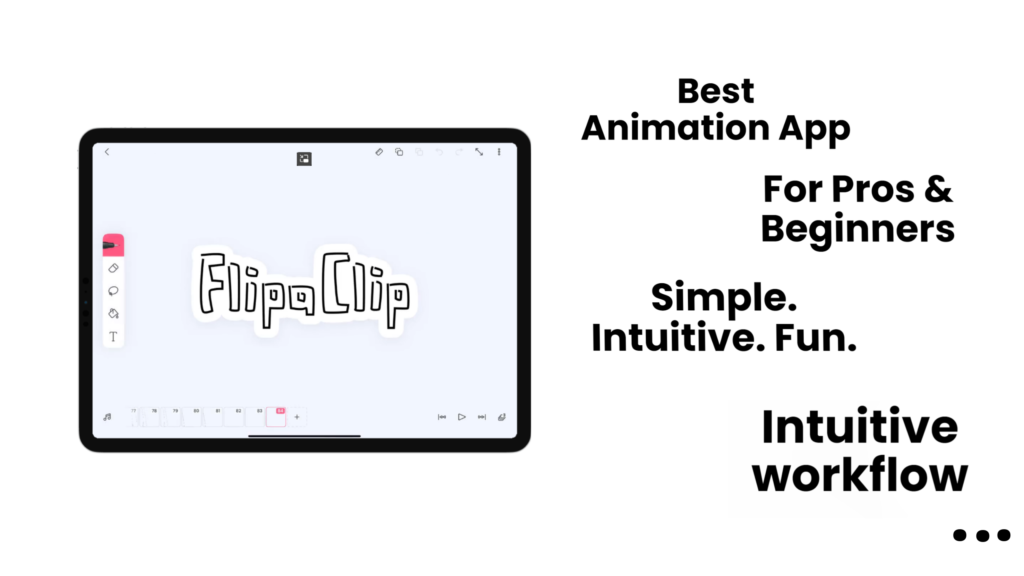 Flipaclip is characterized by a simplistic interface. This is due to the software being made with a limited screen, such as that of a phone, in mind. The tools are put together in a compact fashion, with a simple design to give a non daunting look.
The software is in all sleek white, with black simplistic design for the icons, which are big and clear, and a straightforward presentation of the options. With this design the software comes across as incredibly user friendly and easy to use.
Rough Animator
Following Flipaclip's example, figuratively speaking of course, Rough Animator has a very minimalistic and simple design. Considering it is a mobile app, we see why this is a trend in these apps, as limited screen size calls for a simple design. That said, Rough animator has more of a cramped look in comparison to Flipaclip, which might be due to the fact that the software has more tools and options, which we will explore in a second.
The software's icons are quite large but bulky looking, which gives a simplistic and fun look to the software, due to this design choice the software doesn't look to be daunting the way a more professional software would.
Tools
Flipaclip
Flipaclip's tools include drawing brushes; such as pen, pencil, brush and highlighter that are modifiable in color and size. The software has, of course, an eraser tool with opacity and hardness options. The lasso tool is another tool, with which you select and transform vertically and horizontally for instance. The bucket tool is also present. And finally you have a text tool. The timeline is at the bottom, and new frames can be added using the plus button. The software also has onion skinning.
On the upper right side, there are undo and redo options using the curved arrows. There is also a ruler that can be used for basic shapes. Copying and pasting is also an option in the app. You can playback your animations using the triangle button on the right.
The software also has layers, this option includes adding layers and using simple layer options such as locking, deleting, adding, modifying opacity and so on and so forth. The music note icon is where you can add the audio for your animation. Finally, in the middle, of course you have your canvas!
Rough Animator
Rough Animator is immediately different from Flipaclip in how the app's tools are organized. On top you have your timeline, and in which the layers and layer options are integrated. It is a lot reminiscent of a professional software in its bulkiness and layout, especially in contrast to the extremely simplistic and minimalistic Flipaclip.
On the left side you have most, if not all that is, of your tools. There is a brush tool, obviously with that big brush icon which is quite the trend in Rough Animator, an eraser, a selection or lasso tool and finally a bucket tool. These tools are simplistic so don't expect much detail about them the way you'd see in something like Photoshop or Krita, for instance the brush customization option includes a couple of brush types, size options, opacity, spacing and smoothing options only.
Redo and Undo are in those little curved arrows beneath the drawing and transformation tools. Adding layers and launching playback is all in those little arrows just under the aforementioned undo and redo buttons. There are more options to Rough Animator, which seem to be a lot more 'richer' than those of Flipaclip.
Learning curve
According to what we saw and talked about earlier, due to the extreme simplicity of Flipaclip it naturally has a less of a learning curve in comparison to Rough Animator. Although, the two are simple in their own right, Rough Animator being the software with more options and features, it naturally might take a bit of time to understand and use effectively.
But this can also depend on where you are coming from. If this is entirely new to you, meaning digital 2D animation, you might find both of them somewhat hard and daunting to start with. At any rate, and especially with software this simplistic in comparison to something like Toon Boom Harmony, there is nothing one YouTube video or two will not solve!
Pros and cons
Now that we had an overview and a general look over the two software, let's try to compare their strengths and weaknesses head to head.
Flipaclip is a free animation software with purchasable features so that if you like what you see, you can spend money on it, but Rough Animator is 4,99$ USD and you would have to purchase it to have a go at it. However, Rough Animator seems to be able to compete with other hand animation software that are professional. Granted it doesn't animate for you the way Toon Boom Harmony does, but it sure offers you a hand drawing animation experience similar to other costly software.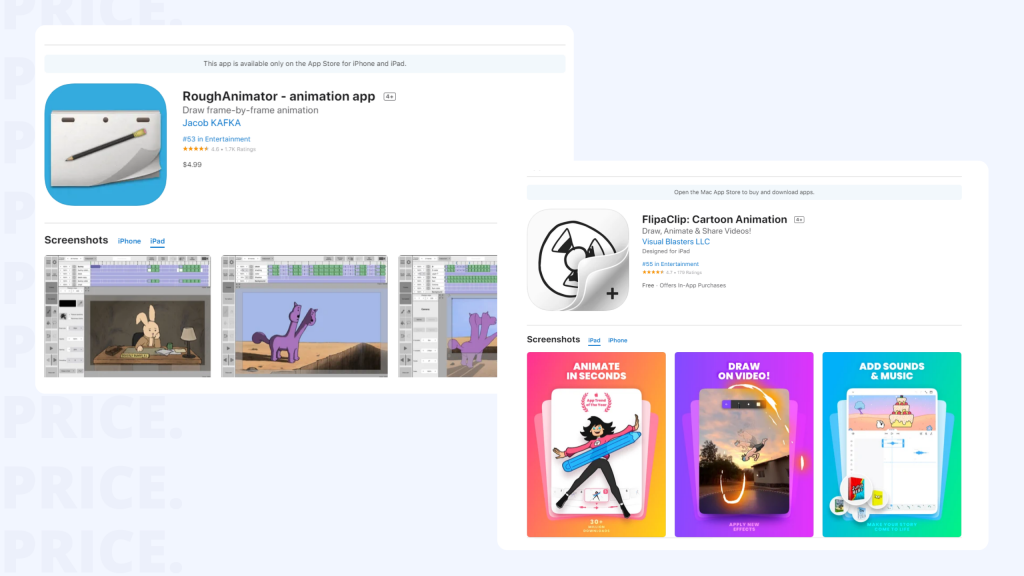 Rough Animator is simple and straight to the point, but Flipaclip is ever simpler. These factors can be a pro and a con, maybe you're looking for the simplicity Flipaclip offers, or maybe you want more edge and detail to what you can have on the go. Speaking of 'on the go' both software are mobile and you can have them on a variety of devices you can take with you virtually anywhere.
Conclusion
Okaay! Time for us to tell you which little guy wins! It's all about what you want out of the software really. Let's assume for you a bit shall we? Say you're a hobbyist and want to try your hand at animating very simply, Flipaclip can be your guy. Maybe you're a hand-drawn animation veteran and want something that reminds you of the good stuff you have at home while you're on the go and still want to sketch out that concept you've been cooking up in your brain. Rough Animator can be just the one for you.
It all depends on where you are and what you want and need from these software. To be clear, Rough Animator is the superior guy and that can be proven by the richness, simplicity yet extreme effectiveness of its tools. A veteran animator or someone really well versed in the domain can really enjoy this app, especially if they're on the go. But if you're just an average joe and want something super simple to animate with that is not headache inducing or something you don't want to pay anything for, Flipaclip is your guy! It's all about perspective and what you need and want.
With that being said, we hope this post helps you decide which of these two software is the right fit for you, or at least gives you enough of an idea to quench your curiosity.