Photoshop is arguably the most powerful photo editing software out there. Multiple digital artists use it for a variety of things such as painting, photo editing, graphic design and so on and so forth, despite the fact that there is software made for these specific disciplines. It is a great tool that is constantly evolving and updating to keep up with the industry, even if it is the industry's standard itself.
Despite the software's multiple features and options, in addition to its unparalleled history, it can spread itself a little too thin. Think Jack of all trades, master of none. It can occur that artists in a specific field want something incredibly niche in the software but they can't find it.
This is where Photoshop plugins come in. You can think of them as dockers and options that aren't inherently in Photoshop, but can be added to give you something you're missing from the software.
Is there a Photoshop plugin for everything?
There are many fields where you can find Photoshop plugins available. For example, we already covered many Photoshop plugins for graphic design in a previous post. You can also find other ones for photography and digital art.
In this post, we have compiled you a list of the best Photoshop plugins for painting. Without further ado, let's get into the list!
Table of Contents
Coolorus 2
You can guess what this plugin does just by looking at its name! It is a color wheel plugin made to mimic Corel Painter's color wheel.
Coolorus 2 plugin is all about making your workflow easy. It offers a plethora of features to help you choose the colors for your painting. For instance the Gamut Lock feature gives you a limited palette of colors to work with. You might be thinking that it is counterproductive, however the opposite is true: using a limited number of colors can help make your painting look cohesive and clean. Limited palettes, such as that of Anders Zorn, have long been known to produce cohesive looking paintings, and teach beginner artists how to work their way through color.
The mixer is also a great way to keep your picked colors organized and even share them with others if need be. Imagine you're working on a series of paintings for a client. This series might have one character that is consistent throughout, the mixer is a great way for you to keep all of their colors and not worry about consistency. Sure you can pull up previous paintings, but which is faster? Having it ready in a docker, or having to painstakingly find the right reference, picking the color from the right pixel and applying it?
Anyways, the plugin also has other features such as color modes, luminosity lock and much more! This plugin is not free, it will cost you 16.99 US dollars. Although, you can actually get a free trial for a couple of days to try it out and figure out if you like it or not!
Lazy Nezumi Pro
Have you ever watched a speedpaint and noticed how the artist is able to make super smooth line art and wondered how on earth were they able to do that? Making smooth lines in a digital setting can be quite tricky! That's where Lazy Nezumi Pro comes to the rescue! It will add a stabilizer to your pen tools, which basically slows down your strokes, this will help you make a consistent, and most importantly, an intentional pressure to your lines. For instance the plugin offers 3 types of position smoothing. Pulled string is your go to for detailed linework with a sharp edge to it. Moving Average is for pieces where you want the line art to look soft and round, just think of a really cute creature with super round corners!
Finally, Exponential Moving Average is for linework that is very smooth and has big wide curves. All of these features plus others such as, Pressure Processing, Pressure Curve, and even Scripting, and much more! This plugin is quite possibly the most powerful plugin a 2D artist can have in photoshop! According to the plugin's website, this tool is used by the big guys such as Disney and Ubisoft and many more. The plugin would cost you 32 US dollars and is also available for free use in a 15 day trial if you feel like you need to test it out to see if it's worth your money.
Color Constructor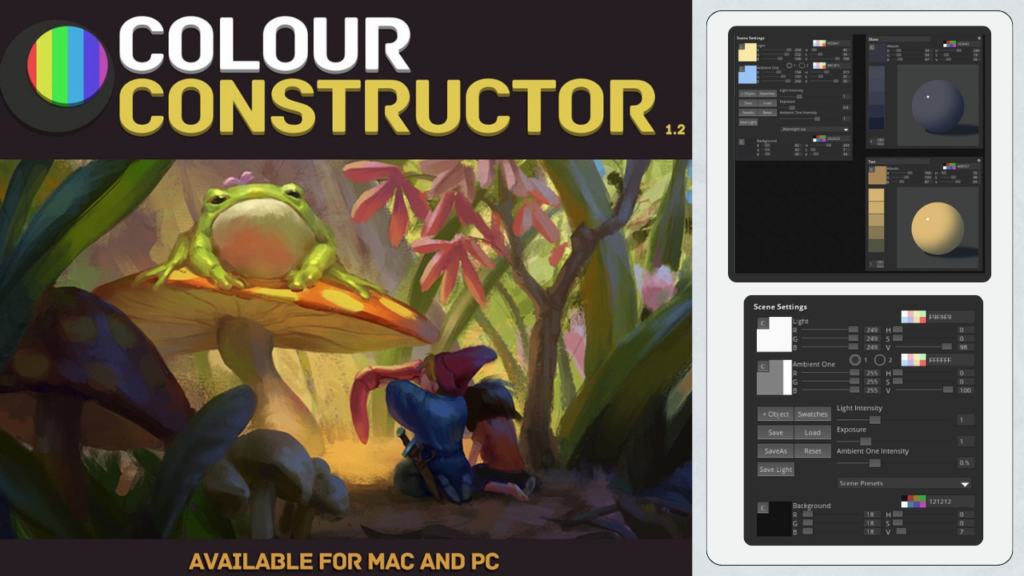 Okay, I am not going to lie, I am personally impressed by this plugin! Developed by Murry Lancashire, this little guy of a plugin will actually help you visualize how different lighting situations can affect the color you're using! How cool is that? You mean to tell me I had to scour the earth looking for the right picture that I could use as a reference, but a Photoshop plugin can do that for me? Insane… in a good way of course! This can not only help make your colors very interesting but also realistic and believable, making for a well rounded painting.
This plugin can also give you a warning when it detects that your painting is overexposed. It will cost you about 7 US dollars which is a great price for such a great tool, but you can also name your price for it!
Particleshop
ParticleShop is a plugin developed by Corel Painter. It is basically a plugin that provides you with a brush library. It contains brushes that allow you to make several effects, such as fabric, debris, fire, hair, fur and smoke. These brushes are affected by pressure, rotation and tile, which makes for very realistic brush strokes.
The plugin has 11 brushes only, but there is an option to purchase additional brush packs for more variety, which can be purchased for 29.99 US dollars each. When it comes to the plugin's price it can be quite a doozy as it would cost you 44.99 US dollars.
Prisma Palette
Prisma Palette comes to us from the same developer of Color Constructor. This plugin is, simply put, a tool that generates colors based on light physics. Basically, this plugin will help you get the dark version of a color, or similarly would help you get the light version of a color of your choice. It can also be used as a color picker, it does not just pick the color it can give you the dark version of it and the light version of it.
This tool is 12$, however you can name your price for it.
Perspective Tools
Oh perspective! The bane of every artist's existence, unless you're Kim Jung Gi. Thankfully, there is a photoshop plugin that might just help you with it. This tool will allow you to create perspective grids and guidelines very easily, and in an intuitive way. You can also wrap your layers around the perspective you have, making the act of drawing in perspective a lot easier and quicker. You can also unwrap perspective and render something 'flat' in appearance. This tool could be incredibly beneficial to those who have problems with getting their perspective just right, or those who wish to learn how perspective works.
This plugin has multiple purchase plans, ranging from 17 to 500 US dollars. A one person license on an unlimited number of computers would cost you 17 US dollars.
Chameleon Adaptive Palette
Developed by Rico Holmes, Chameleon Adaptive Palette is exactly what its name denotes. This palette will adapt, just like a chameleon, to your painting as you paint. Once you use your color picker, the palette immediately takes that color and gives you a variety of colors that would fit it perfectly. It can be a helpful tool to those who struggle with colors and color picking. It can also help you establish a great color hierarchy and use colors to define where your focus is in your painting. This plugin can be a great tool for artists and painters in particular.
Adding to that, the design of this palette is very clean and neat, making for a very nice looking palette. You can buy this plugin for 22 US dollars.
Free Stock Search
For our next and final plugin, we have Free Stock Search. This plugin was developed by Thomas Zagler and is available for free! As the name suggests, this plugin helps you find free stock photos, but here's the kicker, it can all be done from within Photoshop.
Not only are these photos free, so you can copy, trace and use them for practice and for commercial use, but you don't have to painstakingly minimize your Photoshop window and head to google and look for photos and make sure they are 100% free to use. Now, you can no longer be discouraged from finding reference pictures to take your drawing to the next level. All of that pain is done for now!
Conclusion
We hope this list of plugins was helpful for you and helped you find that one thing you always wished Photoshop had! Make sure to let us know which Photoshop you find indispensable for a digital painter to have!
Note: these third-party plugins might cause some compatibility issues for both MacOS and Windows users, but fixes and solutions always come to the rescue.