There are so many different types of animations out there! 2D animation is one that you'll see often. It's used to create 2D animated movies, cartoons, and other short entertainment media like advertisements or corporate presentations among others.
In this article, you'll discover all about learning 2D animation and its creation process to see if it's that hard or not.
What is 2D Animation?
In the world of animation, 2D is a popular style. It means that instead of having depth and width like 3D does for their characters or objects- they only have a height which makes them easier to animate in comparison with other types such as 3d models where you need multiple views at once (frontal/side).
The development of computer technologies has led to a digitizing process where characters can be drawn directly into the computer and animated. Now, let's learn about how 2D animation is created in three phases: pre production; production (or shot); and post-production.
1. Learn Pre-Production
As the first stage in creating animations, pre-production involves story development and writing scripts for each episode as well as designing characters to appear on a screen; setting up shots with background art painted by hand, which helps bring life into your imagination when watching it come alive!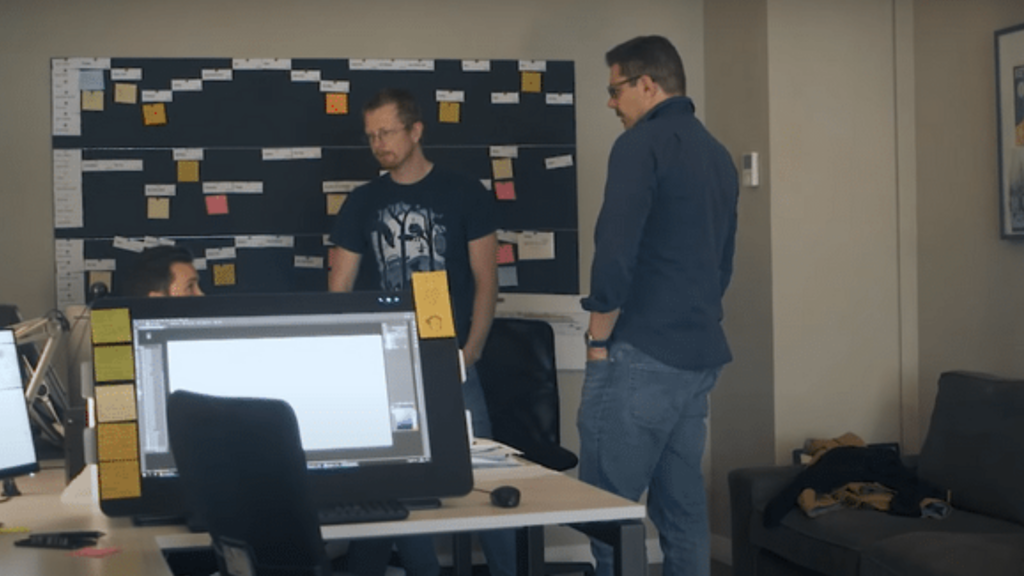 The voice-over should be done here also, since this will give you some more insight into what's going on during certain events happening throughout these early stages.
A good script should be able to convey all of the visual actions and storyline without any trouble. The storyboard is based on this idea, so it represents what happens in order by showing how they're organized visually with drawings or animations for each scene that follow one another closely from start until the end like a movie reel!
The next step in the process of creating an animation is to decide what kind you want. There are numerous types, including hand-drawn animations and computer-generated ones, relying on frame-by-frame animation software for example. The visual elements that come together on-screen create movement through different color schemes, which give life to each scene while also keeping things interesting visually – it can't get any more exciting than this!!
Backgrounds are an important part of any animated project. They help bring the action to life and create depth, mood, and story arc for your audience!
More than just scenery though – backgrounds can be used creatively as a vehicle by which you communicate key messages about what's happening in different parts of the film, while also complementing those scenes with lush visuals that give viewers something beautiful to take away from each experience.
The pre-production process is a chaotic time for any production, and the background layouts are no exception. They're created based on storyboard sketches that will change often as scenes need more or less space due to changes in script length or budget concerns (like digital paintings instead of ink drawings for example, storyboarding software that need to be replaced and so on). It's all because sometimes you just don't know what's going to be happening until filming starts!
2. Learn Production
The production phase of animation is where all the different materials come together to create a scene. This includes painting backgrounds, creating individual animations, and character movements for each frame in question with computer software (like Photoshop or Flash CS5 back in the day). It also entails cleaning up crude animations through tracing before finalizing them by adding coloration on top if needed; there can even be some compositing work done after export!
Production is the process of creating the animation by gathering all the created materials together and producing the scenes. This includes painting the backgrounds, creating the individual scenes and character activities, making the rough animation, cleaning up the animation (or in other words: tracing it), in-betweening, coloring, and painting the drawings with the help of computer software before compositing and exporting.
A scene exposure sheet, which contains all the directions for making each scene, is created to pull everything together. There are five sections on the scene exposure sheet, you have:
Backgrounds
Timing and actions
Layers of animation
Music and dialogue
View perspective
Once the rough 2D animation is created, it needs to be cleaned up and polished. This process is also called tracing which can take place in two ways: with a new layer or by using different colors on top of an existing one for editing purposes.
The key to making an animation is knowing when and where the scenes change. For example, for your bouncing ball scene above to appear smooth-looking, there would need some transitional frames drawn between the first frame where it's on top of another thing (like grass), as well as later ones that show him landing below ground.
After the frames are scanned into a computer, it's time to combine all visual elements based on the exposure sheet. During the composting process, specialists add backgrounds and other effects that they need for a project to be completed successfully!
3. Learn Post-Production
The post-production phase for 2D animation is the final editing process. During this stage, sound effects or recordings are added to enhance the emotional impact of animations, which makes them more exciting and engaging when watched. Once complete it's rendered out into different formats (such as .avi files) so they can be exported into Youtube without any problems!
The life of any 2D animator is never simple. They start with the basics, but then it's time for them to learn about best practices and more advanced techniques to make their animations come across as professional quality every single time!
What is the best way to learn 2D animation?
To create a more realistic and impressive 2D animation, Disney artists Ollie Johnston and Frank Thomas suggest 12 principles that can be used:
Squash and stretch for example consists of giving weight to your characters as they move through different poses dynamically!
For Anticipation! The audience is getting ready for something great. They know that this might be the best part of your show, so you want them to have an idea about where things are headed in advance- let'em into a major action coming up.
Staging is a vital component of performance. You want your characters to be expressive and interesting.
The first thing that you need to do when animating is drawing the key poses. Next, add in some transitional ones, and then finally, create every single scene one after another!
To make the movements more realistic, draw many frames at either starting or ending points when drawing an action. Draw fewer in-between intervals to give it that lifelike feel!
Secondary actions are useful for adding life and color to your speech. Use secondary actions that make the main points of a conversation more interesting, such as enunciated claps or hand gestures!
A perfect way to make your videos more captivating is by adjusting their timing. You can do this by slowing down or speeding up the scenes in a video, which will affect its pace and emotion accordingly
In movements, exaggerations help to emphasize certain points and ideas.
At some point though, you might be asking yourself:
How do I choose the best software to use for 2D animation?
There are so many different 2D animation software out there that it has become very hard to find the most suitable one, especially for beginners. But don't worry! There's always something that you can be sure about: ANYONE could use these programs if they wanted too (even pro animators)!
We covered many of them on this channel, and we even presented head-to-head comparisons to help you out. For example, you have:
Conclusion
Animation is a difficult skill to learn and takes years of dedication before you can call yourself an expert in the field. However, there are different levels that one could aspire towards: from amateur animator all the way up through professional level animation artist, who needs more than 10 years worth of experience under their belt!
It requires patience while learning how time works differently than other forms of art (like drawing human figures or animals with perspective errors); understanding anatomy so characters move realistically on screen, as well as being knowledgeable about space & motion.