It can be easy to fall into the trap of thinking that storyboarding is not a necessary step of the creative process, and especially when you're not familiar with it. However, storyboarding can be a game changer for projects.
Figuring out how your project is going to look and deciding the plethora of other factors that will define your project are key steps into ensuring no time or valuable resources are wasted.
Whos uses storyboard software?
Almost every creative industry has storyboarding on top of its list of key steps. From short films, blockbuster movies, video games and so on. You can find storyboard software used by:
Filmmakers.
Animators.
Game developers.
Comics and Manga artists.
…, etc.
For this reason we find many creative disciplines seek storyboarding to perfect their finished product. By extension, there is a great demand for software that can help make this process a lot easier, which we will be exploring in today's video. Let's go over the best storyboard software to help you decide!
1. Storyboard Pro by Toon Boom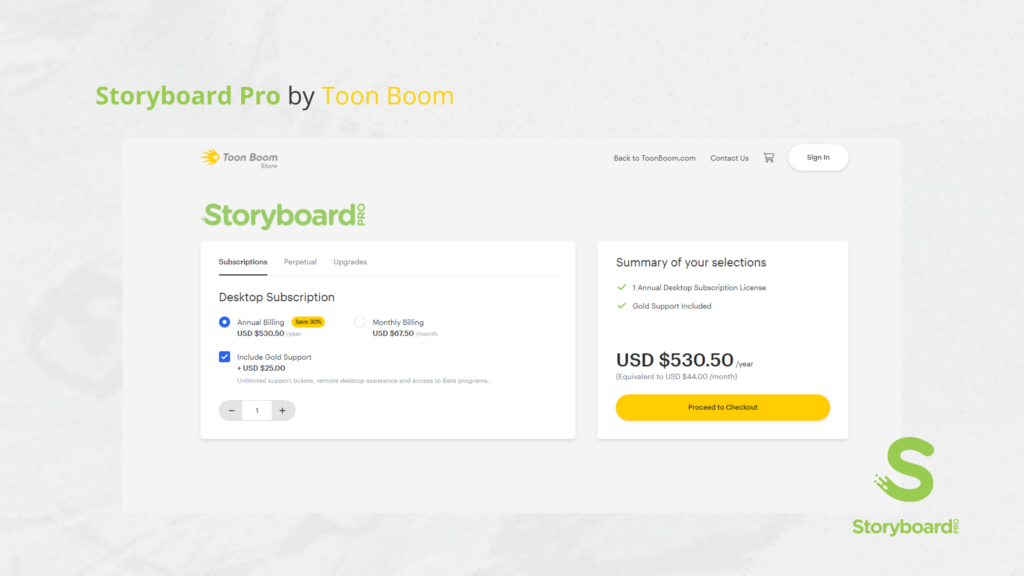 Storyboard Pro has everything you can ever need or want. Created by Toon Boom and available as a subscription based software for USD $530.50 a year, USD $67.50 a month, or USD $1,086.50 as a one time purchase, the software is, as the name denotes, tailor made for storyboarding.
On top of the software having your usual drawing, sketching brushes, guides and rules, layers, text tool, effects and many other basic tools to get you going it has quite the array of special tools. The software has a full fledged and polished timeline that you can almost use for a complete and polished animation movie.
You have many panels in which you can insert audio clips whether for music or sound effects for a polished experience, which you can edit and add effects to, in order to make them sound interesting or reflect what you're looking for!
The software gives you the ability to either work in a 2D environment, or get this… a 3D ONE! How awesome is that!
Another 'tool' for this very purpose is the camera, just like a 3D software you can adjust your camera and have it be positioned in the 3d environment where you can use it to define exactly where 'the viewer' is and what they see. This is incredibly important as shots and their deliberate positioning, especially in cinema, tells a story of its own.
And this isn't it for the software, you can't just world in a 3D environment, you can also add 3D elements! The tools this software has are incredible tools and options that we can't possibly talk about in their entirety, but this should give you an idea of what the software is all about.
2. Storyboarder by Wonder Unit
One of these is Storyboarder by Wonder Unit. This awesome storyboard software is free and open source, which means if you are tech savvy you can actually take it and improve upon it and even add tools and other options. Let's explore what makes this software so marvelous about this software other than the fact that it is completely free.
This software's interface is very sleek and simple. It is incredibly easy to navigate and use. The software is somewhat built like a 2D animation software but way more simpler and easy on the eyes.
The pens and brush tools are at the top alongside some image manipulation tools. There is a light pen tool which allows you to sketch, the pencil and inking tools to add more confident and defining lines.
You also have a 'brush' looking layer that you can use to have rudimentary colors to your drawing.
Another tool is our old trusty eraser, and the 'nodes' tool with which you can mark actions, for example a zoom in, a character turning around…etc.
This software doesn't have a layers system, but it works with photoshop. You are one button away from transferring your work to photoshop. What's interesting about the layers system is that the software separates the different lines made by drawing tools in layers. You have your sketch tool separate from the pen, inking and toning tool. The marks of the nodes tool are also separate.
The 'timeline' takes most of the left and the bottom of the software and it is quite simple with shots and a playback bar, you can set each shot to last a specific amount of time.
On the right you have a couple of interesting options, each shot has an action, dialogue and notes boxes where you can fill out. The dialogue option would enter the dialogue in each shot. Pretty sweet. This can be a perfect way to visualize your project and explore many different shots and maybe even plotlines without having to commit to anything.
You can also export your project in many different ways which will help you make further editing and changes if need be.
Remember what we said earlier about storyboarding being easily done on pen and paper? Well apparently Storyboarder's developers thought so too. You can actually print a storyboarding sheet provided by the software, take a picture of it and then have it automatically be transformed into different shots or frames if you will.
Another great thing about the software is that you can use a what's called 'Shot Generator' which is a 3D space in the software that helps you create characters in different positions and in different camera angles. The characters are entirely modifiable in their position. It's like an rigging tool in animation software, but made for positioning the character in the way you want.
Not only that, but the software also provides you with 'character' models but also different shapes and random objects to help further populate your shot, vehicles, chairs, couches…etc.
With all of these tools it is a wonder that this software is free. It has the feel and both the user experience and interface of a paid software.
We often see software like Storyboarder behind paywalls, rightfully as there is much work that goes into creating these incredibly intricate software, but to this gem is completely free for anyone and everyone to use, in addition to it being open source for anyone to add and change things is an incredible thing. Here's what the developers of this software say about it being free, it's quite refreshing:
"Storyboarder is [a] niche software. The market is tiny. There's an inverse relationship between the market size and price we have to charge to make money. We are building this tool for ourselves to make better movies. We make money making movies, not software. We believe creative software should be free. Let's be completely real – I've never known anyone working on dope ass shit to be paying for the software they use anyways."
There is much more said about the whole thing in their website which you can check out by going into their website, and you can also watch our video if you want to see a demonstration of this software (and the others).
Now that we have given you an overview of what we think is arguably the best software for all your storyboarding purposes, it is time for you to choose if you like the experience of it by trying it out. What is awesome about free software is that there is no monetary obligation, guilt or regret involved. If you do not like the software, you don't and you just delete it and all is well, no harm done.
With that being said go ahead, go get that software try it out, we hope this overview has given you enough information to decide whether or not the experience this software provides is for you or not.
3. Studiobinder
Studiobinder's storyboarding is a powerful tool for…well… storyboarding. Coming from tools like Storyboard and Storyboard by Wonder Unit and Toon Boom respectively, this tool can seem very simplistic with the way it functions.
The main features of this tool is dragging and dropping images, organizing them in scenes and shots, sharing them with colleagues, as well as being able to collaborate with your coworkers either by allowing them to edit your storyboards or comment on them. The tool also offers you options to help you determine the aspect ratio, among many other things.
The storyboarding tool's price varies from $29 a month if you choose the Indie plan, to $49 a month if the Professional plan is chosen to even $99/month if you choose the Studio plan. Different plans have different perks and it all depends on your needs.
The simplicity of this tool can be very off putting especially in comparison to the previously mentioned software, but this tool can have its audience. Think producers in cinema who probably rely on collages or drawings from concept artists to properly put together a scene and don't necessarily want a storyboard artist to do the work.
4. Boords Storyboard Creator
Another simplistic tool is Boords Storyboard Creator. This is a web app, meaning that it isn't a 'software' per say but something you can use directly in your browser.
The web app is very similar to Studiobinder's version. You drag and drop your pictures, you have some options to write notes to each shot to clearly denote what feel or atmosphere you're going for.
The simplicity of this, and the previously mentioned app, might be off putting to many, but it can be a gem to many as well.
This might very well be a strength for the app, as not everyone can be tech or art savvy enough to easily learn Storyboard or Storyboard Pro, which both have a slight learning curve to them and may be more for people in the animation industry who are specialized in this domain. This way this web app makes it easier and less daunting to envision your project for people who aren't professionally trained for it.
Among the software tools we find an animatic Tool with frame timing, subtitles, and sound.
The app also has collaborative features which makes sense as it is a web app.
The app also allows you to share, export, or import your animatic into After Effects for further editing if you wish.
The app is subscription based and the price for it ranges from $36 a month to $120 a month depending on the plan chosen.
5. Canva
I know what you're thinking? Canva? Really? Yes really! This web app that your local small business uses to promote their soap actually has storyboarding templates to help you make your very own storyboard.
If you think about it Canva can be perfect for someone who can't draw, or simply isn't willing to draw and just wants to figure out how something would look like. You have an endless stock of photos and graphics, especially if you have a premium account, that you can choose from to compose and construct a scene.
The web app's storyboarding options, seems to be for people in marketing who wish to get an idea for how their commercial or ad is going to look like, however your creativity can help you very well in using this tool to figure out a scene in your animation without doing much work.