With the rise of the iPad and the apple pencil combo, alongside powerful applications for creatives, Adobe has felt the weight of the industry's want of more on the go software; Procreate is arguably the most successful example.
How did the Adobe Illustrator vs Procreate battle start?
Adobe had to catch up on the race. With this sentiment in mind, it did not take Adobe much time to start pumping app versions of their software or come up with entirely new apps to compete with Procreate's domination over the iPad and apple pencil combo. Ahem, Ahem… Fresco. Oh what was that? I didn't say that.
No, but really, how can they compete with Procreate when Procreate is a one-time purchase for 9$ and Fresco requires a subscription of 9$ a month? Oh well, that's another topic for another day. Let us know in the comments if you want that kind of comparison.
Anyways, one of the software turned app products of Adobe is Illustrator. You might be asking yourself: is Illustrator better than procreate? or then again: is procreate easier than Illustrator?
In today's post we will learn more about both Savage Interactive's Procreate and Adobe Illustrator and compare between them, and hopefully help you figure out which one is the best for you!
Let's start by taking a look at the two applications in a general light.
What is Illustrator?
While Illustrator's history goes way way back, I'm talking 35 years ago, the app released only two years ago, more precisely on the 20th of October 2020. The app is only available for IpadOS, however there is a version of this app that is available for Android, we use the word version here very lightly, the app in question is Adobe Illustrator Draw. It's basically a very watered down version of the real deal.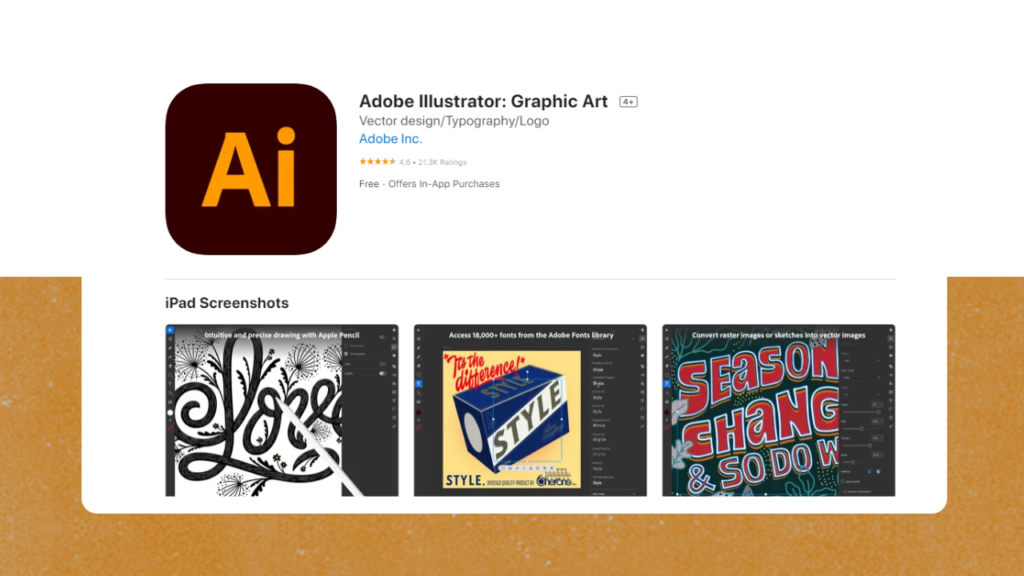 The Illustrator app is part of Adobe Creative Cloud, meaning it's only free for people who pay for a subscription with a plan that includes Illustrator, otherwise you'll have to pay 9.99$ a month.
Other than that, this software turned app is so popular we don't think you need an overview over it. Another reason why the overview isn't necessary is the fact that this app was discontinued on January 10, 2022.
According to the Adobe Draw web page, it has been replaced by yet another awesome free app known as Fresco. Unfortunately however, Android isn't included in the new list of compatible devices.
We've also compared it to other software before if you're interested in more than two options:
So let's move on to Procreate, shall we?
What is Procreate?
Procreate is a software developed by Savage Interactive for IpadOS and IOS. It is a raster graphics editor, meaning it is made for digital painting and drawing.
The software's latest updates included the option to make simple animation, as well as 3D painting, you can import 3D models from Blender, for instance, and use procreate to paint on them.
First released in 2011, the software still thrives today.
The software is not free, it costs 9,99$ USD, however as the price tag shows, it isn't as costly as Illustrator.
Interface and tools
Illustrator
Choosing Adobe Illustrator or Procreate relies heavily on Naturally, the interface of the app version of Illustrator is very reminiscent of the desktop version, but with more of a swift and light touch to it.
Think of it this way: illustrator but a lot more compact with a much more minimalistic look and feel. This can be a truly amazing element for artists who are already familiar with the desktop version, now you can have it with you everywhere you go.
The main elements of the interface are two bars on each right and left side with a variety of tools.
The top bar has very few buttons, and the middle of the interface is where your canvas lies.
As mentioned before, the design of the buttons is very sleek and clean looking, and the presentation of the tools is kept brief, this makes for a compact look. This doesn't take away from the familiarity for those who use the desktop version, making for an extremely user friendly experience.
The simplicity is also very helpful in delivering a user-friendly experience to those who are using the software for the first time. It is worth noting that the app resembles Procreate's presentation, which seems to be the trend for a lot of other iPad drawing apps.
Interface aside, let's explore this app's tools!
One important thing to know about this app is that it does not have all of the tools of the desktop version. It does, however, have the core ones, which allow you to do most of your graphic design work.
On the left side you have the selection arrow, key modifier tool, the pen tool, pencil tool, text tool, shape tool, and within which you can find additional options and features such as the color wheel.
When a shape is selected, a small gray bar with additional options appears, you can use it to modify the opacity of the selected shape, for instance. It also includes an option that allows you change the layer on which the shape is to have it be in the background or foreground.
There are plenty of other tools and options on the right side of the bar, such as layers, sliders, where you get to modify your stroke and adjust it, precision docker where you can snap a shape to a grid for instance, and shape builder tool, where you can combine shapes and modify them in so many different ways.
Another feature in this app is the use of hand gestures for certain actions, for instance tapping the screen with two fingers will undo your action, while tapping the screen with three fingers will redo your action.
Once you are done with your design, you can save it in multiple formats, AI, PSD, PNG, SVG and PDF.
Procreate
Procreate is pretty straight forward, potentially a lot more straightforward than Illustrator.
Procreate has a brush tool from which you can choose your brush. It has many brushes, but you can download new ones, make your own or modify an already existing brush.
Procreate also has a smudge tool, eraser and layers with regular layer options such as merging, duplicating, clipping …etc. Naturally, the app also has a color selector, in it you are presented with color selection sliders and options.
The arrow tool moves your drawing around your canvas and transforms it. There is also a selection tool and a magic wand tool, when the latter is tapped it presents you a list of editing options: blur, glitch, noise etc.
As for Procreate's wrench, it has all of the app's canvas options; you can insert a picture, file or text, or crop, resize, export and even get a speedpaint video of your artwork. The sliders are used to determine the opacity and size of the brush or eraser.
You also have redo and undo buttons that can also be activated using two fingers and tapping them on the screen to undo or three fingers and tapping them on the screen to redo, just like in Illustrator, or just like in Procreate I should say.
The theme of this app's tools is basically a lot of options packed within one icon on the screen. The interface colors are all black with white icons, which are very reminiscent of Illustrator, again or just like in Procreate I should say
Learning curve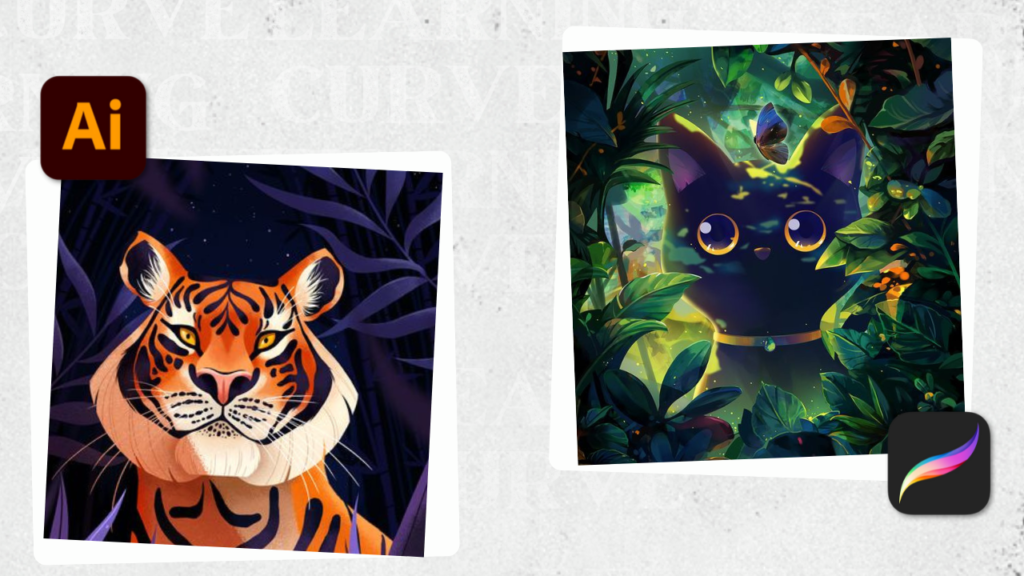 Being a desktop software turned app, the Illustrator app is the core of its desktop version with the most important tools. Learning about it can either be very easy and simple for you if you come from the desktop version as it is exactly the same, except a lot more simpler.
However, if you're coming in completely fresh and new, it can have a slight learning curve to it, perhaps even more of a learning curve than Procreate, as Procreate is a hand drawing app and usually drawing can come naturally to people more than a design tool. This is because for drawing tools you grab the drawing tool and draw, but for a design app you try to use the pen and it starts making weird shapes.
At any rate, Illustrator's learning curve can be quickly remedied by the grand well of knowledge, YouTube. Procreate will most likely have a learning curve as well, but it is mostly slight in comparison to Procreate due to the simplicity of the software and its features.
Pros and cons
Illustrator
Pros
If you are already familiar with the software and use it on your computer, you can get it for free on your iPad and take your graphics anywhere and everywhere with you.
The premium version offers a 30 days trial.
Cons
It's not available for Android ever since Fresco was introduced to replace it.
It will cost you $9.99 a month to add the new brushes from Kyle Webster and access to Photoshop on the iPad.
Procreate
Pros
Procreate is an amazing digital painting and drawing software that is extremely user friendly.
The app is being constantly updated, lately animation and 3D painting options were added.
It isn't as costly as Illustrator (now Fresco) and doesn't require a subscription.
Cons
Procreate is only compatible with IOS and IpadOS.
Procreate might have the brushes for calligraphy, but it certainly is not made for graphic design work.
Adobe Illustrator vs Procreate: Final Verdict
Although both are apps for creatives that can be used on the go with the compact Ipad and apple pencil, it is important to point out that these apps are used for very different purposes.
Procreate is mainly used by illustrators to hand draw and paint digitally. Illustrator on the other hand is funnily not for illustrators but graphic designers and graphic designers only. You can't do graphic design in Procreate and can't do hand drawing and painting on Illustrator.
Procreate's design abilities start and end with calligraphy. The app has some amazing calligraphy brushes, but that's it. If you're a graphic artist, do yourself a big favor and use Illustrator and if you're an illustrator Procreate is your guy!