As a 3D artist, you will have to use different methods of modeling depending on the kind of result you want to achieve and the nature of your project. This post is a good foundation for beginners when it comes to 3D modeling types, but if you have been around the block for a while, I believe this will clarify a few things that you need to know or those things that you already know.
What are the main 3D modeling types?
There are many types of 3D modeling, but we'll be taking a look at 8 main types:
1. Polygon Modeling/Edge Extrusion
Polygonal modeling is probably the most commonly used in different fields especially entertainment industries such as Game Development, VFX, and such. This is the case because this method involves manipulating polygons, edges, and vertices to create different types of assets, such as environment props, vehicles, and characters to a certain extent.
The types of 3D modeling software that are designed for this type of modeling are software such as Blender, Max, Maya, Cinema 4D, and so on.
If you are new to 3d or if you have been using a 3d software for decades this is what you will be using for the most part. The reason why is because it is just more convenient for most of the work that artists and designers do, also it gives you the control that you need to get the job done!
2. Box Modeling
Box modeling as the name suggests is a method of modeling that relies upon modifying a primitive geometry to start crafting your 3d assets.
After creating the basic geometry you will start adding detail by "slicing" into pieces and extending the faces of the cube, cylinder, pyramid, or whatever to gradually start shaping and creating the asset you have in mind.
Personally, I'm not a big fan of this method other than using it as a stepping stone for creating the assets but not further than that. The logic behind this is that it's hard to model accurately and it can be annoying once things get complicated.
You can use it to create simple things like tables, simple buildings, or low poly characters on the fly. It can serve as a starting point for the process of sculpting, which is one of the types of modeling we will talk about in this article.
3. Spline/Nurbs modeling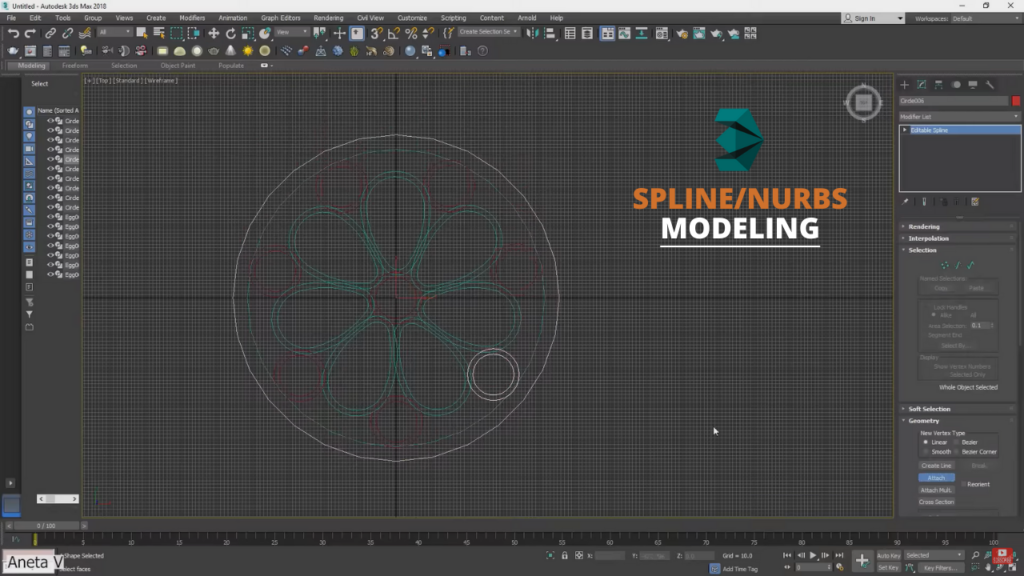 Spline modeling is the process of creating surfaces of geometry using splines as a foundation, The most common splines used in 3D art are bezier curves and NURBS.
You will be surprised to know that this is the oldest of 3D modeling types. So as we said it relies on creating curves and NURBS and then creating bridges of polygons that we call patches.
This method of modeling is most optimal for industrial design, like creating cars and airplanes, basically 3d modeling that has smooth and organic surfaces.
4. Boolean Modeling
Boolean modeling is a very unique type of 3D modeling technique that has no other alternative that can replace it or at least be as effective as it is. It can be confused with box modeling but it is different. It's because box modeling is very lacking when it comes to adding or subtracting geometry from other objects or models.
If you are using the right 3d software and addons, this method can save the hassle of adding or subtracting geometry in a way that leaves you with good topology. For example, if you try subtracting a hemisphere from a cube, good luck doing that with poly modeling or box modeling or any other type of modeling for that matter.
Boolean modeling (in addition to hard surface sculpting) is the only effective method of creating hard surface models like robots, complex machinery, or anything that falls under what we call hard surface modeling.
Boolean modeling is used a lot, especially in industrial design and engineering fields because they have to create super complex models like engines and other mechanical tools, and this work requires this method to get the job done on time!
Game developers and VFX artists also rely on this method of modeling to create cool-looking hard surface 3d assets, like robots, complex vehicles, weapons, and so on.
5. 3D sculpting
3D sculpting is another field on its own, but for the sake of this topic, we are going to add it here to help you understand if you are a beginner or just new to 3D. We have a post about the difference between 3D sculpting and modeling if you want further information.
Just like Clay sculpting, 3d digital sculpting relies on morphing geometry to create the 3d assets you need. It can be similar to other forms of modeling like box modeling.
But the most important difference is that 3d sculpting allows you to work with super-high-resolution models, I mean dealing with millions or tens of millions of vertices in one project. Also, it allows you to create a ton of details that are just impossible to create using other forms of modeling.
One popular software for 3d sculpting is Zbrush which is the industry standard in game development and VFX projects, but you can also use Blender if you want to start somewhere with sculpting, but for most cases, Blender is going to be enough.
6. Parametric Modeling
Parametric modeling as the name suggests deals with parameters that come with software and modeling tools, one clear example is using 3d modifiers that come for example with Blender or Max, you can use deform, bevel, array, or mirror modifiers to quickly use their parameters to get things done on the fly without having to do that yourself manually. This will save you a lot of time and effort down the line.
7. Procedural Modeling
Procedural modeling is a very interesting method of creating certain things, such as environments as urban city assets like buildings with different elements such as windows, doors, balconies, and so on. Game developers also use this type of modeling to quickly populate natural environments like forests.
Usually, procedural modeling involves using tools that allow you to automatically create objects super fast, and you can control what you are creating using certain parameters. There is also procedural modeling that is related to shading, this basically means procedurally creating complex surfaces based on simple geometric shapes using displacement.
8. Kit Bashing
Kitbashing is also a very unique method of modeling that is usually used by professionals to create complex designs, but the thing is, it is not complicated at all, it just needs someone who understands what they need to have a certain workflow. It is especially important when creating complex hard surface modeling projects, projects such as robots, complex ships, and so on.
I remember the first time I was introduced to this method of modeling was in the early 2010s when I saw a modeling artist create Autobots from the movie transformers. So, to create insane details that a transformer has they have to use preexisting mechanical pieces to fill different sections. At first, it seems so amazingly complex but at a closer inspection, you will realize that this complex machine is just a huge pile of simpler smaller hard surface elements.
Conclusion
So depending on what you do as an artist, whether you are a game developer, a VFX artist, an Archviz artist, an industrial designer, or anything else you will need different types of modeling to use to finish your projects.
You will most likely use a combination of these methods for one project, but you will definitely use some more than others, so keep this in mind when working on your personal projects because following the right method of modeling can save you a lot of time, like using Boolean Modeling and KitBashing to create complex hard surface modeling instead of using polygonal modeling or box modeling as an example.