Nowadays, everyone has what's essential: a small computer in their pocket. But a lot of manufacturers are still holding on to the traditional way of creating technical documents, such as 3D product design documentation and manuals, using a paper form.
On the other hand, other manufacturers are moving towards digital product manual designs that you can follow. Companies such as IKEA created a huge library of video playlists on how to assemble their products.
What is a product manual design?
Manuals are traditionally 2D, and you can create them using 2D drafting software and such. However, they suffer from a lack of details such as limited image angles and putting the burden on the reader to interpret them correctly.
If you have ever tried to assemble flat pack furniture before, such as the ones you find in IKEA, you can end up messing up the whole process because you could not tell which orientation you should attach the pieces, or you mess up and mix up the bolt types.
What do 3D product designers use for manuals?
Free product documentation software
One of the best examples of product documentation tools that our team uses is Cadasio, which is an online interactive manual creator right out of the comfort of your own browser. Easily create rich, animated, interactive assembly and service instructions using your CAD data. It's totally free for personal use, but you'll have to pay for the professional and the corporate plan.
Technical documents such as guides and manuals can be a time-consuming process to set up, design, and create. However, Cadasio streamlines the process by coming up with a slick, interactive result that can elevate the burden on both the designer and the consumer.
Cadasio is an online product documentation tool that helps designers build interactive, animated, and clear documents—product manuals, procedural guides, and assembly instructions—that can be as basic or interactive as you want, straight from your CAD data. Improve user experience and create paperless documentation of your products.
Cadasio is extremely easy to use and allows the creator of the guides or the manual to create and present it in the most immersive way possible. Use your existing CAD files to start creating steps and documentation for your model. You can use text, annotation, links, including images, and even embed video inside of your manual.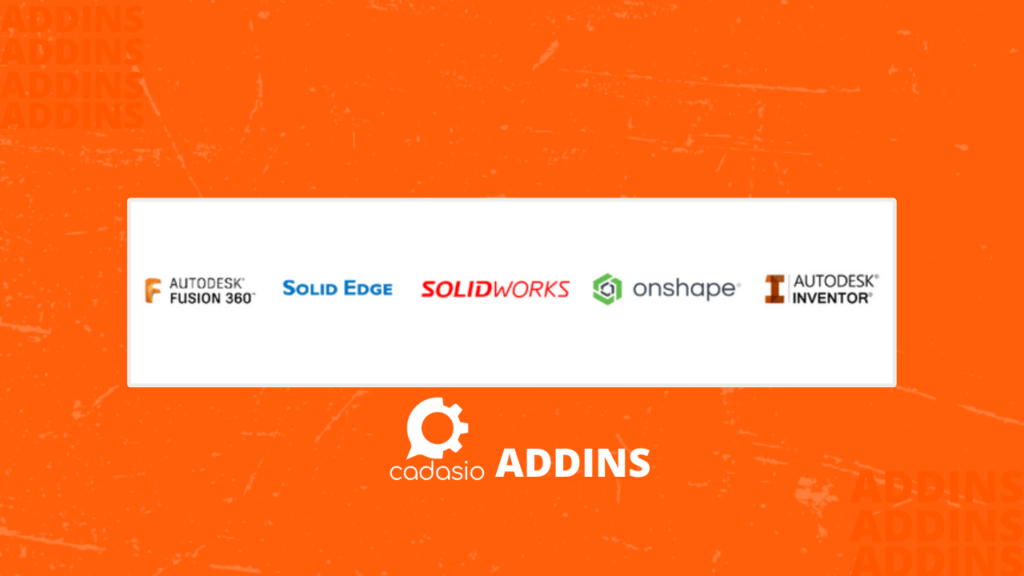 Product manual design tools
Cadasio has Addins which are an integrated link for some of the major Product, Industrial design and CAD software, including SolidWorks, Fusion 360, OnShape, Inventor, and Solid Edge. This will make the integration between Cadasio and these software seamless and easy to use.
You can also edit the original model and the manual will update automatically to reflect those changes, so you won't have to redo it every time you make a change. This also means that you can start creating manuals even before finalizing the 3D product design.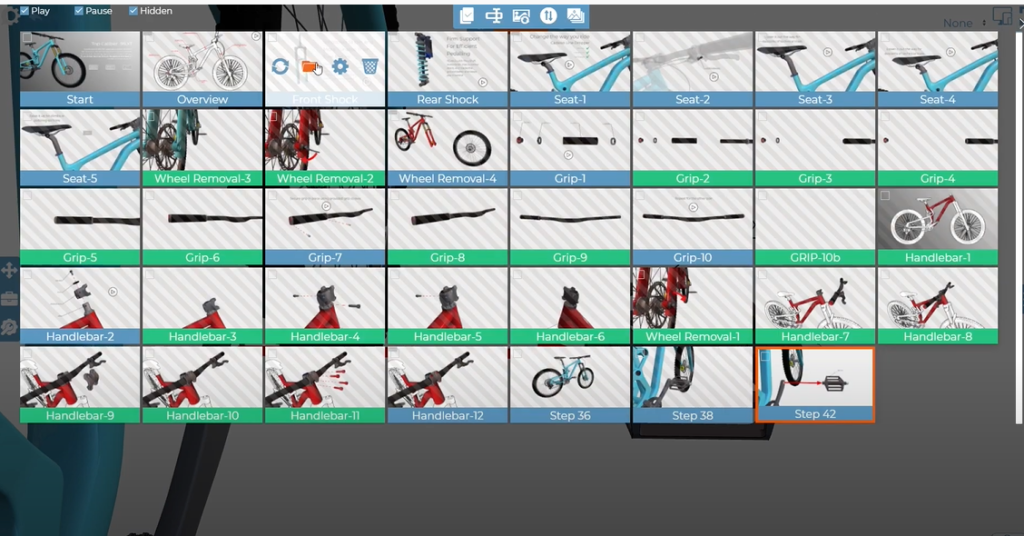 The best way to start a new Cadasio project is using the addins, however, you can also use neutral CAD formats such as STEP or OBJ.
Once the project has been created you can open it up in the designer and you can create as many steps as you want from start to finish by moving parts of your mesh and creating a step-by-step guide on how to assemble or disassemble them.
A pro tip and a great function that Cadasio provides is that you can easily flip the step and reverse the order, so you don't have to repeat your work.
How to make a 3D product documentation? (example)
The library tab is where you find your Toolbox, Assets, and Fonts. Tools are the markups you use to highlight different functions or steps in your project like arrows, lines, labels, images, text, or even videos.
You can have different tools for different usage like for human models, 2D, 3D, social media…etc. Assets are for images, videos and so on. The "Fonts" folder holds all your fonts you uploaded or you added to your account via Google Fonts.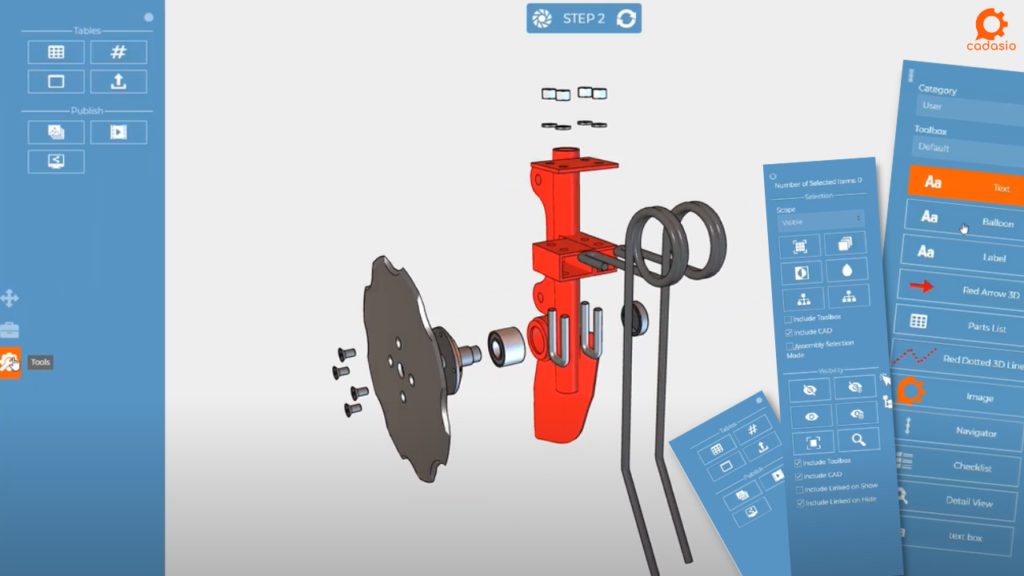 The Designer Workspace is extremely simple even for people with no CAD experience. The process is similar to a stop motion video: you position your model or move some of its parts and then take a snapshot (Steps) and move to the next pose and take another snapshot.
Every time you move a component or part of your mesh, Cadasio will automatically animate it, so you don't have to animate each movement, all you need to do is go through all the stages of assembling your product while taking a snapshot each step.
You can also Add Labels, Text, Images, Dotted lines, and Arrows to further explain each step, and communicate more information to the user. You can do that using the toolbox on the left.
To animate the visibility of part of your model, you can easily use the visibility eye icon on the right. If you hide an object and you create a step, it'll fade out automatically in the next step —because you don't want all your parts to be all visible at all times.
At the end of your project you can either choose to export your work, as an "Image Album", PDF, a Video, or you can share it with anyone using a simple URL. You can also generate a QR Code and embed "Cadasio Player" into your own website. The users and customers will later be able to view and interact with the Guide on any device whether it's a smartphone, or a tablet.