Since the 3D design and modeling world is becoming more significant day after day, many new technologies are launched to help users, whether professional 3D artists or beginners demonstrate their designs and ideas realistically. To benefit from these technologies, powerful and specialized tools are needed, especially in the advanced steps of creating 3D models and characters, where artists need to paint, texture, or even render their 3D models. One of these lifesaving sets of tools is the Marmoset Toolbag.
If you are not used to this set of tools, you may be asking yourself: What is Marmoset Toolbag used for? What are its features? Is it hard to learn? And how much does it cost? To provide help, here are the answers to all your questions about Marmoset Toolbag. Don't miss out on this article!
Is Marmoset Toolbag a game-changing toolkit for 3D artists?
If you're a 3D artist or thinking about becoming a 3D artist but are not sure where to start, dive into our content to help you to discover software, hardware, resources, tutorials, and more. We covered many useful topics for 3D artists such as:
3D artists always search for tools to help them create 3D art in a way that is more efficient. As the tools they use to shape their creativity, it is wise to find new powerful tools to add to your creative toolkit. One of these tools is Marmoset Toolbag.
1. What is Marmoset Toolbag?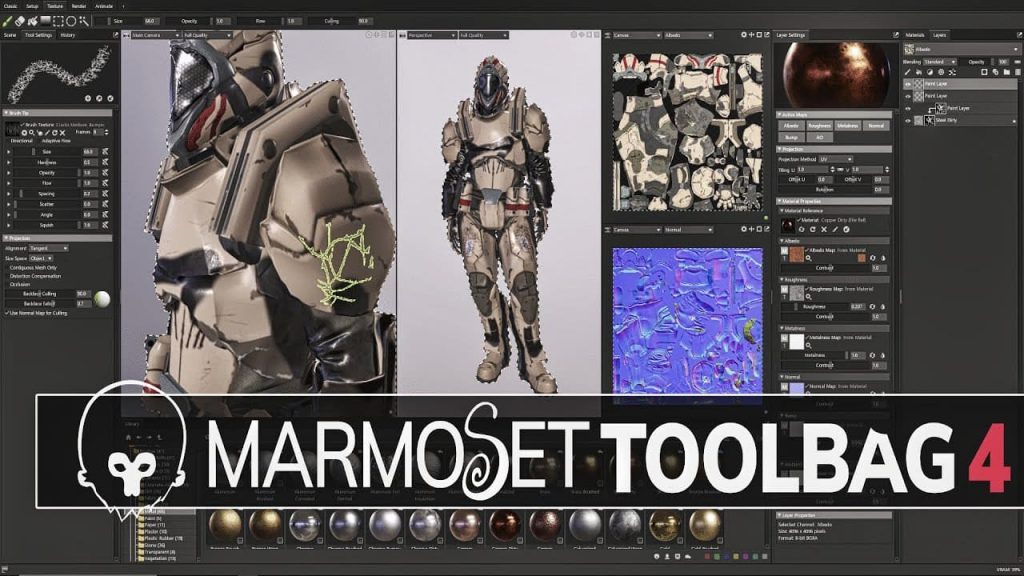 Marmoset Toolbag is a fully-featured, real-time rendering toolkit and look-dev suite bundled in an easy-to-use package. It works seamlessly with other procedural-based software used by professional game developers and media such as VFX for film and television, such as Substance Painter, Quixel, MARI, and 3D-Coat. And it can use the GPU.
The main goal of this Toolbag is to eliminate the ongoing process of exporting assets such as 3D models, shaders, or materials to game engines and then set up lighting and seeing how everything turned out to be.
Instead, Marmoset provides the user with a wide range of material and lighting presets and simplifies the rendering process by importing files, connecting maps, adding light and cameras, and adjusting the necessary setting to get what you are looking for.
In addition to the essential Marmoset tools, the software comes with a comprehensive list of post-processing effects, including ambient occlusion, depth of field, high-quality light proliferation, depth fog, and chromatic aberration, all of which can be changed. The 4th version of Marmoset Toolbag is available!
Official website: Marmoset Toolbag
2. What is Marmoset Toolbag used for?
Marmoset provides everything you need to realize the look, design, and presentation of your 3D assets. It is advertised as the 3D Artist's Multi-functional Tool and it can be used for:
Toolbag for real-time rendering
Marmoset Toolbag can be used as a real-time renderer optimized to run on all modern GPUs. The Interactive ray tracing technology brings a new level of image quality to Marmoset; with improved shading, global illumination, reflections, caustics, scattering, and more, your art has never looked better.
When it comes to Real-Time rendering, Marmoset's game-style raster renderer comes with Customizable AO, local reflection, diffuse light bounces, Improved GGX and anisotropic shading, Smoother anti-aliasing & transparency. Toolbag's physically-based rendering and material system assure you'll capture natural and consistent results in your artwork across multiple lighting and material styles.
It is a lightweight and robust system for Lookdev, compositing, and final rendering. Coupled with ray tracing, Toolbag's image-based lighting makes it easy to generate beautifully balanced lighting and dramatic shadows with the click of a button.
Toolbag for texturing
Using Marmoset Toolbag lets you easily texture your models and environments as it provides a real-time 'Editing in 3D' feature. Regardless of what you are aiming for whether you targeting realism or stylized rendering, its texturing tools will meet the demands of your modern content creation workflow.
Texturing in Marmoset provides a non-destructive workflow with a flexible layering system. Moreover, its industry-standard physically-based rendering and Texture Project system offers a complete solution for you to create and calibrate materials for your target game engine or rendering platform.
Toolbag for baking
Toolbag's GPU-accelerated Baker allows you to preview mesh changes and Bake Project adjustments in real-time. There's never a need to bake and wait. Also, following standard naming conventions, meshes auto-sort into Bake Groups, isolating high and low poly meshes per object to achieve perfectly clean bakes. Marmoset allows you to be more precise by enabling you to refine your bakes with Skew and Offset painting tools.
Offset painting gives you the ability to sculpt your cage with precision to best suit each mesh. Skew map painting fixes errors in projection direction, previewing each change in real-time.
Toolbag's Baker is built to handle what you're ready to throw at it. Bake high-resolution character sculpts and complex, complicated surface models directly from your modeling package of choice. Supporting a wide array of surface, lighting, material, and ID map types makes Marmoset's Baker a flexible solution that will fit your workflow and production pipeline.
Long story short, Bake it all, or only what you need.
Toolbag for scene editing
Marmoset Toolbag can also be used for scene editing. Thanks to the optimized and completely customizable workspace, you can easily craft your scenes; by importing an existing scene from your 3D package of choice or build it from scratch.
With Toolbag's core editor tools, you can quickly create and light a scene for real-time lookdev or set the stage for that perfect final render. Better yet, you can showcase your artwork with a cinematic flair using Toolbag's flexible animation system.
3. What are Marmoset Toolbag's unique features?
As we have previously mentioned, Marmoset Toolbag comes with many features including:
Real-World Accuracy: Real-time physically-based rendering and image-based lighting are the core of Toolbag's superior image quality. Realistic or stylized, your artwork will shine bright.
Intuitive Design: You will feel at home using it, thanks to Toolbag's customizable interface. Drag-n-drop functionality, workspaces, innovative loaders, and dual monitor compatibility come together to provide a friendly 3D experience.
Creating Portfolio Content: You can capture stills of your latest character art, environment art, product designs, and more. You can do this using its built-in Turntable tool, or set up your very own custom animation and camera sequence to proudly showcase your latest creation in motion.
4. So, what about materials?
Marmoset has a time-saving library feature that offers hundreds of materials, and textures. Its presets assist in creating high-quality artwork and streamlining your workflow. Marmoset's collection of base materials have been carefully calibrated with real-world material properties; for your rendering and texturing needs.
There is a variety of metals, plastics, fabrics, skin, and more. You can also customize your materials and save them to z Library for easy access with a drag-and-drop of your layer stack.
5. Who uses Marmoset Toolbag?
Marmoset Toolbag is widely used by game artists mainly and 3D artists who want to showcase their portfolio in general. In addition to that, it is increasingly being used in other areas of the entertainment industry and other industries as well. It provides a real-time look development environment, allowing artists to set up model materials and lighting quickly.
6. Can Marmoset Toolbag be used for big projects?
It depends on what type of scene you are dealing with and what result you are trying to achieve. If you are looking to render an outdoor scene such as an organic environment with many characters and vehicles in it, then Marmoset probably won't be the perfect option.
Marmoset can come in handy if you are looking to render indoor scenes, such as a living room with some furniture and a few characters in it. And if you are looking to render a single PBR model or a set of few PBR models for presentation, then definitely Marmoset is the best option.
7. The learning curve
According to users' reviews, Marmoset Toolbag is one of the simplest and easiest tools that can be explored and used by artists. The interface is accessible without instructions; and if you have previous experience working with such a set of tools, you will master it in no time.
Of course, there are some advanced features that you will only discover and master if you look at the documentation and tutorials, but that is the case with any software.
8. Pricing/licensing
Marmoset Toolbag has a FREE 30-DAY TRIAL. Different licenses and prices are available depending on who and for what will be used. For Individuals, a subscription costs $14.99 per month, or you can get a perpetual license for a $299/one-time fee. For Studios, a subscription is $39.99 per month, and the perpetual License costs a $799/one-time fee. When it comes to Academic uses, the yearly subscription costs $119 per seat / per year.
Marmoset Toolbag is available on Windows and macOS. Moreover, a standalone viewer application, which enables you to look at your geometry from different angles interactively, is available too.
9. Possible disadvantages
Because the software handles things like specularity and hardware construction very differently from complete game engines on the market, your model's appearance in Marmoset is not necessarily what you will get once transferred to UDK, CryEngine, unity, or Unreal. Just remember that if you are in the pipeline and using Marmoset for an interim development of your assets, things will almost certainly look somewhat different when you move them into the engine.
Final thoughts
At this point, you're probably asking yourself: is Marmoset Toolbag worth it?
The most significant advantage of Marmoset compared to other competitors such as Unreal is setting up materials, lights, and HDRs easily and fast. Also, Marmoset is not as resource-intensive as Unreal.
As a standalone real-time renderer for quickly producing portfolio-level images with a minimal headache, Marmoset performance is as good as it gets. The workflow is relatively straightforward, and the results are beautiful.
The wide array of lighting and post-processing options give you remarkable creative freedom, allowing you to infuse character and style into your render while adding very little overhead. As mentioned, the slight downside of Marmoset is that you can't use it to render huge projects, but it can surprise you with smaller projects.
Marmoset Toolbag is a strong competitor of real-time rendering, although it competes with other outstanding software such as Unreal Engine and Eevee. All in all, if you need a lightweight, easy-to-use real-time renderer for presenting your PBR characters and props, then look no further than Marmoset Toolbag.