If you're looking to make it big in the world of media entertainment, then you have to be familiar with video editing. It's an essential part of filmmaking, and most film production studios wouldn't dream of making a movie without an experienced video editor on board. Whether you're cutting a feature-length film, a commercial, or a home movie, having someone skilled in video editing is a must. With the right software, even amateurs can get creative with their video projects.
So if you want to make something unique and exciting, video editing is the way to go. Of course, the hard work and dedication that goes into producing a quality video project is the same regardless of who you are. But with the right tools, you can make your wildest ideas come true.
Speaking of the right tools, Adobe almost dominates the industry in this regard with two popular software that will be the subject of our comparison: Premiere Pro vs Premiere Rush.
In this post, we'll be talking about the Adobe Creative Cloud video editing programs, and which one is more suitable for you according to your budget but also your requirements. We'll compare Adobe Rush and Premiere Pro for you if you can't afford the entire Creative Cloud subscription, and simply want to pay for one video editing application. We'll also go through the software to use depending on the sort of content you'll be editing.
What is Adobe Premiere Pro?
Adobe Premiere Pro is without a doubt one of the best programs for a professional cut and a creative edit. The application is a timeline-based video editing tool that succeeds Adobe Premiere (which was introduced in 2003).
Premiere Pro is a powerful video editing program with all of the features you'll need to edit footage for broadcast television or movies. The basic editing structure, with the media browser and clip controls on the left, the preview monitor in the top center, the multitrack timeline on the bottom, and effect controls on the right, seems complex at first but very intuitive once you understand the basics.
What is Adobe Premiere Rush?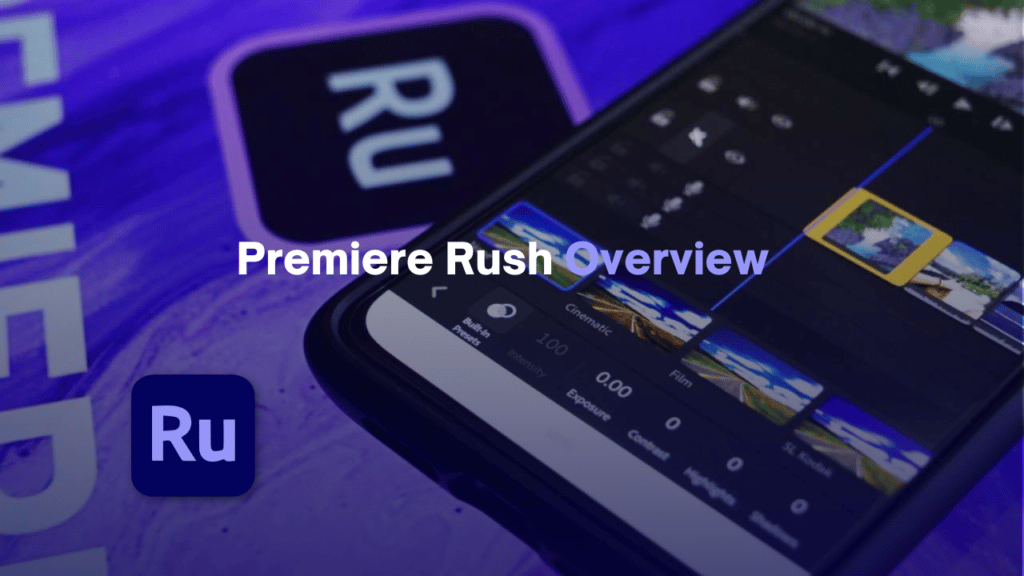 Adobe Premiere Rush is a free mobile and desktop video editing program that let you express yourself on the go. You can film, edit, and share high-quality videos from your phone or computer, no matter where you are. It's the simplest method to appear in your followers' feeds, and it's as fun, intuitive, and quick as social media needs you to be.
While Premiere Pro is exclusively available on computers, Rush is available on phones, tablets, and computers.
We compare the desktop versions of Adobe Premiere Pro and Premiere Rush in our Adobe Premiere Pro vs Premiere Rush comparison, looking at the interface, features, and price to see which is ideal for creatives like you.
Premiere Pro vs Premiere Rush interface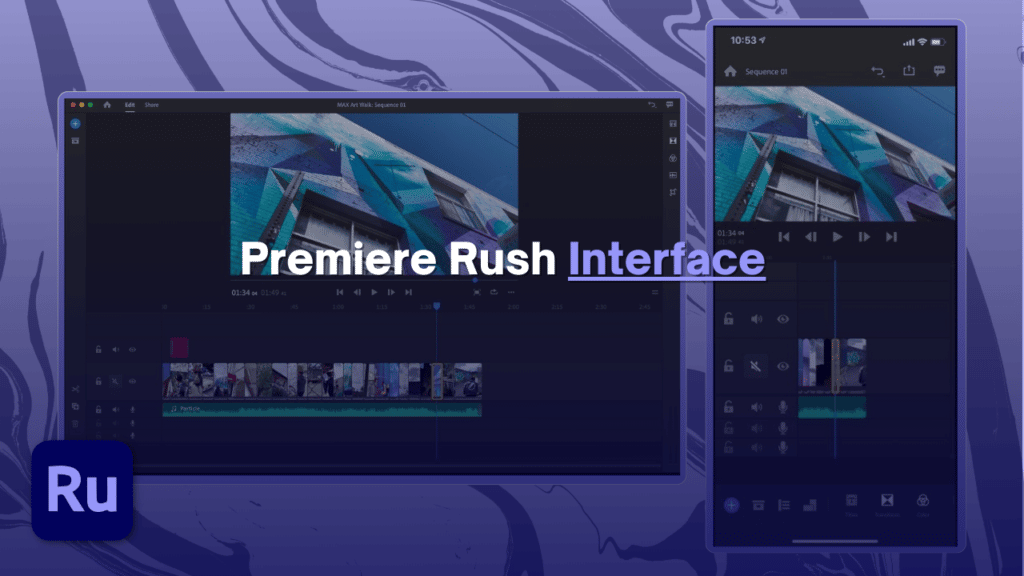 Premiere Rush is a fantastic tool for beginners, owing to its simple design. The vast majority of individuals will be able to pick this up quickly and create a video on their first attempt. And the user interface makes everything clear.
In Premiere Rush, the workspace is much more basic. The media browser is on the left, the preview monitor and timeline are in the middle, and the effects controls are on the right, with the media browser on the left, the preview monitor and timeline in the middle, and the effects controls on the right. The core editing features seem familiar and are simple to learn, despite being part of a drastically scaled-down application. In the right-hand bar, there are also color, audio, and graphics settings.
Premiere Pro's user interface, on the other hand, is significantly more intimidating. This is because the platform was designed for more experienced video editors. The video playback panel is the main panel, however as can be seen, it is not the center of attention. Instead, each panel is drawn in the same way. The source, effects, playback, and timeline panels are all uniformly spaced on the interface.
Because it is developed with so much more effort and consideration for professional use, Premiere Pro has the best interface. While Premiere Rush may be scaled up, there is a limit to the features and effects available. Premiere Pro's scope is nearly limitless, since it allows you to accomplish practically anything in the realm of video editing. If you can imagine it, Premiere Pro can make it a reality.
Premiere Pro vs Premiere Rush editing tools
Premiere Rush, like many other basic editing programs, can make basic video edits on clips. Cropping, rotating, resizing, and color correction are all included. Its color correction, on the other hand, is a little more complete than the conventional editor. It comes with a few color grading presets and a few sliders that you may tweak to acquire the appearance you want.
When you want to get in-depth with changing areas of your edit, the big distinctions become apparent. Premiere Pro provides a lot more options than Rush. All clips and effects in Premiere Pro can be keyframed, allowing you to fine-tune the opacity or placement of a clip over time, something that is not available with Premiere Rush.
Take, for example, color grading features. Lumetri Color, which incorporates RGB curves and distinct wheels for shadows, mid-tones, and highlights, is one of the strongest color effects in Pro. In Rush, you're restricted to a few sliders for exposure, contrast, and highlights, as well as a handful of preset color filters. However, for the majority of brief social media films, they will make your video seem excellent.
Trimming clips to distribute on social media, for example, can be done in Premiere Pro, but Premiere Rush is likely to be faster. Premiere Pro, on the other hand, is a top-tier editor that is only limited by the user's skill level and inventiveness due to the inclusion of color correction, graphics, and keyframes. What it lacks, though, is simplicity and movement. Adobe Premiere Rush can help you with this.
In short, there's nothing you can do in Rush that you can't do in Pro, and there are a lot of things you can do in Pro that you can't do in Rush. Rush has the benefit of being streamlined and straightforward to learn. Even yet, if you're not too finicky about the finer points, there are plenty of things you can do inside it to create high-quality, entertaining social media videos.
Adobe Premiere Pro vs Premiere Rush features
Premiere Pro is a video editing software program known for its powerful effects and features.
While Premiere Rush gives you some basic effects, Premiere Pro has the most effect options of any editing tool in the game.
The effects available in Premiere Rush are now only the tip of the iceberg in Premiere Pro. Each clip contains an effect panel, as seen below, where you may apply any of the preset effects available in Premiere Pro, as well as several third-party effect plugins. There's even an interface setting for the effect tab.
On top of the simple cropping capabilities provided by Premiere Rush, you get complete compositing flexibility with Premiere.
In addition, for montage editing, Premiere Pro features sophisticated effects such as a warp stabilizer and distortion tools. Premiere may also be integrated dynamically with Adobe's After Effects compositing program for total animation and compositing control. To cut a long tale short, when it comes to effects, Premiere Pro outperforms any other editing software.
Premiere Pro vs Premiere Rush Pricing
Premiere Pro and Premiere Rush are both part of the Adobe Creative Suite and are available for $599.88 per year or $52.99 per month as a subscription. The Creative Cloud gives you access to both Premiere Rush and Premiere Pro, as well as a slew of other tools including Photoshop, Lightroom, After Effects, and a slew of others.
Premiere Rush CC costs $9.99 per month when purchased separately, whereas Premiere Pro CC is $20.99 per month.
As you can guess, Premiere Rush is way cheaper and can do any basic video editing, so if you have a tight budget and don't want to spend extra money on a software that you will barely use, or only use to make quick videos to post on the internet, then Rush is the perfect deal.
Both Adobe Premiere Pro and Adobe Premiere Rush are useful editing programs. They're just useful in different circumstances. Premiere Pro is Adobe's best video editing product, with practically everything a professional video editor will ever need — which is great for more sophisticated edits but may be overkill for simple ones. When it comes to video editing, not everyone needs to bring out the heavy guns every time. And at a lower price, Rush might just do well on its own.
Conclusion
Rush offers all of the essential features you'd expect from a video editing software. You may load material into the project's timeline, cut video clips, perform basic color correction, add preset graphics, and include audio tracks. Rush is a great tool for folks who want to do a rapid edit on their video or for content providers who want to post their film on social media. Rush also has a mobile app to go along with it. You may begin editing on your phone, and finish it on your computer afterwards (since Premiere Rush saves to the Cloud.) Whereas Premiere Pro's strength is its large toolbox, Rush succeeds because of its simplicity. It won't take long to figure out how to use the program and do a nice edit.
So to conclude this once and for all, what's the difference between Premiere Pro and Premiere Rush?
When it comes down to it, Premiere Pro and Premiere Rush are each excellent in their own right. The one you use will be determined by your workflow and the project you're working on. Premiere Pro is the way to go if you require a more lengthy, difficult edit. Premiere Rush is the preferable choice if you want to create a short edit or prepare your material for a more extensive edit later. Regardless of which application you use, both may assist you in creating professional-level video cuts.