Photoshop, the industry's standard and beloved sweetheart, has been in the digital creative scene for decades now. For a long time the software had a monopoly over the digital art world, however that monopoly soon dissolved with the arrival of other software that were not only as good as Photoshop, but also cheaper, or even free and open source. One of these software is CorelDraw.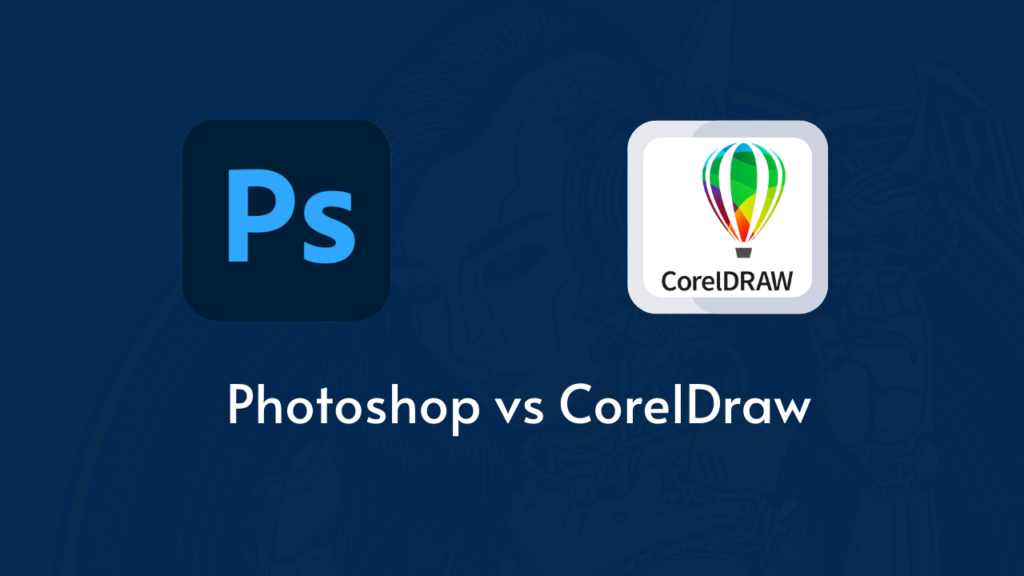 In today's comparison of Photoshop vs CorelDraw, we will get to know both software and figure out which one is best suited for you.
What is Photoshop?
The raster graphics editor, Photoshop, was originally developed by the Knoll brothers and then sold to Adobe Inc. who further developed and popularized the software. Its history goes way back to 32 years ago, with the company updating and polishing it on a regular basis.
As a digital artist if you are not familiar with Photoshop you must have been living under a rock all these years, as this software is easily the standard of the digital art industry. The software works on the following operating systems: Windows, MacOS and IpadOS.
It was originally made to edit images, however artists used it for hand drawing, painting and even graphic design for many years. Some still do, but new software has been created for these specific needs.
The software purchased stand alone and outside any Adobe Creative Cloud subscription plan would cost 20.99$ a month.
We have previously compared Photoshop to other free and paid software, in case you want to take a look at affordable alternatives or simply see how it stacks up against its competitors:
What is CorelDraw?
CorelDraw, as opposed to Photoshop, is a vector graphics editor. The developer behind this software is Corel Corporation. As surprising as it is, CorelDraw is actually as old as Photoshop, as it was initially released 33 years ago, more precisely on January 16th, 1989.
The software works on Windows and MacOS and comes in multiple languages. The software's main use is for vector graphics based purposes, such as graphic design for instance.
The software has different versions to suit your need, from CorelDraw Essentials, to CorelDraw Graphic suite. These versions have different prices and different plans, you can either purchase a license or get a monthly subscription. Whichever you like. And the price of the software will depend on those factors.
Photoshop and CorelDraw difference in Interface
Photoshop
Photoshop's interface has gone through so many changes over the years, I mean… how can it not change when it's been here for so long? Nowadays we see Photoshop's interface in all sleek black with white icons, which you will find across all Adobe's products. The interface gives a very professional and focused look and feel to the software.
Colors aside, the software's interface is organized in a way that is similar across the majority of 2D software these days, which begs the question: Could Photoshop have introduced this style of interface? That aside, let's explore this interface.
On top you have the action menu bar with the usual, File Edit, Image… and so on and so forth. Beneath that is another bar but with tools instead of an action menu. The side bars are a different story, the left sidebar has all the drawing, shape, selection tools and such. The sidebar on the right has the color wheel at the top, a properties docker and a layers docker. The canvas is in the middle, and lastly a tiny status bar is at the bottom with info such as zoom percentage and canvas size and DPI.
CorelDraw
CorelDraw is quite the opposite of Photoshop in terms of interface colors, the software is in all white with black icons. This, however, can be changed as there is a dark theme similar to Photoshop's default look.
The presentation of the software does not stray away from the usual 2D software formula. Action menu bar at the top with a couple of other tools underneath it in a separate bar. A left sidebar with the most commonly used tools of the software.
In CorelDraw the right side has a color palette with a plethora of colors. Small horizontal buttons are next to these palettes that pop 3 types of panels up; Hint, Properties and Object. The edges of these bars are ruler-like making for a rudimentary guide.
Among other options, the bar on the bottom has buttons to help navigate the different pages of your project, for example if you're working on the design of a booklet or brochure.
Tools
Photoshop
Where do we even begin with Photoshop's tools? They're too many! For that reason we will only graze the most commonly used and prominent tools.
One of Photoshop's most important tools is the brush tool, the software gives you a variety of brush tools, whether for digital painting and drawing or for photo retouching. Brushes are customizable and downloadable. See a brush used by your favorite artist available for download? You can get it and have it in your very own Photoshop brush list.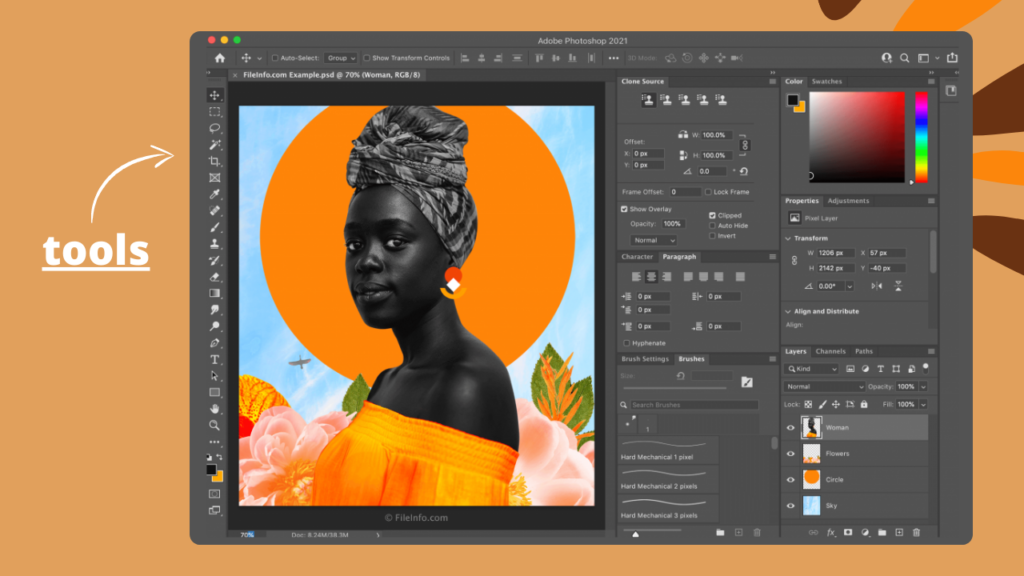 Another great tool for portrait photographers is Spot Healing Brush Tool, which basically evens the skin out making for a spotless glowing skin. The selection tool is also a very important addition to the software, it comes with a variety of selection modes to make your work easier. The Clone Stamp Tool is another great tool within the software, it helps you make copies of the object you want to clone, effectively making it into a stamp! Other great tools include the dodge and burn tool, pen tool, the gradient tool and the blur and sharpen tool.
As it is obvious from the great variety of its tools, Photoshop can be used by both photographers and digital artists who do hand drawn work such as digital painting and drawing. 
Although not a tool, it is noteworthy that Photoshop has 'plugins' which are basically options, features and tools that aren't in Photoshop, but people develop to be integrated and used in Photoshop. They can help tremendously in bringing new features and tools to the app that aren't inherently in it.
We actually have videos and posts that introduce you to the best Photoshop plugins for painting and for graphic design, feel free to check these out! 
CorelDraw
Photoshop is not the only software with great tools, CorelDraw has some great tools in it as well! Let's go over some of the most commonly used tools in the software.
First and foremost, navigating the shapes and drawings you make in Corel is very important, that's why the Pick tool is there, it helps you select the shape, move it around and transform it. Adjusting the shape of the object however, would require you to use a different tool, the Shape tool. Cropping your canvas will have you use the Crop tool.
One thing about CorelDraw is that it will embed multiple variations of a tool in one, for instance the Curve Tool has multiple varieties for different purposes; Freehand tool should be your go to for sketching your designs, the pen tool is for drawing curves with nodes and the Three-Point Curve tool is for when you want to draw a curve by marking the beginning, the end and the center. These are only a handful, there are many tools within the curve tool. There are also shape tools, basically allowing you to draw circles, squares and polygons. There is, of course, a tool for inserting text and even tables.
These are only some of the tools in the software. As the software is a vector graphics editor with these kinds of tools it shows that it is mainly for graphic designers and not illustrators. 
Photoshop vs CorelDraw in learning curve
As Photoshop seems to be for both photographers and illustrators, it is the software with the most tools and features, as such you might find it a little harder to grasp and get used to than Corel, as Corel's main target audience is graphic designers and by extension has tools that are tailor made for that line of work.
It is worth noting that if you have some kind of background in 2D, both software will be a little easier to learn and get used to.
At any rate, these software are so popular that you will find plenty of videos on YouTube to accommodate all your needs and answer all of your questions. You can also find a great deal of Photoshop and CorelDraw courses alike, paid and free, and for all skill levels.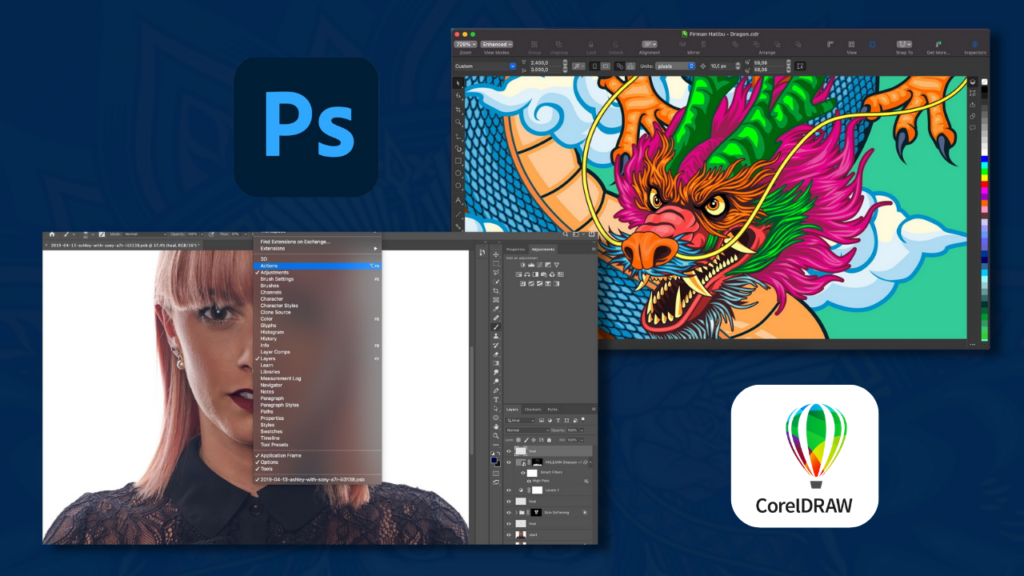 Conclusion
Now that we have presented you with these two software, it is time to choose which is best of the two. But before we do that, if you have been paying attention so far, you'll notice that these two software are made for different purposes and for different types of art and artists.
CorelDraw is made for vector based work, graphic design. Photoshop however doesn't process vectors and it is raster based, so it only knows good ol' pixels. With its set of tools this software is best suited for image retouching and illustration.
Trying to use these software for something that isn't part of their purpose and design will have you wallowing in agony, it just isn't worth it. So, as usual these software don't win over each other, on the contrary they can be quite complementary. Photoshop can help you retouch the photos you use in the design of the brochure you are designing on Coreldraw!