As an animator, you can be overwhelmed by the endless options of animation software we have available today. You will most certainly find a sea of videos nudging you towards one software or the other. That can be very daunting, especially if these software are behind a paywall, and even more daunting if you are a beginner and want to start as soon as possible.
Today, we aim to make the choice less daunting by comparing two 2D animation software and giving you a general overview of them and their tools. With that said, let's dive into the comparison of Krita vs TVPaint.
What is TVPaint?
TV paint is a 2D painting, drawing and digital animation software created by a French company of the same name, or more precisely TVPaint Développement SARL. Due to the variety of tools, and precisely brushes and pens, provided by TVPAINT, we find that this software is used in animations that are of a "Ghibli" style, meaning they have more of a hand animated aesthetic to them, which is logical as that seems to be the goal of the software.
While TVPAINT certainly offers painting and drawing functionalities, it is mostly geared towards animation, the interface can tell you as much. TV paint is a paid software, with the prices ranging from 250€ to 1250€, depending on which version of the software you are purchasing. And to make it fair, we even compared it with Toon Boom Harmony, which is a paid software. TV paint is available on Linux, Mac OS and Windows.
What is Krita?
Krita is also a 2D painting/drawing and digital animation software. It was developed by the Krita Foundation. Krita was originally a 2D painting and drawing software, with a variety of tools to help you create illustrations in various styles.
That was until its 3.0 release, where animation tools were added. While TVPAINT presents itself with the animation and drawing/painting tools merged all in one main workspace, Krita divides its workspaces. One strictly for painting and drawing and the other for animation. That doesn't mean your work in one cannot be inserted in the other.
If you have a drawing in the painting/drawing workspace and select the animation one, it automatically transfers the drawing to the animation workspace. Krita is open source, which means that it is completely free of any charge, safe for if you felt like donating to the development team. Krita is available on Linux, Mac OS and Windows.
We compared it to a plethora of other software:
With that out of the way, let's explore the drawing and painting tools & workflow
Drawing Tools & Workflow
TVPaint
When it comes to painting and drawing, TV paint offers you the standard experience of any other 2D software, it has a variety of brushes, shape tools, color selector in many shapes and formats, fill buckets, magic wands and so on and so forth.
For most of these tools, TV paint provides a Tool Window that helps you customize these tools to your liking. The most used tool out of the bunch is the brush tool. The tool window offers you customization to this tool, it can be an eraser, a pen tool, or have different shapes and textures just like a traditional brush and even a text tool.
In addition, you can import custom brushes to the software to use. The other customization option for the brush tool are the usual ones you would find in any other 2D painting or drawing software.
Krita
Since Krita has two separate workspaces one for digital painting and drawing and the other for animation we are focusing on the latter.
Krita is just like TV paint in this department, it has its brushes, its color selectors, shape tools, line tools, selection tools and so on and so forth, they are just presented differently in the interface.
Perhaps the only real and big difference is the type of brushes you would find: Krita might have brushes that look different than what you can find in TVPAINT. But since brushes usually behave and look similar, we doubt you'd find that big of a difference between the two, or at least in this section anyway.

Animation tools & workflow
TVPAINT
As previously mentioned, TVPAINT is geared towards animation so the first thing you notice is your brush and other various drawing tools on the left, your canvas and of course your timeline at the bottom.
In TV paint, your frames appear as small thumbnails at the bottom, and they're called instances. For these instances, you are offered a variety of options for your layers, visibility, locking, transparency and stencils. You can stretch your instances in the timeline to make them last, you can add backgrounds for your animation, the software has onion skinning options and so on and so forth.
It goes without saying that the software allows you to import music and sound effects to your animation.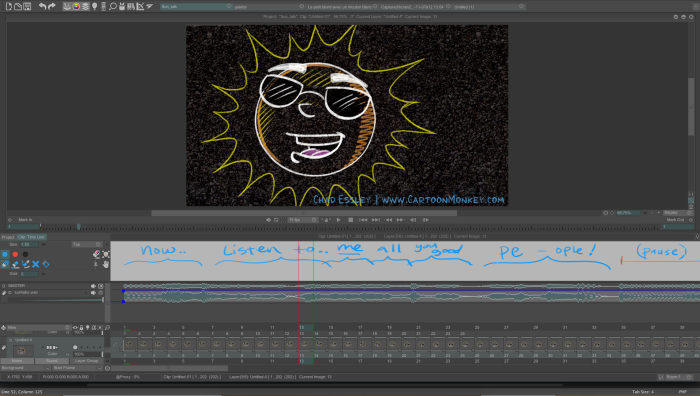 Krita
Krita is different in its animation workflow in the way that it is customizable. You can either switch to a complete animation workspace with all the dockers presented for you, or if you're more comfortable with the software, you can easily grab the dockers you want and have them implemented in the default workspace.
The software has many options, onion skinning, auto frame mode, which creates frames as soon as you start drawing in the timeline where there isn't a frame. You can also toggle the option to see a specific number of previous and upcoming frames, Krita also allows you to color code them to avoid confusion between the two.
The layer options in Krita are similar to the ones in TVPAINT. One other similar thing is that Krita also allows you to import music and sound effects to your creation. Not to mention that the timeline docker allows for a great deal of control, and even the use of curves for interpolation purposes.
Krita vs TVPaint in Learning Curve
For both software, there is definitely a learning curve. For both of them, if you come from a 2D digital background you might find it a lot easier to catch up to the software, however, if you are a beginner, things can be daunting and seem complicated, naturally.
TVPAINT is rumored among its users to have a big learning curve to it, because it is a lot different than the usual animation software. However, it is also incredibly simple and straightforward as its aim is to mimic traditional animation, so once you get the hang of it, you're good to go.
Krita is the same as well, complicated at first glance, but all you would need is some help from tutorials that explain the basic interface and tools and you're ready.
Pros and Cons
TVPAINT is known to be intuitive and user friendly and probably the closest thing you'll get to traditional animation with an extremely aesthetically pleasing style, however the software is hardly accessible with its price tag ranging from 250€ to 1250€.
While the software can be intuitive and easy to use, you would need tutorials for that and unfortunately there aren't many tutorials in English for this software as it is not the industry's standard in the United States, as it was made by a French company.
The software is a single purchase and not subscription based, however you would need to have it in a USB Flash Drive, if you install it in your PC, you would only be able to use it in that single PC. And if you lose your flash drive, you have to purchase the software again.
Krita can be just as user friendly and allows you to produce animation that looks traditional, however it doesn't have the traditional animation workflow that TVPaint has.
Also, Krita is open source and so completely free to use. And not only does it have animation tools, it also comes fully equipped to deal with illustration as well, you can create posters, backgrounds and the animation itself all in one software, that is free.
With people loving free stuff, looking at TVPAINT's price tag, can you really blame them?
Conclusion: Krita vs TVPaint verdict
If you're a beginner who is interested in 2D painting and animation, the logical option here is to choose Krita. Not only is Krita versatile it gives you the option to explore your interest without breaking the bank and waking up without your arm and leg.
We can only recommend choosing TVPAINT over Krita if you are really looking for a traditional animation workflow and have disposable income for it, a lot of disposable income.
What's good about Krita is that you can get it, experiment, if you like it then great, if not well no harm done. But for TVPAINT if you spend so much money on it and then end up not liking it at all that can be a big problem for you.
While we can say that TVPAINT might have more of a traditional animation interface, the process of making animation that is traditional looking can be done on both software with the variety of brush types they offer.
At the end of the day, this remains our opinion, and you can find that the position that you are in, favors one program more than the other, which can be TVPAINT.
Now that we have given you an overview of both software and even our opinion on which wins this battle, it's time for you to dive into this world on your own and explore it. We hope you found it useful and informative. Comment below if you think that we've missed something or if you have any other suggestions.