Rendering isn't the "funnest" thing to do, even if you render in Blender. This is something everyone can agree with. Nevertheless, it's still an essential part of computer graphics, and until we get to that point where everything is rendered in real-time, offline rendering is the only solution we have!
If you render in of Blender, there is the built-in Cycles for you. You also have a wide variety of Blender rendering plugins and even a multitude of render engines. However, while Cycles made a huge leap since its introduction to Blender in 2011, sometimes you want something faster and more powerful. Plugins may have a fair number of cons as well.
That's where render farms come into play.
What is a Render Farm?
I know everyone knows what a render farm is at this point. But, for those of you who have been living under a rock, a render farm is a farm where (instead of cows) you have GPUs, and while cows produce milk, GPUs produce something far better: Pixels.
Now, whether Pixels are more impressive than Milk is debatable, but what's not debatable is how fast those Pixels can be "milked," and if I hear you asking how fast. Well, depending on the render farm it could reach up to 100x times faster.
So, if you ever saw those big, sprawling server rooms or data centers, then you should be familiar with how render farms look like. Instead of storage, those cabinets will house rows of GPUs that are called Nodes. These nodes are connected, and can communicate with each other to share the work and make things happen faster. People in the fields of animation, filmmaking, entertainment, architecture, and any type of professional design use render farms because they make a lot of sense.
How to Render in Blender faster using a Render Farm?
There are a lot of ways to speed up your rendering in Blender—to a certain extent—, such as lowering the sample counts, decreasing geometry, limiting light bounces, doing physics calculations, or using a powerful GPU or GPUs ( Plural ). There is only so much you can optimize using one machine.
That's where online render farms shine, giving you access to hundreds, sometimes thousands of GPUs simultaneously by sharing the workload across multiple GPUs. The rendering speed is unmatchable by any one single machine.
Meet Drop and Render
Drop and Render is a cloud service that makes rendering super easy. The advantage of using Drop & Render in conjunction with Blender other than being extremely affordable is that it offers one of the best integration from Blender to a Render Farm Server I have ever seen out there. Not only does Drop and Render offer an Addon which provides a lot of features one of which is checking your projects from and inconsistencies before pushing your Scene, Project, or Animation to the render farm but also simplify the process tremendously.
It also comes with a Cloud Manager where you can install multiple plugins not just for Blender but for a plethora of software and render engines. This Manager or Hub is going to be a control panel for all your renders and will act as a bridge between your workstation and drop and render.
How to use Drop and Render farm with Blender?
1. Getting Started with Drop and Render
Once you install the cloud Manager, and created your Drop & Render account, you are going to be asked to fill your sign in credentials which are:
Studio Account Name
User Name
And Password
Once you are signed in you'll be prompted to install the latest Blender Addon, hit yest to install the addon.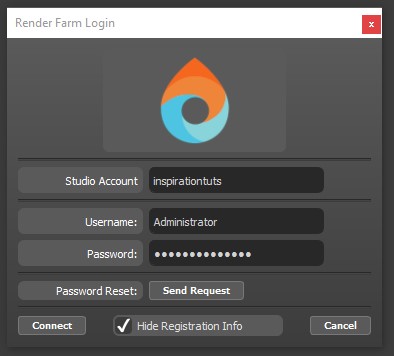 2. Preparing Your Blender Project
Before you send your project to the render farm, there are a few steps that you should keep in mind:
Make sure you install both the Cloud Manager and the latest Blender addon.
There are a few things that you need to check in your project before uploading it to the cloud and the addon makes it super easy to do so:
Whether your project is saved or not.
Whether your scene includes a Camera Object.
If your output file path is set correctly.
Frame Range.
Render Engine.
Finally you can pick the Priority
In addition to these five parameters, the Addon automatically already checks more than 200 settings in the background to make sure that. Your project comes out perfectly.
3. Uploading and Setting Up Your Blender Project
To finally submit your project for rendering, all you need to do now is click that big Submit Project button. And that's it: if you set up everything correctly you can now go work on your other amazing projects and let the Render Farm do its magic. You can keep track of the rendering progress through the Cloud Manager, the Web Interface, and even a phone application for both Android and iOS to keep track of all your tasks during your lunch break
4. Downloading and Organizing your Renders
Once the rendering is over, your rendered frames will be automatically downloaded to your local machine. The beauty of using the Cloud manager is that you can include multiple accounts. So, if you work in a team, all team members can be included and all of their work can be submitted and rendered through one place. This is not only extremely helpful but also easy to keep track of.
Cost Considerations and Billing Simplified
When you dive into the world of render farms, it's important to know about the costs.
Different render farms have different ways of charging you. Some might ask you to pay for each time you use them, while others might have plans you subscribe to.
The price you pay depends on things like how complicated your project is, how long it takes to finish, and how much computer power it needs. To make sure you spend your money wisely, think about what your project needs and pick the payment option that fits your budget.
You can also make things cheaper by setting up your project in a smart way and using settings that work well. This can make rendering in Blender a lot faster, which means you spend less money. Keep an eye on how much you're using and any changes in the prices, so you don't go over your budget while enjoying the benefit of faster rendering.
The pricing of Drop and Render depends largely on how fast you want your work to be rendered. There are three tiers:
Sapphire: when you are not in a hurry.
Emerald: when you like it balanced.
Diamond: when you want to be first in the queue
The pricing will largely depend on the complexity of the project or the scene but usually your pricing will look something like the screenshot below:
User Tips and Best Practices Made Easy
Here are some tips from experienced users that can help you have a better time with render farms:
Before you start rendering, clean up your project by removing things you don't need. This makes everything run smoother.
Try different settings for rendering to find the best balance between quality and speed for your project.
Watch how your project is doing while it's rendering. If there are problems, you can fix them early.
If you run into trouble, use the help resources from the render farm to fix unexpected issues.
Work with your friends or colleagues to share what you know and make your project look even better.
Stay curious and keep learning from other Blender artists. New ways of doing things can make your results even better.
Conclusion
In conclusion, Drop & Render is a great option if you use Blender in your Production Pipeline or Production Workflow it has a lot of advantages such as:
Ease of use ( Drop & Render very easy to use )
Affordability
Versatility ( Can be used in conjunction with any render engine not just Cycles )
Seamless integration with Blender
Accessibility ( Browser, Desktop App, Phone )
Can be setup for Multiple Users
So weather you are Professional, VFX Artist, ArchVIZ, Interior Designer Filmmaker or anything in between, you can take advantage of render farm power.