Alongside compositing and rotoscoping, 3D applications play a pivotal role in visual effects. While every single package is used to a certain extent (Modo, Lightwave, Cinema 4D), when it comes to VFX, 3 main packages dominate the industry: Maya, and 3Ds Max.
We bet that you probably didn't think that VFX could be among the many uses of 3Ds Max, and that's exactly what we'll be talking about today.
But before thinking about whether or not you should use 3Ds Max for VFX, the first thing that comes to mind when we say VFX might be big explosions and spectacular destruction effects. However, VFX is actually something that is not shot during production. Which means that it is any footage or assets that have been created using CGI and enhanced or manipulated in post production. So the first goal would be to define VFX a bit better.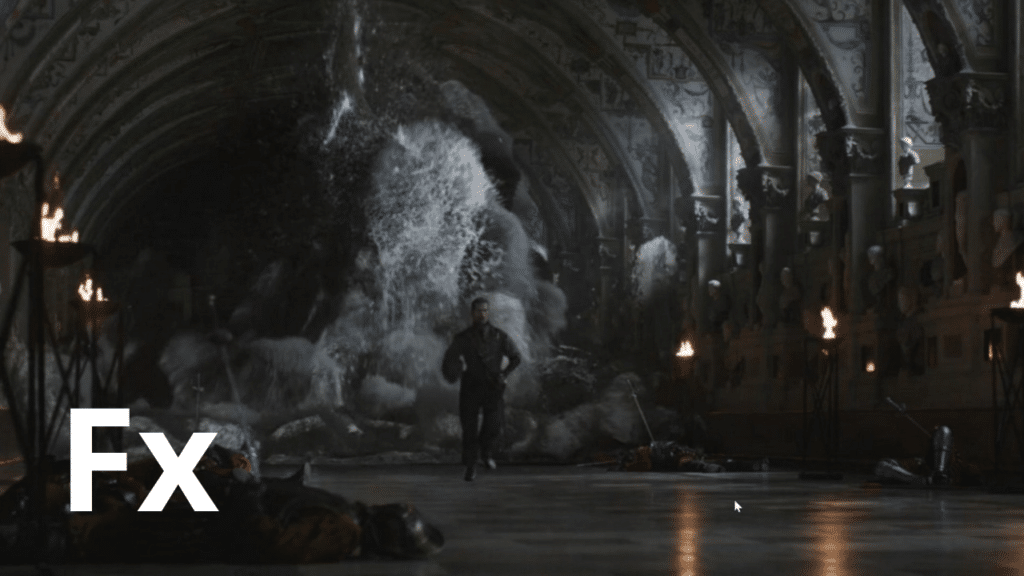 What is VFX?
VFX often involves the integration of CGI elements, greenscreens, live-action footage that was shot in different times or places and so on. Today, every production relies on VFX, whether it be explosions and destruction in an action movie or crowd simulations in a comedy tv show, and most importantly invisible effects that you can't even tell they exist.
Various techniques are used in VFX:
greenscreen.
motion capture (or MoCap).
CGI animations FX.
rotoscoping.
match moving.
…, etc.
Each technique has its own set of dedicated software. For example, rotoscoping is done with the help of BorisFX's Silhouette plugin that you can integrate with After Effects or Nuke. Meanwhile compositing is done with Nuke. For match-moving, we have 3D Equalizer, which is the industry standard.
Why use 3Ds Max for VFX?
3D applications are used in everything CGI: modeling, rigging, animation, rendering, crowds, effects and matte painting. 3D animated movies aren't the only entertainment media that involve 3D software. 3Ds Max itself was used in big blockbuster movies like: 2012, Blade Trinity, Avatar, The Day After Tomorrow, Harry Potter and Iron Man just to name a few.
Major VFX studios such as Hocus Pocus, Fusefx, LUXX Studios, Scanline, and ILM use 3Ds Max for VFX work. There are three main features that make a studio or a freelancer choose to use 3DS Max as their main package or in a pipeline alongside Maya and Houdini (because most studios are organized into departments):
3Ds Max is a plugin hub. It's the most important feature, a platform with an impressive number of excellent quality plugins and scripts that cover all aspects of production.
The Maxscript scripting language and Python support allow studios to write their own tools or pipeline integration, which is very important in big production or big teams.
You can push far more polygons in the 3Ds Max viewport than a lot of other software, which is mandatory for heavy scenes involving FX or environment work with billions of polygons.
How to use 3Ds Max for VFX?
Modeling wise 3Ds Max is one of the best polygonal modelers. It comes with a rich poly editing toolset, spline workflows and the modifier stack with dozens of modifiers. This allows you to iterate designs in a semi procedural way. The complete suite of 3d creation is also present: UV mapping, texturing and material creation with the node-based slate editor.
3Ds Max also excels at scene layout and management. The layer manager neatly organizes the scene into layers. Xref system allows you to reference external objects into a scene, a system for groups, collections and references management and the list goes on.
1. Environment, Matte Painting & Set Dressing
For environment, alongside the native modeling tools, Itoo Forest Pack is widely used for the scattering of vegetation or even building. Other tools are also used like GrowFX or PlantFactory for plant generation .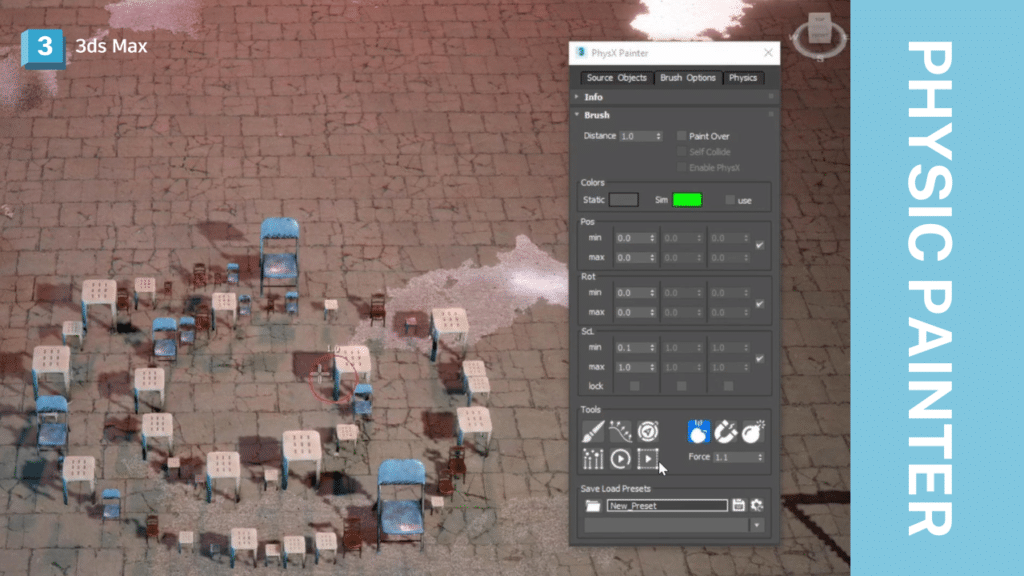 For set dressing, Debris Maker and Physx Painter are a fine example of the many scripts that simplify the task of populating scenes with 3D models.
Finally Support for camera projection and mapping is also present with the camera map modifier.
2. Animation
3Ds Max offers a robust toolset for animation: keyframing with interpolation, a curve editor, a dope sheet view, animation constraints, animation controllers, parameters wiring, object linking with hierarchy and much more.
You can animate almost any parameter, from objects position to modifiers and even colors in the material editor.
On the character animation side, 3 options are available:
Creating your own custom rig with fk, ik and parenting bones and creating helpers to control the rig. There is actually a complete suite of controllers and modifiers to help you with this task.
Character Studio is 3ds Max's tool for animating 3D characters, using biped as its base and C.A.T which is a procedural legged-creature animation system that lets you animate without using keyframes.
On the mechanical aspect, many animation plugins for 3Ds Max are here to help you animate vehicles. We also have Craft Director tools that focus on cars, planes and cameras. Other options include MadCar and DriverMaster to help you rig cars and city traffic to simulate the car flow on the road.
3. Effects
When it comes to effects, this is an area in which 3Ds Max has a lot of plugins and options for simulating fluids like water or lava. We have Realflow for example. It has a multi-physics engine which can also simulate granular, viscous and viscoelastic materials. Resident Evil Retribution, Dredd 3d, Immortals are some films that used Realflow .
4. Use 3Ds Max VFX plugins
For realistic fire, smoke, explosions and other gaseous phenomena, FumeFX is also a favorite among visual effects artists. It's well integrated into 3Ds Max and it is compatible with Vray, Redshift and Arnold render engines. It has a lot of feature films under its belt which helped it earn its reputation.
Chaos Phoenix is another powerful, artist-friendly simulation plugin for 3Ds Max with a wide range of effects including fire, smoke, liquids, flames, explosions, rigid body simulations, ocean waves, mist and splashes …
Thinking Particles is a very complex plugin, it's a node-based procedural VFX tool for Max that has an advanced Multiphysics engine with 7 different solvers, for sand, fluids, gas, more than 50 operators , seamless data exchange with other plugins, volume control, and more. It's the most advanced visual effect plugin on the market and kept max the go to software for years.
Last but not least, tyFlow is a replacement for native 3Ds Max particle flow with solvers that can handle rigid bodies, crowds, grains, cloth, ropes, and all kinds of other materials.
tyFlow can also be used directly with PhoenixFD, FumeFX and Ornatrix.
Additional modifiers, helpers, controllers, texture maps and other tools can make it an integral part of a procedural, content-creation pipeline.
There are a lot of other tools, like AWS ThinkBox' Krakatoa and Frost, for rendering points and particle meshing respectively. There's also RayFire and Pulldownit for rigid bodies and the list goes on.
5. Rendering
3Ds Max has the most renderers among many software. More than 10 render engines are available for MAX: Maxwell, Octane, Redshift, Cycles, Vray, Radeon Prorender and so on…
Production renderers need to have good volumetric and VDB support, photorealistic results, flexible shading system, a solid SDK and a render passes output among others. In general, VFX requires large amounts of RAM due to the complexity of the scenes involved, so CPU renderers which have access to system Ram are preferred. Three renderers are at the top of the list Arnold, Renderman and Vray.
Arnold is the default renderer within 3Ds Max. It was used for many films such as Pacific Rim, Guardians of the Galaxy and others. It has a subsurface scattering quality shader, very good volumetric rendering and is especially good at rendering metallic surfaces.
Vray, one of the most prolific renderers. It started as a 3Ds Max rendering plugin for architectural visualization, and with time transformed into a big generalist renderer. It has been used on VFX heavy films, such as Avengers: Endgame, San Andreas, Iron man 3. Fast with a long list of features such as volume shading, OSL support, GPU previews, Light Path Expressions and so on and so forth. It's now widely used in VFX studios on all sort of projects.
Final thoughts
3Ds Max is a powerhouse package for VFX as much as it is for 3D. With the right VFX plugins, it has everything you need to create blockbuster quality effects, from modeling environment all the way to simulating floods and explosions. You can be sure that you won't be the first one using 3Ds Max for VFX, and you definitely wouldn't be the last.