Today we are going to talk about 11 animation plugins for 3ds max that can aid you to create different animation styles for characters, animals, creatures, and vehicles, or anything else you want to animate.
---
11- Craft Director Studio
With this animation plug-in, you simply hook up to a model and start "driving" vehicles and aircraft through 3D environments. Adjust variables like suspension and add camera effects to achieve the exact look and feel you're after.
Craft Director Studio was built to solve an old problem in animation which is the long hours needed to be spent simply to make a vehicle roll forward and turn. Instead of endlessly keyframing and scripting, animation teams and professionals can spend that time fine-tuning the realism of their scenes.
In Craft Director studio Animations and keyframes are created in real-time which means you get instant results, providing better movement.
This plugin is used in VFX to create natural, compelling motion in 3D movies, and it is used by car and truck manufacturers to demonstrate new products and bring concepts to life. Craft studio director can also be part of game development to Enhance in-game animations and cinematics with dynamic and life-like animations.
---
10- Turbo Splines
TurboSplines is a 3ds Max plugin for creating multiple spline wrapping animations or what is known as path deform animations in a very short time. This tool automatically assigns Path Deform modifiers to preset or custom meshes and helps you quickly produce many spline-driven animations, which you can easily control from a friendly interface.
Make growing splines, animated cables, wires, ropes, ribbons, light trails, moving tentacles, branches, worms, and More. TurboSplines uses 3dsMax standard modifiers and geometry, so you can edit your meshes and animations without needing the script. This tool is ideal for artists and professionals working in CG Animation, Motion Graphics & VFX.
Features:
it can create, edit and animate multiple splines wrapped meshes with just a few clicks.
it can handle many meshes per path simultaneously.
you can Copy and paste parameters between meshes and Apply variation and offset to your animations to add realism.
---
9- EchOoo
This tool is inspired by tools you can find in 2D animation software, like the Onion Layers in Flash or the Echo effect in After Effects.
You can pick different sources and offset their time animation, but also divide this time offset by the number of source copies you want.
You can create nice animated duplication effects, for motion graphics or simply to check your animation without using trajectories.
Copy N times the source object with an animated time delay.
You can now offset the transforms of these time copies and rotate the copies around an animated pivot. It works by using a spline to place them, slide along that spline. And you can create automatically new material IDs.
---
8- ANIMA
Anima is the animation plugin developed specifically for architects and designers, you can also use it for game development using a game engine. it is ideal for creating 3d animated people quickly and easily! With its artificial intelligence system, it allows 3d human characters to avoid each other, to get on and off stairs, escalators, tracks, and moving sidewalks. With its simple workflow, you can create complex crowd animations very quickly.
Anima uses the same high-quality 3D people found in Their metropolis collections, so there's no need to compromise on quality. Their actors are driven by real mocap data and a sophisticated AI engine with an automatic procedural motion to achieve realistic crowd animations. You can get access to hundreds of realistic 3D Human assets and start populating your still rendering projects directly from 3ds Max with a simple and intuitive interface.
Anima enables you to create actors that walk, run, navigate slopes, ride escalators, tackle moving walkways and climb stairs realistically. Whatever your scene's topology, you can add crowd animated characters that explore every corner. crowd actors can walk, run and stand on nearly any surface. Just define an area and the actors are projected onto the background geometry. Press play and animations adapt automatically to the terrain.
You can Fill scenes with standing and seated characters using an extensive range of animations, or import more from 3rd party sources. Characters can move from walkways to fixed areas to socialize. You are not limited to the bundled content. Using anima's crowd editing tools it's easy to import and use 3rd party rigged characters and motion capture data.
---
7- MadCar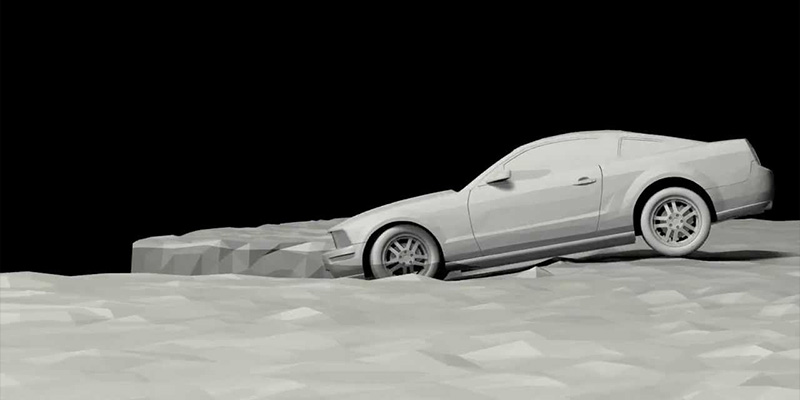 MadCar is a plug-in for 3DS Max for quick rigging of wheeled vehicles and their animations by simulating the control. This plugin allows rigging vehicles with any number of wheels, and with any of their mutual arrangements including motorcycles. Any number of trailers is also supported.
There are simplified behavior settings for each of the wheels and suspension as well as fine-tuning, this allows simulating motion with qualities of a race car as well as heavy trucks.
The animation is created during the simulation in real-time. Simulation can be controlled by the keyboard, joysticks, game controllers, or the steering wheel. "Following the object" mode is also supported. The package also includes a procedural map that generates traces of tires on the surface on which the vehicle is moving.
---
6- InstantRig
InstantRig is a modular auto rigging system for 3DS Max users. It helps riggers to create flexible, animator friendly and production quality rigs in minutes. Also, It is designed to be usable for artists with little or no rigging experience.
Instantrig allows everyone to create all kinds of creatures rigs! Its simple interface makes the rigging process easier than ever before. You can resize your character any time and it is fully flexible because it has a stretchy and curvy spine, legs, and arms.
And it has a Modular design allowing you to rig whatever you need. just Choose the number of fingers, toes, tails, hairs, ears, and more. You can also use the instant rig, save your prototypes, and don't waste time creating rigs from scratch.
---
5- DriverMaster
There are more than a few scripts and rigging tools available for rigging automobiles in 3ds Max. Some offer an easy way to get wheels rotating based on the movement of the car, others will add in steering, and even others will incorporate a suspension system.
DriverMaster is a tool that will automatically create a 4-wheeled car rig in 3ds Max. You can easily animate the motion for the vehicle manually or by using a curve in the scene. The script will also make the wheels stick to the ground, even if the ground is a terrain.
DriverMaster gives you a fast setup, dynamic suspension, automatic wheel ground contact, automatic wheel rotation, and offset attributes for adjusting/animating your car on top of the generated animation.
DriverMaster Features include automatic wheel animation, manual animation of curve following, support for uneven ground surface, body alignment to wheels, a manual suspension system, wheel spin override for burnout animations and sliding, manual body reaction to acceleration, automatic body reaction to turns, and automatic steering and more.
---
4- Animators Toolkit
John (Joker) Martini was working on a simple tool in his free time and then he was joined by his friend who is a graphic designer to add other features to it over time taking it from 100 lines of code to over 100 000.
Studios were showing interest in their tool and wanted more features so they added them over time and became used in the industry by some of the biggest companies.
Animators toolkit is a compact suite of modular tools to rig, copy and manipulate animation in a few clicks without plug-in dependency. There is no need for extra licenses because ATK uses methods native to 3DS Max, so it can easily fit into any production pipeline.
A built-in powerful macro-sequencer makes it easy to combine 27 devices. Each tool can be instanced, so you never have to remember all your settings Animators toolkit gives you per-object control with an integrated parametric system.
Use curves to set weights, timing transforms and much more. Cherry-pick the order of distribution or use several automatic sort methods including distance, volume & hierarchy.
---
3- Mixamo Auto-Rigger
Mixamo auto-rigger is not really a plugin for 3ds max but an online tool that you can use in order to automatically and quickly rig your 3d characters.
Upload your custom character to Mixamo and get an automatically rigged full human skeleton, custom fit to your model and ready to be animated. you can also use a library of animation-ready characters.
Customize your rigging options with optimizations for mobile performance.
You can also Explore a library of thousands of full-body character animations, captured from professional motion actors.
Each animation is transferred to your own character and can be previewed and edited directly with Mixamo, so you can control the look and feel of each motion.
When you are done with the automatic rigging and animation in the Mixamo website you can Download characters and animations in multiple formats, ready to use in motion graphics, video games, film, or illustration.
Also, there are some export optimizations that will keep your projects light and efficient
---
2- OverMorpher
This is a nice 3dsmax plugin that has 3 different versions:
OverMorpher Mesh Space, OverMorpher Pose Space, and OverMorpher World Space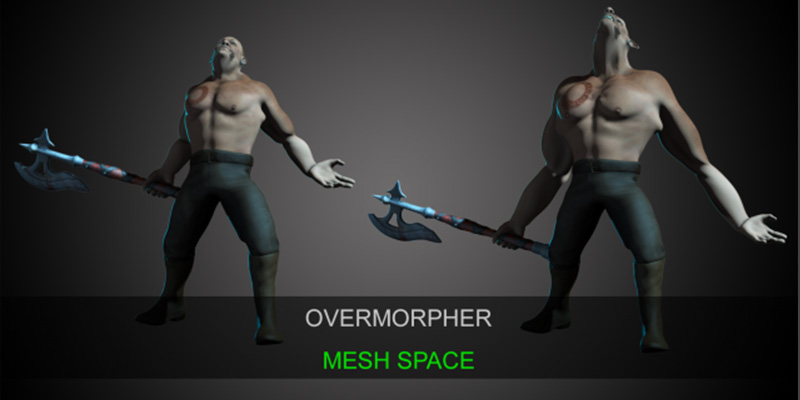 A 3ds max plugin works like a Morpher, but on top of an animated mesh. It can be placed over a skin modifier or anything like a point cache. Each morph target follows the deformation of a reference vertex, so whatever the animation does before the modifier, the morph will always follow properly. That's really handy to add and animate deformations that your rig can't do or add different morphologies to copies of the same animated mesh. this plugin can Create morph from external meshes. Update and Extract morph functions Blend multiple morphs together. And Cache baking options.
It is a 3Ds max plugin dedicated to Pose Space Deformation. It is pretty similar to the SkinMorph, except that the pose interpolation is more reliable. The SkinMorph modifier drives the poses depending on the angle between 2 bones. And because of the nature of rotations in 3d software and rotation orders, in some cases, the interpolation doesn't work as expected. This plugin is based on what is called a Radial Basis Function, and in this case, it is a bit simplified. So it doesn't use angles between poses, but the distance between two points, which solves the angle problem, and opens new possibilities.
It gives you all the freedom that even the best rig can't. You can sculpt your poses in animation at a specific time, and your corrective poses are blended on top of your mesh deformations. It can be applied on top of any mesh deformations like a skin modifier, a point cache, a cloth simulation, an alembic cache, and more.
That's a really cool tool to add cartoony deformations, like smear frames, squash & stretch, change the silhouette, correct a cloth simulation, and more. It works pretty well to attach your animated meshes together before the pose sculpts process.
Features :
You can sculpt the poses outside 3dsmax and get them back in the plugin easily.
It has Quick and easy keyframe access and it can Update and extract poses.
---
1- F.A.S.T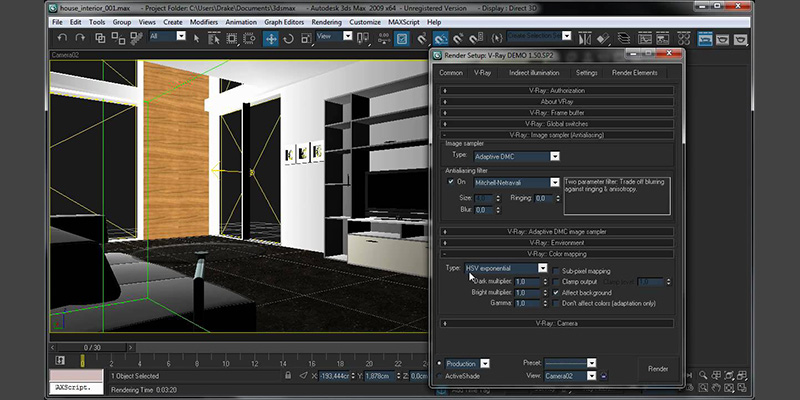 Inspired by what Pixar showed on Presto, this tool will really speed up your rigging workflow, but most of all your animation efficiency.
You don't need to create any more additional objects to control your rigs, everything is triggered by predefined mesh zones and your mouse movements. So the advantage here, is that it doesn't slow down your scene by adding more elements, and most of all, you can control your rig directly on the mesh, without any visual interference, painful Controller selection, or separate UI.
So everything becomes very obvious and intuitive. It seems very obvious that it will work well on facial rigs, but you can really control a lot of different types of rigs.
Finally, I hope that the article was informative and that it gave you a good idea about the best of Animation Plugins For 3Ds Max, which you can use in your future projects.