In today article, we are going to talk about Rhino 3D software. Also known as Rhinoceros 3D or Rhino 3D, it's computer-aided design software. This 3D modeling software is a professional program, it will allow you to develop really complex models and geometries. Some of the first questions that may come to your head is: what is Rhino 3D used for? What are the benefits of Rhino 3D software? Is Rhino 3D hard to learn? and so on.
In brief, Rhino 3D software use cases can vary and include many fields of the 3D industry. Using rhino 3D for architecture, industrial design, 3D modeling, prototyping is only a glimpse of the plethora of use cases that this software can fir into. We'll dive deeper into these use cases and answer these questions in detail.
What are the benefits of Rhino 3D?
Design realization requires high‑quality 3D models in every phase of design. From presentation to analysis, and fabrication, Rhino always offer new tools and enhancements to help ensure that the 3D models used during your process are the highest possible quality.
Rhino is well known in many different industries because of its diversity and its multiple functions. It is one of the most popular CAD software among others such as SolidWorks, Inventor, or Fusion 360. In this depth article, you will know more about Rhino software use cases.
What is Rhino 3D used for?
Rhino is one of the most known software used in the industrial and manufacturing field, and the Rhino software uses can vary. The software is based on NURBS geometry, which means it uses the non-uniform rational basis spline. Rhino is a multitasking software; it can be used in architecture, jewelry and object design, engineering, automotive design, prototyping, and even graphic design.
It was created by Robert McNeer in 1990 in Barcelona by a company of sales, marketing, and support of software in Europe and the Middle East. What made this software special is the fact that it uses NURBS mathematical model. It also has its own file format 3dm, which is a very useful point in case you want to exchange NURBS geometry.
You can also have the openNURBS 3dm file so you can share this type of file and geometry. Every new version of the software presents new features to make the workflow with the software smoother and to offer better results to users. It also has been developed by Autodesk Company among their rich list of software that we explained before to complete AutoCAD.
The software is very powerful, and it can manage modeling very complex and big projects so that you can create any shape you want with high precision and details. Additionally, the software is compatible with most 3D software to help you import and export your model in multiple formats.
Where can you use Rhino?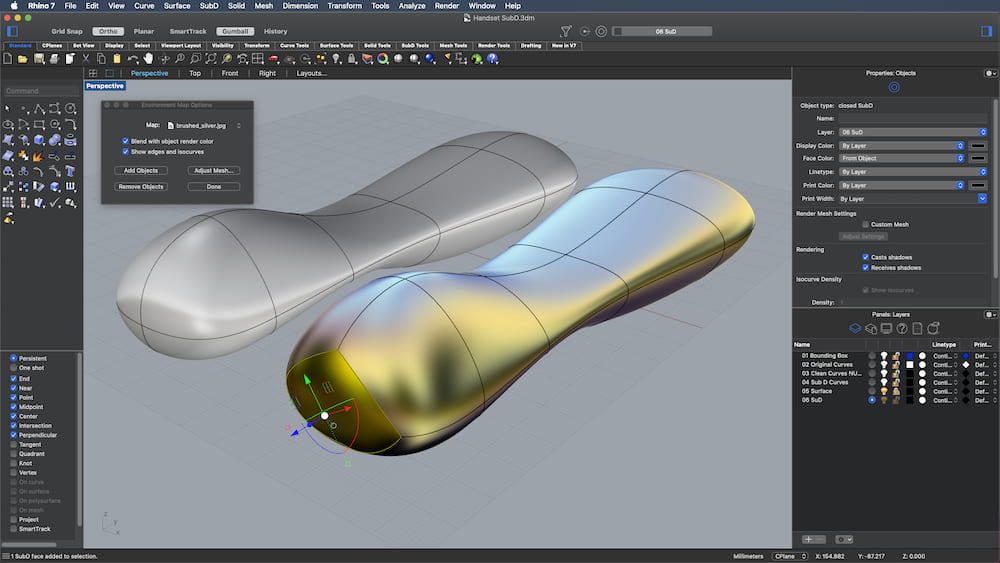 In Rhino, you can use curves or mathematical formulas in a module. Starting from simple lines, curves to complex shapes, organic and solid surfaces. This NURBS option is very flexible, which allows you to use the software for modeling, animation, illustration, and manufacturing.
Rhino can also be used to edit and analyze documents. The software offers multiple features that we can find in other expensive software. Rhino is perfect to design objects that need high precision, prototyping, and technical studies, such as airplanes, pieces of jewelry, or mechanical accessories.
Files supported by Rhino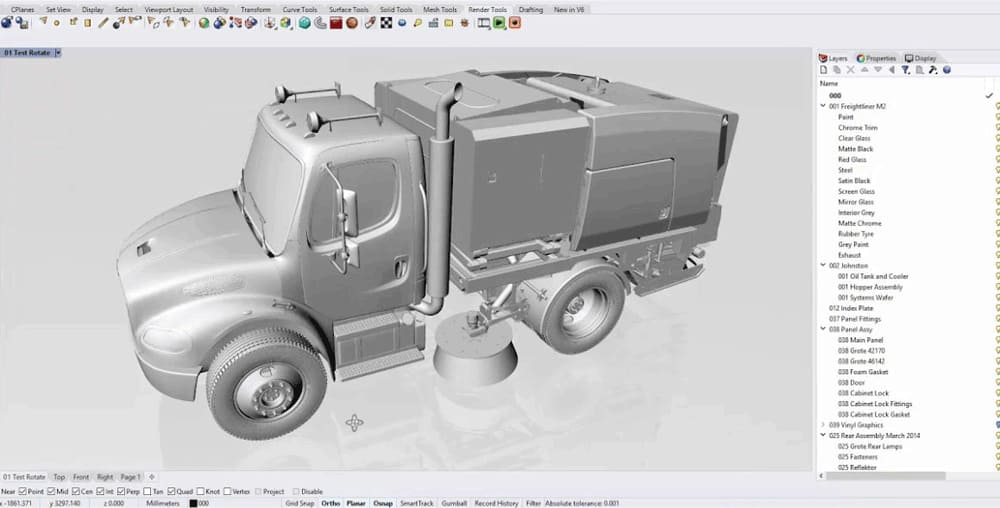 When you finish modeling your project, you can export it to STL or OBJ format for manufacturing; however, the software is not very familiar with the 3D printing part. Rhino is compatible with around 29 file formats including DXF, DWG, 3dm, 3ds, skp, dae, pdf, and step.
Availability
Rhino's license is available on the official website of the software. You can find the Rhino 7 download page (since the rhino 3D 7 is currently the latest version). You can also find the different offers that the software has. For example, the version of Rhino 3D for students and teachers, which is less expensive compared to the normal version.
The company offers multiple options, according to the type of license you want: Rhino version for Mac and Windows is $995, as for students and teachers you can get a special version for $195. You can also buy a pack of software like a penguin, flamingo, and Bango for $1695 and for students $495.
Rhino is relatively low-cost software comparing to other modeling software that offers the same features.
Interface and learning curves
The software is very easy to learn; it doesn't need a lot of time to get familiar with it, knowing that it is a complete piece of software.
Rhino's interface is very simple and clear, on top of it, you will find all the commands and tools grouped by function. You can also find a toolbar that contains graphical icons. At the bottom of the interface, you can find the coordinate system used.
The software doesn't need a special configuration in your computer to work, also, the workflow of the software is very smooth, and it is better to have a strong computer to get a faster render and animation.
Rhino 3D software best features
Although Rhino 3D modeling capabilities claim to fame, it actually has even more to offer. The latest version of Rhino presents new helpful features, such as SubB tool that enables you to create any kind of organic shape you want. Also, the software offers multiple creation tools, to create lines, points, curves, polylines, cycles, arcs, polygon, spiral, drawings with dimensions, and texts, you can also find commands like extrude, tape, adjust.
Rhino has also a series of general tools to edit your objects like duplicate, remove, join, split, merge, extend, and decompose. You can also find transformation tools like copy, paste, cut, remove, scale, align, and drag along. You can also work and edit surfaces by using control points, adapt, merge, exchange, and other commands available on the software.
As for editing solids, you can use wrap, extract a surface, fillet between edges. And finally, you can also work with meshes and you can use unify, join, weld, reduce polygons. The new version of Rhino has also other new features like named selection feature which is a very helpful tool for those who need to select objects and sub-objects repeatedly. You also have the intersection between curves and surfaces to result in limits, divisions, and Boolean operations.
Using Rhino, enables you to have unlimited undo and redo functions. You can also use multiple types of units, such as feet, inches, fractions, points filter XYZ. In addition, you can use different modes like Ortho mode, plane mode, you can work in perspectives and shades views, named views, floating views, full-screen display, 3D stereo display modes, and also you can use the actual scaling to see the model at their real size.
Rendering and animation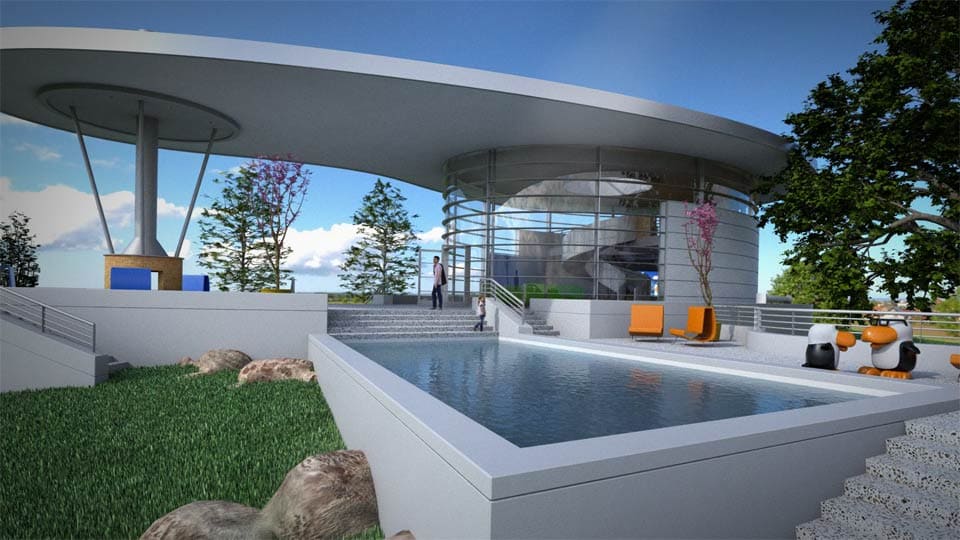 Rendering has improved a lot in Rhino, now the software uses a new modern progressive rendering technology that relates to the use of a central processor and a graphics processor. Rhino has also the option of the denoiser, where you can get fast renders without any noise in the image using artificial intelligence technique which will reduce the time to get a high-resolution image. The new version of Rhino now uses both CPU and GPU.
Rhino has a physical material BPR library, which has a rich range of materials. These options enable you to get realistic results. It became a standard in rendering materials and content creation, and it is compatible with multiple applications. You can also use dimensions in perspective views, and this option is not available in all modeling software.
Rhino had also good features to manage files, especially when the project is big and it has a lot of members in the team. You can then use notes to communicate with the other member of the group. You can also find templates, merge files, export files into a different format, and finally, you can send the file by email from Rhino directly.
Plugins for Rhino 3D Software
Using Rhino you can also add plugins to make your work much easier and to help you create the most complicated shapes. For example, you can download and add section tools plugins which are very helpful for 3D modeling especially when you need to create 2D drawings from 3D models. The following list present a few generic examples that you might find interesting:
Grasshopper in Rhino is a graphical algorithm editor, this plugin does not require any programming language, and it does not require also having knowledge in programming and scripting. This plugin allows you to build a shape generation algorithm.  
Virtual Arc is a great plugin used a lot in the architecture and building industries. It has a very rich library full of parametric architectural objects to help you in the modeling process and to gain time instead of modeling everything from scratch. You can also create 2D plans directly from the model using this plugin.
Mech paint 3D in Rhino can help you paint your object directly, using faces or vertices. It is a very useful plugin in case you want to add more details. 
Lands Design is used a lot by urban designers and landscape designers. This plugin comes along with a plant database. The vegetation can be edited easily it also offers other features to bring your design to life and to give realistic results.
Mech 2 faces is another plugin available for Rhino used a lot by engineers to enable them to convert a digitized object from non-contact 3D scanners to CAD models; the plugin has a free version that enables you to convert 25 objects for free. 
Paneling tools helps you create patterns for fabrication or for analyzing this plugin saves a lot of time and effort for those who used patterns often.
Evolute tools use multi-resolution Mech modeling and Mech optimization to help in the design parallelization process. 
You have also BullAnt that offers a lot of useful features to architects and designers, such as Mech relaxation, sketching, inflation, and structural modeling. Fluid ray is a plugin used for the rendering process; it is a real-time rendering plugin to see results directly with great rendering resolution and high quality.
And finally, you have Aux Pecker that enables you to display the model materials in real-time by using environment maps and textures; it's great and a useful plugin for creators and designers to use in the presentation to get the client's approval.
Computer requirements for Rhino 3D software
Rhino 3D architecture capabilities are awesome as they are, but you still need a good computer if you want to make the best out of them. If you need to know more about computers for architecture students, you may find this best laptop list useful for you. Pair that with some good monitors designed for this purpose and you're good to go.
Rhino does not require a high-performance computer; therefore, a mid-level computer can work perfectly with an Intel Core i7 equivalent CPU system. You also need a second graphic card Nvidia for better performance Quadro p2200 GPU, 16 GB RAM. Having a PC with such features allows you to install and start working with Rhino.