In today's video, we are going to talk about What is BlackMagic Fusion, a very important tool in the making of movies.
So, What is BlackMagic Fusion
Blackmagic Fusion is a post-production and compositing software developed by Blackmagic Design and originally authored by Eyeon Software. It is typically used to create visual effects and do compositing work for movies, TV shows, and commercials.
It has been used to create a lot of blockbuster movies, and successful TV shows over the years because it has proven to be a really good software that can handle big and small projects alike.
Blackmagic Fusion was originally developed in 1987 as in-house software developed for use by New York Production & Design, post-production, and visual effects boutique based in Sydney, Australia. The very first version of the software was written in DOS and consisted of little more than a UI framework for quickly chaining together the output of pre-existing batch files and utilities. Eyeon Software was formed specifically to commercialize Fusion, and all operations relating to the software were moved to Toronto, Canada later on.
In 2014, Blackmagic Design acquired Eyeon Software and is now developing the Fusion software. In 2018, version 15 of DaVinci Resolve, also, a software developed by Blackmagic Design, added an integrated version of Fusion within the application.
In this video, we will try to give you an overview of where it is being used and the tools that help users and studios get their job done.
---
What is BlackMagic Fusion used for?
At one point in time, Fusion was the most commonly used compositing software in the VFX industry to help create the most successful movies like Avatar, 300, 2 of the Matrix movies, Titanic, Xmen movies, Marvel movies, and much more. In addition to that, it was used in many tv series such as breaking bad and game of thrones just to name a few.
Like films and tv shows, Fusion is also good for working on commercials as well, since this type of work basically needs the same type of tools and features to get it done.
In addition to that, Motion graphics, artists, and broadcast designers use Fusion to create animated broadcast promotions and title sequences, and animations for feature films, television shows, and even commercials.
And it can even be used for Interactive VR because Fusion comes with a full 360º panoramic workspace that is completely interactive. You can use the built-in Panoramic viewer or wear popular VR headsets such as Oculus Rift and HTC Vive. And GPU acceleration makes it extremely fast so you can wear a headset and interact with elements in your VR scene in real-time!
---
What is BlackMagic Fusion Toolset?
Fusion has a Node Based Workflow that a lot of artists prefer to work with because they need precise control over every element. Each node is its own processing operation. and they are connected together to create a node tree, which is like a flow chart that is very flexible powerful, and Unlike confusing stacks of layers, nodes make it faster and easier to create and edit complex scenes!
also, Fusion features several keyers, including the all-new delta keyer, for seamless compositing, when there is a need to remove backgrounds.
It has some nice tools that let you quickly draw, track, and animate custom shapes to isolate actors or objects from other elements in a shot. Planar tracking data can be used on shapes so you don't have to manually animate motion, perspective, position, scale, or rotation as the image changes!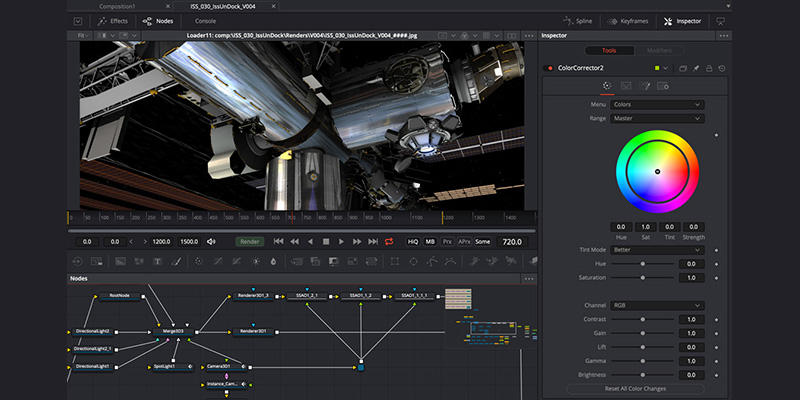 BlackMagic Fusion can automatically track, match move and stabilize objects in your shots. You can even use the new improved planar tracker to replace signs or other flat objects as they move. There's also an improved camera tracker that analyzes and matches the movement of the live-action camera that was used to shoot the scene!
BlackMagic Fusion can also do 3D visual effects compositing and animation that let you create entire scenes in an infinite 3D workspace. You can create and render complex scenes that combine 2D footage with 3D models, geometric shapes, animated cameras, lights, and more. You can even add volumetric effects like fog and mist!
When it comes to particles, you can use Fusion's 3D particle generator to simulate realistic snow or rain, complete with physics like gravity, avoidance, and bounce. Add behavioral forces to create a flock of birds or a colony of ants or anything else of that nature.
---
Using Fusion you can also Create animated titles with 2D and 3D text tools! You get traditional text formatting controls along with 3D extrusion, the ability to add reflections, bump maps, shadows, and more.
Commercials and main title sequences often need animated logos. You can import render 3D logos from 3D software such as Blender, Cinema 4D, 3ds Max, or Maya, or import 2D vector files from Illustrator and other applications.
Fusion's vector paint tool can be used to create animated flourishes, glowing streaks that fly through a scene, or entirely new images from scratch! There are thousands of combinations for color, texture, and style. Plus, strokes can be made into editable splines that can be animated over time! You can even use a pressure-sensitive tablet to control the opacity and size of a stroke as you paint!