If you're looking for the best 3D VFX software of all time, you're in luck today! From creating stunning visual effects to producing high-quality animations, there are numerous tools out there that can help you create incredible 3D visuals for your projects. Whether you're a professional VFX artist or just starting out, there is no shortage of choices when it comes to 3D VFX software that will suit any level of expertise. But while there are plenty of great options out there, there are a few that stand out above the rest and that's exactly what we will be covering today.
Table of Contents
3D VFX software Vs. regular VFX software
The difference between a 3D VFX software and a "normal" or "general" VFX software is the fact that a 3D VFX software is specifically designed for creating and editing visual effects in a 3D environment. Software like Maya or Blender have tools for 3D modeling, animation, texturing, lighting, and compositing, which allow you to create and manipulate visual elements in a 3D space.
On the other hand, a "regular" or "typical" VFX software is also used for creating and editing visual effects but not necessarily in a 3D environment. Programs like Nuke and After Effects have tools for compositing, masking, motion-tracking, rotoscoping and so much more.
3D VFX software
1. Houdini
First comes one of the most used software in VFX, which is SideFX' Houdini which is based on a procedural workflow. Artists and studios are usually tempted to choose it for making visual effects using only its powerful nodes-based tools and scripting languages which gives them a lot of creative freedom and power.
Its node-based workflow is ideal for creating sophisticated physics simulations and particle systems in a non-destructive way, this is great especially for big projects if they want to make changes or adjustments.
For example when creating Thor Rangnorok Frame store studio delved into years of experience by relying on Houdini to create effects, especially for fight sequences throughout the film. For example, the bridge being destroyed required a little bit more effort from Frame store to show different areas breaking apart throughout different shots and they used Houdini to do this progressive fracturing and simulation.
Also, Dneg was tasked to work on this particular sequence in Men in Black International, where the twins face against the film's two heroes agent H and agent M. The studio created the energy effect for the twins using Houdini which came about using via a combination of particle and fluid simulations. They started first by investigating astrophotography of galaxies and nebulas.
If you haven't thought about it the difference between cosmic dust and earthly dust is the presence of millions of stars so they tested both particle and smoke simulations and they found they can get the details needed with particle renders and the motion they needed from fluid simulations and they ended up with a sort of nebulous Volumetric thing with tiny stars scattered around the effect taking place.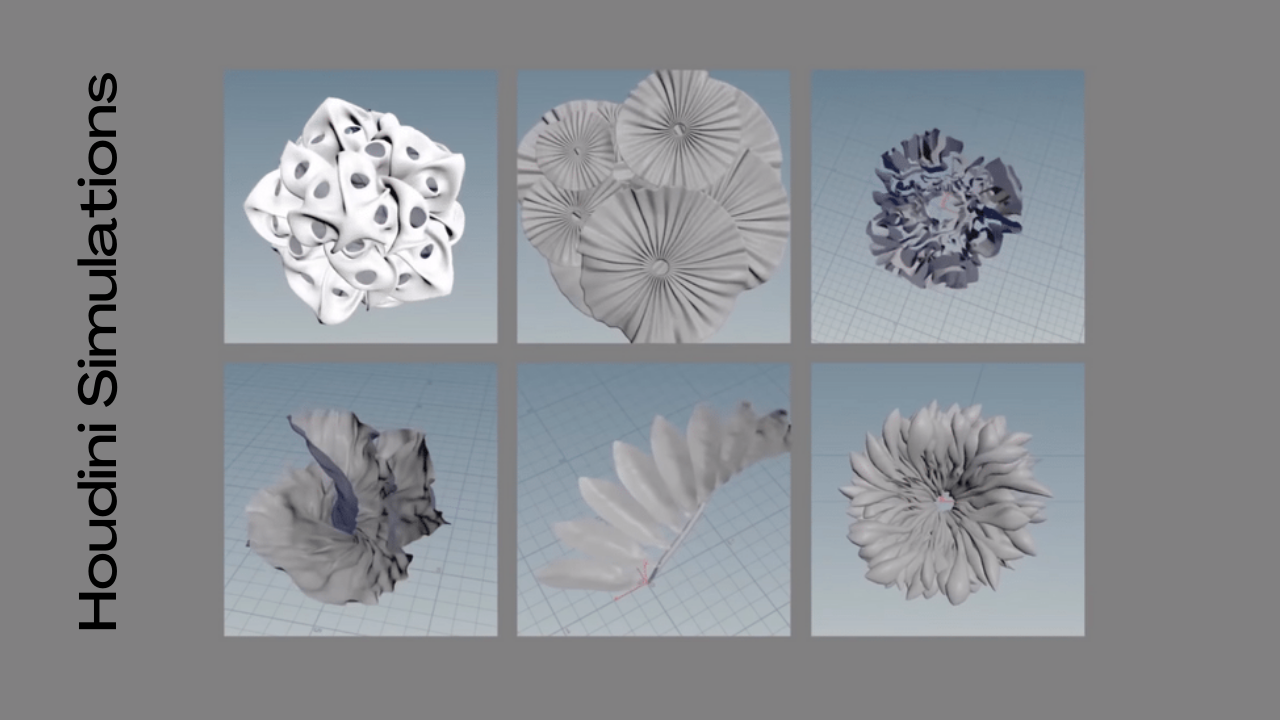 Houdini is for the most part famous for what it is capable to achieve in physics simulations. You simply create simulation objects and apply one or more "solvers" and "forces" to the objects. There are objects and solvers for all the different types of simulations, whether it is cloth, rigid bodies, or fluids…
The least I can say is that, despite its steep learning curve or the difficulty of using this software in some areas of 3D visual effects, it is the most powerful tool when it comes to creating next-level simulations which is a very crucial part of the VFX field.
2. Maya
Autodesk Maya is another professional 3D animation, modeling, simulation, and rendering toolset that is widely utilized by VFX artists for films and video games projects alike because it was designed to serve these industries' needs in the first place.
Maya became the film industry standard just after it was released in 1993 as it was already well placed in the market, VFX Studios were switching over to Maya, which was already in use at many VFX houses before the official release. Some of the companies on the list of beta testers were Cinesite, Square, Blue Sky Studios, and Rhonda Graphics.
Especially, in animation movies, Maya has been used by several major players of the industry such as Walt Disney Studios who made "Frozen" and 20Th Century Fox Entertainment who worked on the "Ice Age" Franchise using Maya alongside other software for sculpting and mesh cleaning such as Z-brush.
Maya is an excellent choice when it comes to VFX work because it features different powerful and easy-to-use simulation dynamics tools. It also features the nDynamics simulation framework to simulate everything related to cloth, particles, hair, rigid or soft bodies. But often you will need third-party addons to have more freedom and creative power when working on these simulations.
This software has been used as the main software in some of the most iconic blockbuster movie productions such as "Avatar" or Disney's "Frozen". And when it comes to VFX, Maya has everything needed to get the job done, adding to that the large number of plugins that improve on the native workflow a lot.
3. 3Ds Max
3D Studio Max has an interesting history with Maya since before Autodesk bought Maya, the two software were almost doing the same job. So, Autodesk started directing them in a bit more different directions, but, even though 3Ds Max became much more known for many use cases, like product design, game development, and architecture, it is also used for VFX by a lot of big companies in their pipelines.
Historically, simulations inside of Max have been a bit tricky to do, especially fluid simulations, and dynamics so studios were heavily relying on multiple plugins such as FumeFx, thinking particles, Krakatoa, frost, and real flow that allows artists to do amazing things, but during the past few years, Autodesk made Max much easier and the capability of achieving stunning results much faster.
3Ds Max has been used a lot over the past 3 decades on VFX projects.
For example, during the of Star Trek into Darkness, Pixomondo designed the Star fleet headquarters and sent it to ILM to be able to create the effect that you can see right now, Pixomondo also used 3ds max to create the environment around the Star fleet building.
They also worked on the shots of the Spaceship pursuit over the clouds between the skyscrapers and through the sci-fi city. As one VFX supervisor said in an interview with Area: we kept our VFX artists very busy. And they were able to achieve those effects successfully using plugins such as thinking particles and fume fx.
Also, using 3ds Max they worked on the sequence where the Startreck crew is running in the corridors of the ship inception style. Also, the sequence inside the ship's reactor that's called the warp engine.
We can also mention ScanlineVFX Studio that created visual effects mostly using Max for: "Batman vs Superman", "Captain America", "San Andreas", "Avengers"… . And ILM Studio for: "Doctor Strange", "Ready Player One", "Transformers"…and much more.
4. Cinema 4D
Cinema 4D is probably one of the easiest 3D software available out there. Mostly known for creating really cool abstract animations and motion design, you can also use it for VFX work. It's a 3D package that is somewhat used in big-budget Hollywood movies or even in short films by smaller groups of artists due to its easy-to-use interface and powerful tracking, animation, lighting, and simulation tools. 
For example, it was used for creating Detective Pikachu movie, Territory studio delivered multiple textural environmental layers using Cinema 4D, from advertising boards to neon shop lights which helped transform London streets into Pokémon-friendly landscape. For CNM Network News, they created graphics including large wall screens and various monitors.
For simulations in C4D, we covered many great plugins, but two famous plugins that are very useful, Realflow and X-Particles. Realflow is a set of tools designed to facilitate the rendering of fluids, foam, and spray. And X-Particles is a seamlessly built-in tool that enables users to render particles, splines, smoke, and fire within the software's renderer.
Another practical example would be when working on guardians of the galaxy, Territory Studio was asked by Marvel studios to create holograms, screens, and interfaces throughout many sequences, which turned out to be great when the film was released.
They were asked to create hundreds of designs and animations, with each set requiring its own look and feel to fit the vast number of sets, environments, and cultures. There were screens for spaceships, street scenes, gambling dens, communication hubs, and a prison. Each one had to reflect the specifics of a particular culture, whether it was human or alien. They also needed to reflect a sense of the wear and tear of function, history, and backstory.
Some other examples of its use in the industry can be the Territory VFX studio that worked for Blade Runner 2049, Perception studio that worked on Doctor strange…and many more.
Artists that used different 3D software including C4D, agree that Maxon's Cinema 4D has been the easiest to learn and produce results quickly.
5. Blender
Blender is a  free and open-source 3d package. Not only is it a good software but it also has a great community.
There are many reasons why you would want to use Blender for VFX. It integrates the capabilities of several programs required in the VFX production workflow such as 3d modeling, animation, effects, compositing, and video editing. Its adoption into VFX studios is slowly but surely happening because more studios are using it year after year, whether in places where it's not completely incorporated or in studios that rely completely on it for the most part of their work.
Probably most of you don't know that Blender was used in one of the most famous movies ever: SpiderMan-2, released in 2004. This movie was actually the first professional project that utilized Blender. It was mainly used to create animatic pre-visualizations for the storyboard department.
When it comes to simulation, Blender is well equipped with quick shortcuts, presets, and an easy to use interface that allows its users to create any kind of simulation. For the longest time, the software relied on its own tools, and without the need for any third-party plugins you can achieve very cool results. But still, there are great addons that are very useful in this type of work!
It proved itself several times in the creation of VFX for small and big-budget movies.
For example, In this movie called Hardcore henry, Blender was used to create visual effects, action scenes animatics in addition to making decoration sketches, and many other things as well. The VFX team on this movie used an addon called Cloud Generator to work on some scenes that included falling from the sky.
They used Blender to make a cloud and dropped 6 cameras around it representing the point of view of Henry the hero who we can see through his eyes as if it is a first-person shooter video game. To illuminate the scene, they used 2 sources of light, the first is Sunlight and the other is Hemi sky.
Blender Also became an integral part of several VFX companies' pipelines such as Barnstorm VFX studio, which uses it for modeling, animation, and rendering. The company said that blender became their favorite 3D package. It has been used as the main 3D software in projects like "The Man in the High Castle", "I lost my body", and "Next Gen".
VFX compositing software
Composition is part of the last stage of a movie's VFX production. Compositors take all the assets needed for the shot, such as live-action footage, matte paintings, and 3D renders, and combine them to produce one image as realistic as it can be.
Depending on the complexity of the shot, the process of composting is often done with rotoscoping, color correction, and color grading, also three important steps in the VFX workflow.
In order to give you an idea, we're going to take a look at 3 of the best compositing/rotoscoping software in the movie industry. If you want an extensive list, you can take a look at our VFX compositing software post.
Nuke by Foundry
Nuke is The industry standard for everything related to compositing including rotoscoping, color correction, and color grading. It is the most popular compositing software in the VFX industry no matter the size of the project, it has all the necessary tools within its node-based workflow that covers every compositing artist's needs. It's a complex software that can be a little challenging to learn but very powerful and offers a lot of customization and flexibility.
If we had to cite examples of the major players currently using Nuke, it would be Weta Digital on "Avatar" or Sony Pictures Imageworks on "Alice In Wonderland", and these are two perfect showcases of the great capabilities of the software. It also has been used in the making of the 2018 Best Visual Effects Oscar Winner "Blade Runner 2049", and nominees "Guardians of the Galaxy 2", "Star Wars: The Last Jedi", "Kong: Skull Island" and Jurassic World (17:00) to name a few.
Davinci Resolve (Fusion)
For tracking, video editing, compositing, rotoscoping or color grading, Davinci Resolve remains one of the go-to software in the movie industry. Fusion doesn't only do a great job when it comes to compositing within its node-based workflow but also rotoscoping is made easier with the auto-tracking feature that combines the tracking algorithm with the rotoscoped alpha map of the rotoscoping process.
The Fusion compositor has been used as the main compositing software on a lot of major Hollywood blockbuster feature films like "Deadpool" and "The Hunger Games" franchise but also includes Oscar-nominated films such as: "Gravity", "Skyfall" and "The Social Network".
After Effects
Adobe After Effects is also one of the well-known tools used for compositing and rotoscoping. It gives you a bunch of robust editing and compositing tools, which are also intuitive, and has hundreds of free learning resources and video tutorials that are available and accessible by anyone who is willing to put in the work.
However, the downside is that It hardly handles large-scale projects by lacking native OpenEXR support and a full 3D environment, that professional compositors need. But After Effects is still very popular in the VFX industry and widely used in the indie movie industry by small to mid-sized studios in their projects.