Photogrammetry and 3D scanning, in general, have been a hot topic in the last few years. It's sometimes even mentioned in conjunction with 3D printing. It was once a niche process only for big-budget games and movies and it is now cheaper and more accessible than ever. You can use it to scan your environment, yourself, and any object you want and turn it into a 3D model in the span of only a few minutes without relying on a 3D modeling software.
In the last few years, the technology in the 3D scanning department has come a long way since its inception. In an attempt to answer these questions, we are going to talk about 3D scanning and photogrammetry, and will try to demystify some of its concepts. In addition, we will look at some methods that you can use to capture your environment using only your smartphone and a 3D scanning app.
What is 3D Scanning
3D scanning is the process of analyzing real-world objects, people, or environments to collect the shape and sometimes the color data of those things. This data can then be used to generate a 3D model.
It's important to note that the 3D Scanning term has under it all the 3D Scanning techniques like Lazer Triangulation, Photogrammetry, Contact-Based 3D scanning, and Laser Pulse. But today we are going to focus mainly on Photogrammetry.
Photogrammetry meaning and definition
The process of photogrammetry can vary. However, the general idea revolves around generating a fully textured 3D model from hundreds sometimes thousands of high-resolution digital images, leveraging a mix of computer vision and powerful computational geometry algorithms.
The main advantage of Photogrammetry 3D scanning is the ease of use and accessibility and also the ability to pick up color and texture data.
Another advantage of photogrammetry is the ability to reconstruct subjects at large scales, such as landscapes or monuments photographed from the ground or a drone shot or what's called aerial photogrammetry.
Conversely, the quality of the result will depend heavily on the resolution of the input images and the algorithm used to reconstruct the data. Also, depending on the machine you are using, this technology can be quite slow. It completely depends on the PC setup and sometimes even the algorithm used to read the data.
Photogrammetry is unparalleled in its accuracy. If it's done right, the 3D model would be more accurate than any modeling and texturing process. This is because not only are the measurements all accurate, but the color data is also preserved down to the small scratches and bumps, especially in close-range photogrammetry.
How to do 3D scanning on your phone?
There are a lot of methods and workflow for scanning your objects and environments. But generally, you want a huge library of photos of the subject you wanted to scan from as many angles as you can, with no hard shadows and no changes in brightness so try setting your camera and brightness on Manual.
Once you pick a value for your brightness don't change it. Now the name of the game is to capture as many images as possible covering all the angles around your object, or subject.
One of our personal favorite photogrammetry apps for iPhone users is PolyCam. However, the long-awaited Android version is released so everyone can enjoy the power of photo-scanning on any Smartphone device.
Polycam is one of the leading photogrammetry and 3D scanning apps for iPhone, iPad, and Android. It allows you to create high-quality 3D models from photos with any device, and generate scans of your environment in real-time with the LiDAR sensor.
The application also allows you to edit your 3D capture directly on the device, and export them in a plethora of formats and even the option to share your export with the Polycam community.
The app allows you to capture your environment in different ways using two modes. There is "Photo Mode" which converts a series of photos to a 3D model using Photogrammetry, and LiDAR mode which uses the LiDAR Sensor Present in iPhone 12 and above, iPad 12, and 22, and also Samsung Galaxy S10 and S20+.
This mode allows you to:
rapidly generate dimensionally accurate 3D scans of your objects and environments, create floor plans, and edit your scan from your phone.
take measurements and generate blueprints and export them as PNGs.
export your 3D model to any format such as OBJ, DAE, FBX, STL, and more.
export the color point cloud data as DXF, PLY, XYZ, and more.
share your project as GLTF to iMessage for free or upload it to the web.
Some exciting features will be out alongside the release of iOS 16 polycam will introduce two new features:
Room Mode: Alongside the release of iOS 16 next week, Polycam Room Mode will be released as well. Powered by Apple's ARKit, RoomPlan will allow users to generate usable, descriptive models or interior spaces in real time. This will be extremely useful, especially for Professionals, Architecture, engineers, and interior design industries. The ease of use will open up new opportunities for businesses and clients alike. Now with the Room Mode features, you'll be able to easily share even more comprehensive full-scene information plans, leveraging the ability to overlay floor plans with a LiDAR survey. This new feature is promising to streamline the workflow and open up a lot of possibilities for professionals, businesses, and even hobbyists.
Teams: The new Teams Feature is aimed at corporations and academic institutions looking at incorporating LiDAR professionally and in their curriculums, the new license will allow for multiple accounts with easy sharing capabilities between employees or students and teachers. This is huge because schools and universities will be able to incorporate 3d scanning seamlessly into their workflow, classrooms, and curriculum.
Alternative free photogrammetry software on PC
There are a lot of paid and free photogrammetry software that you can choose from, such as: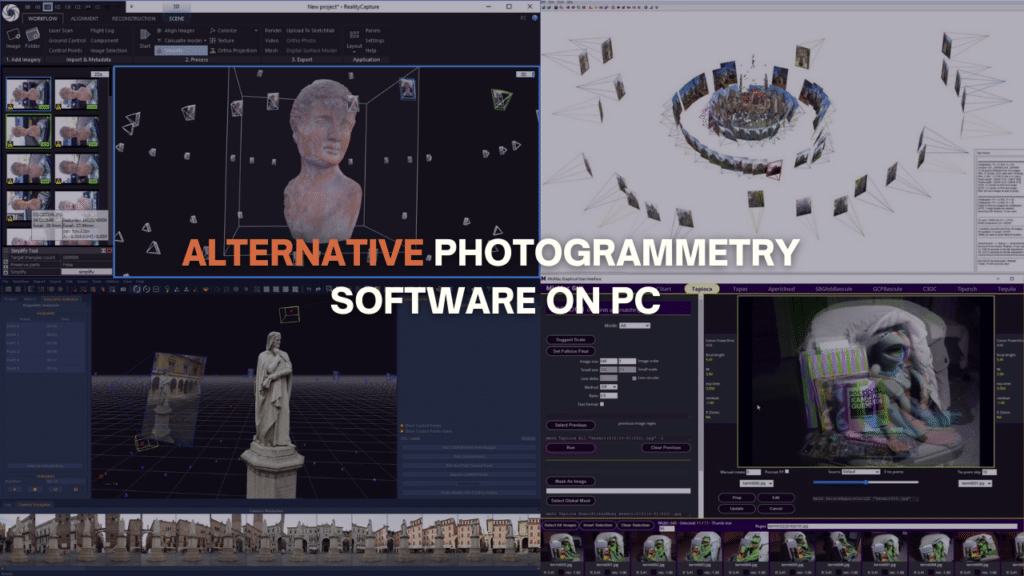 However, the one that I personally recommend is the open-source software from alicevision: Meshroom. You just drag and drop your photo and start the computing process.
One great tutorial that I would recommend for this is Gleb Alexandrove tutorial about Photoscaning using Meshroom and Blender. Check that out if you want to learn more.
What is Photogrammetry Used For
Photogrammetry is used in many fields and industries for decades now. We can mention for example engineering and architecture, the film and entertainment industry, video games, topographic mapping, police investigation and so on.
1. Movies Industry
Photogrammetry was first used all the way back in 1999 in the movie Fight Club. Knowing that it's one of the earliest implementations of this tech, the realism produced in this scene was simply way ahead of its time.
We also have The Matrix Reloaded from 2003 which is another iconic movie that used photogrammetry, making it one of the best action sequences in movies for over two decades.
Fast forward all the way to 2021, the horror movie Demonic was released, and man did it involve advanced equipment and techniques of photogrammetry! In fact, it helped take the entire CGI field to another level, especially photogrammetry. As we can see in this video, actors are surrounded by a whole lot of cameras, up to 250 cameras to be specific. As a matter of fact, the entire environment is photographed from a real place in British Columbia.
2. Video Games
In the last few years, the video game industry has been an important field for photogrammetry, as it massively pushes the boundaries of production. Making the modeling of assets and entire environments a secondary task. Photogrammetry allows for rapid mesh generation, though it is worth noting that the result generated may not meet up with your expectations because it produces rough meshes that require manual refinement and cleanup.
To create high-quality assets and realistic environments, specifically by taking overlapping photographs and deriving measurements from them to create 3D models, games like LA Noire, The Vanishing of Ethan Carter, Forza Horizon, Battlefield 1, Resident Evil 7, and the recent remake Resident Evil 2, and a lot more. The number of games using photogrammetry has grown massively because of the realism it provides and the time it saves. It is estimated that a photogrammetry approach is three to five times faster than modeling from scratch.
The developers behind The Vanishing of Ethan Carter game revealed that the staggering environment and setting was made using photogrammetry. Star Wars Battlefront is another big title that extensively used the technique not only to capture assets and costumes but also to recreate key locations beloved to Star Wars fans.
This video best represents the utilization of photogrammetry in combination with the powerful Unreal Engine, it just shows the great extent this technology can go, having the ability to photo scan an entire city from France and using the entire scanned map as a level for a playable game just blows my mind!
Quixel Megascans is another example of ultra-realistic yet game-optimized assets, a large library that hosts thousands of scanned assets and props all at the reach and disposal of a few clicks away. It's worth mentioning that having an account at Epic Games grants you free access and unlimited downloads to the entirety of the Megascans library.
3. Architecture
Architecture is quite a big field that heavily relies on vision, imagination, and a whole lot of blueprints. As time went by, architects gradually started shifting their perspective and point of view from 2D to 3D, allowing them to get familiar with 3D software and technologies, and photogrammetry is the one that provides a ton of value.
It is a very reliable technique for site planning, in order to take in measurements for accurate rendering before building. It also helps best in the design, where architects use the technique to generate quick 3D models of buildings, interiors, or any sort of structure and have absolute freedom over customization and design reshaping on the fly. Photogrammetry can be also used for multiple purposes such as tracking construction progress and many more.
4. 3D Maps
Photogrammetry essentially is used to obtain accurate and reliable data for mapping purposes, and what better services best utilize the technique other than Google and Microsoft, they are leaders when it comes to aerial scanning. Using satellites, aircraft, and drones to collect data to generate 3D maps based on height and topography information.
5. Mine Site & Waste Management Surveys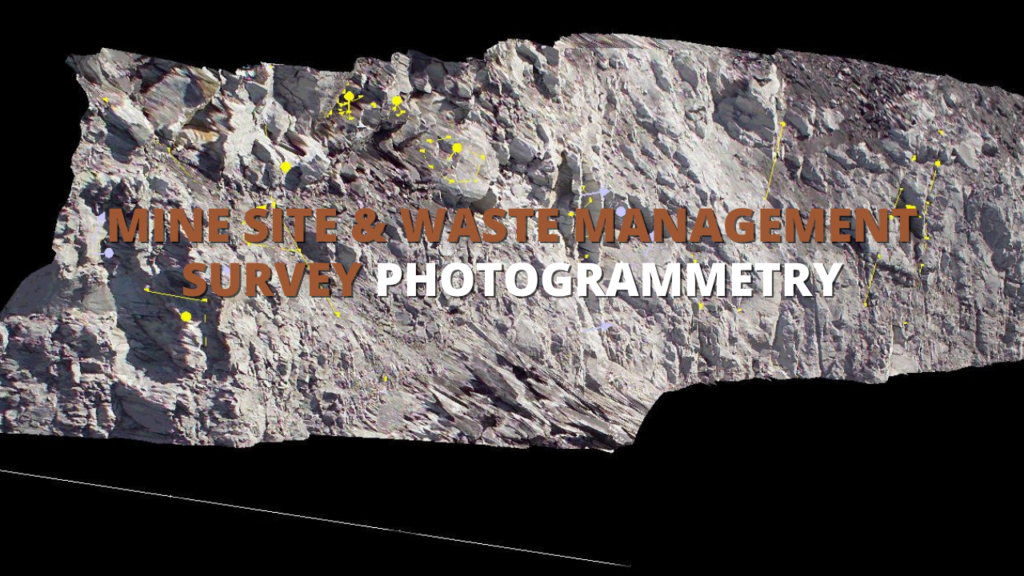 Advanced technology had finally paved the way for worksites, as contractors spent years relying on traditional methods for terrain survey studies such as aerial surveys, laser-scanning, and hand topos, but these methods have proven to be inefficient for various reasons, that is until the usage of drones for photogrammetry on-site, which allows for faster, more economical, and higher-resolution surveying, using such advanced technology can provide your business with an accurate and dynamic stream of information on the overall progress of the project.
6. Police Investigations
Forensic photogrammetry is a very powerful tool in forensic analysis, using USGS LiDar short for United States Geological Survey that provides aerial imagery and photogrammetry that is quite advanced for implementing the LiDar technology which generates higher accuracy and resolution, to later download the 3D map and re-setup the scenes and animate vehicles and characters based on victims, witnesses and complaints.
7. Topographic Mapping
Topographic mapping goes a long way, but with the availability of photogrammetry, it goes to a whole new level.
Using photogrammetry they were able to come up with amazing projects such as: the augmented reality sandbox, which is quite mind-blowing. It uses depth measurement sensors to capture the distance to the sand surface, then the received data is processed by computer, then the latter projects commends to the projectors based on the images taken to capture high and elevation data.
Conclusion
Multiple 3D technologies are being increasingly implemented into practical services, disposing of classical pipelines and methods along the way in hope of being time, budget, and quality efficient, and photogrammetry is a prime example technique.