We are at a time where everything is available all of the time, and it's not necessarily exclusive to art schools. Art and everything about it is available everywhere, this includes art tutorials and probably every art question under the sun discussed, debated and tutored.
Almost in every piece of advice given there is always, or almost always, this famous saying: "You can improve by practicing and working on your fundamentals!". Well, what are these art fundamentals everyone keeps talking about? And how can you work on them in an art context?
Art fundamentals are the essential pillars of any artwork, no matter the category or medium. Principles like anatomy, gesture, perspective, color, light and composition are a must for any professional artist. Applying them, you can achieve harmony and homogeneity with your art.
1. Anatomy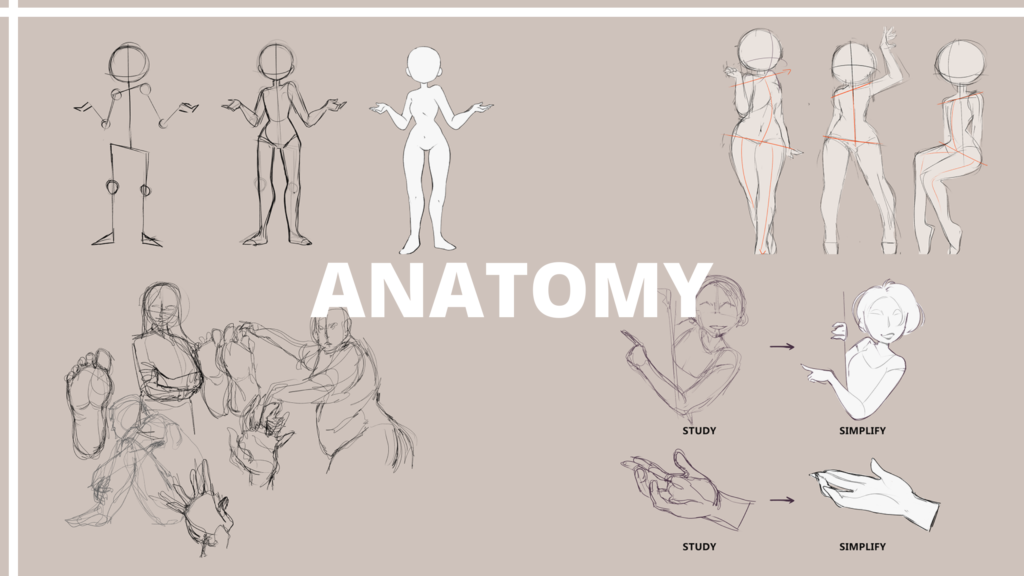 Ah, the kryptonite of every artist, ever! Anatomy is arguably the most important fundamental to get down. It is incredibly important for an artist to understand how their subject's body works in order for them to be able to either create realistic and believable looking figures, or stylize them and make them their own.
However, in a way that is aware and intentional, in order for their stylization to make sense to the human brain and be interpreted accurately. Usually anatomy can be studied by breaking down muscles and bones and how they interact. How the neck and shoulder muscles connect to the head. How the forearm connects to the elbow and hand. Or how women's bodies are morphed differently than men's.
We could go on and on about this, but we are sure you get the idea. As previously mentioned, anatomy is often learned by observing the muscle and bone structure of the human body. We suggest you grab a medical anatomy book and a 3D model of the human flesh and bone, or whatever your subject is.
This study can be focused instead of broad, let's say you have trouble painting collar bones, go ahead and study how our bones and flesh mesh to create a collarbone, you will most likely remember this breakdown every time you try to paint collarbones and it'll help you create something realistic and recognizable.
2. Gesture
You might be thinking: anatomy and gesture separated into two elements? What? that makes no sense! They're the same thing!
Well not really! While in anatomy you will be studying how things work together and connect to each other, gesture will help you understand how our body flows and will help you build confidence in your lines as you do it! It's all about essence, flow, movement and rhythm. It will make your drawings look smooth and not stiff. If you don't couple your anatomy practice with gesture, your characters will look constipated.
Think of it this way: gesture is about making what you are drawing look natural and not robotic. A great way to practice this is to go on the website https://line-of-action.com/. It has a great variety of practice material that is timed and set up for you. You won't have to manually set up things yourself or try to find pictures.
3. Color
Color theory helps you use colors cohesively and in an interesting way that can really change a piece of art. This is why it is considered an art fundamental, and an important one at that. Understanding colors and most importantly how they behave and affect each other is very important, because believe it or not colors actually 'change' and look different when they are surrounded by different colors.
Another thing is understanding what different colors convey. Reds convey warmth, and blues convey a cool atmosphere…etc. Bright colors pop best if surrounded by dark colors.
If you understand all of that, you can convey meaning and literally direct the eye of the viewer where you want them to go. It's the closest thing to magic! For instance, one of my favorite paintings of all time is Paul Delaroche's "The Execution of Lady Jane Grey" and it just happens to be the perfect example of all the above.
Jane being wrongfully executed and being only 17, naive, scared and innocent is adorned in bright white in the center piece, simultaneously conveying her innocence and forcing you to notice her first and foremost.
This genius usage can be found in a plethora of the paintings done by the old masters, John Singer Sargent , Zdzisław Beksiński, Van Gough…etc. It would be great to take their work, study it to understand their thinking process and internalize and perhaps use the same thinking process later for your project.
Studying color can seem unimportant, especially if you're, say, an anime artist. However, everything in art heavily relies on the basics.
4. Light & shadows
Following colors and also incredibly important, are lighting and shading. Understanding how light and different lighting situations interact with objects, how they wrap around them, whether they are reflected or if they bounce off of them or not, is all very important.
Of course, the natural reaction of the absence of light is shadow and that is also very important to understand. For instance how warm light produces cool shadows and how cool light produces warm shadows. This is an incredible and valuable lesson to learn in art fundamentals that can take your art from bland to interesting and give it this je ne sais quoi!
For instance, a glossy surface will for sure have light that bounces off of it and affect its surroundings. For instance, latex red pants will for sure reflect its color on the floor! And even 'mat' surfaces, say like a regular fabric shirt, will definitely reflect light on your face, albeit very minimally, but it's still there!
5. Perspective
Perspective is an art fundamental for a reason, especially if you're drawing things in a 3D space and want to do it from an interesting and eye-catching angle! Understanding how a 3D space works will help tremendously in building a believable and immersive environment and thus experience for the user.
Perspective is pretty hard to nail down, as are other fundamentals of art, and that is due to the fact that representing a 3D space in a 2D surface and using 2D means can be quite challenging. It is quite literally about creating an illusion. It is also about understanding how 3D shapes work and then translating that to a 2D shape. No wonder a lot of artists find it very hard to do it just right, and it's mostly because of the core difference between 2D and 3D!
Breaking down perspective using grids and guidelines can be a very helpful way to approach this concept in an easy and digestible way. Perhaps you can study a piece of work using these guidelines.
A master of this domain, and honestly every domain of art ever, is the one and only Kim Jung Gi. He flawlessly and effortlessly draws almost anything and everything from a perspective perfectly and with no guides needed. You can absolutely take his work and put guidelines on it and not only will it be accurate and correct but you can also learn a lot from it.
Thanks to the internet a lot of what Kim does and how he does it is heavily documented so you can watch him work in real time and we bet you can learn a lot about perspective from that if you are observant enough.
6. Composition
Composition, composition, composition… my arch nemesis! When I first learned about it, I couldn't wrap my head around it or around its importance. Fear not though, I'm here to dumb it down for you my friend! Or at least I'll try.
If we want to be very basic in defining it, let's say this: remember what we said about colors and how they can direct your eye to look at a certain thing and then other elements and establish hierarchy of importance of sorts? Well that's composition for you, but with shapes AND colors. It's all about 'composing' your piece.
Here's another example: remember when we were kids and we wanted to draw a house and all that? We always put the house in the center because it is the most important set piece in our drawing! It was big, in the center and front facing, all because we were thinking 'Hey I want to draw a house' so naturally it was the important thing, so it was drawn in a way that emphasized that.
Let's take for instance Andrew Wyeth's 'Christina's world'.
Notice how the closest thing to the 'camera' is the girl, she is in pastel pink that contrasts the field's dull beiges. The houses are so far and shrouded in darkness.
This serves several purposes:
First, it establishes a hierarchy of importance, the girl comes first which is why you notice her first, the field second and the house third.
Second, it conveys the distance and the helplessness of the girl with her size in comparison to the field as she is posed in the piece in the middle of the field and in a perspective that shows her smallness.
Finally, we can't forget to mention how she is posed and the color of her dress; a pastel pink reminiscent of innocence and pureness.
Conclusion
Now that we have listed the most important fundamentals of art, it is most important to point out that they all work in unison. You can not talk color without light and shadow, or perspective without composition or anatomy without gesture, and so on and so forth. They all contribute and are a big part of making your art work great, and even help you build income streams as an artist.
We hope this helped you at least get an idea of art fundamentals and kick start your journey into learning them and making you and your art better than you were yesterday.