Businesses recognize the power that social media have and are finding ways to be good to the algorithm just to make their content go viral. It is also incredibly noteworthy that the new social media platform that has taken the world by storm, Tiktok, is quite literally changing the game in the world of social media. Following the app's great success and popularity, we are seeing other platforms such as Facebook, Instagram and even YouTube focus on short form video content.
With the rise of video over image, we are seeing great demand for video editing, so what could the best video editing software be? and are there any options that suit various budgets and skill levels?
Top pick: Movavi Video Editor
Movavi Video Editor is a software that allows you to make eye-catching videos easily. It's designed with beginners in mind, and this translates to a user-friendly interface. It comes with many powerful tools, and we will go over the major ones in this section:
Basic video editing tools
Movavi Video Editor has a wide variety of tools that allow you to perform the basic and essential video editing work. The software lets you:
Edit in a snap using tools such as cut, trim, crop, add music, and more. These tools will help have full control over the footage you add, they are easy to use and also fast.
Organize all the content you have in the timeline (as long as you follow a disciplined process and not just throw everything in).
change the video length and cut out its parts, crop your video or change the aspect ratio or remove the black bars, rotate and reverse the video.
add media such as audio, music, videos, and photos.
AI tools
Movavi Video Editor goes beyond the basics, boasting an array of cutting-edge AI tools that elevate your editing experience to new heights. The main ones are as follows:
AI background removal feature that lets you effortlessly eliminate unwanted backgrounds from your footage, allowing you to focus on specific objects or subjects. Simply choose the AI background removal tool, and you'll have the option to prioritize either high processing speed with average accuracy or high accuracy with slower processing. If your footage contains small details, going for high accuracy will ensure a superior result for you. Though the processing time might be a tad longer, the outcome is worth it as you achieve clean and distraction-free visuals.
AI motion tracking tool helps you achieve professional-level videos easier. To use it, select the shape of your mask, place it on the object you wish to track, adjust the tracking area, and click track with the AI option. The tool automatically detects and follows the object's movement across frames, ensuring precise tracking throughout your video sequence. If you prefer faster processing, the non-AI option still provides decent results, granting you versatility in your editing workflow, but it is definitely not better than the AI option.
AI noise removal tool is your solution for clear audio. To use this tool, you need to head to the audio tools section, select noise removal, pick the audio you want to improve, and choose the AI option before clicking apply. While this tool is simple to use, some users have noted that it may take some time for processing. However, the payoff is worth it, as it significantly reduces or eliminates unwanted background noise.
With the help of these cutting-edge AI tools, Movavi Video Editor elevates video editing to a whole new level. It stands out as a game-changer in the industry as one of the few editing programs to provide such AI capabilities, despite the processing speed that could use some improvement.
Additional tools
Movavi Video Editor doesn't just stop at AI, it also offers additional features like:
over 180 filters at your disposal, allowing you to give your videos a unique visual style. These filters include eye-catching effects like Glitch, Blur, VHS, and more. Whether you're crafting a nostalgic retro vibe or a futuristic glitchy look, the diverse filter library grants you the creative freedom to evoke the perfect atmosphere for your narrative.
a video converter that allows you to convert video files from and to multiple files formats without losing quality, and the processing speed is fast. The video converter tool also lets you compress large videos, upscale low-quality films using AI, and polish your videos by trimming, cropping, adjusting colors, adding effects, and finding and adding subtitles.
a screen recorder, and this tool allows you to screen record with or without sound. You can add a webcam overlay to the recording, draw on the footage during the capture, schedule recordings to record the screen even if you're not there, display keystrokes, and emphasize the mouse cursor.
a photo editor that has many tools that enable you to edit your pictures. For example, you can smooth skin, reshape bodies, whiten teeth, change backgrounds, and remove unwanted objects. You can also use the help of AI for color correction and use over 100 filters that are included.
Various payment options are available for the Movavi Video Editor to make it suitable for different budgets and purposes. You can have it bundled with effect packs, or get the whole video suite with it.
Free and/or open-source video editing software
Navigating the video editing world as someone who finds it hard to afford video editing software can be quite challenging. A lot of the really good software will either be a very expensive one time purchase or a pricey subscription that some just can't afford to pay.
Fear not though, we are lucky to be alive today where technological advancement has allowed for the existence of not only free but sometimes even open source video editing software! We have compiled this video editing software list that showcases free and paid options that cater to beginner, intermediate and advanced users.
Let's start with the free and/or open-source options.
DaVinci Resolve
Developed by BlackMagic Design, DaVinci Resolve is the free version of a paid software. Instead of giving you a 30 days trial for their paid software, BlackMagic Design gives you a completely free version to work with and if you like it enough and can justify the purchase down the line, you can purchase the paid and higher version of the software. Talk about completely trusting your product to perform very well.
This software works on MacOS, Windows and even Linux. DaVinci Resolve is also available in 10 languages if you prefer to work with a language other than English.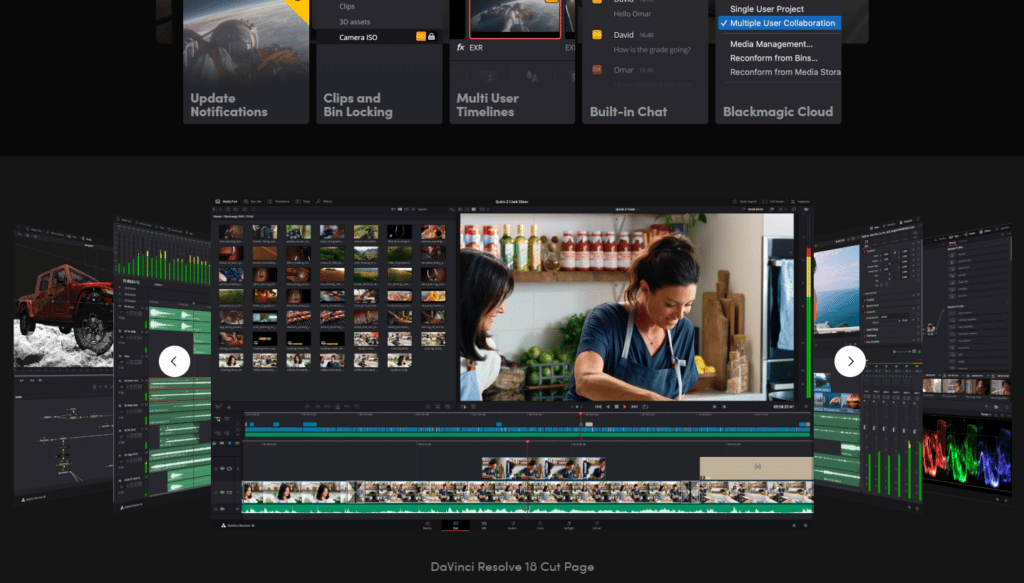 If you want more than just simply trimming your videos and making cuts and long for something advanced, DaVinci could do you good. The software's most prominent feature is that it gives you the ability to do color correction. Not only that but it has other awesome features such as stabilization, dynamic zoom, facial recognition and even smart auto editing that synchronizes your audio to your video. When you are paying nothing for this great software, we can not help but think that it is quite the deal! If you are someone who is passionate about film making or making cinematic videos DaVinci Resolve can be the right pick for you.
On top of all of this, in a world where incredibly basic free video editing software plasters their watermark all over your videos, DaVinci is more than just a steal, it's a treasure. We even made a comparison video with Premiere Pro to support this claim, do check it out if you're curious!
Blender
You might have heard about Blender being a free and open source 3D graphics software that rivals the paid stuff. Well as it turns out Blender isn't just about 3D, it comes equipped with a powerful and fantastic video editor. So if you happen to be a 3D artist who makes short movies and 3D videos and want to further edit your creation, this can be all perfect for you, no software switching headache no nothing.
The software was originally developed by Ton Roosendaal but is now being taken care of by the lovely people at Blender Foundation, which is a non profit organization that is responsible for developing Blender.
Blender works on a variety of operating systems, some I haven't even heard of before to be frank, Linux, macOS, Windows, OpenBSD, FreeBSD, NetBSD, DragonFly BSD, Android, and Haiku and on top of that the software is available in 36 languages.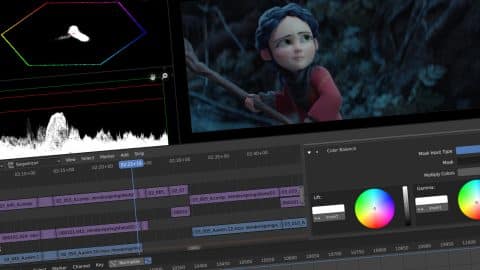 Okay, now let's talk about the good stuff, the video editor's tools. On top of giving you basic tools and features such as making jump cuts and trimming videos, the software veers into more advanced features such as adjustment layers, transitions, keyframes, filters, chroma vector scope and histogram displays, syncing, scrubbing and waveform visualization.
These are just some of the features in the video editor, we discussed Blender's full video editing potential in a previous post and we highly recommend checking it out. And of course, the software doesn't do that horrible watermark thing. I hate that. Can you tell I'm traumatized by it?
Adobe Premiere Rush
What's an Adobe software doing on this list? This is a section about FREE and OPEN SOURCE video editing software! Yeah we know, this one's free. There is a little bit of a catch though, but let's not get ahead of ourselves here, okay?
Adobe Premiere Rush is a free video editing software available on MacOs and Windows. This software is also available as a mobile app on Android and iOS. Rush is a big part of the name and the shtick for this software, as it is quite simple and fast to use. It is a lot more straightforward and basic than the previously mentioned video editors. Think of it as a simple version of Adobe Inc.'s Premiere Pro, we even made a full comparison with this latter to help you see the difference yourself.
Some of this software's tools include, transitions, text with presets for titles, preset and manual color correction, pan, autoframe, zoom, a wide range of popular aspect ratios for social media such as Tiktok, Instagram and Facebook. The software allows you to adjust the speed of your clips and add audio.
The simplicity of this software can be both its strength and Achilles heels, it all depends on you and where you come at it from. If you're a beginner or someone who does social media work and need a few tricks to give your videos a pop and don't want to deal with an overwhelming interface, Rush can be perfect for you. However if you come at it expecting high professional grade features and tools, you'll be disappointed. Go for DaVinci Resolve or Blender.
The one real catch with this software, though, is that it requires you to sign up using an Adobe account or using Google, Apple or Facebook. Before we close this one out, no watermark on it either! Yay!
HitFilm Express
Developed by FXhome, HitFilm Express is a video editing software available on Mac and Windows. Let's start with the catch though, you'll have to make an account or sign in to be sent the download email. The software is 100% free but you can pay what you want if you would like to support the developers. Not to mention that it doesn't plaster a weird watermark on your videos, am I right fellas? Anyways,
This software is more on the advanced side and is made with VFX people in mind, this shows through with the tools and features on it such as 3D video support, keying for green screen effects, advanced cutting tools, compositing tools, layers and masking and audio and video filters, motion tracking, auto-stabilizer, color pickers, and cropping tools.
When you look at these tools, making an account, a crying emoji and whatever other catch that might be in the software will appear miniscule against all this value that you
would be getting. This software is one of the greats for the greats! It is quite the learning curve, but to be frank you can not complain in that department as usually the more feature and tool rich a software is the less easy it is to learn, and vice versa; The fewer the tools and features in a software, the easier it is to learn and use. If you want something simpler, stick with Premiere Rush.
Apple iMovie
Let's get on with the catch right now, this one is for the MacOS homies and the MacOs homies only. Unfortunately Apple's iMovie is MacOS and iOS exclusive and there is no iMovie for Windows. But if you are an apple product owner, this one's for you.
iMovie comes preinstalled with your Macbook. iMovie is also available on iPad and iPhone and the software works seamlessly with the Apple cloud system. If you already have an Apple ecosystem established this can be a perfect alternative for you instead of Apple's paid video editor Final Cut Pro.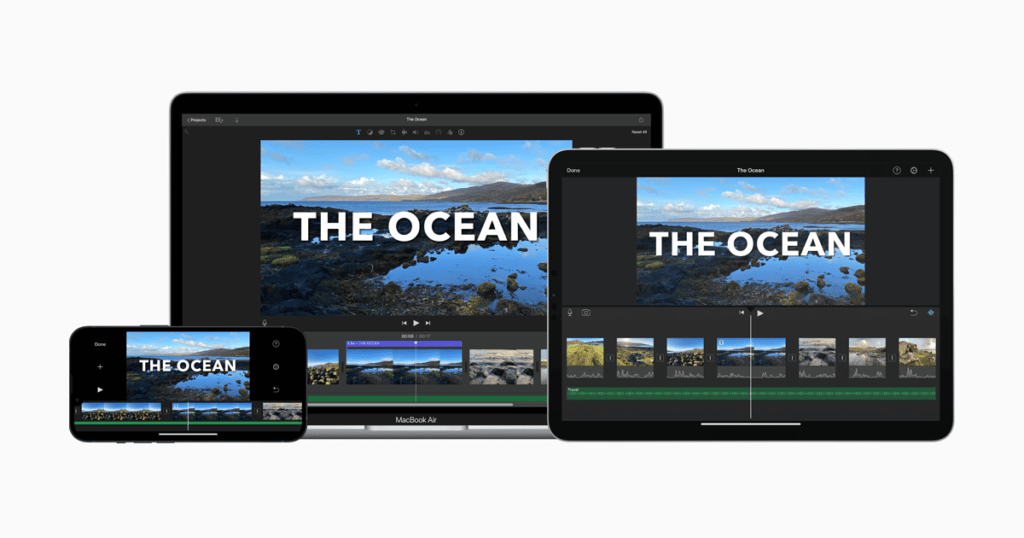 If you use your iPhone device to record your videos, using other editing software can sometimes be quite challenging as, at times, it would require you to painstakingly go through the trenches of changing the format of your video to be able to import them into the software, this is a big turn down especially if your videos are long. iMovie can solve that for you.
Some of the software's tools include, but of course are not limited to, transitions, support for 4K resolution, title animations, filters, sound effects, voiceover recording, speed controls and a music library. This software is very simple and basic, it is on Adobe's Premiere Rush level with beginners and casual hobbyists in mind.
Openshot
Openshot is a free and open source video editor first developed by Jonathan Thomas and now is under OpenShot Studios, LLC. The software is available on Windows, MacOS, ChromeOS and Linux in a grand number of languages, 172 to be exact. Being a free and open source software, you do not have to worry about watermarks on your videos.
The software has a great, simple and easy to use interface and has a host of great features and tools such as clip resizing, scaling, trimming, rotation, transitions, key-framing. A text tool that lets you add either subtitles or titles to your video with the ability to enter 3D titles as well. On top of that the software has compositing and image overlays functionalities. Other features include audio effects, motion tracking, object detection, and stabilization.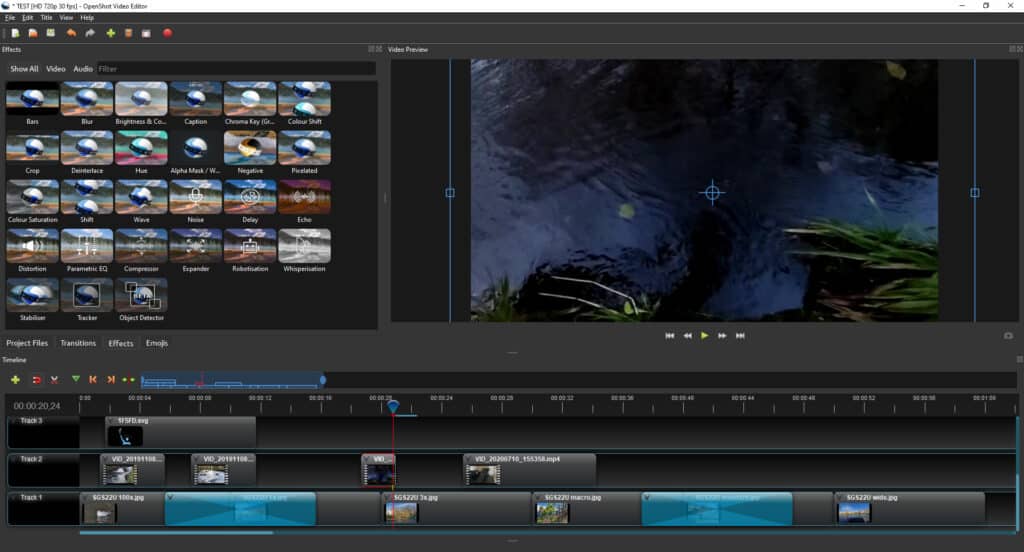 Openshot is between Rush's simplicity and HitFilm's complexity, it hits the sweet spot for those who aren't beginners or pros and sit right in the middle for what they need in a video editing software.
Premium video editing software
If the budget isn't much or a hurdle for you and your wallet, you may consider investing a paid professional video editing software. We will divide this section by skill level: beginner and professional.
Beginner-friendly options
Premiere Elements
If you are new to video editing, you probably want something relatively affordable and easy to grasp. That's what Premiere Elements offers you.
Simply put, the software is a watered down version of Adobe Premiere Pro, so that all of the tools don't overwhelm you. The software is also for a cheaper price than Premiere Pro with a price tag of $99.99 USD for a one time purchase, as opposed to being subscription based.
With many features such as effects, transitions, animations, face detection, audio effects, opacity, automatic motion tracking and chroma-keying, Elements is the perfect video editing tool for a beginner. The software is available in both Windows and Mac.
Corel VideoStudio Ultimate
A simple and intuitive interface and tools powerful enough for good video editing are what makes Corel VideoStudio Ultimate great for a beginner.
The software has your basic video editing tool and some other powerful ones such as the countless effects, motion tracking, 3D text editing, color correction, both 4K and 360-degrees support, a music library and many other features and tools.
This video editor is a one time purchase retailing for $99,99 USD and is only available on Windows.
Pinnacle Studio
Pinnacle Studio is the basic version of its sister video editors Pinnacle Studio Plus and Pinnacle Studio Ultimate.
With the great price of $59.95, you get many great features such as color controls, many effects and templates, keyframe controls and many other great features. On top of these tools, the interface is incredibly user friendly and easy to use and figure out.
If you end up liking the software, you can upgrade it to the Plus or the Ultimate version to get more features such as, smart object tracking, video masking, transitions, blend modes, motion tracking and many more. The software is unfortunately only available on Windows.
Filmora
Developed by Wondershare for Mac and Windows, Filmora is a video editing software with social media and Youtube in mind. This software might not be an Adobe Premiere competitor, however it is great for those who like video editing.
It is quite a simple software, with titles, effects and filters to help give your video a pop. It also has a royalty free music and sound effect library, which can be a God send for Youtubers who want to avoid getting mixed up in YouTube's copyrights claims. Not only that but the software has other great features such as motion tracking, AI portrait, Green screen, keyframing and many more.
When it comes to price, the software has different plans, for instance Filmora's perpetual plan is at US$79.99. We recommend checking their website for more information about the different plans and what you can out of each one.
Professional industry-standard options
Adobe Premiere Pro
If you have ever been around the video editing space, or honestly any digital creative space you must have heard of the amazing video editing behemoth of a software, Adobe Inc.'s Premiere Pro. Technically we could have just talked about this one software through the entirety of this video and that information would have sufficed you in gaining knowledge about the industry's standard.
Available on Windows and Mac, the software would cost you US$20.99 a month. There is also a 7 days trial available for you to try out and see if you like the software before commiting. Premiere Pro's tools include, but are not limited to, a pen tool that allows you to animate shapes and objects, a razor tool to make jump cuts, filters, presets, special effects and many other stellar features.
This software is the industry's standard for a reason, and we recommend it if you're after a professional tool.
Apple Final Cut Pro
If you're more of an Apple fan with an Apple ecosystem already established, but you still want something that rivals Premiere Pro in professionality, Apple's Final Cut Pro is right here for you!
Although the software is only available on Mac, it more than makes up for it by working seamlessly within the Apple ecosystem. Another great thing about the software is that it provides you a 90 days trial and costs $299 for a permanent license that is eligible for updates at no additional cost. The software has plenty of amazing tools such as object tracker, cinematic mode, motion graphics, color grading, unrivaled plug-ins, effects and much more.
CyberLink's PowerDirector 365
If you are in need of a powerful video editing tool, but find yourself in a place where the prices of Adobe's Premiere Pro and Apple's Final Cut Pro just don't do it for you; You might just love CyberLink's PowerDirector 365.
This amazing software is incredibly affordable, with an annual plan of $48.99 USD, meaning you'll be paying around 4 bucks a month.
The software is available on Windows and Mac and is powered by AI making it have a host of great features and tools such as masking and blending, key framing, chroma keying and AI motion tracking among many other features.
DaVinci Resolve Studio
We already introduced you to the free version of DaVinci Resolve Studio. This time around the software is not free, it would cost you $295 USD.
The software is quite powerful as it supports up to 120 fps at a massive 32K resolution, provides GPU acceleration, and other features such as noise reduction, lens distortion, stereoscopic 3D projects grading, scripting, automation and many other features.
The software is available on both Mac and Windows and used by professionals who know what they're doing, on top of that the software is a one time purchase, so for a software with such high quality tools, it is quite the steal!
Sony Vegas Pro
Vegas Pro is arguably one of the best video editing software out there. This software is made by professionals for professionals.
This software has a plethora of video editing tools, nested timelines, keyframing & automation control, countless of filters, effects, transitions and titles, multicam editing, scripting API, log color correction & grading, rgb color curves, white & black point correction, range limited color wheels, automatic green and blue screen analysis and many many other features.
Vegas Pro comes fully equipped to handle a blockbuster movie. The price for such a great software is $34.99​ USD a month and is only available on Windows.
Avid Media Composer
Avid Media Composer is a video editing software developed by Avid Technology. The software is available on MacOs and Windows.
The software has multiple versions, one of which is free named Media Composer | First. The other versions are paid and the price depends on the version you choose. Every version software has its own set of features and tools, we will be giving you a general overview of the tools found in the software, but if you wish to see more detailed information on which version has which tools we recommend you go through our detailed post that covers every aspect of Media Composer.
With that being said, the software has multiple features and tools such as color correction, audio effects, countless effects, stabilization, timecode tool and audio editing and mixing and of course many more tools and features.
Conclusion
It's undeniable that there's a wealth of video editing software to choose from, so picking up just one will be a difficult task. We have some more honorable mentions to help you have more choices:
We advise you to take your budget, skill level and future plans into account to help you make the right choice. You can also check our in-depth software comparisons to have a better idea of what each software has to offer.