When we're watching a film or a series, we rarely think about the post production team who worked on the movie. But isn't that one of the things that makes a good video editor? This ability to immerse us in the film's emotional situations without making the use of a software too evident for us. We rarely think of the involvement of a video editor in the final product, and that's the whole point.
Avid Media Composer is one of the greatest software that can help you achieve that. But you might be wondering: what is it? how did it start and what makes it a great option?
What is Avid Media Composer
Avid Media Composer is a professional video editing software used in the film and television industry. It became popular in the 1990s as it was one of the first non-linear editing systems for the professional market and quickly became the industry standard for film and television post-production. Many famous movies and television shows were made using Avid Media Composer, some of the most notable ones include:
The Social Network
The Lord of the Rings
The Matrix
The Avengers
Star Trek
The Departed
Game of Thrones
Breaking Bad
, …etc.
Despite the growing number of alternative video editing software options, Media Composer continues to be a popular choice for its robust feature set, support for a wide range of media formats, and its well-established place in the industry as the go-to tool for professional video editors.
Avid Media Composer history
Avid Media Composer was first released in 1989 and has since become one of the most widely used video editing software in the film and television industry.
In the early years, Media Composer was primarily used for offline editing on the Macintosh II, where editors would assemble a rough cut of a film or television show using low-resolution footage. The final cut would then be re-created using high-resolution master tapes.
Over time, Media Composer has evolved to incorporate a range of advanced features and tools, such as uncompressed standard definition (SD), high definition (HD), 2K, 4K, real-time effects, color correction, and audio mixing. It has also become more accessible to a wider range of users, with versions of the software designed specifically for independent filmmakers and hobbyists.
Avid made a name for themselves on the video editing market with this software. They are regarded to have introduced the first digital non-linear editing system (NLE) that was specifically designed for the video editing industry. Although, it wasn't the first NLE on the market, it was the first to make a good impression in the industry.
These folks didn't stop there, since Avid NewsCutter, intended at newsrooms, and Avid Symphony, focused towards finishing, were all developed from Media Composer and shared similar interfaces, as was Avid Xpress Pro (discontinued in 2008) and its predecessor Avid Xpress DV, geared at the lower end of the market.
In recent years, Avid has faced increased competition from other video editing software, such as Adobe Premiere Pro and Final Cut Pro, but it remains one of the most popular and widely used editing software in the industry.
Tools and features
Editing workflow
Large projects, such as a documentary series with hundreds of hours of film, are best served by Media Composer. Its bin system and hierarchy of clips and sub-clips are wonderful for organizing content – as long as you follow a disciplined process and don't just throw everything in.
Trim is a strong tool with a variety of options to choose from. Most tasks can be done in a variety of ways, and the interface may be customized in a variety of ways.
Avid Media Composer is a software used by professionals in the industry, and offers a straightforward user experience thanks to its updated User Interface. With task-oriented workspaces, you can get the tools you need when you need them. Bin mapping and navigation let you find media quicker.
Work more fluidly with the sleek, modern UI, which has a smart panel layout that reduces complexity so you can focus on what matters most—your narrative.
In Avid Media Composer, you may organize the windows in any way you like. Users can choose from four different preset configurations, each with its own focus. Edit, Color, Effects, and Audio are all listed on the right side of your screen.
Audio
Mixing audio is a crucial skill to master, and the Audio Mixer is the tool you'll use to do the majority of mixing jobs in Media Composer. The Audio Mixer will be at the heart of your workflow, whether it's balancing track levels, panning tracks to widen the stereo field, or adding effects for flavor and mood.
Equalization (abbreviated as "EQ") is the process of lowering or raising the volume level of specific frequencies in an audio source to make them less or more apparent (quieter or louder). What is the definition of a frequency? That phrase refers to the number of regular variations (also known as "oscillations") in a sound wave that occur in a second. A low note is defined as a sound with a low frequency (few waves per second). The sound is a high note if there are a lot of waves per second (a high frequency).
Track Effects is a handy feature in Media Composer. We can apply effects to a whole track in the Audio Mixer, which speeds up your total process. There are five empty buttons above the channel fader, and clicking on one of them brings up the Audio Track Effect Tool, very simple to use.
You may also use keyframes, which are often known as automation, to create a mix. This is a strong editing method, but it is also time consuming. Then there's the Audio Mixer's Master Bus, which allows you to alter the audio of the whole timeline without having to adjust a single clip!
What makes Avid Media Composer different?
Avid Nexis
Nexis is a sophisticated shared storage solution that supports real-time collaboration, made especially for Avid Media Composer to speed up your media process. Across flash, online, nearline, and cloud storage tiers, it delivers the dependability, scalability, and security you need to store, manage, and access material. It's the option that professionals use to help them adapt to today's unpredictably produced media.
The shtick of this unique piece of hardware is the fact that it allows hundreds of Avid and third-party artists to connect, exchange media, and collaborate in real time from anywhere. You can access your full media collection across different storage levels, allowing you and your teams to better manage the content through the entire production pipeline. The whole team can respond to changing priorities and demands by reallocating capacity, bandwidth, and disk protection on the fly.
Collaboration and team work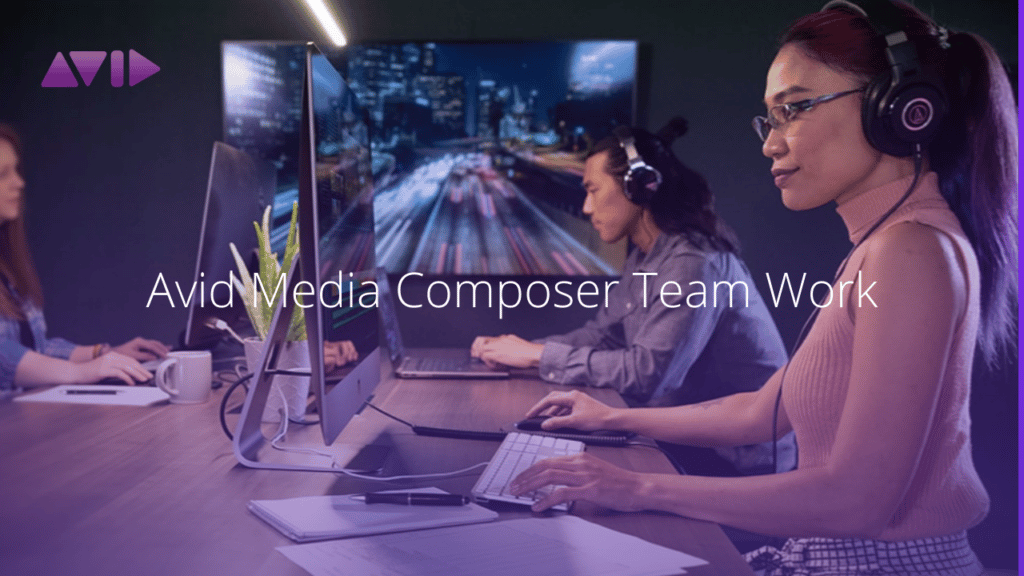 Media Composer's rock-solid media handling is one of the reasons editors appreciate it. Hundreds of hours of video in a variety of formats are sometimes required for large projects. Fortunately, Media Composer maintains track of all of these elements for the editing crew. The process automatically organizes source material, output files, and metadata. As a result, your team can concentrate on editing rather than wrangling, organizing, and locating footage.
In Avid Pro Tools, for example, multiple editors can sweeten audio or work on VFX in Adobe After Effects. Even sequences from other editing systems, such as Apple Final Cut Pro X or Adobe Premiere Pro, may be shared in real time on the same network by production teams.
Avid Media Composer has been the industry standard for professional editors for over 25 years. When it comes to assisting editors on the field, Avid offers cutting-edge technology that enables teams to collaborate more quickly.
Learning curve
Avid Media composer is not exactly your conventional video editing software, as right off the bat and as a beginner, the complexity of the workspace will make you scratch your head more than once in the process. In other words, it's not that simple. It's sometimes counter-intuitive, with elements hidden in unexpected locations. Error messages might pop up now and then and can be very difficult to understand at times. Although the application can handle most editing combinations, certain tools are overly difficult to find or need a workaround when compared to Final Cut Pro and Premiere Pro.
However, with the appropriate guidance, it is all too possible. And you can become an expert certified Avid Media Composer editor, and find an Avid professional on their website, that will teach you everything you need to know about the software and more.
Conclusion
Despite the steep learning curve, Media Composer has more pros than cons. Collaboration with other workstations on a similar project is really simple. Nexis, allows two users or more to work together in a seamless manner. The procedures are swift and instinctive once they are understood. Any adjustments may be performed swiftly and effectively, and to your exact specifications and preferences. Some of the characteristics might be difficult to comprehend.