In this post, we will discuss a 3D CAD software that helps you accelerate product innovation so you can build better products faster. This easy-to-learn program will seamlessly take you from the earliest phases of product design to manufacturing and beyond.
CREO Parametric positions you to be more productive than ever with the most robust 3D product design toolset along with the new functionality that you will need to design the products of the future. Want to know what is CREO software and what is used for? keep reading!
What is CREO parametric history?
It was developed by PTC (Parametric Technology Corporation). Its initial release was in 1987 under the name of Pro-Engineer and the version that was established in 2009, as a suit of it, was under a new name "CREO".
In 2020, they released a more enhanced version CREO 7.0. It is a computer-assisted conception and design software for discrete manufacturers, which has pure conception modules. But it also provides the possibility to make calculations of dimensions, animation, and to integrate electrical, hydro circuits in the design. It gives the ability to concept the manufacturing part.
Using CREO gives engineers a very good advantage thanks to its distinct applications, which is actually enough! You do not need to move to another piece of software to do other tasks while making the same product; everything you need in your work is integrated into CREO. All kinds of data can be treated without installing other software.
CREO also gives a great trick when you have to change something in the design; they don't have to go and change it manually every time. This task would be automatically done by the software so that all parts should have the same data at the same time, and no confusion should happen when working. All these amazing features make it very easy to work with.
What is parametric modeling in CREO?
Solid Modeling is the computer modeling of 3D solid objects. It is a consistent set of principles for mathematical and computer modeling of 3D solids. It is distinguished from related areas of geometric modeling and computer graphics, such as 3D modeling, by its emphasis on physical fidelity.
The objective of solid modeling is to ensure that every surface is geometrically correct. Besides, it allows the design, creation, visualization and animation of digital 3D models.
Therefore, it is considered the most complex aspect to master in CAD because it requires the CAD software to simulate the object from within and outside.
Now, there are many solid modeling tools such as Inventor and CREO, etc. CREO is an advanced 3D CAD software that provide parametric feature. In this article, we will be exploring this program, its features, capabilities, and use cases.
What is CREO software used for?
It is a three-dimensional parametric software that is specially used by the mechanical branches as they go through several tasks in order to get their ideas and products done.
CREO makes the process easier for them, especially when they make errors or want to change things when they are in the final steps of creating the project. It gives them the possibility to change it in the easiest part on the closest desk. After that, the software will do the rest where it will make the same changes on all parts of that design and on all connected desks. It's all because it also has a feature of facilitating the communication between all parts working on the same project, and even between the manufacturer and their clients.
In fewer words, you are not going to recreate designs because of incompatible data, and there is no need to ask your partners to change their CAD software systems.
It integrates the power of three-dimension and Computer-Assisted Design, modeling approaches into a single system; you will have the control of parametric modeling in addition to speed and flexibility. The feature that only exists through direct modeling.
CREO software uses: integrated applications
1. 3D solid modeling
The intuitive user interface streamlines design tasks whatever is the model's complexity. CREO is developed to create for designers a precise geometry, with automatic dimension sketches for fast and easy reuse. You can quickly build robust engineering features, such as round, chamfers, etc. You can also create part variants using family tables.
2. Robust assembly modeling
One of the many CREO software uses include assembly modeling. You can enjoy smarter and faster assembly modeling performances when using CREO. You can create simplified representations and share lightweight yet fully accurate model representations by using the very unique CREO tool: Shrinkwrap tool.
Furthermore, it is possible to leverage real-time collision detection; the thing that makes it possible to build assembly models of any desired size faster by using best-in-class component placement abilities.
3. Detailed documentation
CREO provides the feature of creating 3D and 2D drawings according to international standards, including ASME, ISO, and JIS. It gives you the capability to automate their creation with templates.
4. Technical surfacing
Technical surfacing is one of the most noteworthy CREO software uses. It has some very specialized features, such as sweeps, blends, offsets, extends, revolve, and others to help designers develop, define complex surface geometry, and apply other commands, such as copy, merge, and transform to perform surface operations.
5. Freestyle surfacing
The sub-divisional modeling helps to quickly create freeform shapes and surfaces with high-quality and parameterized ones that can be immediately reused in a 3D detailed design process.
Although minor details could be absent, an existing shape could be enabled thanks to the multilevel sub-divisional modeling for controlling the surface better. Without getting over the tangency control that aims to the parametric control of freestyle geometry by aligning to existing curves or edges.
6. Complete library of parts and tools
Besides the wide variety of CREO software uses, it is a fully integrated library with a web-based component catalog. And the J-link programmatic interface helps to download predefined parts and symbols.
Furthermore, the use of intelligent fastener capability quickens the insert and positioning of associated nuts and washers.
7. Sheet Metal modeling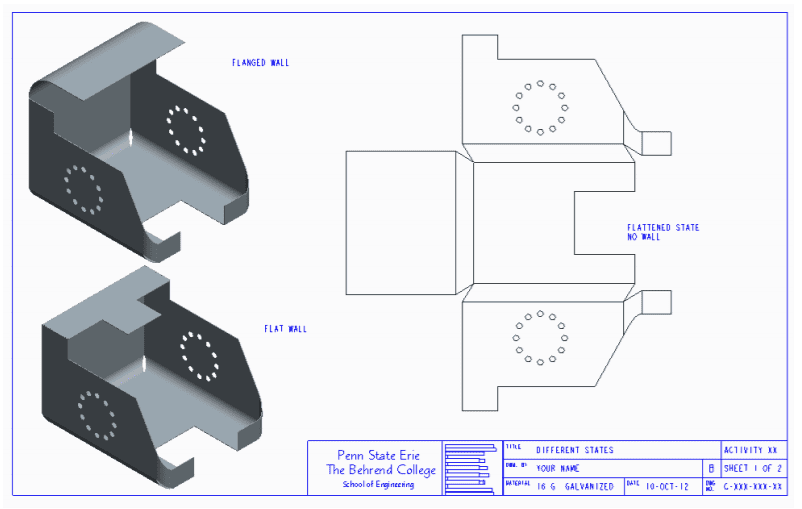 Using the streamlined user interface helps creating walls, bends, punches, forms, reliefs and sheet metal rips. Also, to automatically generate flat patterns from 3D geometry using a variety of bend allowance calculations.
8. Weld modeling and structural framework design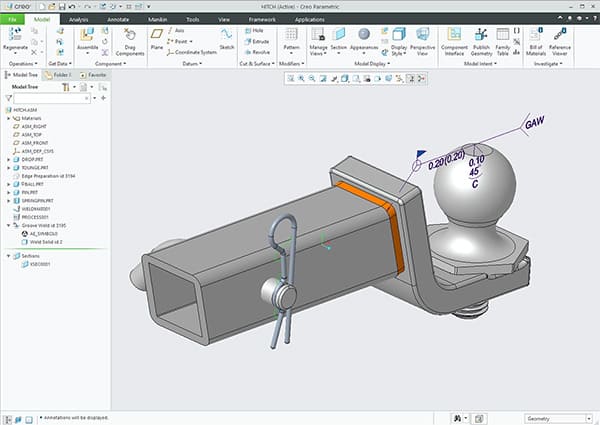 It is a very optimized user interface that can define joining requirements, produce complete 2D weld documentation easily, and provides valuable information from the model, such as mass properties, clearances, interferences and cost data.
9. Analysis features
CREO gives the ability to validate the kinematic motion of the design, perform static structural analysis on parts and assemblies.
Microsoft Excel files can be added to the design, with also the interoperability with Mathcad Engineering Calculation software to facilitate the use of Mathcad Sheets with the design to predict its behavior and drive critical parameters and dimensions.
10. Graphics and Animation
Mechanism simulation facilitates model reuse. Directly from the modeling environment, you can create animations of assemblies, you can also create accurate photorealistic images of products quickly when rendering even the biggest assemblies.
11. Additive Manufacturing
Position the model on the 3D printer tray and view required supporting material on CREO, which makes it easy to print parts and assemblies, define surface finishes and materials, and also calculate what is needed to know the behavior of the final product.
It has integrated NC capabilities with full support for multi head machining centers with synchronization.
12. Extensions
CREO provides a number of advanced, specialized capabilities to meet the broad range of designers' needs, among them the 3D CAD, CAID, CAI, NC and Tooling extensions in addition to Multi-CAD data exchange.
Final thoughts
Finally, we can say that CREO is a set of systems that delivers a distinct set of capabilities to assist the designers through the development of the final product, and it is used by so many leading companies all over the globe. CREO competes with CATIA and SolidWorks because of the features it provides for you, such as three-dimensional direct modeling, solid modeling, and parametric features.
It is more than a piece of software; it is related to different tools, such as CREO Parametric, Simulate, Direct, Layout, and Options Modeler. Each one of these applications serves a unique purpose to fulfill a very well-defined part of the manufacturing process of the product.
CREO is one of the most popular and powerful designing tools used in the market. With the popularity of CREO the demand of CREO-Certification has also increased in the market. It is the software that can handle every aspect of the product design, such as concept development, designing and analysis. It also supports your communication with your clients, manufacturers, or technical publication.